Heads up! We're working hard to be accurate – but these are unusual times, so please always check before heading out.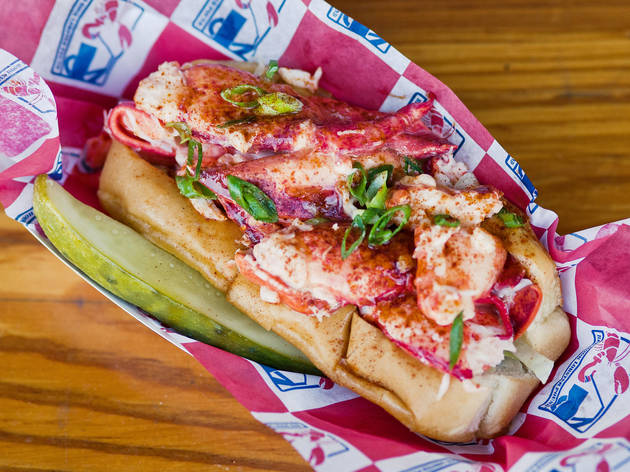 Reigning queens of lobster rolls
Pearl Oyster Bar's Rebecca Charles and Red Hook Lobster Pound's Susan Povich share their thoughts on iconic summertime sandwich the lobster roll.
New lobster-roll joints pop up around New York faster than a buoy in the bay, and not all live up to their hefty price tags. But two stalwarts—Pearl Oyster Bar and Red Hook Lobster Pound— stand out from the ever-growing pack. We sat down with Rebecca Charles and Susan Povich, the spots' respective owners, to learn the secrets to a great lobster roll.
Rebecca Charles, Pearl Oyster Bar
Cooking the lobster: "The lobster has to be alive when you cook it. You don't want to cook any dead lobster. They float when they're cooked."
Mayo philosophy: "It's the same thing as pasta. If it winds up being saucy, it's too much. We're looking for enough mayonnaise to coat the lobster."
Formative lobster-roll memory: "I didn't actually start eating lobster rolls until I was about 13. What I remember about it was the warm bun. It's that perfectly toasted, buttery bun that makes the sandwich for me."
Secret to a great lobster roll: "Details, details, details. The lobster can't be overcooked. It needs to be seasoned properly. It needs to have just the right amount of mayonnaise."
On staying true to the original: "The big sandwich in Maine, where we summered, was the fried-clam roll; the lobster roll was not actually that well-known. When I opened Pearl, I decided [that I needed to serve] a sandwich, and I thought, You know, let me do a lobster roll. And let me do it the way a chef would do it. Some people say it's only supposed to have a skim of mayo on the bun. [I say] well, if you wanna be that accurate, [you're only supposed to use] the disgusting mayonnaise that they have up [in Maine], Hain, which is really awful."
Susan Povich, Red Hook Lobster Pound
On outsourcing: "I get my lobster meat from a really high-quality processor in Maine. I leave it to the experts—it's always consistent."
Mayo philosophy: "Homemade lemon mayonnaise. Period. End of conversation. I use a tiny little bit—just enough to hold the lobster together."
Formative lobster-roll memory: "My grandfather was raised in Maine and I spent every summer there. I would stop at an old carhop, Fat Boy, in Brunswick before I got to my house. It wasn't a fancy lobster roll. It was just greasy and buttery, but it was so good."
Secret to a great lobster roll: "It's just all about the friggin' great lobster, great bread and not messin' with it too much."
Best part of the lobster: "Claw and knuckle meat is the sweetest meat in the lobster. The tail is kinda like an overcooked chicken breast, as far as I'm concerned."

You might also like
Best summer seafood dishes in NYC
Best lobster rolls in NYC
Best lobster-roll kits for home delivery
Best drinks to pair with lobster rolls
Best seafood restaurants

See more in Food & Drink