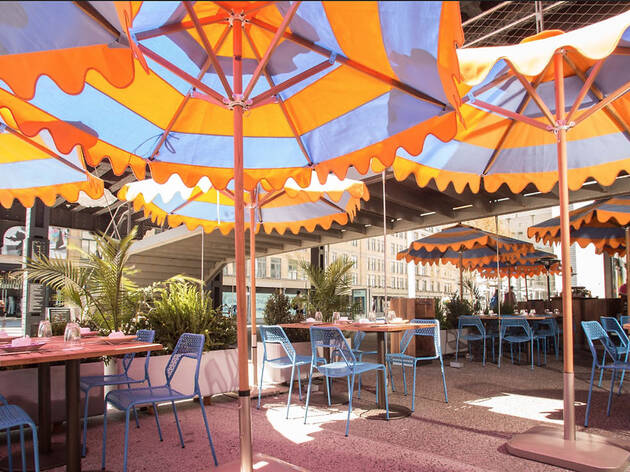 Venue says
Escape the Highline crowds at Meatpacking's best Italian restaurant! Savor summer all-year-round. 212-254-3000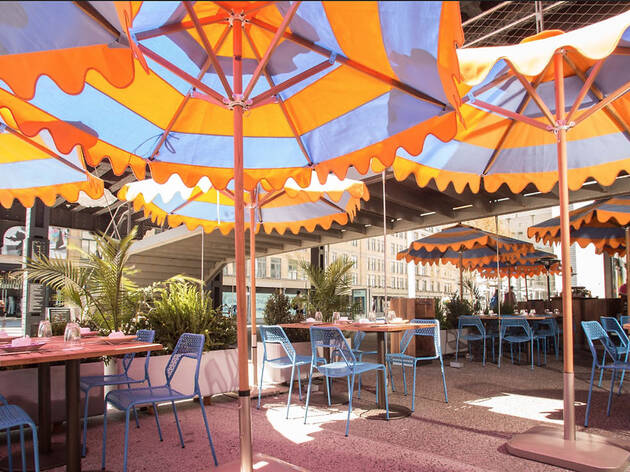 1/1
Courtesy of Major Food Group
Time Out says
Team Torrisi is coasting with this breezy Italian concept
The adage "Rome wasn't built in a day" has soothed the worried brows of empire builders for centuries—but not the crew behind Major Food Group. Patience might've worked for those Romans, but in its breathless, rapid-fire expansion—eight restaurants in six years—the Italian-American food juggernaut has tapped more readily into Yankee restlessness than Old World restraint.
Since debuting Torrisi Italian Specialties in '09, Mario Carbone, Rich Torrisi and Jeff Zalaznick have gone from relative unknowns to restaurant moguls—in 2015 alone, they'll launch a bagel-focused appetizing store, a 15-seat fine-dining restaurant and three outposts of their high-end hero spot Parm.
Which brings us to the latest entry in the trio's ever-growing domain—Santina, a glass-enclosed jewel box of a restaurant tucked neatly beneath the High Line. Though billed as "coastal Italian"—the place is named for Carbone's Sicilian grandmother—the vibrant set-piece room reads more South Beach than southern Italy. Beneath candy-colored glass chandeliers, waiters bustle around the Renzo Piano–designed cube kitted in pastel polos and white Rod Laver kicks, weaving between potted palm trees to deliver painted ceramic plates of house-cured anchovies and porcelain pineapples brimming with tropical cocktails, as salsa horns blare overhead.
But Carbone by way of Cuba this isn't. Compared to that restaurant's belt-busting, red-sauce gusto, Santina is an altogether lighter affair, its sparse menu dominated by fish and produce. Bread service, a trope of Italian-American eating, is replaced by cecina ($12), thin chickpea crêpes served with a choice of filling—shaved funghi, herb-licked gamberetti—the best and boldest of which is a tuna tartare charged with capers and Calabrian chile.
That buoyant revamping continues across the menu—carpaccio ($9) trades beef for weightless, sunset-orange petals of squash, dotted with pumpkin seeds, honey agrodolce and crème fraîche, and Japanese short-grain rice frequently takes the place of pasta. The guanciale e pepe rice ($17) could be served at a spa—it's so delicate—but those looking for the salty smack of Italian pork will leave disappointed, overwhelmed instead with cracked black pepper.
The house specialty, the surf-and-turf Chitarra Santina ($17), boasts lovely egg-yolk strands tangled around plump mussels and merguez sausage, but the spare tossing of olive oil and garlic is so minimal, it barely registers. On the opposite end of the spectrum, the bass agrigento ($24) drowns that supple fish in its peperonata-orange ragù.
It's refreshing to see Carbone, Torrisi and Zalaznick lighten up, sure, but they're food-world heavy hitters now. We expect more heft.
Santina says
A quintessential New York restaurant, Santina was created by Major Food Group, the team behind some of America's most celebrated restaurants including Carbone, Sadelle's, and THE GRILL. Santina has been named one of the Best Restaurants in New York City by The New York Times, GQ, Eater, Bloomberg, Thrillist, and Bon Appétit.

Santina is a coastal Italian oasis where people can eat, drink and celebrate day or night in Riviera style. Santina is housed in a glass box designed by renowned architect Renzo Piano, located under the High Line and next to the Whitney Museum in the heart of the Meatpacking District. This iconic structure is complemented by handcrafted Murano chandeliers from Venice, and outfitted with colorful Solimene plates, vibrant flowers and lush palm trees. The restaurant also features extensive outdoor patio seating set amongst colorful umbrellas, making Santina the perfect summer destination in New York City. From October through April, Santina's outdoor seating is transformed into an intimate enclosed garden for those looking to escape the winter. With one step in, guests are immediately transported to the sunny Italian seaside, no matter the season.
Details