Schmaltz: The Jewish cooking staple becomes a favored fat
Long used in Jewish dishes, schmaltz pops up at Chinese, Icelandic and Japanese restaurants in New York City.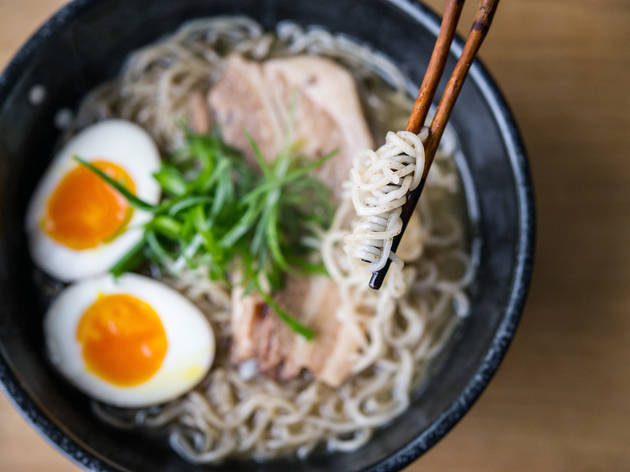 1/4
Photograph: Daniel Krieger
Shio ramen at Ivan Ramen Slurp Shop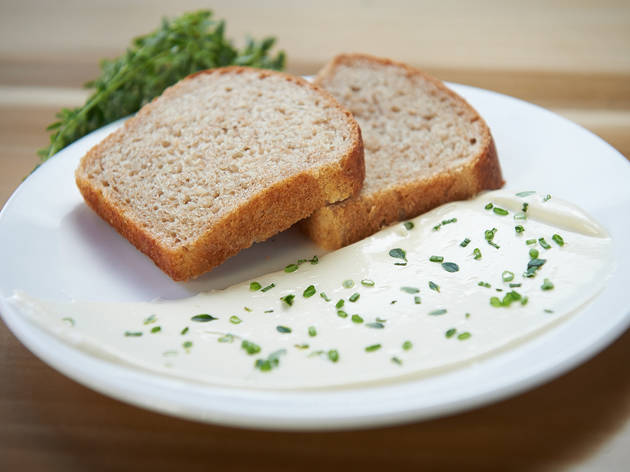 2/4
Photograph: Filip Wolak
Smoked bread with chicken butter at Pearl & Ash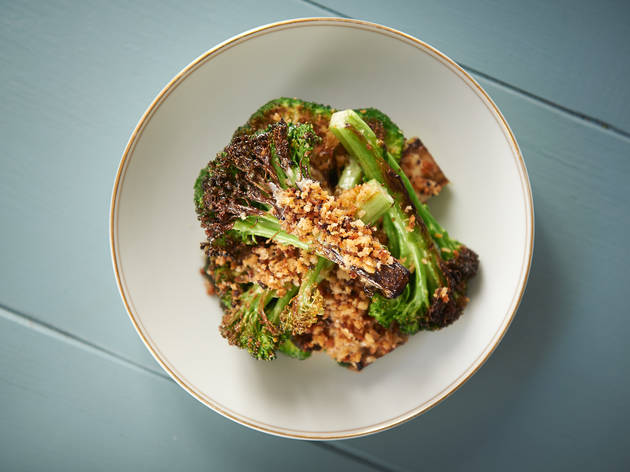 3/4
Photograph: Filip Wolak
De Cicco broccoli at Skal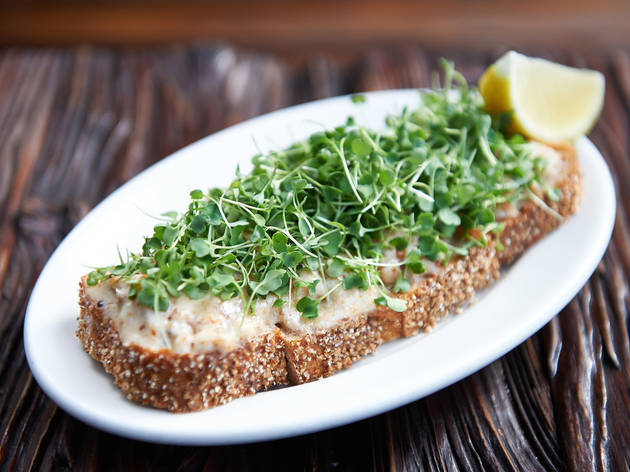 4/4
Photograph: Filip Wolak
Beef-schmaltz crostini at Takashi
The Book of Schmaltz
. The fat has also become a hit with New York City chefs. At Ivan Orkin's soon-to-open
Ivan Ramen Slurp Shop
(Gotham West Market, 600 Eleventh Ave between 44th and 45th Sts, 212-582-7940)
, the noodle guru imparts a bit of his Jewish heritage in his signature
shio
(salt) ramen ($13). To ratchet up the umami factor, he blends the fat into a chicken-and-fish-dashi broth. He's not the only chef drawing from his Semitic childhood. In an ode to his schmaltz-loving mother, Ben Spiegel uses chicken fat to fry the crumbled anchovies that top roasted De Cicco broccoli ($13) at Icelandic restaurant
Skal
(37 Canal St at Ludlow St, 212-777-7518).
"Schmaltz is more savory than pork fat, which tastes pretty neutral," says Spiegel. And others are imbuing it into butter. Riffing off chicken and waffles, Richard Kuo pairs moist smoked bread with a schmaltz-and-maple schmear ($4) at
Pearl & Ash
(220 Bowery between Prince and Spring Sts, 212-837-2370).
At
yakiniku
house
Takashi NYC
(456 Hudson St between Barrow and Morton Sts, 212-414-2929)
, Takashi Inoue slathers a butter-and-beef-fat concoction—which he affectionately calls the "special fat"—onto whole-wheat toast ($12). While it isn't bird-based, he has dubbed his spread "schmaltz," a testament to the ingredient's growing cache. With more chefs catching on to what bubbes have known for years, the liquid gold is finally getting its big, fat due.
Seeking Schmaltz
Here's where you can find the magic fat.

Dickson's Farmstand Meats
Chelsea Market, 75 Ninth Ave between 15th and 16th Sts (212-242-2630, dicksonsfarmstand.com). $6/pint.

Schatzie the butcher
555 Amsterdam Ave at 87th St (212-410-1555, schatziethebutcher.com). $5/pint.

Lobel's
1096 Madison Ave at 82nd St (212-737-1372, lobels.com). $20/pint.

Ottomanelli Brothers
1549 York Ave at 82nd St (212-772-7900, nycotto.com). $2.95/lb.