The best egg breakfasts
Start your day with one of these eye-opening egg dishes.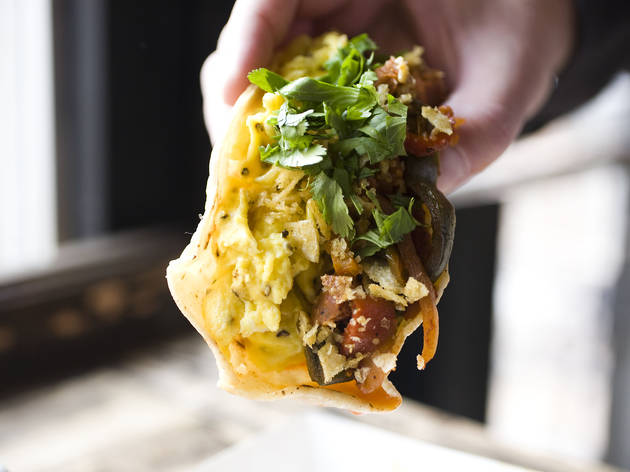 1/10
Photograph: Jolie Ruben
Taco #1 with Chorizo at WhirlybirdAn indie musician and an Ecuadoran chef are the unlikely masterminds behind this Austin-inspired Williamsburg café, which sells only coffee and two varieties of breakfast tacos. We preferred the #1: a mound of fluffy scrambled eggs laced with Oaxacan cheese and (for a buck more) piquant nibs of chorizo. They come wrapped in a crisp and tender griddled corn tortilla, then topped with a tangy, slow-simmered tomato-and-bell-pepper salsa. A topping of crumbled jalapeño-flavored potato chips provide texture and a gentle burn. 254 South 2nd St at Havemeyer St, Williamsburg, Brooklyn (no phone). Available weekdays 8am–4pm, weekends 9am–5pm; $3.50, with chorizo $4.50.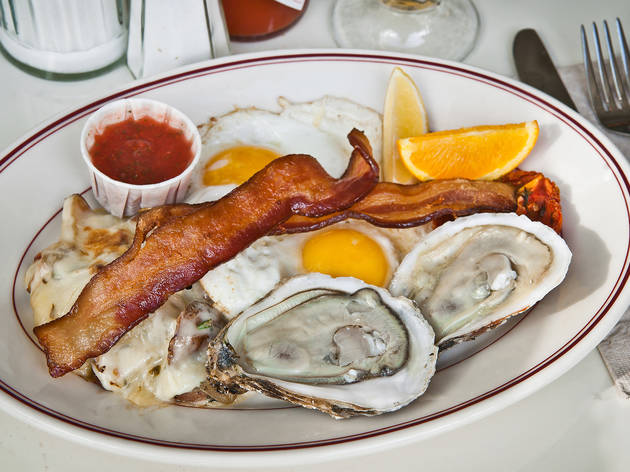 2/10
Photograph: Paul Wagtouicz
Sunshine Special at The Bowery DinerMathieu Palombino's nouveau-American diner gives the old lumberjack breakfast a luxurious twist: Two neon-yolked sunny-side up eggs command attention on a platter of breakfast potatoes with spicy melted pepper-jack cheese, a garlic-kissed roasted tomato and two strips of crispy, greaseless bacon. The eye-popping finishing touch: two plump and quivering bluepoint oysters, dabbed with peppery aji sauce. 241 Bowery between Rivington and Stanton Sts (212-388-0052). Available daily until 5pm; $16.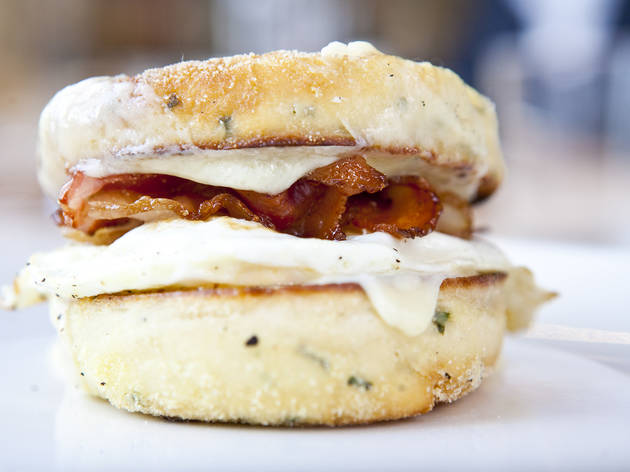 3/10
Photograph: Jakob N. Layman
Bacon, egg and cheese sandwich at Back Forty WestThe breakfast menu at Peter Hoffman's newly opened Back Forty spin-off emphasizes sweet pastries, but chef Shanna Pacifico does have one mighty savory sandwich up her sleeve. A single, orange-yolked free-range egg from a farm in the Hudson Valley is fried, then nestled onto a homemade herb-laced English muffin. It's topped with a thick slice of melted Cabot cheddar and thin strips of lacquered Heritage Foods USA bacon, all in one compact sandwich that puts the Egg McMuffin to shame. 70 Prince St at Crosby St (212-219-8570). Available weekdays 8–11:30am; $9.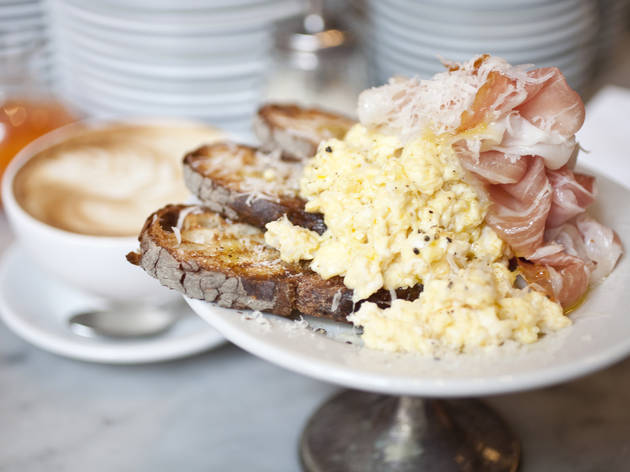 4/10
Photograph: Virginia Rollison
Steamed Eggs with Prosciutto at BuvetteIt's all about the details at Jody Williams's precious West Village "gastrotheque," from the slender cutlery to the delicate scramble, which is steamed gently with an espresso wand. A loosely packed pile of the pillowy eggs arrives heaped on a miniature plate, showered with Parmesan cheese, black pepper and thinly sliced curls of prosciutto. Make an open-faced sandwich with the accompanying olive oil–drizzled Royal Crown bread, then go ahead and eat it with your hands. 42 Grove St between Bedford and Bleecker Sts (212-255-3590). Available weekdays 8am–4pm, weekends noon–4pm. $12.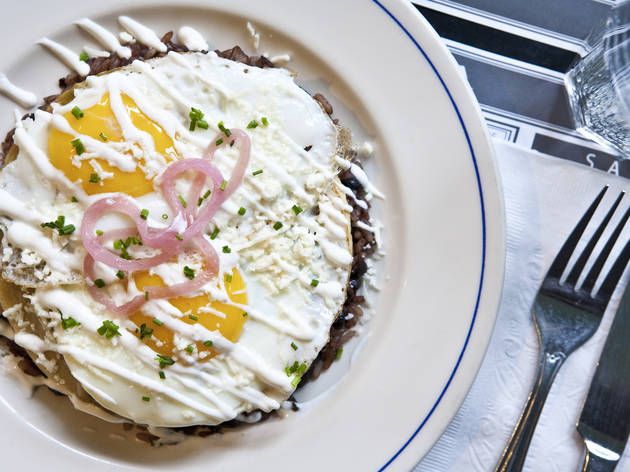 5/10
Photograph: Jakob N. Layman
Huevos Rancheros at CoppeliaThe Mexican breakfast superstar gets a few tweaks at Julian Medina's retro-inspired Latin diner: The two sunny-side up eggs are lavished with crumbly cotija cheese, rich crema and a handful of sharp pickled red onions. The perky huevos sit atop a pile of fried tortillas, green tomatillo sauce, rice and whole black beans that help soak up every last drop of golden yolk. Pro tip: Coppelia serves breakfast 24/7, so you can get your fix morning, noon or night. 207 W 14th St between Seventh and Eighth Aves (212-858-5001). Daily 24hrs; $8.95.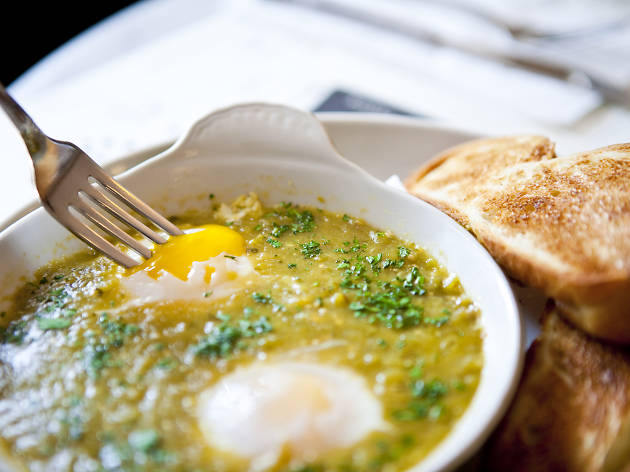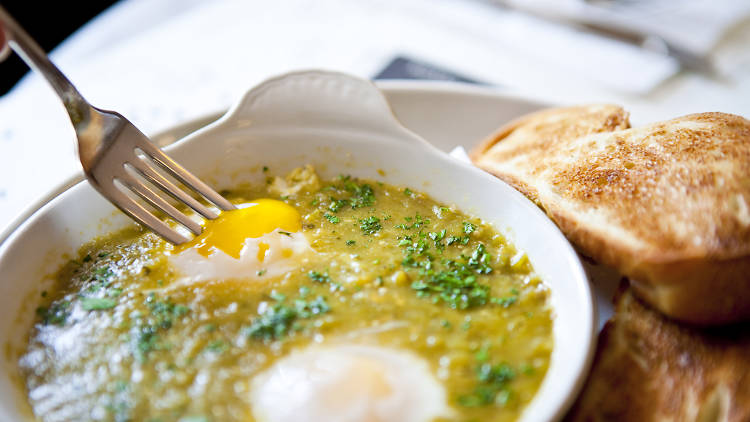 6/10
Photograph: Jakob N. Layman
Green Shakshuka at Jack's Wife FredaThe menu at this cute Soho café skews multicultural, and its revision of shakshuka—a baked egg dish popular in the Middle East and North Africa—is no exception. Chef Julia Jaksic blends green tomatoes, birdseye chilies, garlic and cumin, then pours the smooth salsa over two jumbo eggs. The platter is served with slices of toasted challah bread, the perfect vehicle for scooping up every last bit of this rich, piquant stew. 224 Lafayette St between Cleveland Pl and Kenmare St (212-510-8550) Available weekdays 10am–4pm, weekends 10am–5pm. $10.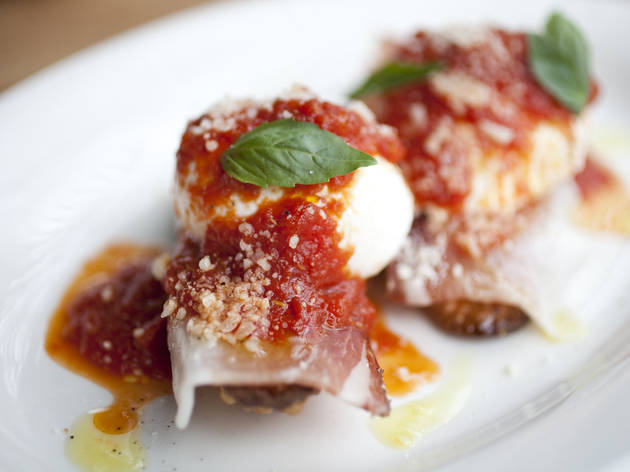 7/10
Photograph: Virginia Rollison
Poached Eggs at RucolaThis Italian Boerum Hill hideaway skillfully applies a light touch to the hearty combination of eggs, cured meat and cheese. The two poached specimens are gently painted with a coat of zesty tomato sauce, draped in wisps of smoky speck and placed over two slices of crispy semolina toast. The finished product is then dusted with slivers of fresh basil and finely grated Parmesan, giving the whole package a salty tang. 190 Dean St at Bond St, Boerum Hill, Brooklyn (718-576-3209). Available weekdays 8–11:30am, weekends 10am–4pm. $12.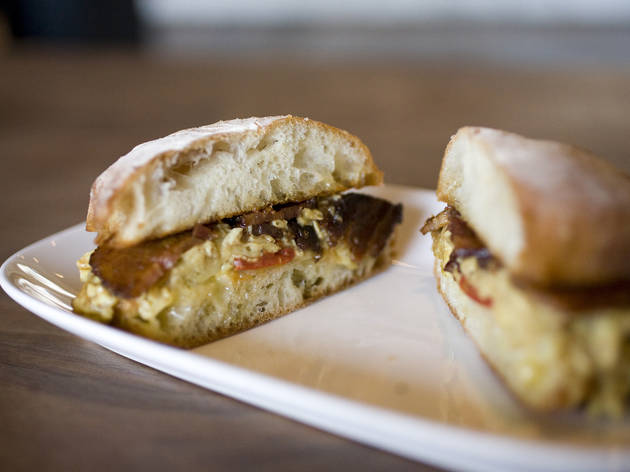 8/10
Photograph: Alex Strada
Scrambled eggs on a roll at Toby's Estate CoffeeThe bodega staple gets a face-lift at this Australian coffee palace. A dense bundle of vividly yellow slow-scrambled eggs are the star, tender and spicy with black pepper. They're cushioned on one side with melted Shelburne Farms cheddar, and, on the other, thick-cut, espresso-lacquered bacon and zippy roasted grape tomatoes. The whole thing is tucked into a portable sourdough roll, making this a great grab-and-go option. 125 North 6th St between Bedford Ave and Berry St, Williamsburg, Brooklyn (347-457-6160). Available Mon–Fri 7am–3pm; Sat, Sun 8am–3pm. $7.50.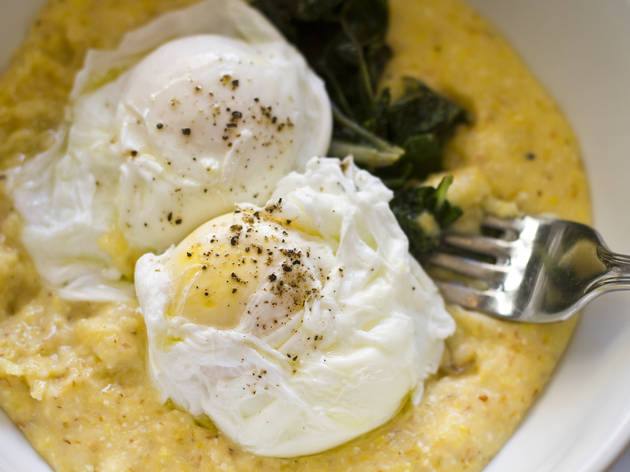 9/10
Photograph: Caroline Voagen Nels
Poached eggs with chard and cheese grits at UntitledDanny Meyer's airy café at the Whitney Museum puts a fittingly artful spin on the down-home Southern staple. Two poached eggs from an Amish farm in Pennsylvania are perched atop a soft bed of polenta grits, made creamy with goat cheese and Cabot cheddar. Whole chard leaves, deeply green, slightly bitter and sautéed with garlic, are a welcome contrast with the rich, runny yolk and cheesy porridge. Scoop the bowl clean with a swipe of the accompanying toast. 945 Madison Ave at 75th St (212-570-3670). Available Tue–Fri 8am–3pm, Sat 10am–3pm, Sun 10am–4pm; $13.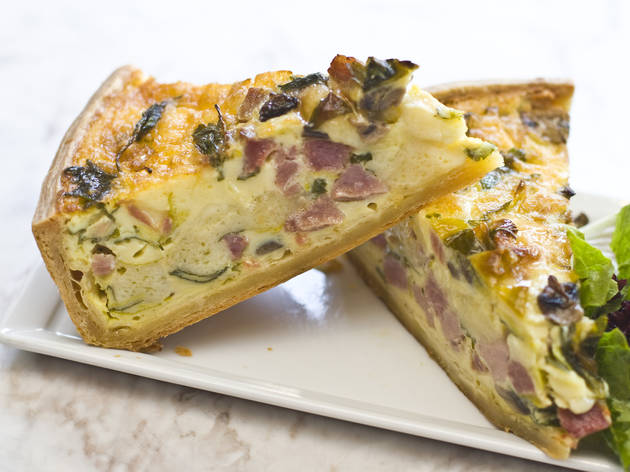 10/10
Photograph: Caroline Voagen Nels
Quiche Parisienne at Épicerie BouludDaniel Boulud may be the master of haute French cuisine, but when it comes to breakfast, he knows the value of simple, high-quality ingredients. The quiche Parisienne is a decadent affair, a soft nest of fluffy baked eggs studded with hunks of Parisian ham, funky melted Comté cheese, leeks and little wedges of mushroom. The filling is so tender that the crumbly crust below nearly melts into it. Just one petite slice is as buttery as any Parisian dessert. 1900 Broadway at 64th St (212-595-9606). Available Mon 7am–8pm, Tue–Fri 7am–11pm, Sat 8am–11pm, Sun 8am–10pm. $7.50.