The best international food in New York City 2012
Enjoy cosmopolitan cuisine with our globe-trotting list of NYC's best international food, including dishes from China, Greece, Yemen, Georgia and Mexico.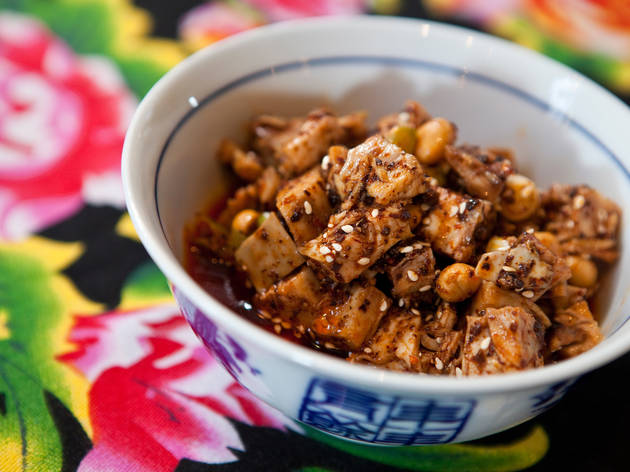 1/11
Photograph: Jakob N. Layman
Spicy diced rabbit at Café China
Rabbit, an unsung pleasure, gets its due in this invigorating cold appetizer. A lively sauce spiked with chilies and Szechuan peppercorns balances the bone-in nuggets of rich, gamey flesh. Crunchy peanuts and sesame seeds lend nutty sweetness to the piquant bowl. 13 E 37th St between Fifth and Madison Aves (212-213-2810, cafechinanyc.com). $9.—Mari Uyehara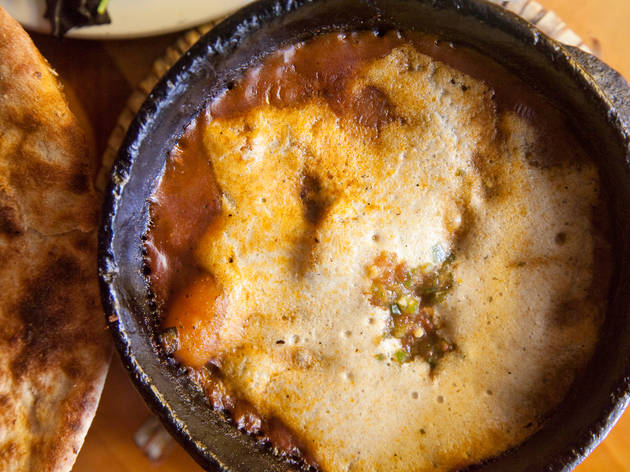 2/11
Photograph: Melissa Sinclair
Saltah at Bab al Yemen
The national dish of Yemen, saltah, is a thick lamb-and-vegetable stew, served tableside in a heavy stone pot with a dollop of garlicky tomato-jalapeño chutney and a cloud of halba—a pleasantly bitter foam made from soaked and whipped fenugreek seeds. The cauldron arrives with a gigantic round of house-baked flatbread, intended to be ripped and dunked into the tangy stew in lieu of using a spoon. 413 Bay Ridge Ave between Fourth and Fifth Aves, Bay Ridge, Brooklyn (718-943-6961). $12.—Jamie Feldmar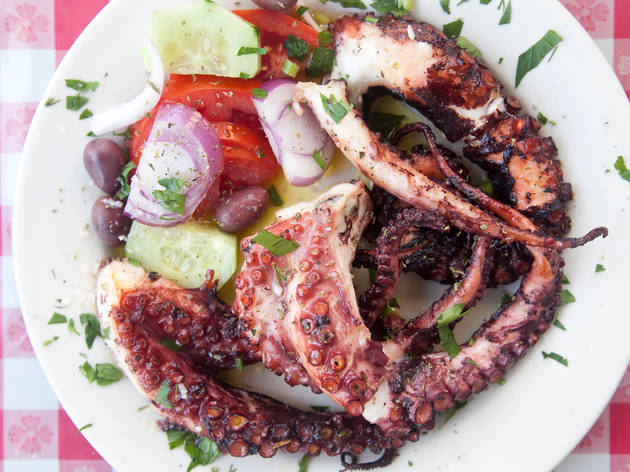 3/11
Photograph: Melissa Sinclair
Grilled octopus at Gregory's 26 Corner Taverna
The cephalopod at this Greek hideaway is a study in contrasts: The tentacles are singed to a gentle crunch on the outside, but are lush, white and miraculously moist within. The kitchen first boils the octopus until tender, then bastes it in olive oil and throws it on the grill for a blast of smoldering heat. Dusted with salt and oregano and splashed with fresh lemon juice, each crisp-tender tentacle is a marvel of simple, well-executed technique. 26-02 23rd Ave at 26th St, Astoria, Queens (718-777-5511). $15.—Jamie Feldmar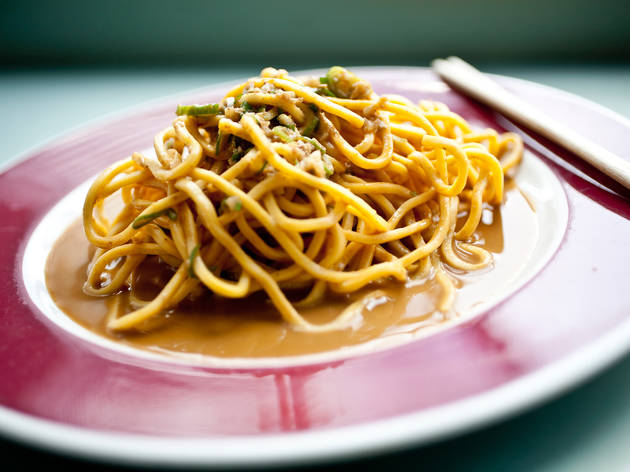 4/11
Photograph: Krista Schlueter
Sesame noodles at Shorty Tang & Sons
Shorty Tang amassed a cultish following for the version of sesame noodles he served at Hwa Yuan—a New York City Chinese restaurant that closed in the early '90s. Following a 2007 plea from The New York Times' Sam Sifton, the remaining members of the Tang clan worked to resurrect Shorty's recipe, eventually opening a Smorgasburg stand to bring the beloved noodles back to the masses. Each scallion-speckled portion is scooped from a large wooden bowl, where eggy strands soak up the legendary sauce—a sublime combination of sesame paste, peanut butter and chili oil. Saturdays through Nov 17 at the Williamsburg Waterfront, 110 Kent Ave at North 8th St, Williamsburg, Brooklyn (@shortytangsons). $6.—Laren Spirer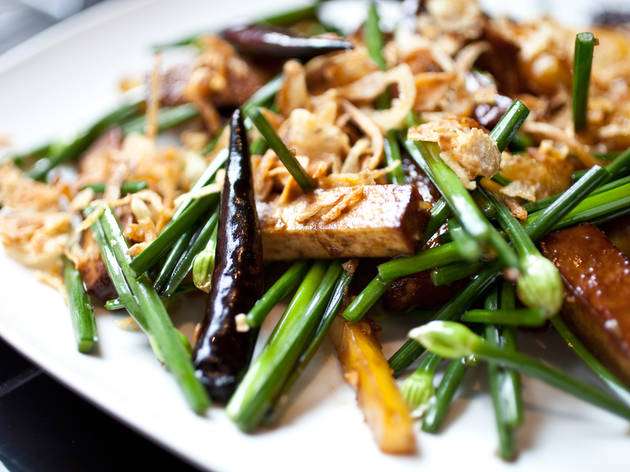 5/11
Photograph: Virginia Rollison
Stir-fried smoked pressed tofu at Lotus Blue
For fatigued New York palates, the ascent of hyperregional Asian food is one of the year's most thrilling restaurant trends. Lotus Blue, for one, has helped the cuisine of China's Yunnan province catch fire in Gotham. Chef Kian Lam Kho's provocative vegetarian dish exemplifies the region's pantry of uncommonly light, fruity and lively flavors: Batons of pressed tofu, stir-fried with wispy garlic-chive blossoms, red chilies and sliced pineapple form a complex riot of smoky, sour and sweet elements. 110 Reade St between Church St and West Broadway (212-267-3777, lotusbluebar.com). $16.—Jordana Rothman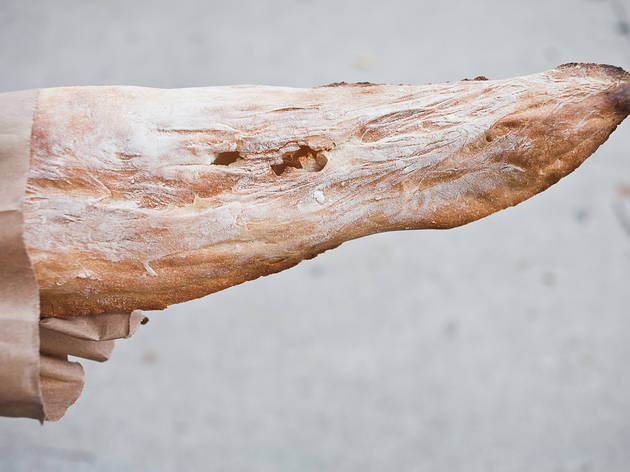 6/11
Photograph: Noah Devereaux
Shoti at Georgian Bread
This hole-in-the-wall bakery specializes in the breads of Eurasia, including shoti—the Georgian equivalent to ciabatta—baked six days a week in a dome-shaped clay oven. In the hands of a hardworking baker flour, water, yeast and salt yield a warm, crescent-moon-shaped loaf with a crackly crust and a fragrant, chewy interior. It's delicious alone, but particularly addictive when it's slathered in the shop's proprietary spicy eggplant spread. 265 Neptune Ave between Brighton 5th and Brighton 6th Sts, Brighton Beach, Brooklyn (718-332-8082). $2.—Leah Koenig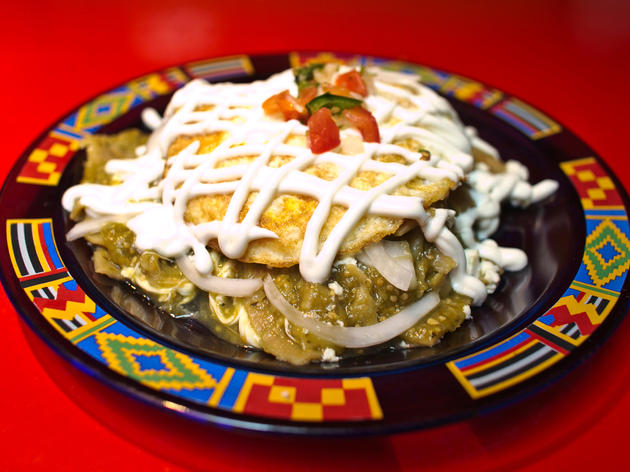 7/11
Photograph: Caroline Voagen Nelson
Chilaquiles Rojos at Tortilleria Nixtamal
The tiny kitchen at Tortilleria Nixtamal—the city's only manufacturer of fresh masa—makes a mean rendition of this Mexican comfort-food favorite, using fried chips from their coarse-ground fresh corn tortillas. Simmered in a mouth-tingling jalapeño-tomato sauce and topped with sharp raw onions, crumbly queso fresco and a crisp-edged fried egg, it's a traditional breakfast dish worth enjoying well into the afternoon. 104-05 47th Ave at 104th St, Corona, Queens (718-699-2434, tortillerianixtamal.com). $8.—Jamie Feldmar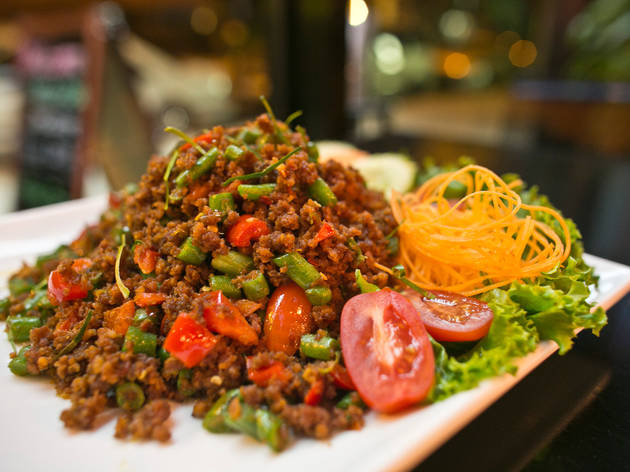 8/11
Photograph: Caroline Voagen Nelson
Pad prik king pla duk foo at Chao Thai Too
Catfish is ground to bits and fried into tiny, crispy nuggets at this beloved, ramshackle Elmhurst Thai spot's larger outpost. The finished dish—piled high with slivers of string beans and dyed a luxuriant deep red from mild prik king curry paste—is heady and slightly sweet, with a gentle heat that lingers long after the last bite. 83-47 Dongan Ave at Broadway, Elmhurst, Queens (718-424-9888). $12.95.—Jamie Feldmar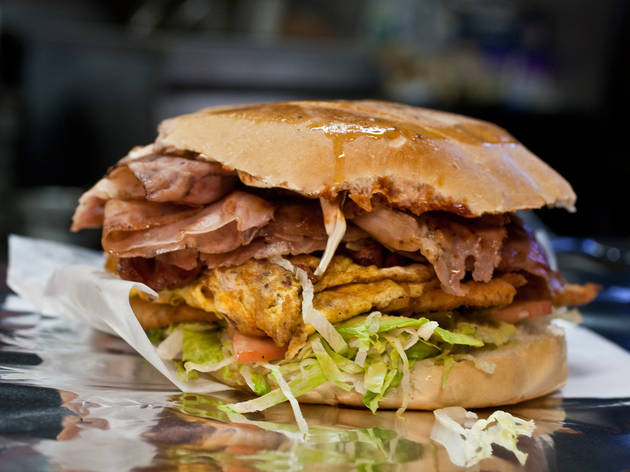 9/11
Photograph: Michael Skigen
La Torta Puma at Tortas Neza truck
The 18 varieties of torta at this Vendy Award finalist's taco truck, parked in Corona, Queens, are each named after a Mexican soccer team. La Torta Puma is the largest of the bunch, and it takes two fully engaged biceps to lift it toward your mouth. Deciphering all of the layers—the breaded and deep-fried chicken cutlet, fried hot dogs, a chorizo omelet, several slices of headcheese, ham, refried beans, lettice, tomato, avocado, pickled jalapeños and a pile of shredded Oaxacan-style cheese—is a delicious (if nigh impossible) challenge. Corner of Roosevelt Ave and 111th St, Corona, Queens (347-666-1517). $14.—Scarlett Lindeman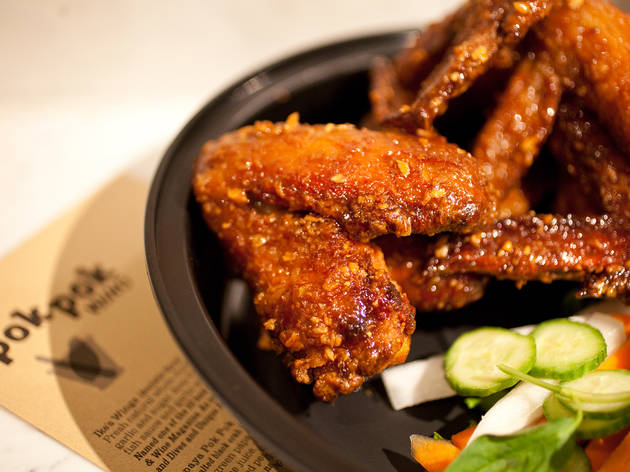 10/11
Photograph: Virginia Rollison
Ike's Wings at Pok Pok Ny
Portland phenom Andy Ricker's signature snack graced glossies and won West Coast devotees before he imported the dish to New York. Based on a Vietnamese street eat, plump chicken wings—marinated with fish sauce, garlic-water and sugar—are deep-fried until crispy, then coated with a caramelized version of a similar salty-sweet marinade. Crazy demand for the nationally renowned dish led to the closing of NYC's Pok Pok Wing; Ricker converted it into a more manageable operation, a pad thai shop. But you can still find the lip-smacking sticky fowl at his Red Hook outpost. 127 Columbia St between DeGraw and Kane Sts, Red Hook, Brooklyn (718-923-9322, pokpokny.com). $12.50.—Mari Uyehara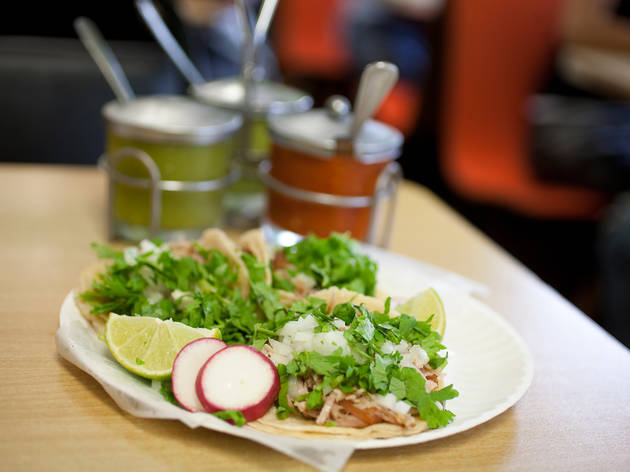 11/11
Photograph: Jael Marschner
Carnitas tacos at Ricos Tacos
Carnitas are a kind of simple Mexican confit: pork shoulder cooked in its own fat, yielding luscious chunks and caramelized strands of tender meat. And yet, so many places can't nail this fundamental dish. Ricos Tacos, a taqueria in Sunset Park, gets it right. Their carnitas, tucked into a taco and given a mercifully light shower of just cilantro and onion, are a pure expression of concentrated porky flavor that speaks for itself. 505 51st St at Fifth Ave, Sunset Park, Brooklyn (718-633-4816). $1.50/taco.—Scarlett Lindeman
RECOMMENDED: All 100 best dishes and drinks
Take your taste buds on a trip with these globe-trotting dishes. Our rundown of the best international food of 2012 includes tacos done right, a riff on Vietnamese wings at Pok Pok Ny and a standard-bearer for this year's hyperregional Asian cuisine trend, stir-fried, smoked pressed tofu at Lotus Blue.
Sponsored listing
Tavo
Located in a historic building in the West Village, this 75-seat restaurant decorated with white-oak banquettes, a copper-topped bar and a mural inspired by the mountains of Monterrey serves modern Mexican cuisine. Small plates like a tostada with aji amarillo, jalapeno and caviar ($14), pork shoulder tacos with pibil, onion and paprika ($12) and tuna with ginger, espellete pepper and wakame ($10) will get your meal started. There's also a selection of appetizers, including ham hock and octopus empanadas ($15) and yellowtail, scallop and watermelon ceviche ($18). For the main course, choose between larger dishes like cod with mint, corn and sugar snap peas ($28), oxtail with poblano, scallion and potato ($26) and sirloin with quinoa, mojo sauce and parmesan ($29). Oenophiles will no doubt be pleased with the extensive wine list, while cocktail drinkers can choose from classics like a Blood and Sand or signature drinks like the Tavo's Fashioned with rye, popcorn and demerara rum (each $15).
Venue says: "In the heart of the West Village, TAVO features an eclectic collection of dishes that draw from the best of Latin cuisine."