The Feed first look: Omar's
Fine-dining vet Kenny Cuomo (Blue Hill, Per Se) plates Mediterranean-minded fare at this restaurant-supper club. See photos and the menu below.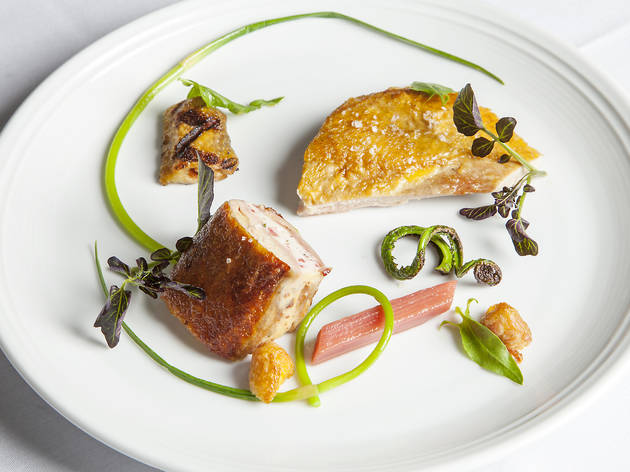 1/13
Photograph: Dominic Perri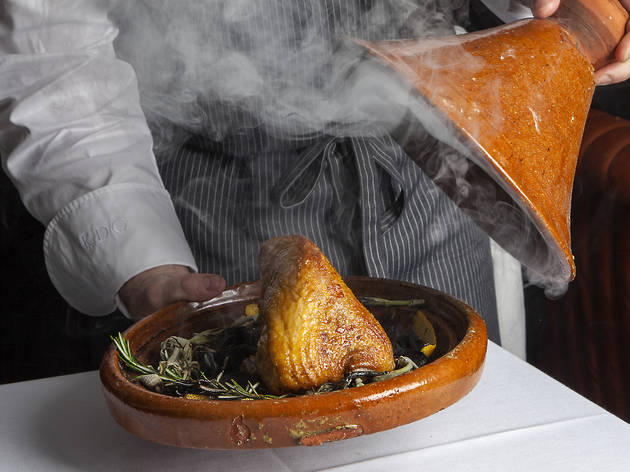 2/13
Photograph: Dominic Perri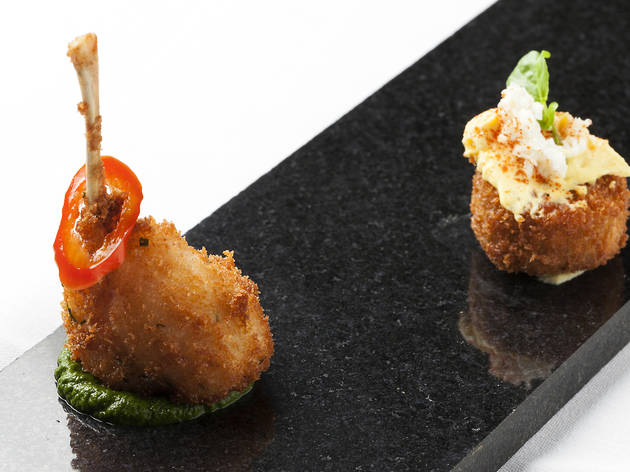 3/13
Photograph: Dominic Perri
Crispy frog leg and pork croquette at Omar's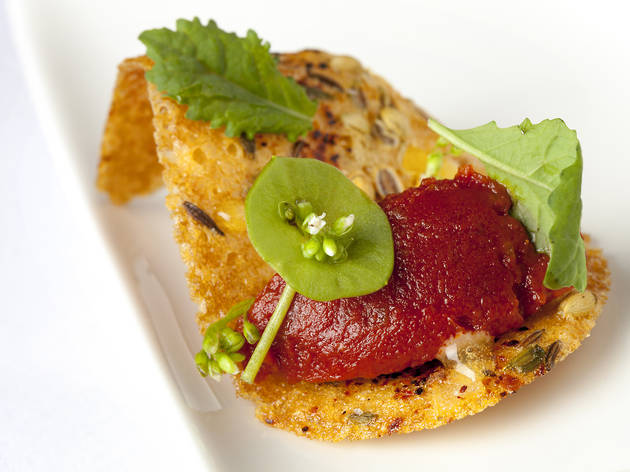 4/13
Photograph: Dominic Perri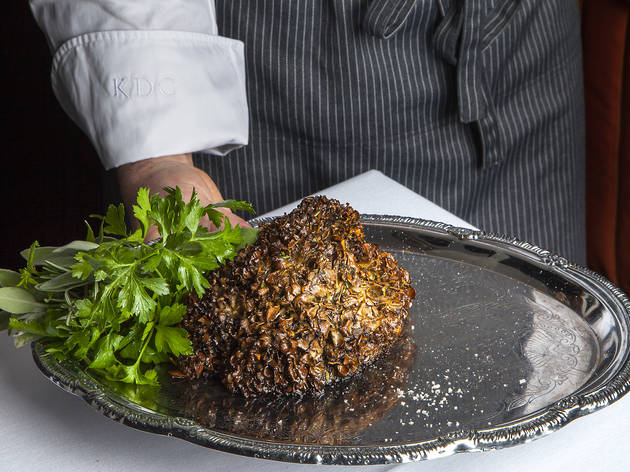 5/13
Photograph: Dominic Perri
Hen of the woods mushroom at Omar's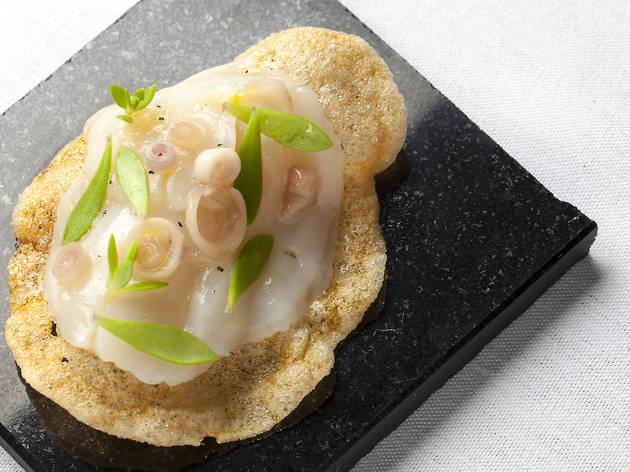 6/13
Photograph: Dominic Perri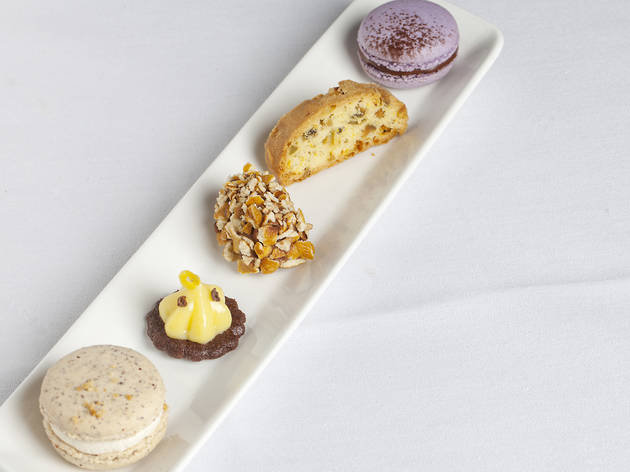 7/13
Photograph: Dominic Perri
8/13
Photograph: Dominic Perri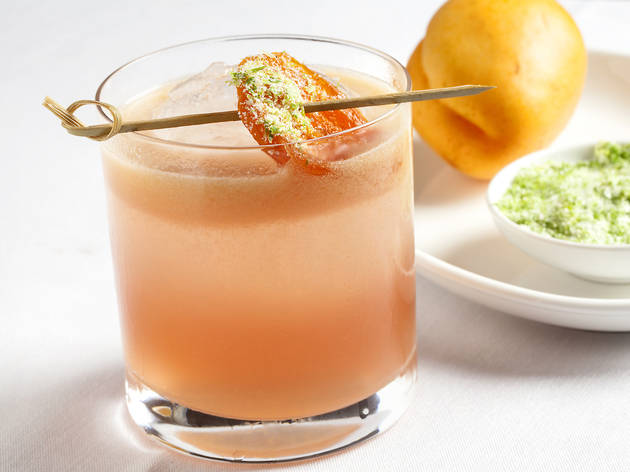 9/13
Photograph: Dominic Perri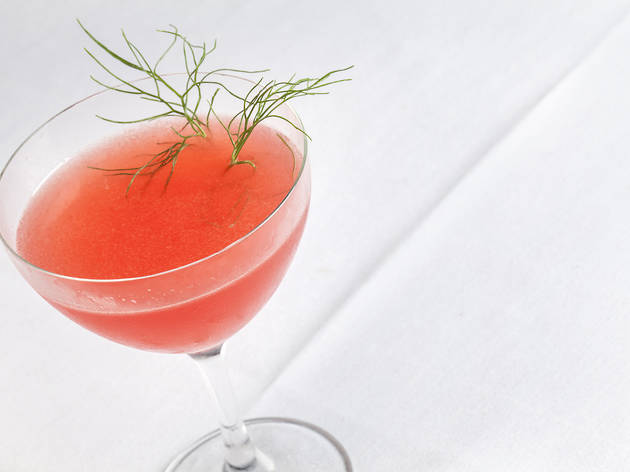 10/13
Photograph: Dominic Perri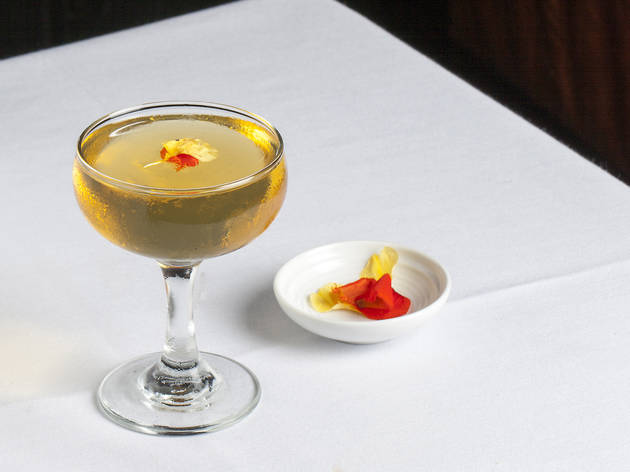 11/13
Photograph: Dominic Perri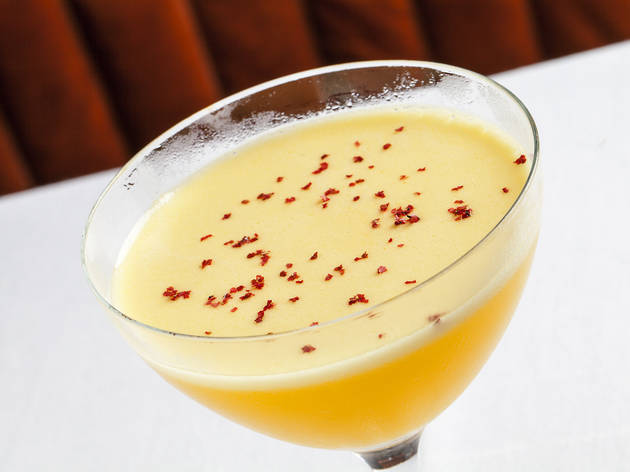 12/13
Photograph: Dominic Perri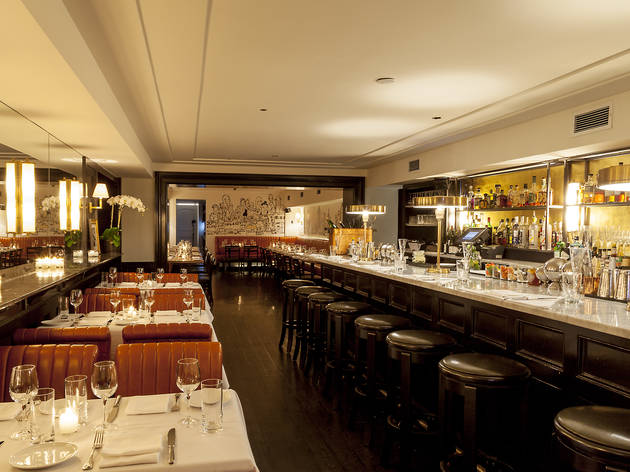 13/13
Photograph: Dominic Perri
Omar Hernandez (the Lion, Hotel Americano) has a fitting job title: ambience director. At his eponymous restaurant-cum-supper-club, the nightlife fixture conjures old-school members-only dens like '60s-era Annabel's in London. The 4,000-square-foot space—in a historic Gold Coast brownstone—is divided into two areas: a restaurant called La Ranita in front, and a private dining room in back. Fine-dining vet Kenny Cuomo (Blue Hill, Per Se) helms the Art Deco–style restaurant, dispatching New American plates with Mediterranean touches. Slip past the white marble bar to the mirrored dining room in back, and sink into a saddle leather banquette for sweetbreads with mushroom escabèche and ramps; charred mackerel with pipirrana and saffron crumble; and coffee-rubbed pork loin with chicory and sunchokes. Cocktails also have a seasonal edge: The Dahlia stirs vodka with passion fruit, cardamom and star anise, while the gin-based Sardinia has blood orange, grapefruit, lemon and fennel. The invite-only supper club features a fireplace-lit library bar, a solarium and a wine cellar. There, Cuomo supplies a "spontaneous tasting menu," at-whim American dishes tailored to diners' preferences. Check out the dinner menu below. 23 W 9th St between Fifth and Sixth Aves (212-677-5242)
MENU

LITTLE BITES:
PORK CROQUETTE 8
smoked paprika, deviled egg
SCALLOP 9
chili rice, pu, lime
PEAS AND CRACKER 8
sweet pea, lardo
CRISPY FROG LEGS 9
pickled chili
MUSHROOM 9
faro crisp
DINNER:
HEART OF PALM 14
beets, cashew
OMAR SALAD 13
fine herbs
CRISPY ARTICHOKES 15
spring beans, grapefruit
ASPARAGUS SOUP 15
Jonah crab
YELLOW TAIL TUNA CEVICHE 16
Mango, radish, lime
SURF CLAM 16
pigtail, sorrel
SMOKED SALMON 18
bourbon, horseradish, caviar
SWEETBREADS 16
mushroom escabeche, ramps
FOIE GRAS 18
stone fruits, pistachio, vincotto
SCALLOP 24
bitter orange, spring onion
CHARRED MACKEREL 23
pipirrana, salsa, saffron crumble
ROTELLA 21
nettles, morels, yolk
TORTELLINI 16
pea, panchetta, grains of paradise
ROASTED CHICKEN 22
cornbread
LOIN OF PORK 23
coffee, chicory, sunchokes
COD 25
baked on salt
SIRLOIN 27
cheek, confit turnips

FOR TWO:
HEN OF THE WOODS 42
mushroom, fondue, spring onion
WHOLE ROASTED GUINEA FOWL 65
leg pressed, cherry, white asparagus
DOVER SOLE 70
smoked fennel, olive sauce province
FIRE ROASTED RIB EYE 82
smoked fennel, olive sauce province

Sponsored listing
Kings of Kobe - The Burger & Hot Dog Monarchy
This Hell's Kitchen eatery serves unusual takes on two classic American dishes: burgers and hot dogs made with all-natural Wagyu beef. Sausage lovers will want to try the Manhattanite dog topped with caramelized apples, frisee, shaved cheddar and wasabi aioli ($8.95) or the All Nighter with bacon, onion marmalade, lemon zest and blue cheese dressing ($9.25). As for burgers, there's the Better Than Caesar with burrata, baby arugula and stone fruit relish ($12.25), The Queen Rules with prosciutto, pepper jack, frisee and sweet chili jam ($12.50) and the Duke of Lux with smoked gouda, bacon, caramelized onions and chipotle aioli ($13.50). Gluten-free eaters will be happy to note that Kings of Kobe also offers alternative buns. The restaurant also serves snacks like mac and cheese balls ($7.25) and a waffle dog drizzled in spicy maple syrup ($5.50), brunch entrees like a Reuben topped with a fried egg ($13.50) and creamy Haagen-Dazs milkshakes ($6).
Venue says: "We'll make it easy for you! Happy Hour from 3-6pm- enjoy $3 Milkshakes, $8 Milkshake + Mac & Cheese Ball combo, $3 Beer, & $5 Wine!"