The Feed first look: Plan B
Roberto Hanechak (Bouley, Nobu) dishes up adventurous Northern Spanish tapas (python sausage, bull testicles) in Nolita.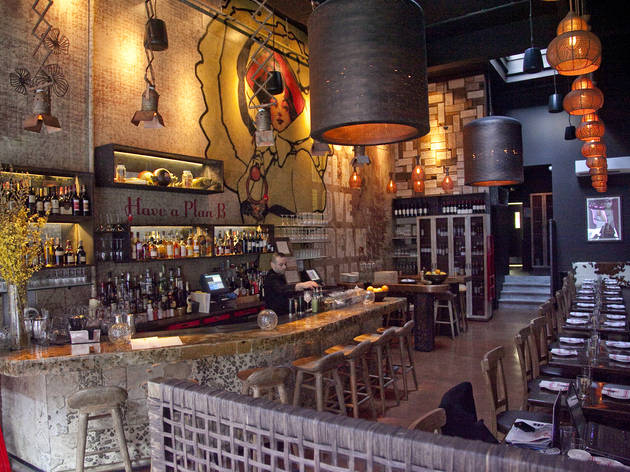 1/9
Photographer: Melissa Sinclair
Plan B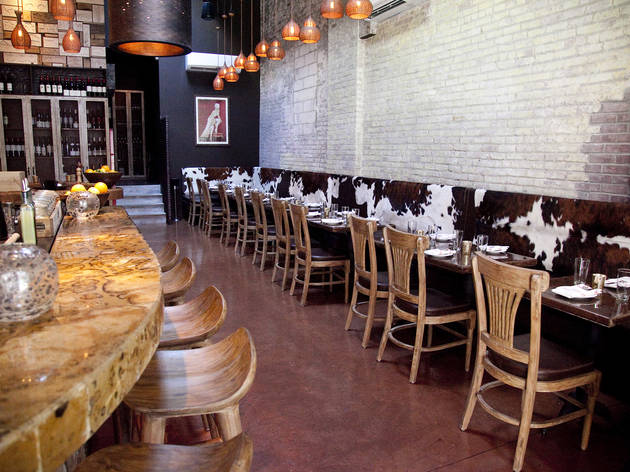 2/9
Photographer: Melissa Sinclair
Plan B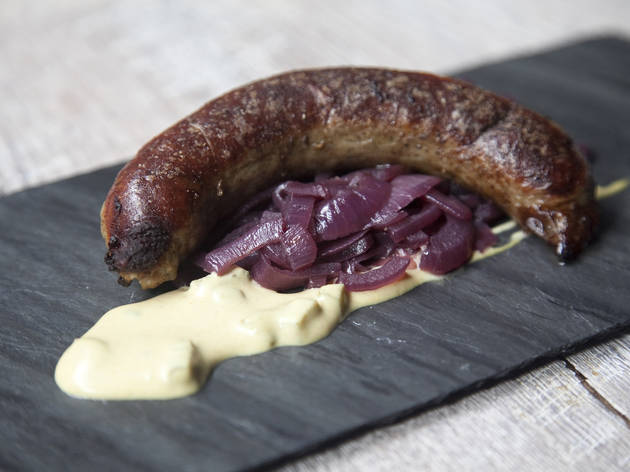 3/9
Photograph: Melissa Sinclair
Python sausage at Plan B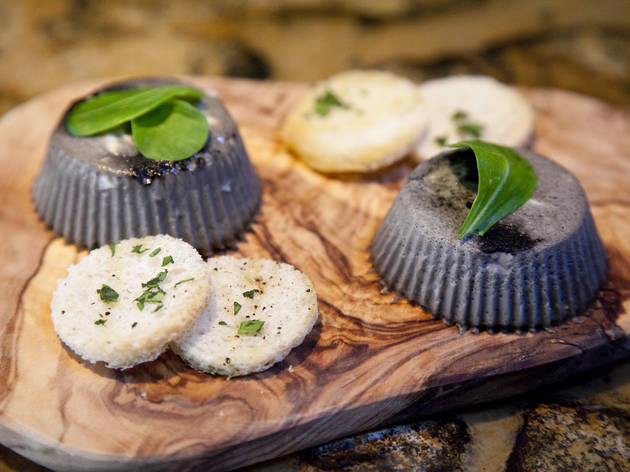 4/9
Photographer: Melissa Sinclair
Squid ink flan at Plan B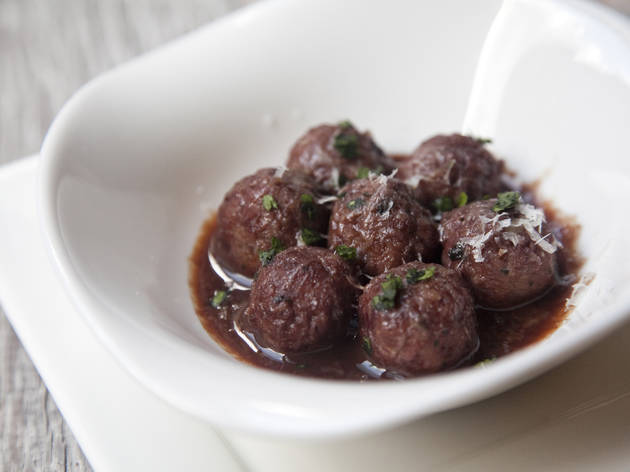 5/9
Photograph: Melissa Sinclair
Rabbit meatballs at Plan B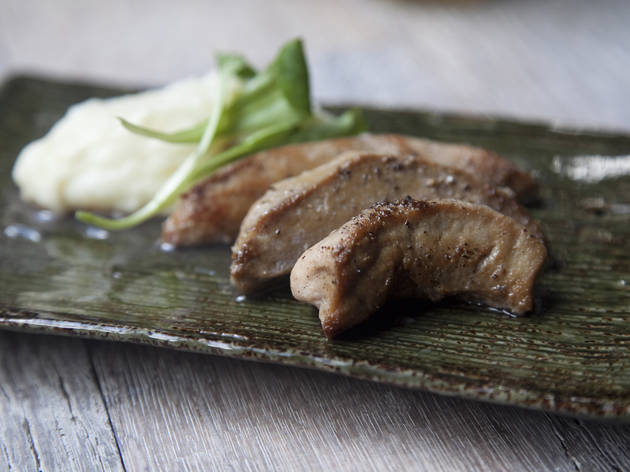 6/9
Photograph: Melissa Sinclair
Bull testicles at Plan B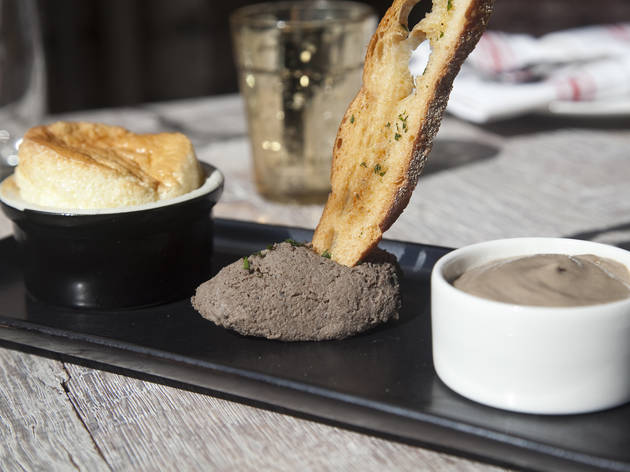 7/9
Photographer: Melissa Sinclair
Duck heart soufflé and pâté at Plan B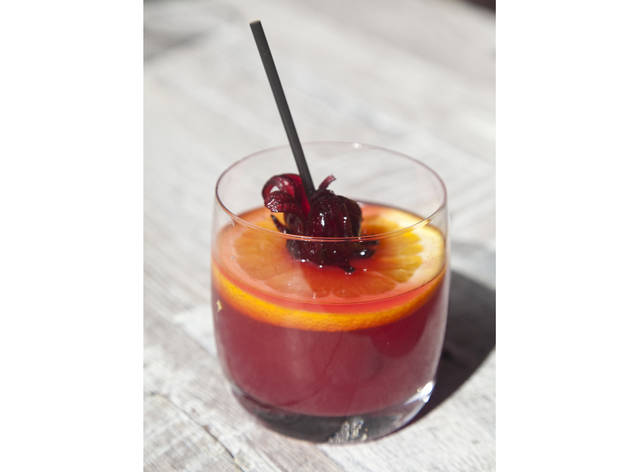 8/9
Photographer: Melissa Sinclair
Un Diferente Negroni at Plan B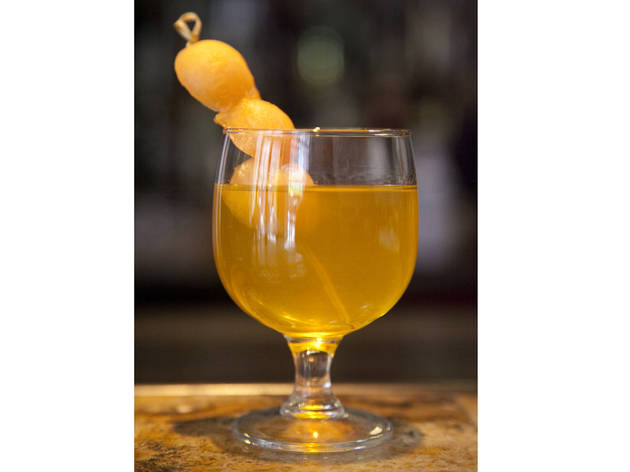 9/9
Photograph: Melissa Sinclair
Ginebra e Meloni at Plan B
With such a cheeky name, it's not surprising that this Nolita tapas joint isn't afraid to get a little naughty. Robert Hanechak (Bouley, Nobu) dispatches plates that are not for the gastronomically timid: a duck-heart duo of soufflé and pâté; python sausage outfitted with vinegared onions; and seared bull testicles with Yukon-potato mash. The digs are as, ahem, ballsy as the do-you-dare menu, looking to the edgy skate-park landscape of urban Bilbao and Barcelona for inspiration: Graffiti art brightens one wall, banquettes are covered in horsehide, while petrified barracudas and jars of octopus specimens offer a Dada touch. Chicken-wire wine cabinets house bottles of txakolina wine (also mixed into a cocktail with jalapeño tequila, pineapple, pomegranate, lemon and soda), port and sherry. Clover Club alum Ivy Mix consults on the cocktail program, employing Basque sloe-berry liqueur pacharan to lend a Spanish accent to a Pimm's cup (with ginger beer, orange, cucumber and mint). On your way out, grab a matchbook—they swap the flame-sparking sticks for condoms touting "Keep Calm and Have a Plan B." 244 Mulberry St between Prince and Spring Sts (212-775-0111)
Sponsored listing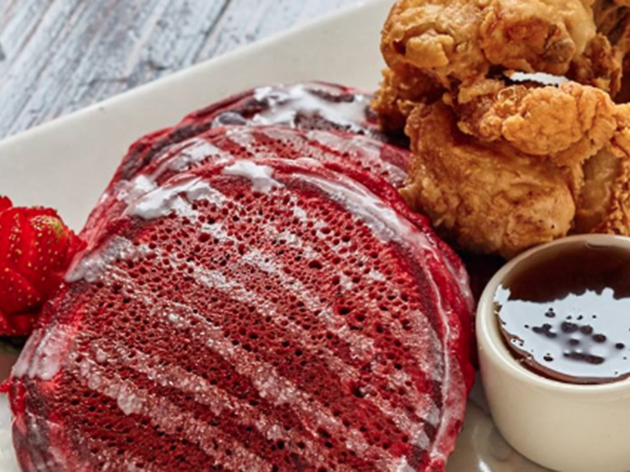 This Harlem restaurant and bar serves updated American fare for brunch, lunch and dinner. The dinner menu features plenty of comfort foods, like short rib mac and cheese ($16), fried chicken with braised greens and smashed potatoes ($27) and a "big ass" burger topped with blue cheese, a fried egg, barbecue sauce, sauteed onions and mushrooms, onion rings, lettuce and tomatoes ($27). Lighter options include a watermelon and feta salad ($14) and pan-roasted red snapper with asparagus ($28). True to the restaurant's name, you can also indulge your sweet tooth with chocolate-y desserts like molten lava cake and chocolate–peanut butter pie ($10 each). You can even sip a red velvet or dark chocolate martini ($14 each). Chocolat also offers a full wine list, domestic beers and a full bar.
Venue says A new taste of Harlem comfort food & new American cuisine. Come join us for Happy Hour Mon-Fri 4p-8p