The Feed first look: Subject
Bar vets from Millesime and Saxon + Parole open a Lower East Side haunt with artisanal cocktails and canned craft beers.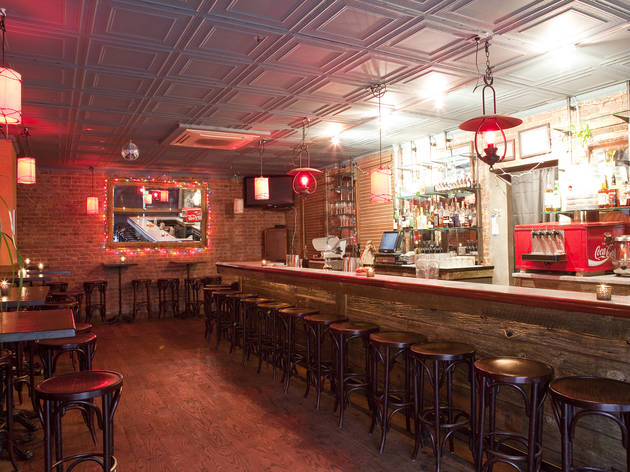 1/5
Photograph: Jessica Lin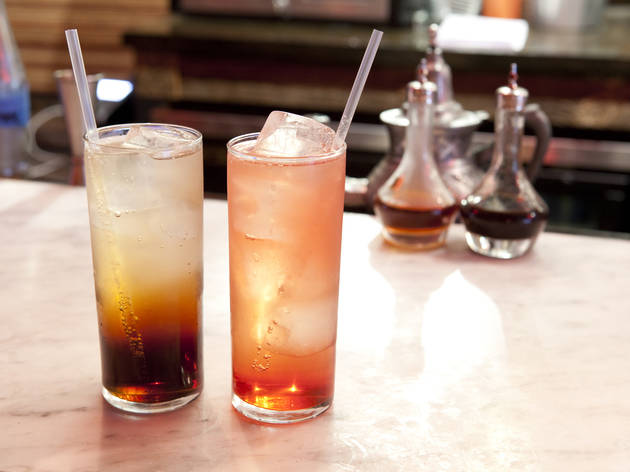 2/5
Photograph: Jessica Lin
From left: Rum and house-made root beer, Brooklyn Gin and Tonic at Subject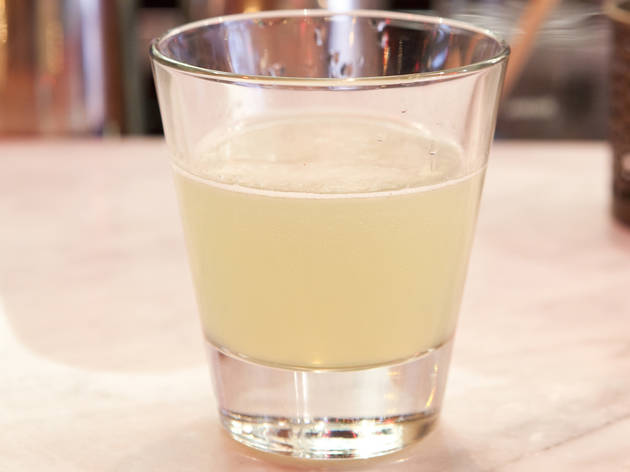 3/5
Photograph: Jessica Lin
Matilda's Big Brother at Subject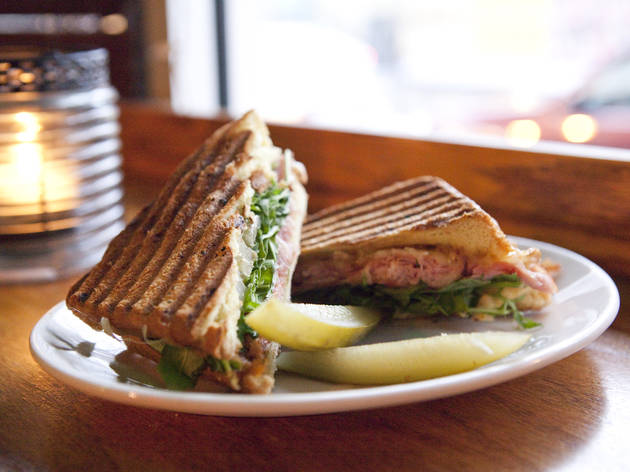 4/5
Photograph: Jessica Lin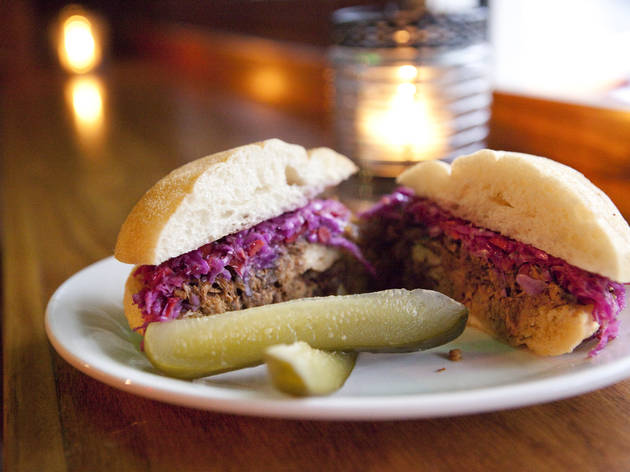 5/5
Photograph: Jessica Lin
Pulled pork sandwich at Subject
Stealthily opened in November, divey booze den Subject is quietly executing one of New York's most convivial new bar programs, courtesy of veteran drinks nerds Matthew Rush (Millesime) and Christopher Harrington (Saxon + Parole). In unassuming digs—red Christmas lights, a wood-trimmed marble bar—the pair is bringing forward-thinking methods to a breezy drinks menu of fresh cocktails, beer-and-shot combos and canned suds. A 1960s Coke machine—rigged up with a C02 carbonator—fizzes up house-made sodas with essential-oil flavors, all highlighted in the menu of nine cocktails. Lavender-and-hibiscus tonic (along with Brooklyn Gin) gives the classic G&T a feminine update, while orange-cream soda lightens a potent mix of Rittenhouse Rye and green Chartreuse in the Matilda's Big Brother. Laid-back tipplers can get a beer paired with an infused shot, like a Sixpoint Resin Ale served alongside a slug of mint-honey-sweetened whiskey. And a selection of eight cans features craft options (Old Chub Scotch ale, 21st Amendment's Back in Black) and lowbrow brews (PBR, Tecate). Soak up the liquor with comfort-food plates, such as vegetarian chili with cheddar-cheese corn bread and pulled pork slow-cooked in root beer and sandwiched in a ciabatta roll. Check out the cocktail menu below. 188 Suffolk St between Houston and Stanton Sts (646-422-7898)
COCKTAILS
Jersey born Sazerac (Lairds Bonded Apple Brandy, Swedish Punsch, Demerara, Bitters) $12
Flinstone Vitamin (Famous Grouse, Laphroaig, Lemon, Root Beer Honey) $12
Skeleton Sour (Espolon Blanco Tequila, Vida Mezcal, Lime, Vanilla, Benedictine, Spice) $13
Brooklyn Gin and Tonic (Brooklyn Gin, Lavender-Hibiscus Tonic) $13
Matildas Big Brother (Rittenhouse Rye, Green Chartreuse, Lime, Orange Cream Soda Syrup) $12
Awol Scottish Navy (Smith & Cross, Denizen, and Ron Zacapa Rums, Laphroaig 10, Lime, Cinnamon Spice) $12
Rum and Root Beer (Denizen and Smith & Cross Rums, Root Beer Syrup, Soda Water, Lime, Bitters) $12
Old Fashioned (Elijah Craig 12 year, Goslings Rum, Bitters) $12
Dickel and Cola (George Dickel Tennessee Whiskey, Lime, Cola) $12
Sponsored listing
Ayios Greek Rotisserie
Can't afford a vacation in Santorini? Get a taste of the Greek lifestyle at this taverna in the East Village. Whet your appetite with a crispy slice of spinach spanakopita ($10), a plate of chargrilled octopus ($19) or shrimp saganaki ($18). For your main course, go casual with a chicken or pork yeeros platter served with fries, tomatoes, onions, pita and the house sauce ($14), or gorge on the rich moussaka, a dish of eggplant, potato and ground beef topped with a thick layer of bechamel sauce ($16). A whole grilled sea bass ($25) or salmon fillet ($18) might do the trick if you're craving seafood. Finish your meal with a traditional Greek walnut cake ($8) or head straight for the bar. You're going to want to taste the hard-to-find spirits like ouzo ($7) and the Greek brandy called metaxa ($14). The wine lists features mostly Mediterranean vintages, while the signature cocktail list includes themed beverages like a Mykonos Mule ($14).
Venue says: "When you mention Time Out you can have a Yeeros Pita with your choice of either a glass of house wine or draft beer for $9."