The ultimate bagel test
Our food writer tested these classic lox-and-cream-cheese bagels, complete with tomato and onion, for inner beauty. Meanwhile, sandwich aficionado Jon Chonko-creator of the popular Scanwiches blog-popped them onto his scanner and weighed in on looks.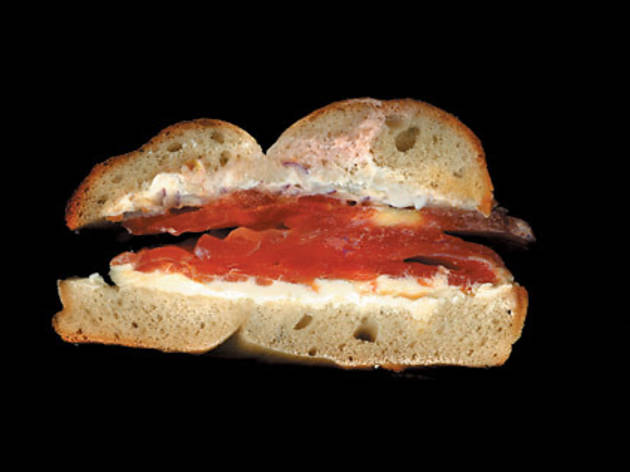 1/6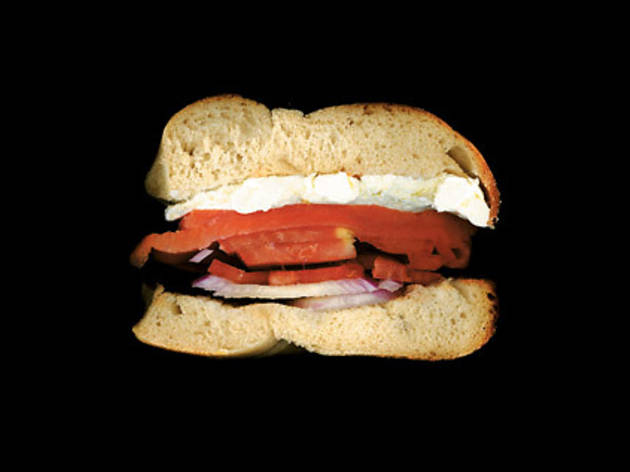 2/6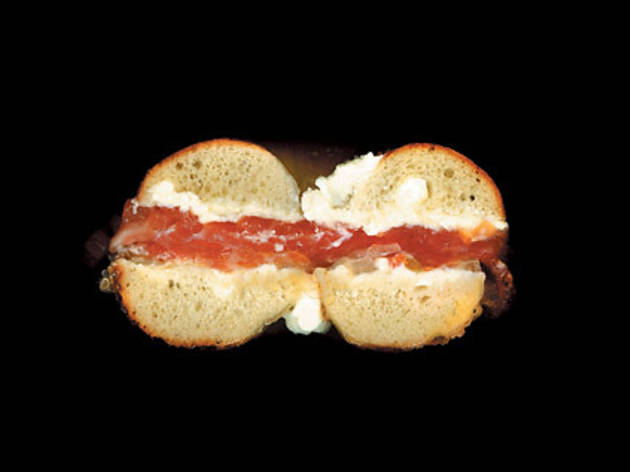 3/6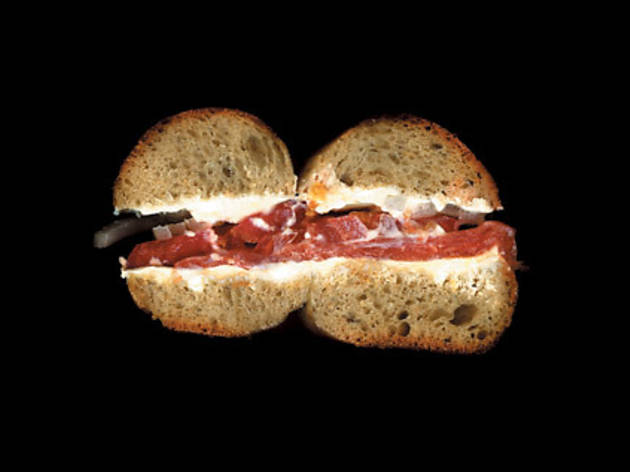 4/6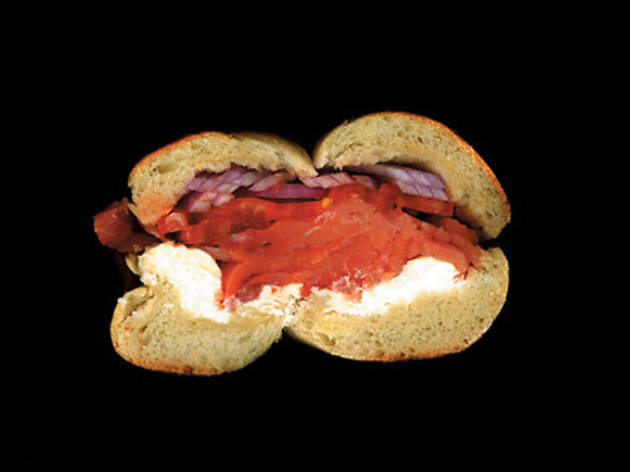 5/6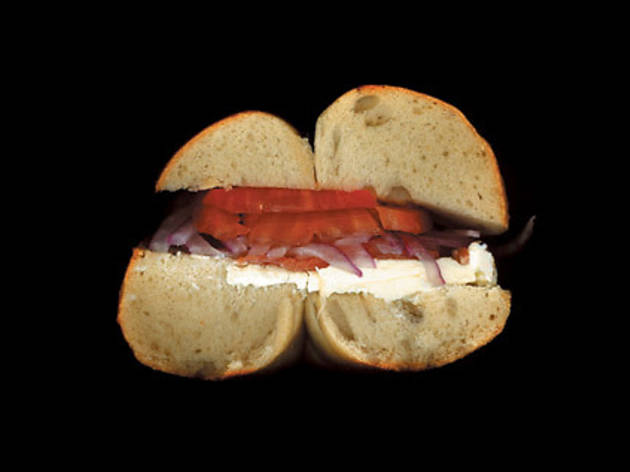 6/6
RECOMMENDED: All our listings for the best brunch in NYC
Bergen Bagel ($6.45)
473 Bergen St at Flatbush Ave, Prospect Heights, Brooklyn (718-789-7600, bergenbagel.com)
Ranking
Taste 3rd
Beauty 6th
How it tastes: "Bergen's lox is silky, buttery and generously distributed—but not as good as Russ's," Rebecca notes. "Its bagel is pleasingly chewy and crusty—but not the crunchy-tender perfect that Absolute's is. I rank it third, but its $6.45 price tag won it first place for value."
How it scans: "The bagel is just too flat," Jon says. "The tomatoes are indistinguishable [from the lox] and the onions invisible."
Absolute Bagel ($7.45)
2788 Broadway between 107th and 108th Sts (212-932-2052)
Ranking
Taste 1st
Beauty 1st
How it tastes: "This is the best bagel," says Rebecca, "with a nice crust and satisfying heft. The proportion of bagel to lox to cream cheese is perfect, and the lox itself has a clean taste and firm texture."
How it scans: "Perfectly divided layers, excellent vertical stacking and a clean cut make Absolute the winner of this beauty contest," Jon says.
Russ & Daughters ($9.20)
179 E Houston St between Allen and Orchard Sts (212-475-4880, russanddaughters.com)
Ranking
Taste 2nd
Beauty 5th
How it tastes: "Russ's storied, almost ethereal lox is in a class of its own," Rebecca says. "And its hand-whipped cream cheese has an unbeatable texture, but its slightly tough bagel keeps it in second place."
How it scans: "Mushy without the saving grace of beautiful bread," Jon says. "What it doesn't do in looks it makes up for in taste: best lox of them all."
Ess-a-Bagel ($9.25)
359 First Ave at 21st St (212-260-2252, ess-a-bagel.com)
Ranking
Taste 4th
Beauty 4th
How it tastes: "Though it's more landmass than baked good, the bagel wins points for substantial crust and yeasty flavor," Rebecca says. "Its lox, however, is slightly flat on the palate."
How it scans: Jon says, "When everything runs together it's not pretty, and swapping out purple onions for white doesn't help. The bagel's warm brown color and texture keep it in the contest."
La Bagel Delight ($7.99)
122 Seventh Ave between Carroll and President Sts, Park Slope, Brooklyn (718-398-9529, labageldelight.com)
Ranking
Taste 5th
Beauty 2nd
How it tastes: Rebecca notes: "Though the bagel itself has a nice crust and a good balance of fluffy and chewy, it's undermined by slightly mushy lox that suffers from uneven distribution."
How it scans: "With all its lox, wonderful onion texture and heavy cream cheese, La Bagel could have won," says Jon, "but the sloppy layers keep it in second."
Terrace Bagels ($7.65)
224 Prospect Park West at 16th St, Windsor Terrace, Brooklyn (718-768-3943)
Ranking
Taste 6th
Beauty 3rd
How it tastes: "The bagel is a bit too pillowy, and slightly soaked with oil from the lox, which itself is mealy and alarmingly greasy. The whole thing was a bit sloppy and mushy and generally underwhelming," Rebecca says. "It's the only one I didn't finish."
How it scans: "An almost perfect bagel," Jon declares, "decadent texture, massive dough, bright purple onions. This one has lots of everything, except lox."
You might also like
Best brunch in NYC
See more in Food & Drink
Sponsored listing
Pure Ktchn
Healthy eaters will be happy to know they have another option in Hell's Kitchen, whether you want to dine in or take your food to go. Purektchn serves up mainly vegan and vegetarian fare, though you'll find a few shrimp and tuna dishes on the menu. The restaurant uses only organic ingredients, with no added sugar or fried foods in sight. At breakfast, you might want to go sweet with an acai bowl topped with granola ($9.95) or a Green Sunshine smoothie ($7.50). For lunch or dinner, you might opt for one of their hearty salads, like the avocado-beet number or the caesar salad with coconut "bacon" and chickpea croutons (both $9.95). The menu also includes plenty of bowls, like the baked falafel bowl with beet hummus ($10.95), shrimp sushi bowl with rice  ($10.95), nori and spicy cashew sauce or the butternut squash bowl with lentils, cauliflower and kale ($10.50).
Venue says: "Vegan–friendly health food Eatery. Nothing fried, no added sugars, no chemicals, 100% pure and organic ingredients. - Dine–in or take–out."