Every cheese shop worth going to in NYC
At a cheese shop, get NYC's best Swiss, cheddar, Gouda, Brie...shall we go on? These stores have the best cheesy goods.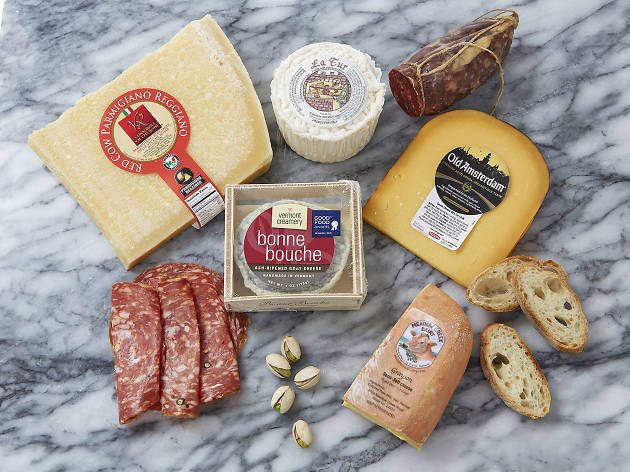 A cheese shop is about to become your favorite kind of grocery store in NYC. Because being an adult is tough, but it's easier to work a 60-hour work week and come home to an apartment share with two other twentysomethings when there's a fridge full of cheese waiting for you. Instead of shrink-wrapped cheddar from Gristedes, treat yourself to a truffle-infused Gouda or a wonderfully stinky Stilton from the city's best shops. (You can even add it to a bacon egg and cheese sandwich for breakfast perfection.) Or better yet, swing by a wine store and assemble an Avengers-level assortment for an impressive wine-and-cheese soiree. Sweet dreams are made of cheese—who are we to dis-a-Brie?
RECOMMENDED: Full guide to restaurants in NYC
Looking for a butcher shop?
A butcher shop in NYC is the perfect place to buy choice cuts of meat, from steak to burgers to wings to BBQ
Read more
Sponsored listing
M Noodle Shop
M Noodle Shop seems perfectly suited to the late-night crowd in Williamsburg. Pick a seat at the counter and order from the long menu of Chinese favorites: think scallion pancakes ($6), boiled shrimp dumplings (six for $6) and lo mein with your choice of protein ($8.50). Then there are the more unusual options, like sauteed squid with basil and sweet chili sauce ($14) and "dragon fly," a combination of ground pork, black beans, diced peppers and chives ($12). Veg heads will also be thrilled to hear the restaurant has plenty of vegetarian offerings, like the sesame pancake with pickled vegetables ($7), fried or steamed vegetable buns (two for $5), spicy den-den mein ($8.50) and a variety of tofu and seitan stir-frys ($9.50–$11). Best of all, the shop is open late—until 6am most nights—so it's always possible to get your egg drop soup fix.
Venue says: "It is that time of the year where a bowl of hot noodle soup can sooth your soul."