Best gift shops: Hell's Kitchen
Find out where to shop for gifts in this midtown Manhattan neighborhood.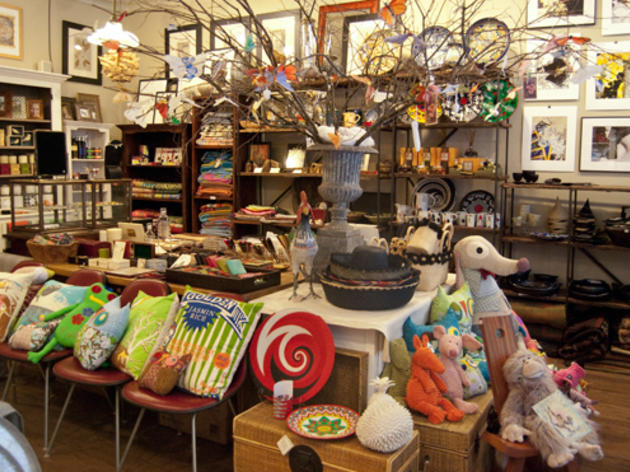 Critics' picks
This popular neighborhood boutique is a treasure trove for kitschy housewares like Design Ideas skyline bookends ($43), Jonathan Adler ceramic animals ($47–$200) and high-end beauty goods such as Archipelago Botanicals travel sets ($28). There's also a small but well-curated selection of cookbooks, including Janet Fletcher's Eating Local ($35) and Ruth Reichl's Gourmet Today ($40).
Read more
Scouring the globe for unusual design products is nothing new, but owners Luisa Cerutti and Nicki Lindheimer take the concept of overseas buying trips a step further; each year they visit a far-flung part of the world to forge links with and support cooperatives and individual craftspeople. The beautiful results reflect a fine attention to detail and a sense of place. With their vivid colors and swirling abstract patterns, baskets woven from telephone wire by South African Zulu tribespeople would look fantastic in a modern apartment. They come in a variety of sizes, priced from $29 to $335, and still exude a faint scent of smoke from the huts in which they took shape. Exquisite stone boxes made by a family in Vietnam are carved with remarkably convincing "weave" patterns, decorative leaves or an intricate dragon ($29–$220). Some items are sourced closer to home, such as Hell's Kitchen cabinetmaker Beau Van Donkelaar's one-of-a-kind cheese boards composed of different-colored wood offcuts ($199). This is a great place to find reasonably priced gifts, from handmade Afghan soaps ($8.25) to Italian throws (from $69), plus cushions, glassware, toys and much more.
Read more
More shops for gifts in Hell's Kitchen
t doesn't get any more underground than the New York City subways, so it's somehow fitting that this streetwise outfitter is located inside the Port Authority subway station. You'll find an array of unisex $20 silk-screened tees and $40 hoodies, made exclusively by the store's namesake label. Most designs are refreshingly minimalist; to wit, one simply says "42nd & Feeling Fine" in cursive, while another features a pair of boxing gloves and the phrase "Local Champion." Solid zip-up hoodies are adorned with yellow strings and original Grast pin buttons on the chest. There's also a heavy focus on toys and accessories, with a line of G-Shock watches designed in collaboration with Alife ($150) and Krink ($140); plastic character figurines by Kidrobot ($8); and GoodWood NYC intricate, hand-painted wooden pendants on beaded chains ($60). Before you hop on the train, ditch your tired Apple earbuds and cop a pair of tricked-out DJ-style headphones from Coloud ($40) or Urbanears ($60), available in every solid color of the pastel rainbow.
Read more
At first glance, the huge studio and large number of students can seem intimidating, but once the lights dim, the music starts and the room settles, a truly intimate setting emerges. The personal attention and inspiring presence of the instructors are definitely among the most appealing features of this studio, which offers four donation-based classes each week.
Read more