Best gift shops: Williamsburg
Find out where to shop for gifts in this Brooklyn neighborhood.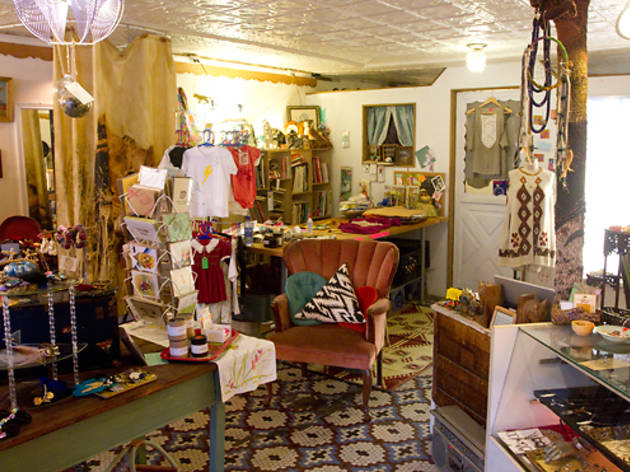 More shops for gifts in Williamsburg, Brooklyn
This popular shopping joint is open all year round and recently expanded to host live performances and 100 sellers every weekend. Make sure to snag some of the new merch—vintage from Thriftwares ranging from the 1950s–1990s, downtown-cool jewels by Wicked Heathens and hats from ALIENSofBROOKLYN. 
Read more
Carrie Peterson's buy/sell/trade store has become a household name in the city since establishing outposts in Park Slope and Greenwich Village, but the original Williamsburg store wass still a prime spot to scope preworn treasures. It has since moved to Greenpoint because the store's landlord didn't renew its lease. "The neighborhood has grown at astronomical rates," Peterson says. Luckily the rent rates are friendlier—for now—in Greenpoint, which is nice considering this new outpost is only six-and-a-half blocks away from its old spot. Expect the same vibe and budget-friendly prices on vintage goods that Beacon's is known for. Sifting through the many racks of gently used clothing for true finds can require a heck of a lot of patience, but the effort is well worth it for fashionistas on a budget. On a recent visit, we spotted a pair of Manolo Blahnik peep-toe pumps ($22) and a Patrizia Pepe china silk tunic ($50); dudes' duds included a Club Monaco denim jacket ($17) and Sperry Top-Siders ($19). Looking to sell your own cast-offs? Clean, gently-used duds are inspected on the spot for their resale value (which is determined by seasons or what the store needs stocked). You'll receive either a percentage of the resale value in cash (35 percent) or store credit (55 percent) to put toward your next purchase.  
Read more
This pair of vintage shops hawks affordable furniture, dishes, books, art, clothing and accessories—if you have the time to look. Sift through more than 5,000 square feet of merch to uncover treasures.
Read more
We've all experienced that "Oh, shit, I forgot my best friend's birthday" panic, so we're especially grateful for this budget-friendly gift emporium. As the third installment to Grace Kang's sea of stationery boutiques, this Williamsburg outpost primarily sells quaint items like New York art prints ($30), teakwood-and-tobacco-scented candles ($24), you are loved mugs ($18) and Freaking Awesome greeting cards ($8). The spot also hosts frequent events, like the upcoming Valentine's Day jewelry trunk show, where you can get complimentary jewelry stamping by the designer from Brooklyn Rehab.
Read more
Just when you thought Bushwick couldn't get any hipper, this co-op throws open its indie-artist-lovin' doors. Founded by screen printer Karin Persan, the market will be stocked entirely with locally handmade clothing, jewelry and accessories, including steals like SML Bags' colorful clutches ($50–$150), the Hand of Fantima Designs' chunky charm jewelry ($10–$50) and Joann Berman's hip-hop inspired garb ($50–$150). The venue also plans to events and workshops.
Read more
A former vintage shop owner, costume designer and stylist, Anne Seally uses her discerning eye to stock her boutique with a constantly rotating inventory of season-less items. You'll find unique home goods, women's apparel and children's clothing and toys, such as woodland moth ornaments ($11), Megan Park floral-print skirts ($395), and hand painted cherry blossom glasses ($15). Consider Task any holiday's secret weapon.
Read more
Record label owner Mari Ayabe's tiny gift and music boutique is located inside Williamsburg's Mini Mall and sells everything from cheap cigarette pens and marijuana leaf-printed canvas shoes to vintage synthesizers and homemade tote bags. Venture to the back of the shop for midcentury furnishings and a notable reggae and jazz selection on CD and vinyl.
Read more
Since spring break in Cancún is not looking likely this year, pick up a souvenir from owner Emily Cantrell's travels to Mexico instead. Cantrell sources intricate silver jewelry ($20–$200), Mexican wedding shirts and peasant dresses ($54–$98), leather sandals ($25) and popular lucha libre masks ($15–$45) direct from individual artisans. Everything's handmade and comes with a card detailing the who, where and how of its creation. Beats the hell out of a shot glass.
Read more
This pair of vintage shops hawks affordable furniture, dishes, books, art, clothing and accessories—if you have the time to look. Sift through more than 5,000 square feet of merch to uncover treasures.
Read more