Chelsea Market | New York, NY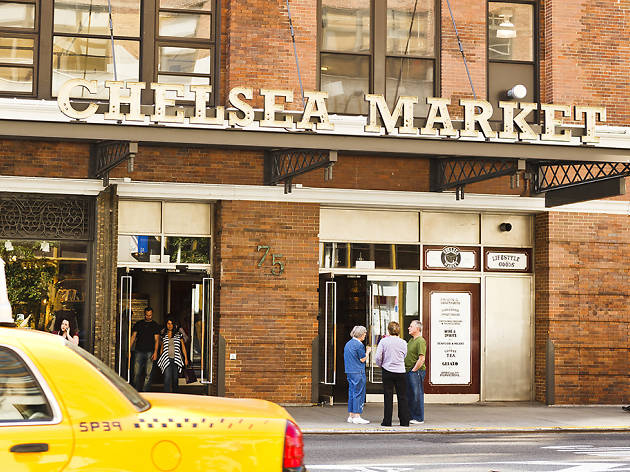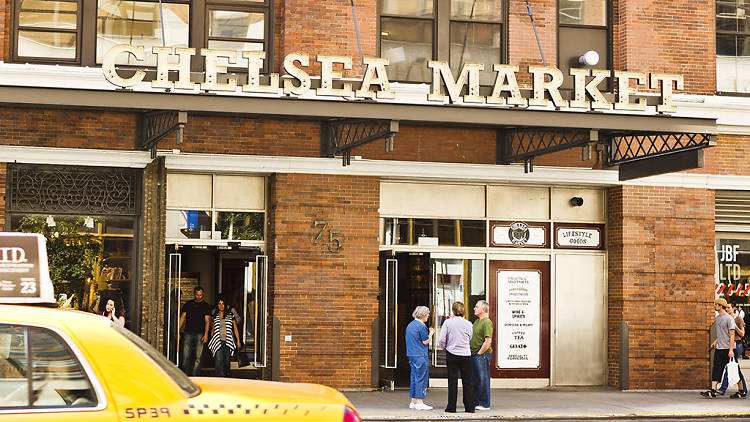 1/6
Photograph: Shutterstock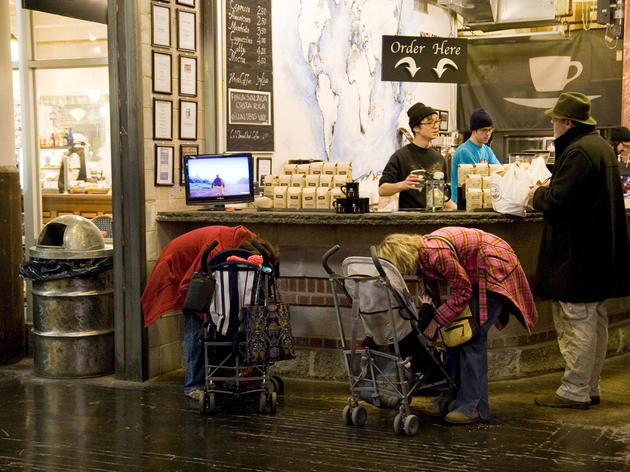 2/6
Chelsea Market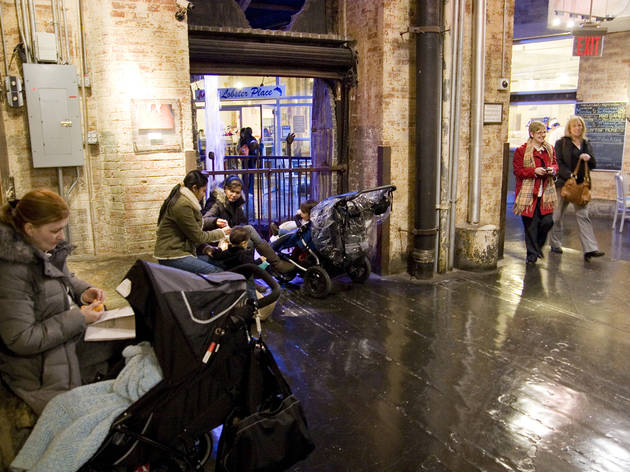 3/6
Chelsea Market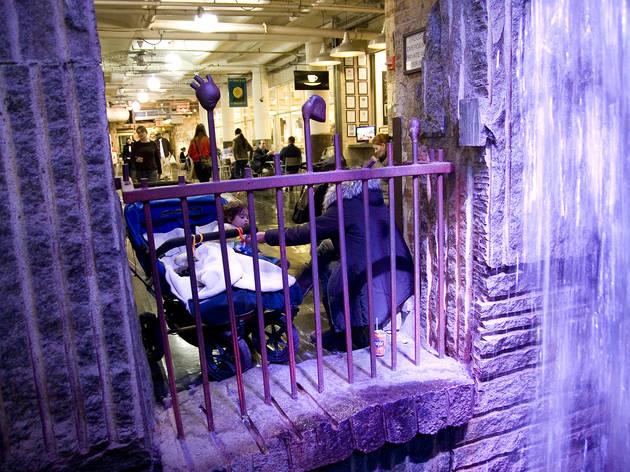 4/6
Chelsea Market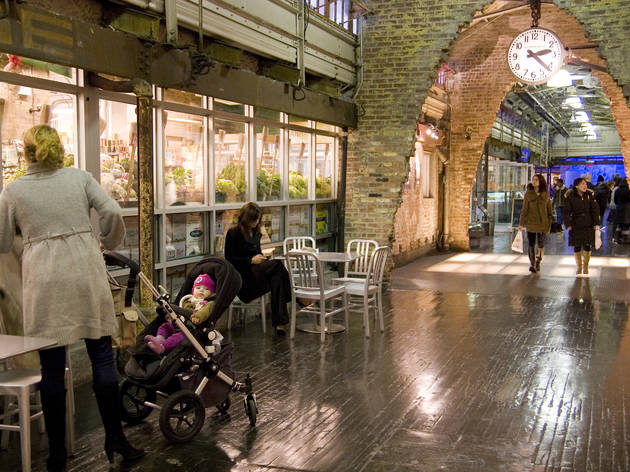 5/6
Chelsea Market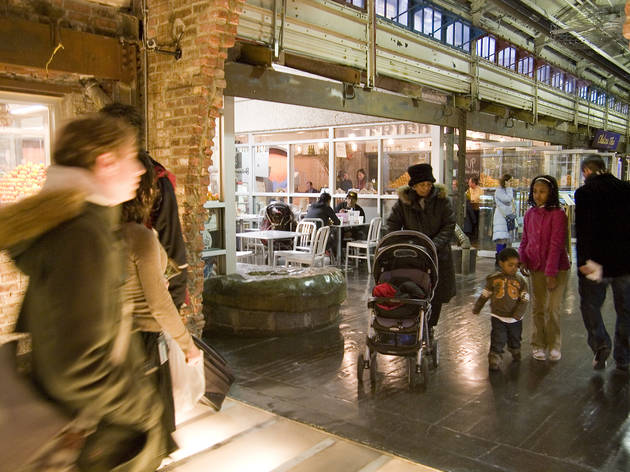 6/6
Chelsea Market
Time Out says
Everything you need to know about visiting Chelsea Market (75 Ninth Ave, New York, NY 10011).
The former home of the National Biscuit Company is a hot spot for foodies and shopping addicts. Primarily known for its wide-range of eateries, Chelsea Market is hands-down one of New York's most notable food halls boasting more than 35 vendors. Whether you've got a hankering for a steaming-hot cup of lobster bisque, perfectly aged cheese or a strong and smooth shot of espresso, Chelsea Market has you covered. Aside from finger-lickin' fare and sweet merchandise, the attraction offers historical charms such as the market's iconic fountain, which was crafted using discarded drill bits and exposed pipe from the former Nabisco factory.
The grub:
Mexican food lovers, rejoice! Chelsea Market is home to one of the best taco joints in the city: Los Tacos No.1. Next time you're craving crepes, hit Bar Suzette for its French onion soup-inspired creation or opt for a sweet, Nutella and fruit-filled pancake. Seafood worshippers will go nuts inside The Lobster Place—a wholesale and retail fish market, which serves fresh and prepared meals like lobster roll and sushi. When you need to oblige your sweet tooth, hit the pint-sized Doughnuttery stand for mouth-watering bite-sized desserts. (You can watch the doughnuts come fresh off the conveyor belt and choose your own toppings.) The market also reps great restaurants like a rustic, classy spot called The Tippler.
The shops:
Chelsea Market is a great grab-on-the-go spot for picking up last-minute ingredients for a meal, a Birthday gift for a friend or a smokin' outfit for a hot date. Snatch a baguette from Amy's Bread and stop at Chelsea Wine Vault for a bottle of vino before your next dinner party. Got dough to blow? You'll do some damage to your bank account after nabbing the bohemian and flirty wares sold at Anthropolgie. If you need to snag a quick present for your bestie, the market also houses one of the city's best flea markets (Artists & Fleas), at which you can buy greeting cards, unique giftables as well as artwork, jewelry, vintage apparel and more.
The events:
Great eats, vintage duds and entertainment? Yeah, Chelsea Market has it all. Whether you're interested in attending a sample sale by a coveted designer or want to check out Chelsea Nights—a live Friday night concert series—check the market's calendar for news on upcoming performances and shopping events.
Our New York editorial team is constantly updating and reviewing the best attractions, activities and venues across the city, so that you're always in the know, with the best of New York at your fingertips. Chelsea Market was most recently updated with new tips on June 30, 2017.
Details
Address:
75 Ninth Ave
New York
10011

Cross street:
at 16th St
Transport:
Subway: A, C, E to 14th St; L to Eighth Ave
Contact:
Opening hours:
Mon–Sat 7am–9pm, Sun 8am–8pm
Do you own this business?
Average User Rating
4.1 / 5
Rating Breakdown
5 star:

8

4 star:

10

3 star:

4

2 star:

1

1 star:

0
Chelsea Market is an "engineered" street market so....not much more than a tourist trap with iffy products, tho some gems can be found if you dig..If you are over 25 you will be the oldest person there.
I eat lunch here 3-4 times a week. The Lobster Place is very good. Los Tacos is amazing. Of course Amy's Bread is a must for pastries and bread. Pricy but good quality places to have lunch. You prob will not find a table to eat your food. I take it to go because I work in the area.
Interesting variety, excellent quality, Wonderful programs and entertainment,
This is a perfect one-stop shopping experience for anything I'm looking for. With such a variety of stores I'm sure to be able to pick up whatever I need from groceries to a birthday present. Be sure to check out Lucy's Whey! The staff is great at recommending which delicious cheeses to go home with.

Well worth a visit. There are so many different delicious looking food stalls, it's very hard to settle on just one thing! I did, however, find the interiors a little strange. It almost feels like you're on a film set! My friends and I headed to the Aussie meat pie shop and I shared a lamb pie and a sausage roll with my husband. Speaking as a native Aussie, the pie was not quite right with the sauce being too runny and the crust not flakey enough. However, the pork and sage sausage roll was one of the best I've ever had. The meat was extremely flavoursome and the pastry was, in contrast to the pie, flakey and soft. Some people next to us had some sort of noodle soup which is what I'll be going back for next time!
This is a MUST for everyone visiting New York. Add it to your to do list now. It's an old biscuit factory that has been transformed into a market with little shops, eateries, wine and oyster bars, a lobster shack, other mini food markets within it including cheeses, spices, independent bakeries, Australian delicacies including meat pies and sausage rolls (served with ketchup/tomato sauce, of course!). Make sure you walk all the way through to the end near 10th ave as there is yet another mini boutique market waiting for you at the very end on the left hand side, which has a fantastic selection of unique and bespoke jewelry stalls, clothing and craft products. One of my favorite places to take guests from out of town and everyone always loves it.
When you have no idea what to eat and you around this area, head over to the chelsea Market!! One word Los Tacos No.1 . I had the steak and chicken tacos and they were so Good!! After that head over to The Lobster Place and get yourself a lobster roll as well as some fresh oysters and clams. Don't forget the manhattan clam chowder to heat up your soul on those cold NY days. For dessert head over to the doughnuttery for amazing mini doughnuts. Thank me Later!!
Chelsea Market absolutely is pricey and packed with tourists, but it's amazing. Pretty much the ideal bougie market. Walk through here and cast your eyes on people feasting on whole lobsters for $40/lb. However, it's really fun to walk through if you have time and patience, and there are some food options that aren't too expensive. There's a taco place, crepes, fresh-made doughnuts, an Italian place that sells decently priced items, a bakery, a sandwich bar...and then for specialty places, you have a spice shop, fromagerie (cheese), olive oil shop, and a vegetarian sushi place (yes, it's just rice and vegetables).
I'm a neighborhood resident and I avoid the market. Its very touristy and as a result, overpriced. Overall the market is unique to most people...good food, great coffee, good markets. When I do visit the market its for the sample sales....they are always amazing. Don't forget to stop in at the basement bar, The Tippler. Great cocktails, great bartenders.
comfortable vintage setting. Of course its expensive but the food is great quality and worth it. if your a city person this place is great for you.
visit artists and fleas in Chelsea Market...at the corner of 10th avenue and 16 street...hand made clothing, jewelry and fine art that's above the crowd
fabulous place to go and browse, eat and enjoy the fruit and veggies, bakeshops and flowers, always a must see when i am in NY
Love this place except hard to get a table to eat any where.

A great experience.
Visit Manhattan Fruit. They have a salad bar for $6/lb (luckily as someone who works at a deli, I can feel how much I'm going to spend), and the **guacemole is INCREDIBLE**
Can get busy, so it's hard to get tables to sit at if you're not in a restaurant with its own seating.
And the Seafood market (don't know the name of it) gets really crowded. Very hard to get your own seating (most people stand and eat anyway, which I find kind of awkward).
I had some sushi there and it was good! I don't know if it was the best I ever had, but it was definitely fresh.