Closet case: Kelli Delaney
The founder and editor-in-chief of KDHamptons transformed her coat closet into a neatly organized shoe haven.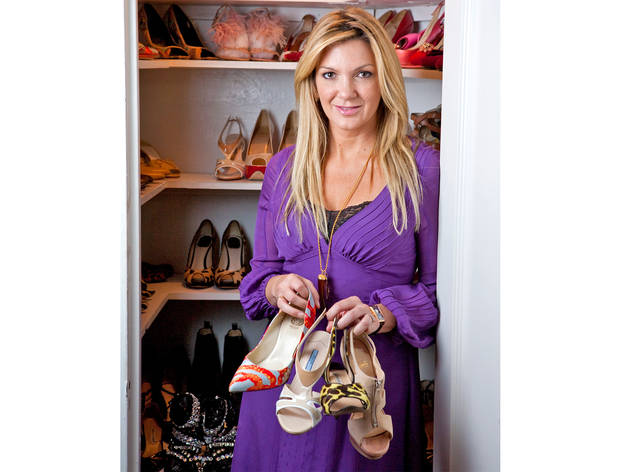 1/12
Photograph: Jakob N. Layman
While working as a fashion editor at Allure and Glamour for the past decade, Kelli Delaney acquired a taste for designer shoes. Now that she runs KDHamptons (kdhamptons.com), the online lifestyle magazine she founded in June 2011, Delaney splits her time between her Midtown East apartment—which houses more than 150 pairs of high-fashion shoes (Prada! Valentino! Dior!)—and her Hamptons home, where her husband and business are based. In Long Island, she stores more causal footwear, such as boots, wellies and kitten heels, in an antique bookcase. "Those are more of my country shoes," she says. "I would feel silly running around in yellow leopard-print Manolo stilettos out there."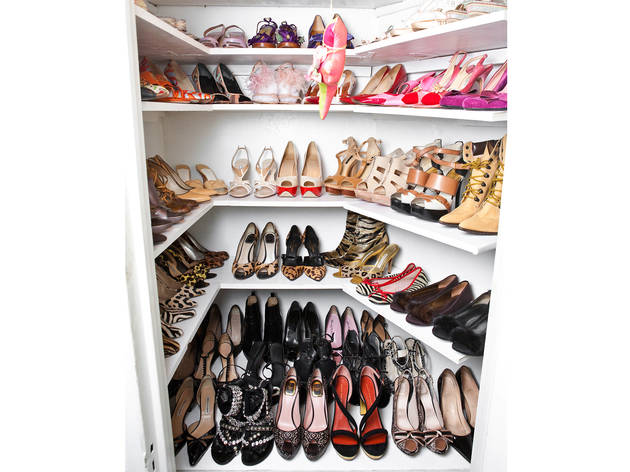 2/12
Photograph: Jakob N. Layman
"I have six closets in this apartment, so I knew that one of them would have to be for shoes," says Delaney, who reserves the remaining five wardrobes for furs, clothing and handbags. This pentagonal one next to the front door was designed to be a coat closet, but "shoes are the last thing you put on," reasons Delaney. She had a carpenter add six shelves to make the space work for her unique needs. A Christian Louboutin Christmas ornament shaped like a slipper—a gift from the brand—dangles from the light pull.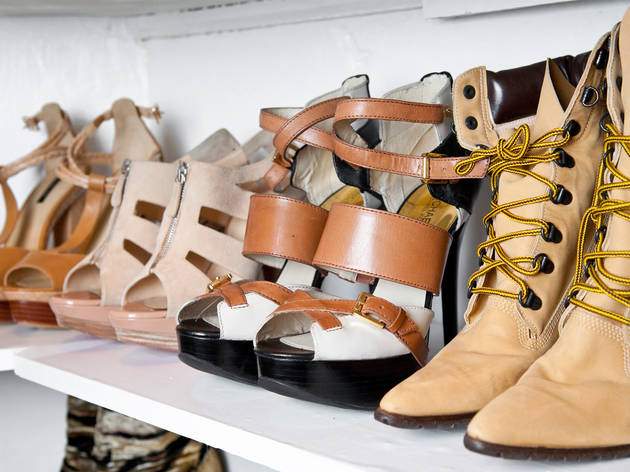 3/12
Photograph: Jakob N. Layman
Delaney fills her closet with heels—never wedges—up to five inches in height. "You really don't have to sacrifice style for comfort if you buy well-made shoes," she explains. "I'm 5'10", so I don't think platforms look good." In addition to organizing her footwear by color, Delaney also groups animal-print and embellished styles separately. She preserves her museumworthy collection by stuffing each pair with tissue paper or bubble wrap and using a Mr. Clean Magic Eraser (mrclean.com) to remove scuff marks.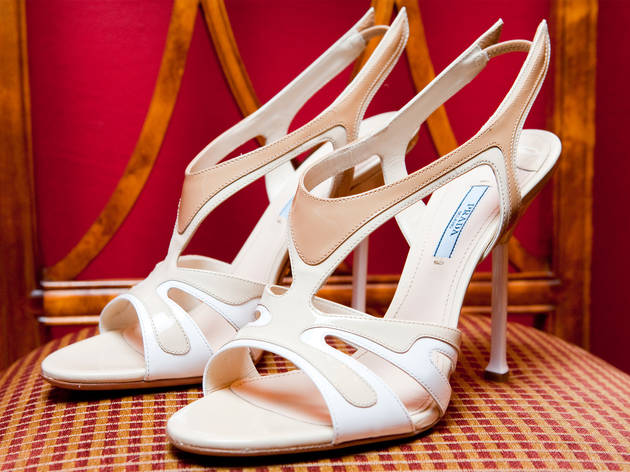 4/12
Photograph: Jakob N. Layman
These Prada sling-backs—a gift from her husband—go with just about everything. "[Neutral shoes] make your legs look long and pretty, especially with a tan," notes Delaney. "They're my go-to [shoe]."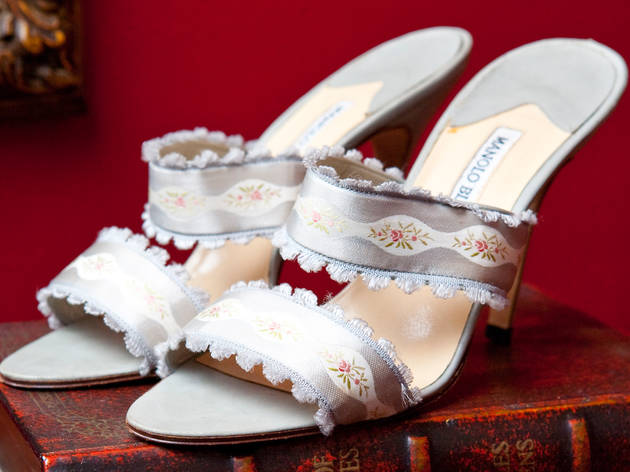 5/12
Photograph: Jakob N. Layman
"There are some shoes that I only wear inside, like when I throw cocktail parties in my home, because they are so special," says Delaney, referring to these Manolo Blahnik slides made with silk brocade ribbon. "I love Manolo Blahnik because he's a risk-taker. He doesn't try to change his aesthetic based on trends."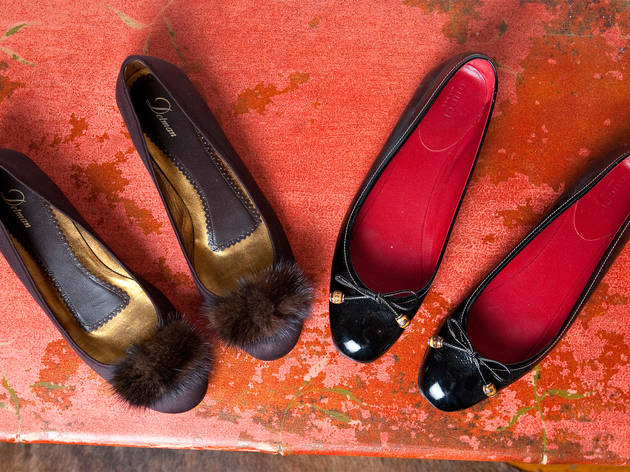 6/12
Photograph: Jakob N. Layman
"These ballet slippers are my favorite," says Delaney, referring to these brown Delman (delmanshoes.com) silk flats with mink pom-poms that she purchased through the brand's showroom. "I have them in black, also. They will never go out of style." They rest next to patent-leather Marc Jacobs (163 Mercer St between W Houston and Prince Sts; 212-343-1490, marcjacobs.com) flats, which she wears with a spring skirt and cardigan for a demure daytime look.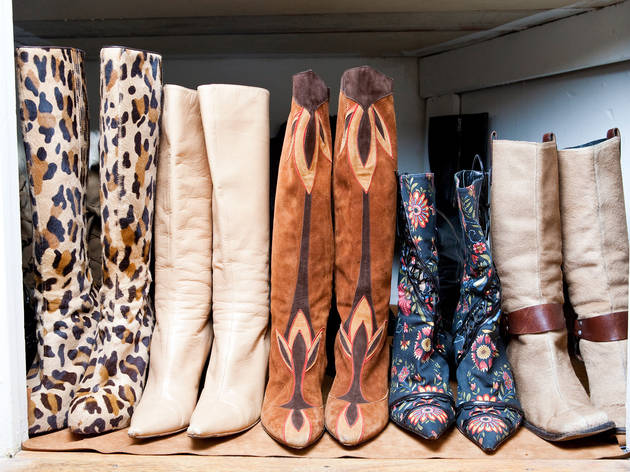 7/12
Photograph: Jakob N. Layman
"I like to have boots that [aren't seen on everyone]," declares Delaney about her eclectic bottom row, which consists of styles from Christian Louboutin, Jimmy Choo, Dolce & Gabbana and Dior, all purchased at the labels' flagship stores. "When I'm in editor mode, I go for the Jimmy Choo nude pair," she notes.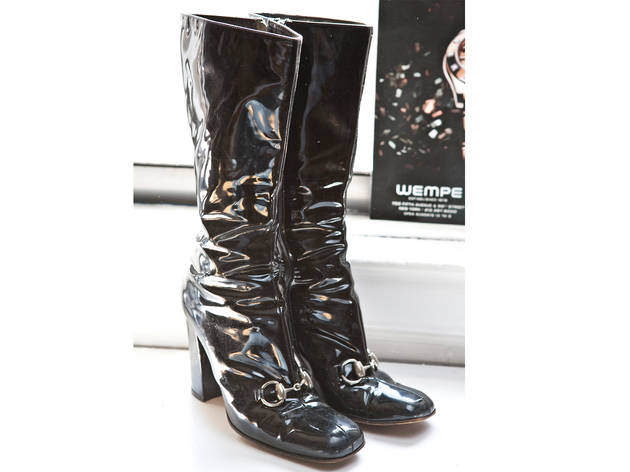 8/12
Photograph: Jakob N. Layman
"It makes me laugh to think that these are now vintage," she says of these Gucci patent-leather go-go boots, which were designed by Tom Ford in the '90s. "I don't wear them often, but I like to look at them and remember being a young Condé Nast girl, excited about the sexiness of this collection."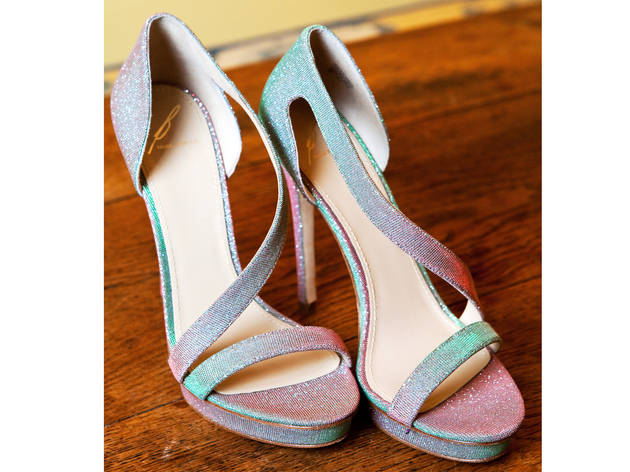 9/12
Photograph: Jakob N. Layman
"These are my new disco shoes," says Delaney of her B Brian Atwood (bbrianatwood.com) futuristic platforms that have yet to be worn. "They will probably make an appearance at an upcoming birthday party downtown. Hopefully they are dancing shoes!"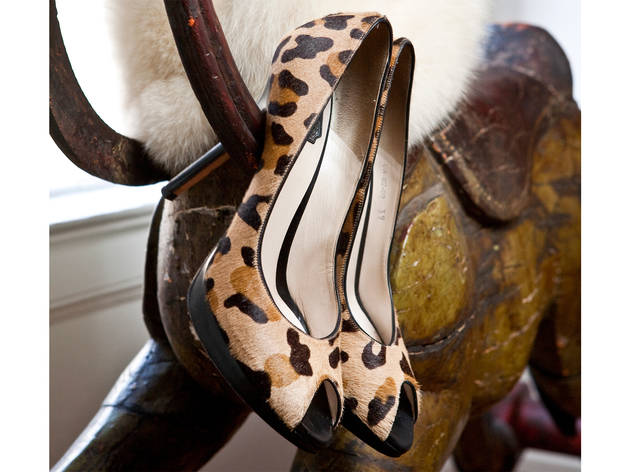 10/12
Photograph: Jakob N. Layman
"I pretty much love anything animal-print or fur-trimmed," admits Delaney. To wit, these leopard-print Christian Dior peep-toe pumps are in constant rotation, since she is able to pair them with both dresses and pants. "I also love that the peep toe flashes a bit of pretty [nail] polish," she adds. They dangle off of an antique Indian rocking horse from ABC Carpet & Home(888 Broadway at 19th St; 212-473-3000, abchome.com).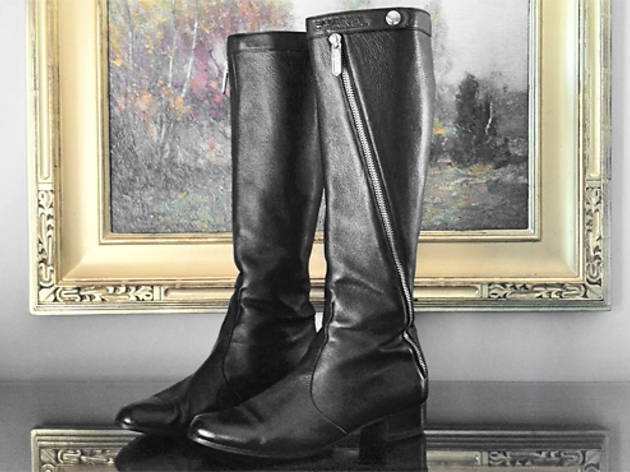 11/12
Photograph: Jakob N. Layman
These kick-ass Chanel motorcycle boots give Delaney an edge while running errands. She got them at the Chanel boutique (139 Spring St between Greene and Wooster Sts, 212-334-0055, chanel.com). "I prefer to buy Chanel shoes at Chanel because I love the experience of being inside the world of Karl [Lagerfeld]," she says.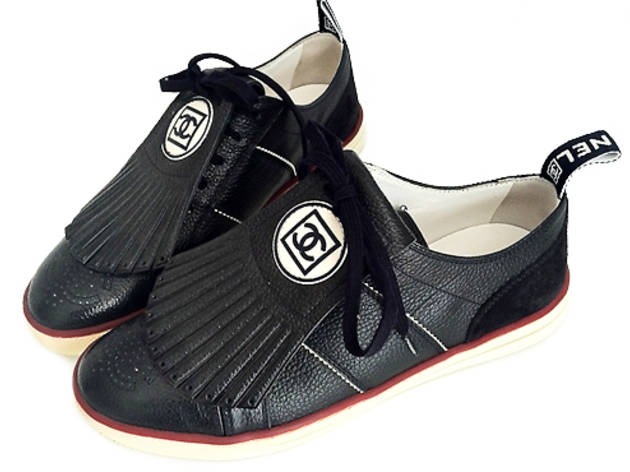 12/12
Photograph: Jakob N. Layman
Casual shoes get a luxe upgrade in these Chanel kicks. "I hate sneakers," says Delaney with a laugh. "But these don't look like sneakers."
Her favorite NYC stores
Bergdorf Goodman 754 Fifth Ave at 58th St (212-753-7300, bergdorfgoodman.com)
Delaney buys most of her shoes from the iconic department store's high-end shoe floor. "It offers the best designers in both new and exciting styles, as well as [the basics] that you need in your closet," she says.
Christian Dior 21 E 57th St at Madison Ave (212-931-2950, dior.com)
"Dior has the best fit," says Delaney. "Sometimes I can be in heels for ten hours a day, and a Dior shoe will still be comfortable. The boutique also stocks certain styles that you can't find in department stores."
J.Crew Locations throughout the city; visit jcrew.com
Ballet flats from this popular chain—bought in both cobalt blue and tangerine—will be Delaney's go-to spring flats.
Leather Spa10 W 55th St between Fifth and Sixth Aves (212-262-4823, leatherspa.com)
"This place has been taking care of my shoes for years," says Delaney of the shoe and handbag repair spot. "They make [footwear] look new even if they are a couple of seasons old." She has Leather Spa refurbish worn leather soles, place a protective layer on the bottom of fragile heels and treat her boots with a waterproof-shield so that the leather doesn't mark in the rain and snow.
You might also like
See more Closet case
More in Shopping & Style