Heads up! We're working hard to be accurate – but these are unusual times, so please always check before heading out.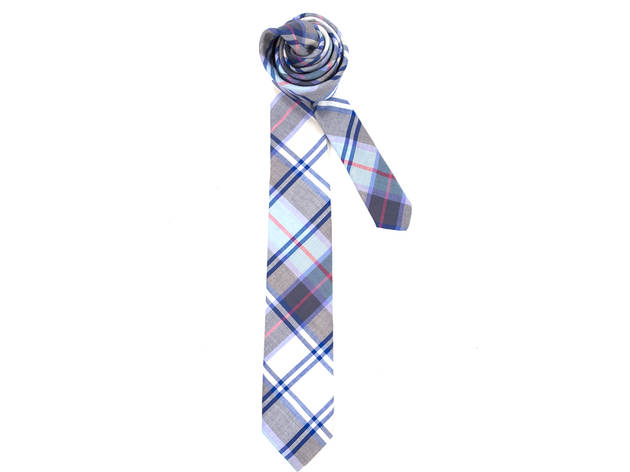 1/6
Photograph: Jessica Lin
Davidson tie, $61 (normally $72), at grahamwithersclothing.com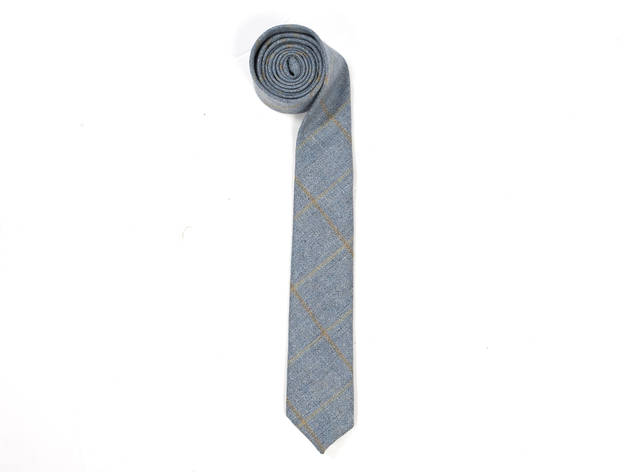 2/6
Photograph: Jessica Lin
Remsen tie, $70 (normally $82), at grahamwithersclothing.com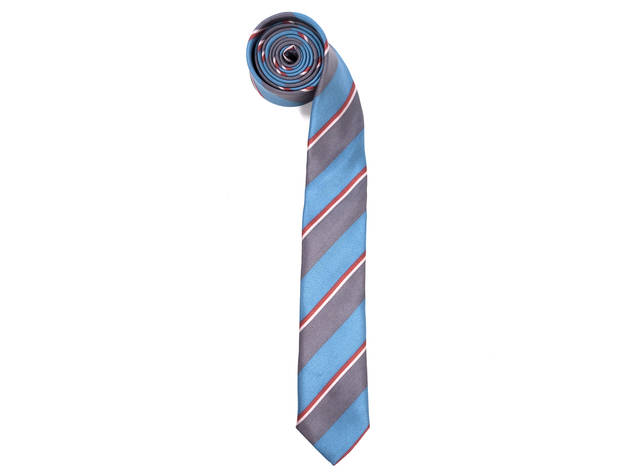 3/6
Photograph: Jessica Lin
Stabler tie, $61 (normally $72), at grahamwithersclothing.com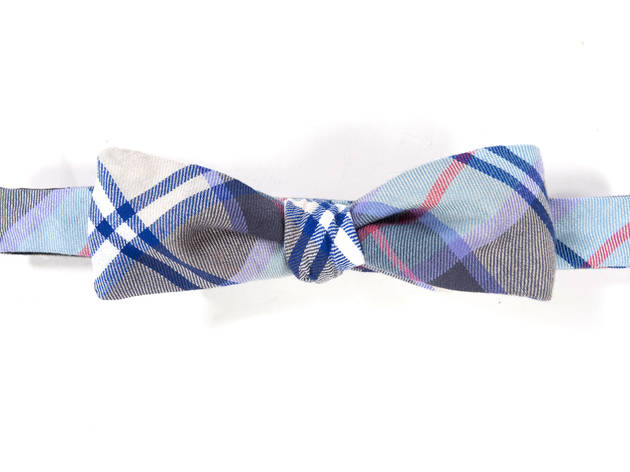 4/6
Photograph: Jessica Lin
Davidson bow tie, $49 (normally $58), at grahamwithersclothing.com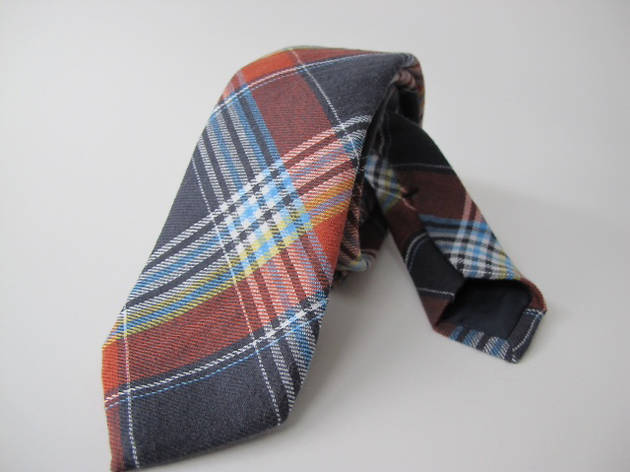 5/6
Preston tie, $61 (normally $72), at grahamwithersclothing.com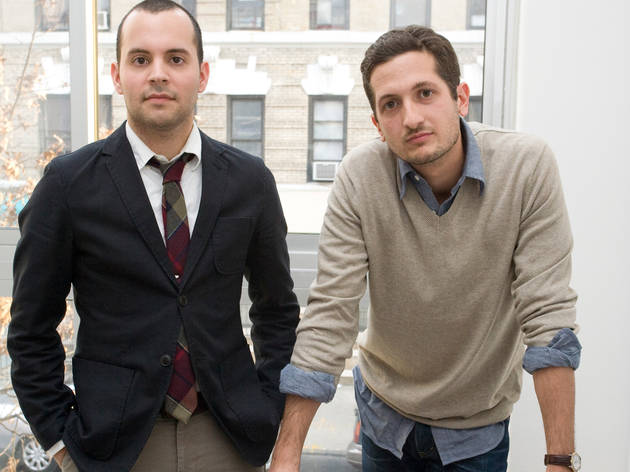 6/6
Photograph: Alex Strada
Designers Paul Hanan and Dave Roma
Designer spotlight: Men's accessories
These self-taught, local talents will keep you looking dapper in their eye-catching neckwear.
Paul Hanan and Dave Roma of Graham Withers
(grahamwithersclothing.com)

Who they are: Though they've never been roommates, Hanan and Roma—who met as teenagers through Long Island's skateboarding community—have both lived in a Williamsburg apartment that's been home to a revolving group of mutual friends. The name Graham Withers comes from the street intersections of that abode, where they got the idea to start a graphic T-shirt company in 2008. Although the pair stopped making tees a year later, they kept the moniker for the line of men's accessories they launched in spring 2010. "We were getting older and our style was changing, so we wanted to do something to reflect that," explains Roma. "We stay true to our style, which resonates with people." The primarily self-taught partners created their first prototype by taking apart old ties to use as patterns and have no formal background in design.
About the line: Hanan's family owns a whipped cream factory in Hicksville, Long Island, and his relatives gave Hanan and Roma a small workstation where they still create all of their patterns. Initially, the pair made every tie by hand—a tedious process that took three hours from start to finish. Soon they were selling ties faster than they could create them, so they approached a manufacturer in Chelsea, who now handles production. The line has since expanded from neckties ($72–$98) to include bow ties ($56–$64) and pocket squares ($26 each or three for $65). Fabrics are sourced from the country that specializes in them, such as wool from England and tartans from Scotland. "A lot comes from what we want to wear and which fabrics are exciting to us—it's not like we have some exotic inspiration," quips Hanan.
Where to buy: Ad Hoc (135 Wythe Ave between North 7th and 8th Sts, Williamsburg, Brooklyn; 718-302-2462), and Brooklyn Denim Co. (85 North 3rd St at Wythe Ave, Williamsburg, Brooklyn; 718-782-2600). Or use code "GWTONY" atgrahamwithersclothing.com for 15 percent off all purchases through March 31.
Jonathan Meizler of Title of Work
Who he is: After studying film and advertising design at Syracuse University, Meizler traveled through Europe, where he apprenticed at the studio of architect Alexander Christoforetti, who specialized in the restoration of homes, furniture and objects from the Weiner Werksttte, a community of artists in Vienna. "Seeing designers and architects really developed my keen linear aesthetic," notes Meizler, who is deeply influenced by art. With no formal training, Meizler cofounded his first line, the now-defunct Jon Valdi, 18 years ago as a men's collection in Los Angeles, which expanded into womenswear and then relocated to New York in 2002. Once Meizler parted ways with his business partner in 2010, he sought a new focus. "I wanted to do something that would transcend typical fashion trends into the art and architectural worlds," explains Meizler.
About the line: "Men are more traditional by nature, and I believe the tie is the one accessory that they can still push the envelope with," says Meizler, explaining why Title of Work consists primarily of neckties ($180–$1,000) and bow ties ($120–$250), with a few reversible sterling-silver cufflinks ($400–$1,100) sprinkled in. The neckwear—made from luxe fabrics such as Italian cashmere, silk mesh, English wool crepe and Italian wool twill—is handmade and embellished with precious stones, sterling silver accents and Swarovski crystals in his Flatiron District studio. The tongue-in-cheek Fetish collection features nipple rings piercing conservative plaid neckties and sterling-silver barbells puncturing basic silk bow ties. "They're naughty, which is really fun," says Meizler. But Title of Work isn't completely subversive: Ties in cheerful plaids, polka-dots and houndstooth are suitable for a spring picnic. "They're tweaked Americana," explains Meizler.
Where to buy: Barneys New York (660 Madison Ave at 61st St; 212-826-8900,barneys.com). Or use code "TO2012" at titleofwork.com for 15 percent off all purchases through March 21.
Joshua Katcher of Brave GentleMan
(bravegentleman.com)

Who he is: Katcher started his eco-conscious fashion, food and lifestyle blog, the Discerning Brute (thediscerningbrute.com), in 2008. As an extension of this, the Williamsburg resident simultaneously launched an online men's vegan-fashion shop and a line of neckties and bow ties ($100 each)—both under the name Brave GentleMan—in early 2011. "There was a hole in the market," explains Katcher. "The stuff geared toward guys was very limited and not designed the most handsomely." The Syracuse University grad has no formal design training and continues to work in the television industry as a freelance camera operator, editor, director and producer. "I ended up in the fashion world as a creative platform for my environmentalism and concern for animals," notes Katcher. "Fashion allows you to package those messages in a different way than a nonprofit would. It makes it more accessible and appealing, and defies the do-gooder, crunchy stereotype."
About the line: Katcher's sleek, tailored accessories are inspired by the dandy aesthetic and the functionality of military clothing. "I like very utilitarian, classic design," he says. "I'm not trying to reinvent the wheel—I just want stuff that stands the test of time, which is important from a sustainability standpoint." The neckwear is made locally in the Garment District from recycled hemp, organic cotton or recycled polyester. In spring 2013, Brave GentleMan plans to offer suits, which will be made in Williamsburg from sustainable and cruelty-free textiles.
Where to buy: Use code "TONY2012" at bravegentleman.com for 10 percent off all purchases through March 21.
You might also like
See more Designer spotlight
See more in Shopping