Heads up! We're working hard to be accurate – but these are unusual times, so please always check before heading out.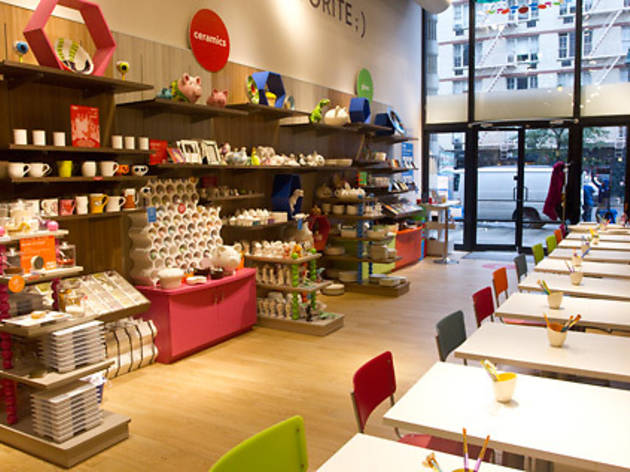 1/12
Photograph: Caroline Voagen Nels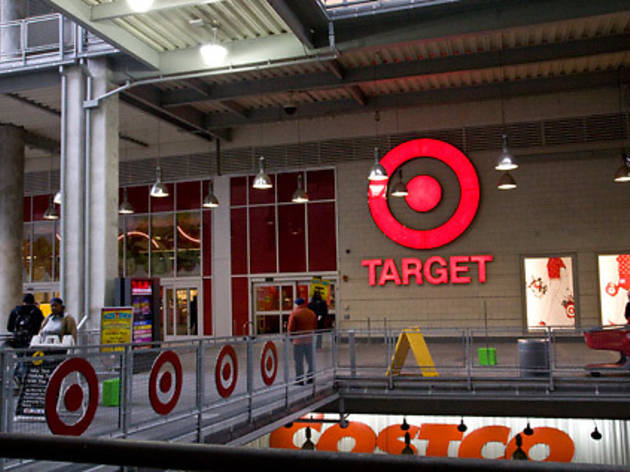 2/12
Photograph: Jamie Bixby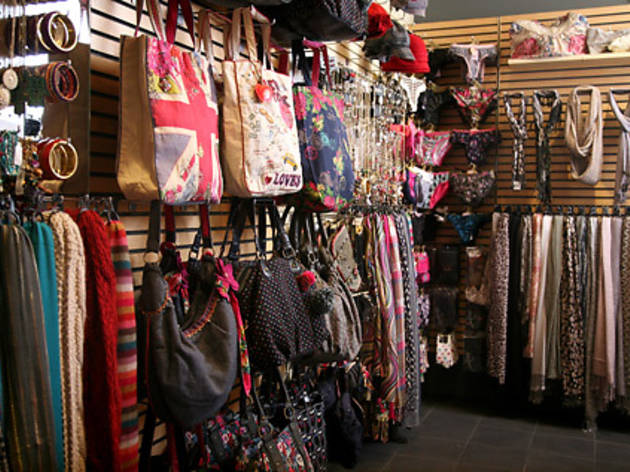 3/12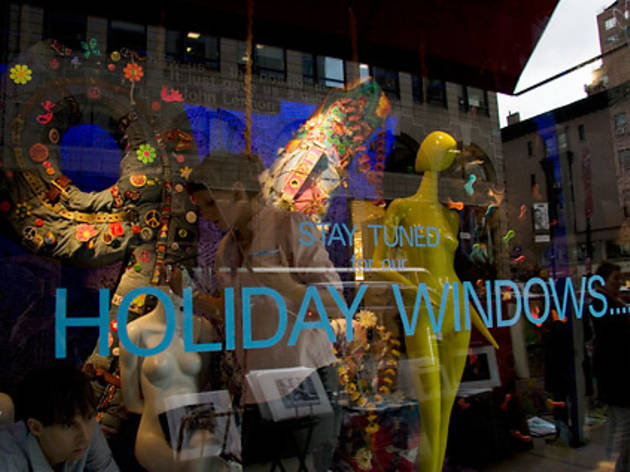 4/12
essentials04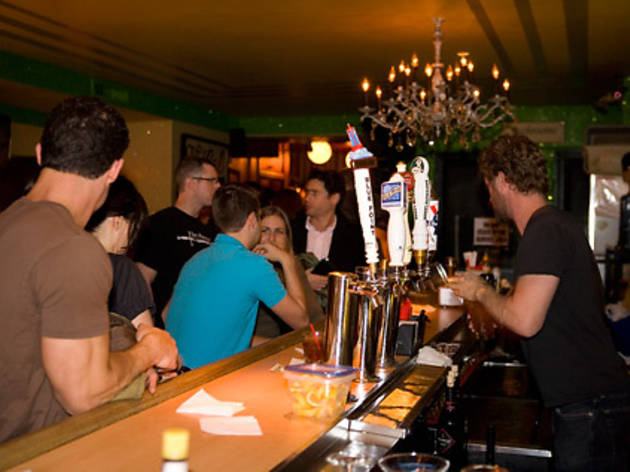 5/12
essentials05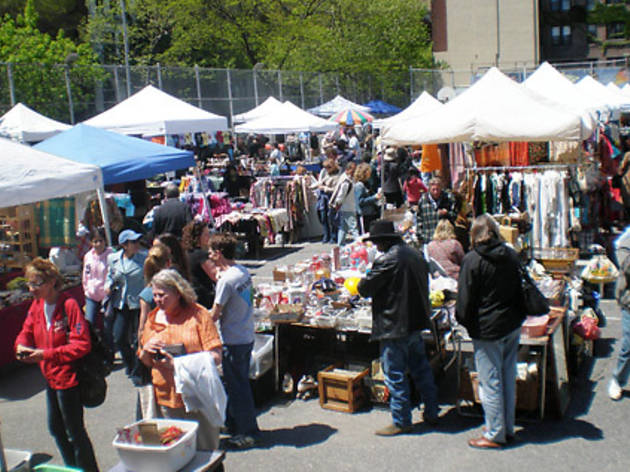 6/12
essentials06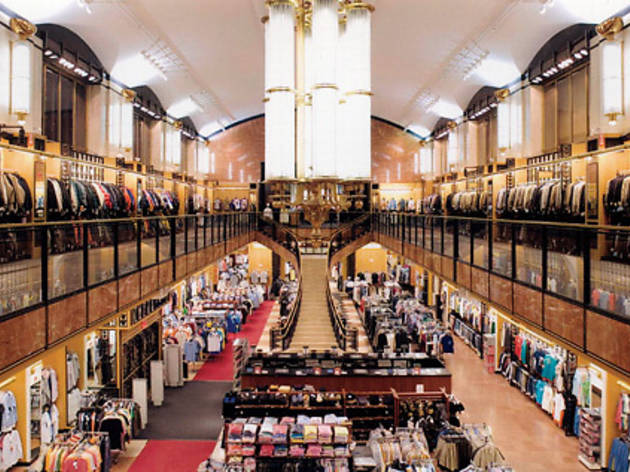 7/12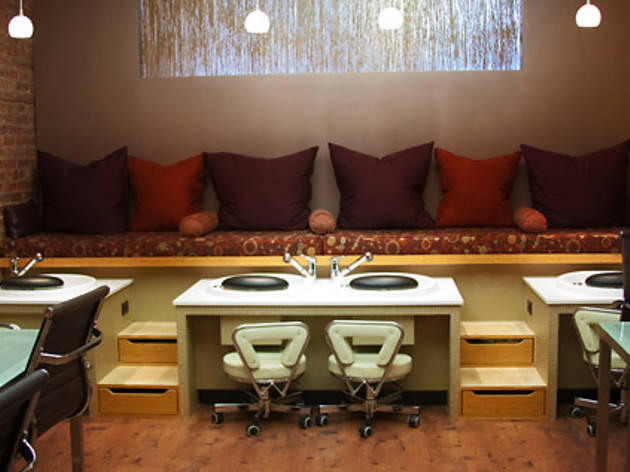 8/12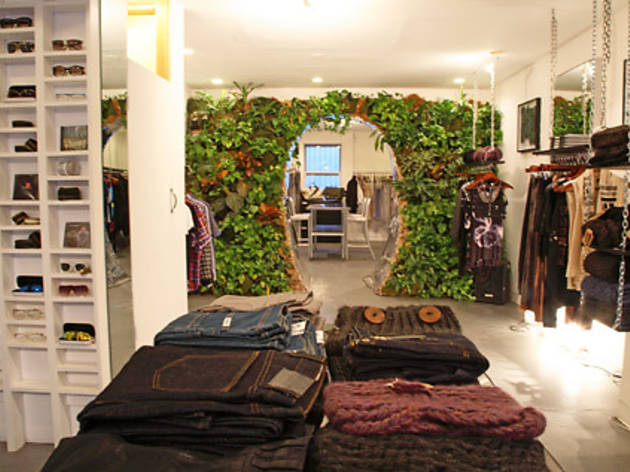 9/12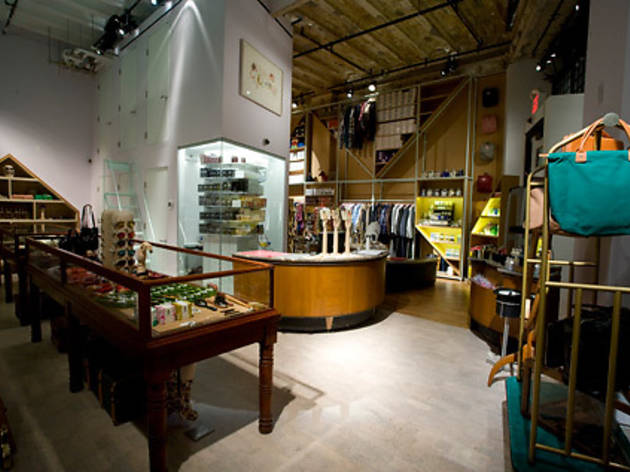 10/12
Photograph: Jay Muhlin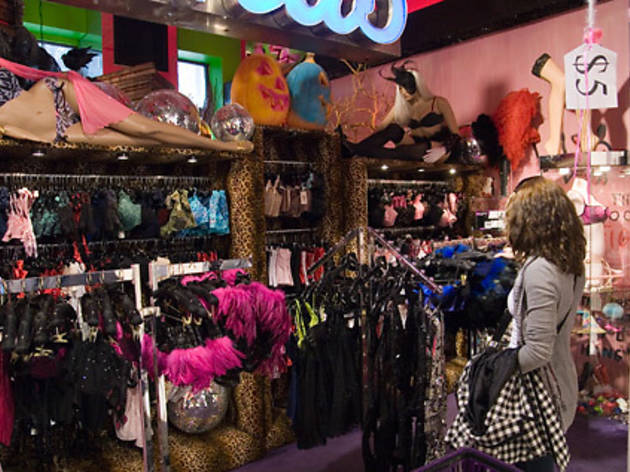 11/12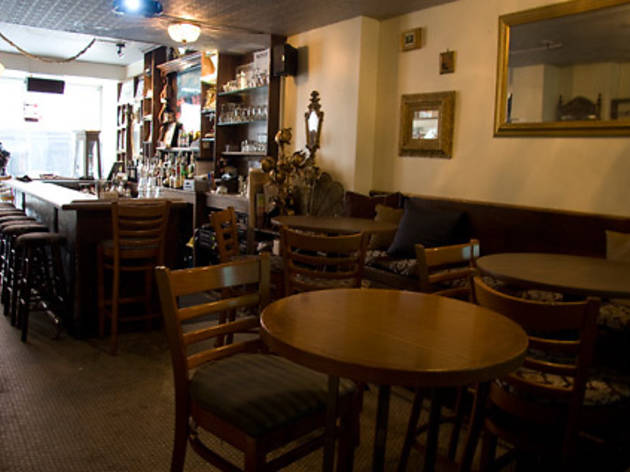 12/12
Essential New York: Shopping & Style
Make MeaningThis new tri-level "creativity destination" offers aspiring Martha Stewarts a chance to get artistic—or take home a store-bought goodie,...
Make Meaning
This new tri-level "creativity destination" offers aspiring Martha Stewarts a chance to get artistic—or take home a store-bought goodie, should their own endeavors go awry. A $12 fee gains you access to the large state-of-the-art craft studio, where you can choose from six DIY activities: ceramics, jewelry and paper design, and candle-, glass- and soap-making. 329 Columbus Ave between 75th and 76th Sts (212-362-0350, makemeaning.com). Prices range from $5 for make-your-own cards to $125 for DIY glass trays.
Area Emporium & Spa
This cozy spot, decorated with mismatched furniture, radiates calm—it's like being in a Zen rock garden and your friend's apartment all at once. After learning about your skin's quirks, facialists pamper you with a holistic Dr. Hauschka facial (one hour $90, 90 minutes $140, two hours $185), and massage therapists specialize in different modalities so they're extra savvy when it comes to working out your muscular kinks (one hour $90, 90 minutes $130, two hours $170). 281 Smith St between DeGraw and Sackett Sts, Carroll Gardens, Brooklyn (718-624-3157, areabrooklyn.com)
Blow, The New York Blow Dry Bar
Mimicking Gwyneth Paltrow's stick-straight tresses (the Holy Grail of blowouts) is a feat one can rarely accomplish alone. The stylists at this blow-dry specialist's two Manhattan locations stand armed and ready to give gal pals red-carpet-worthy hair—even if it's just for a night on the town. Groups of four or more are eligible to sign up for the "bubbles + blow" package, which combines the salon's signature blowouts with complimentary glasses of prosecco ($60 per person). 342 W 14th St between Eighth and Ninth Aves (212-989-6282) * 843 Lexington Ave between 64th and 65th Sts, second floor (212-452-0246) * blowny.com
The Dressing Room Boutique and Bar
If you ever found yourself wishing you could wander through H&M with a 40-ounce in hand, trade your vision of brews and fast fashion for this sophisticated little boutique, outfitted with a cocktail bar. Daily happy-hour specials include a buck off all drinks until 8pm, and if the tab becomes stratospheric, you can head to the downstairs clothing exchange to trade in threads for bar credit, store credit or cash. 75A Orchard St between Broome and Grand Sts (212-966-7330, thedressingroomnyc.com)
Beauty Bar
This converted 1950s beauty parlor hosts nightly happy hours (Mon--Fri 5--9pm) where ladies score a cleverly named cocktail—try a Beautini—and manicure for $10. DJs spin danceable funk, punk and rock tunes, so you won't look totally ridiculous waving your hands in the air as your nails dry. 231 E 14th St between Second and Third Aves (212-539-1389, thebeautybar.com)
International Playground
The next time you're in need of a sartorial spark, stop by this new LES boutique: Owners Virginia Craddock and Johnny Pizzolato stay ahead of the curve by bringing in stock from indie and global brands, such as Vibe Johansson, Mary Meyer and Study NY, plus a rotating cast of underground lines. The offbeat finds will reinvigorate your wardrobe, and you'll feel superior just for knowing about these under-the-radar brands before the rest of your friends do. 13 Stanton St between Bowery and Chrystie St (212-228-2700, internationalplayground.com)
We the People Fashion Collective
New Yorkers tend to appreciate fellow citizens who demonstrate an entrepreneurial spirit, and we give special props to someone willing to help others get their start too. Vera Ng launched her store to give emerging designers a place to showcase their work, and in addition to housing a showroom, the boutique stocks a well-edited selection of apparel and accessories from up-and-comers like Kara Laricks (Collar, Stand + Tie) and Katherine Huie (Foe and Dear). It's the kind of place where every designer has the chance to be the next big thing, and though you never know what you'll discover, you know it'll be good. 156 Stanton St between Clinton and Suffolk Sts (212-533-1091, wethepeoplenyc.com)
Topshop
Local fashionistas waited with bated breath for the opening of this three-floor British import—and it didn't disappoint. Not for the faint of heart (or wallet), the mammoth store offers a prime starting point for anyone embarking on a shopping spree. You can go totally berserk scouring racks of clothing, shoes and more, and since new shipments arrive daily, you always have an excuse to go back and indulge again. 478 Broadway between Broome and Grand Sts (212-966-9555, topshop.com)
Century 21 Department Store
You can elbow tourists sans guilt—or just shop like you're one of 'em—at this downtown discount megastore. The complex may be disorganized, but fighting the crowds is worth it when you can score deals on everything from designer duds and leather boots to cashmere-lined gloves, luxe handbags and other covetable finds. 472 86th St between Fourth and Fifth Aves, Bay Ridge, Brooklyn (718-748-3266) * 22 Cortlandt St between Broadway and Church St (212-227-9092) * c21stores.com
Accessorize
The 400-square-foot newcomer brings glitzy, affordable baubles to the otherwise Marc Jacobs--dominated stretch of the West Village. Producing 1,500 new styles each season, the London chain carries enough variations of statement necklaces and clutches to keep trendaholics fully supplied. 329 Bleecker St between Christopher and W 10th Sts (212-206-7314, accessorize.com)
Patricia Field
Patricia Field is to stylists what Betsey Johnson is to designers—fierce, visionary and totally unapologetic for being her wacky self. The eye-catching items in her Bowery boutique embody her zany aesthetic—oversize headbands, vibrant tunic dresses, metallic bomber jackets—and the helpful staffers won't look at you askew if you ask where to find a sequined fanny pack. 302 Bowery between Bleecker and E Houston Sts (212-966-4066, patriciafield.com)
Target
Whoever says they haven't gone on a spending binge at Chez Target is just plain lying. At the new Manhattan location, everyone's trolling the aisles for bargains—and the only reason they'd scope out your cart is to make sure they don't miss a deal. 517 E 177th St between FDR Dr and Pleasant Ave (212-835-0860, target.com)
Opening Ceremony at Ace Hotel
Unveiled in February of this year, this arbiter-of-cool boutique's second NYC location proves that it's possible to travel comfortably without sacrificing style. There's a discerning selection of necessities—noshes from Haribo and Walkers, toiletries from Kiehl's, international and domestic mags—and souvenirs from megawatt designers like Proenza Schouler and Alexander Wang. The 1,500-square-foot space also curates a seasonal collection of clothing for men and women, as well as occasional exclusive artistic collaborations. Ace Hotel, 1190--92 Broadway between 28th and 29th Sts (646-695-5680, openingceremony.us)
Pumpkin Spice pedicure at Eve Salon
Autumn's most ubiquitous gourd has been incorporated into everything from lattes to seasonal brews—and now, it's popping up in skin treatments. At this West Village sanctuary, aestheticians utilize the squash's antioxidant properties in this relaxing process, featuring a Pumpkin Glow Scrub and warming pumpkin mask. The soothing treatment concludes with a French sugared-vanilla, silk, and honey lotion massage. And while a handful of salons and spas offer similar procedures, this is the only place where you'll also be served a steaming cup of spiked apple cider. 55 W 8th St between Fifth and Sixth Aves (212-807-8054, eveswebsite.com)
Barneys New York holiday windows
Equal parts high fashion and seasonal cheesiness, the ground-floor stunners at Barneys manage to catch our attention every year—even in the midst of gift-shopping madness. Last year, creative director Simon Doonan orchestrated a tribute to Saturday Night Live, referencing the Coneheads and Pat among many other famous sketches from the comedy show. We're not privy to this year's surprise theme yet, but we trust Simon Doonan to come up with something spectacular. Madison Ave at E 61st St (212-826-8900, barneys.com)
Gifted
Browsing merchandise at the Brooklyn Flea's seasonal incarnation provides a welcome reprieve from fighting Fifth Avenue crowds for the Juicy Couture sweatpants your little cousin inexplicably still wants. Instead, hit up one of the bazaar's after-work shopping parties, where you can relax with a brew as you tick people off your "to-shop-for" list. With vendors selling everything from design objects and antiques to handcrafted foodstuffs, you'll snag something unique for your near and dear in one fell swoop. Skylight One Hanson, 1 Hanson Pl at Ashland Pl, Fort Greene, Brooklyn (brooklynflea.com). Dec 15--23 11am--7pm.