Heads up! We're working hard to be accurate – but these are unusual times, so please always check before heading out.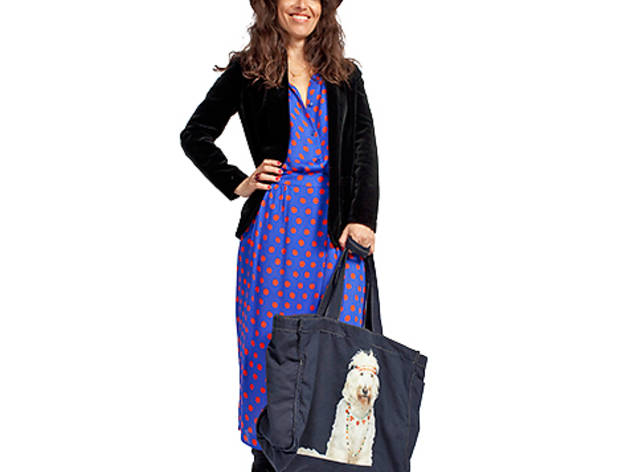 1/14
Photograph: Noffar Gat
Basora wears a matching Tucker blouse and skirt from her shop. "This skirt is designed to feel like a pair of slouchy trousers," she says. The velvet blazer is a vintage find she took from her 96-year-old grandma's closet in Palm Springs, California. "She is still rocking stilettos and Alexander McQueen leggings," Basora says proudly.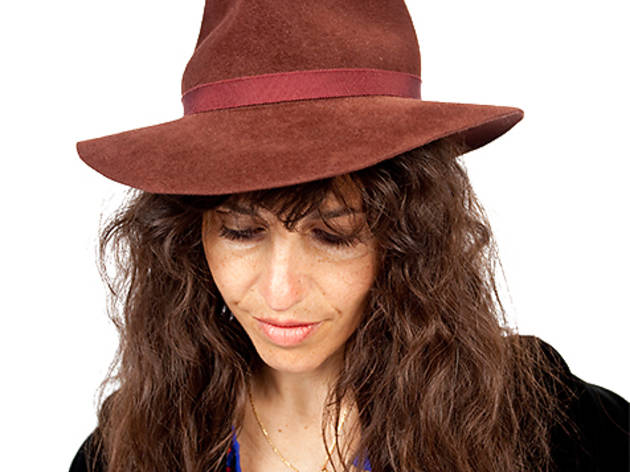 2/14
Photograph: Noffar Gat
It's not often you'll catch Basora without a hat on. She discovered this wide-brimmed style by local designer Satya Twena at Treasure and Bond (350 West Broadway between Broome and Grand Sts; 646-669-9049, treasureandbond.com), across the street from her shop.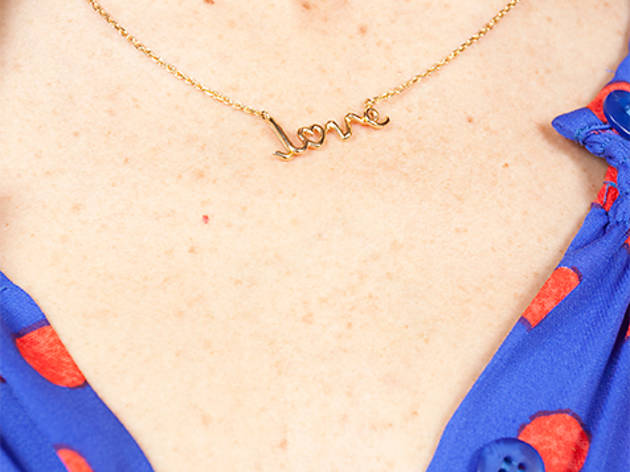 3/14
Photograph: Noffar Gat
The designer accessorizes with a dainty love necklace from Solange Azagury-Partridge (809 Madison Ave between 67th and 68th Sts; 212-879-9100, solangeazagurypartridge.com). "I love Solange. She makes everything beautiful and is a true style aficionado," Basora enthuses.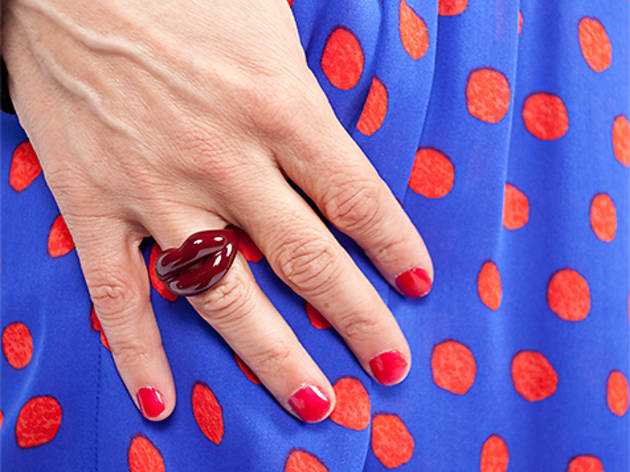 4/14
Photograph: Noffar Gat
A lacquered lip ring from Solange Azagury-Partridge complements Basora's Essie Big Apple Red (essie.com) nail polish.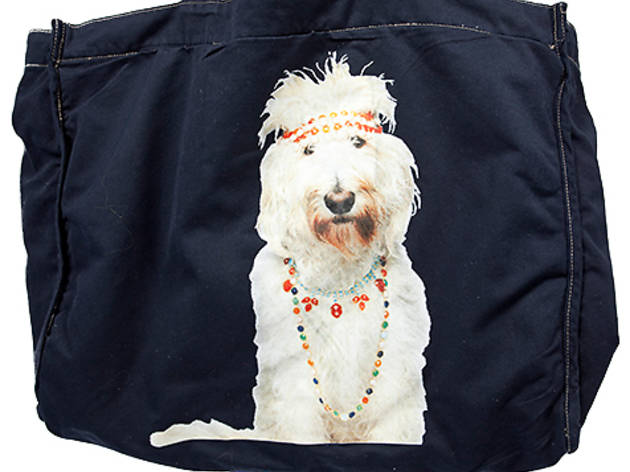 5/14
Photograph: Noffar Gat
Basora's tote features a decal of designer Irene Neuwirth's (ireneneuwirth.com) dog. She received the bag after donating to a BOFFO (boffo-ny.org) campaign on Kickstarter (kickstarter.com), a funding platform for creative projects.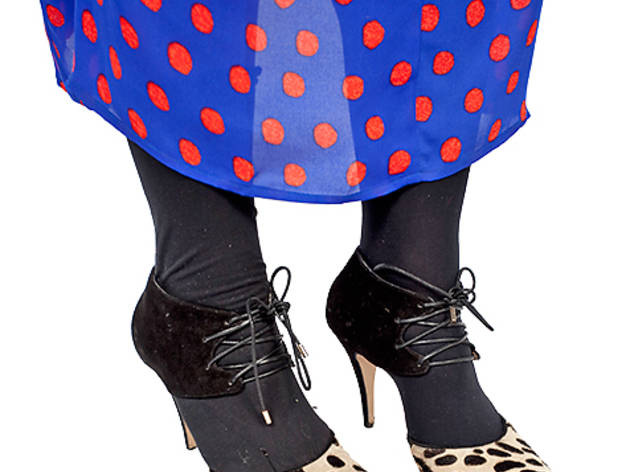 6/14
Photograph: Noffar Gat
"I ran the NYC marathon in shoes less comfortable than these, and certainly nowhere as good-looking," she says of her Bionda Castana (biondacastana.com) heels. "I love the print and the shape."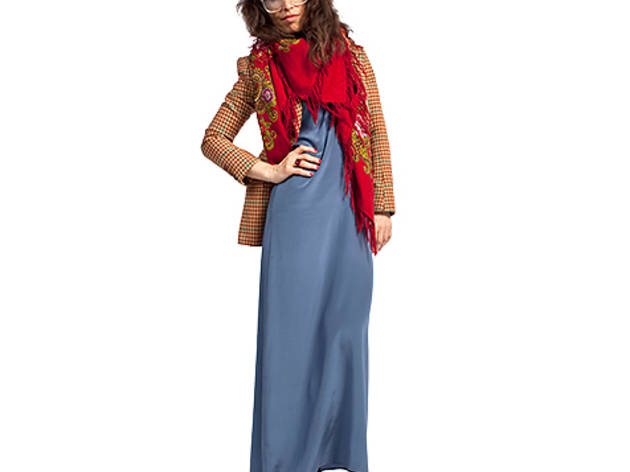 7/14
Photograph: Noffar Gat
A sexy, strapless silk Tucker dress with an open back becomes a demure staple when layered under a Burberry (burberry.com) blazer. Basora snagged the jacket from her grandmother's closet. "Gran bought it in Paris in 1971, the year I was born," she notes.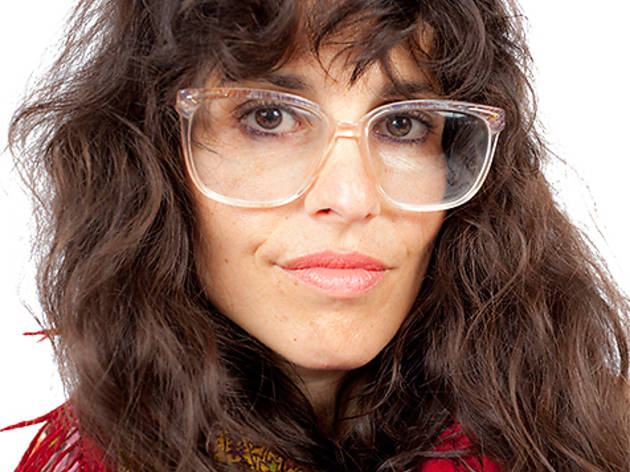 8/14
Photograph: Noffar Gat
The eyeglasses are from Manhattan Eyeworks (169 First Ave between 10th and 11th Sts; 212-460-9240, manhattaneyeworks.com). "The owner, Frank Fico, always picks the perfect ones [for me] and thinks I can rock the geek-chic look," she says. "Another friend calls them the 'safety goggles'. Did anyone say that to Liz Claiborne?"
9/14
Photograph: Noffar Gat
Basora received this printed scarf as a gift from a friend. "It's moth-eaten, but I will never relinquish it," she says of the cherished present, which was purchased in Russia.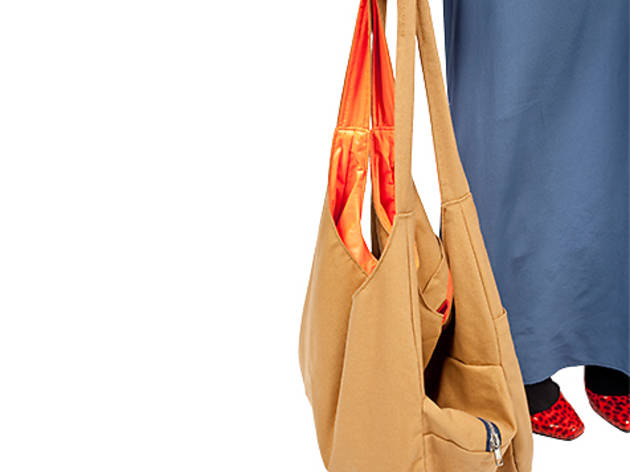 10/14
Photograph: Noffar Gat
A practical B. Wellbourne bag (bwellbourne.com) from new Los Angeles designer Lizzie Halpern features a ripstop fabric inside and thick cotton canvas on the outside. "For a gal that loves accessories, patent shoes, bunny ears and lacquered rings, I am quite sensible when it comes to bags," Basora explains. "I carry works in progress, things I spot during the day, books, candlesticks, teacups and sneakers in case I want to run home. This bag is super light, looks good and has lots of sections to keep things kosher."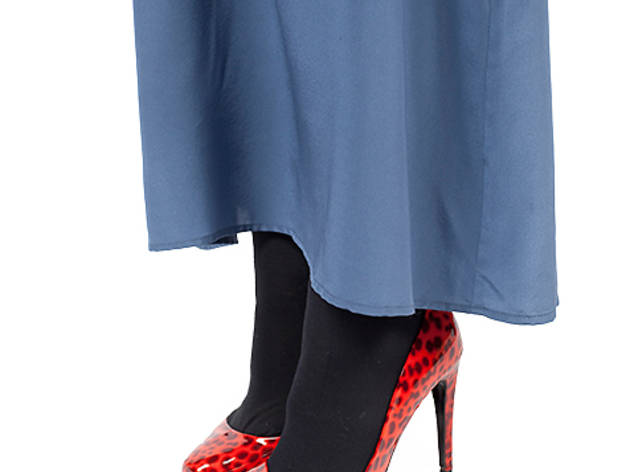 11/14
Photograph: Noffar Gat
The store owner has a penchant for funky footwear, including these animal-print patent shoes from Jerome Rousseau (jeromecrousseau.com), purchased at Barneys New York (locations throughout the city; visit barneys.com). Basora stays warm by wearing two pairs of tights at once. She says Sigvaris compression stockings (sigvarisusa.com) are good for leg well-being and Wolford tights (locations throughout the city; visit wolford.com) are best in terms of style, quality, feel and color palette.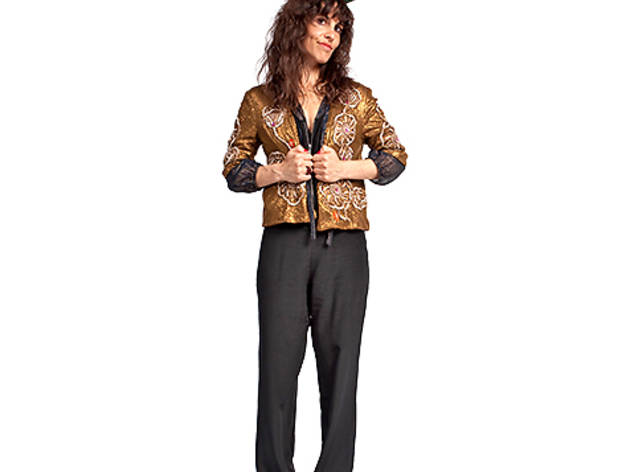 12/14
Photograph: Noffar Gat
"My affinity for a pair of coveralls is a lifelong love affair," Basora states. "I love that Fanny Bostrom married Backyard Bill in a pair." She wears a figure-flattering jumpsuit with a Lurex blouse and sequined bolero, all of her own design.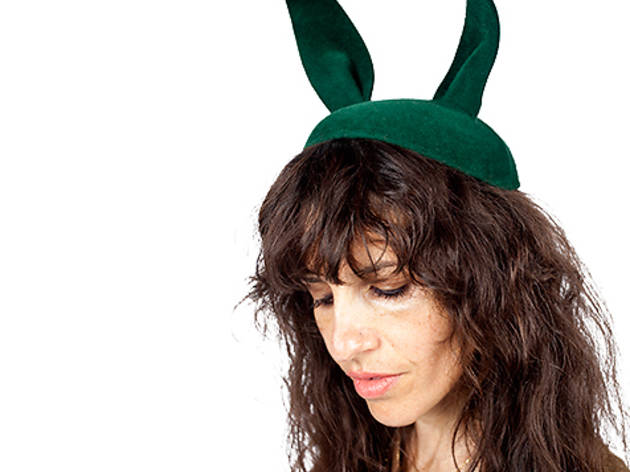 13/14
Photograph: Noffar Gat
A fanciful hat festooned with bunny ears from Williamsburg milliner Ryan Wilde (ryanwilde.com) injects a dose of humor into the ensemble.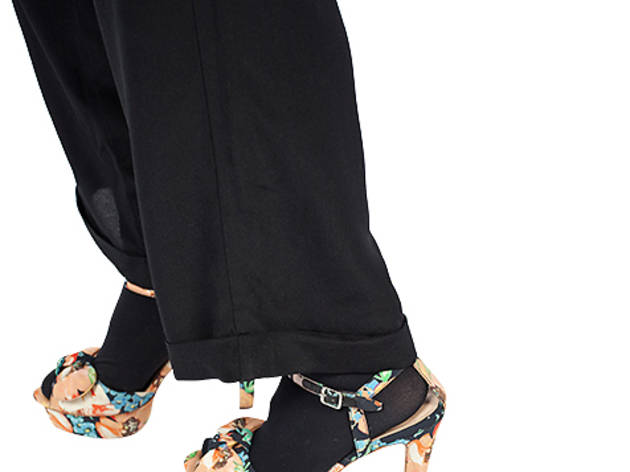 14/14
Photograph: Noffar Gat
Basora collaborated with good friend and designer Jessie Randall, of Loeffler Randall (loefflerrandall.com), on a garden-inspired shoe-and-handbag collection for spring 2013. These vibrant floral-print platforms are available in her shop.
Most stylish New Yorkers 2013: Gaby Basora
Tucker owner and designer Gaby Basora has a penchant for funky footwear, mixing prints and whimsical accessories.
Tucker
store owner Gaby Basora proves she is one of the most stylish New Yorkers by modeling funky fashions that incorporate colorful prints and sparkling sequins. She favors unique accessories from hat maker Satya Twena, milliner Ryan Wilde, jewelry from Solange Azagury-Partridge and shops at
NYC stores
A Détacher
and
Selima Optique
.
RECOMMENDED: Most stylish New Yorkers

Gaby Basora, 41, Greenwich Village; designer and owner of Tucker (355 West Broadway between Broome and Grand Sts; 212-938-0811, tuckerbygabybasora.com)

Her personal style: "It's eclectic: a little gypsy, a little preppy, a little French schoolgirl and a little crazy granny. I like to play around with accessories; small bits make a big difference to me."

Her style inspirations: "A beautifully orchestrated look, a feather in a hat, too many accessories, special socks, a story in a book, a character in a film, a song, drying flowers in the trash, a shadow on the street and architecture."

About her store: "Tucker has a salonlike, step-into-my-living-room vibe. We sell mostly Tucker [label items] but have shoes from Jerome Rousseau, Loeffler Randall and Bionda Castana; jewelry from Ann Dexter Jones; photography books from Dashwood; vintage glassware from La Maison Supreme; and bespoke leather belts from Golden Bear Belts."

Favorite stores: "Three Lives & Company (154 W 10th St at Waverly Pl, 212-741-2069) has great titles, beautifully arranged windows, aged-wood paneled floors and feels like a library in a lodge. The kids are often begging me not to go in again, as we have been in the day before, but I read a book a day sometimes. A Détacher (262 Mott St between E Houston and Prince Sts; 212-625-3380, adetacher.com)—Mona, oh Mona! [The owner Mona Kowalska] is a pioneer of Mott Street. She has a very specific, particular and wonderful aesthetic; it's very inspirational. She is always in the shop and makes beautiful things. Selima Optique (locations throughout the city; visit selimaoptique.com) has a super mix of retro and modern [glasses]. Owner Selima Salaun is a treasure collector. Her quality is top-rate in terms of design and fabrication."

Favorite NYC designers: "Victoria Bartlett (vplnyc.com) of VPL does the best knits, hands down. Her sweaters and tank tops have a special texture and weight. She is completely original. Johanna Methusalemsdottir of Kria (kriajewelry.com): Her handmade jewelry is made for tszujing—to look good in so many different ways. With her earrings, you can wear one on a chain as a pendant or through a lapel as a pin. Satya Twena (satyatwena.com) hand-blocks her hats, and the fit and scale is perfect."

Her New York style icon: "It changes all the time. Patti Smith, Iman, a woman I met on Election Day at Bel Ami Café named Helen but called Helen of Troy, Jackie Onassis, Carolina Herrera, Debbie Harry, my neighbor and photographer Virginia Thoren, and Selima Salaun."

How her style has evolved: "I have gone through tomboy phases. A white-T-shirt-and-high-waisted-skinny-jeans phase. I have loved Little House on the Prairie full skirts and high-necked, lacy blouses. I like to play around with new looks; sometimes they stick and sometimes I have to move on quickly."

Favorite salon: "Yann Varin at Varin Salon (762 Madison Ave between 65th and 66th Sts; 212-734-9055, varinsalon.com) brought me back from a bad hair funk. And I use Tressa Di Giorgi on set or for house calls (212-518-7143, tressadigiorgi.com)."
Follow Rachel LeWinter on Twitter: @Rachel_LeWinter