Heads up! We're working hard to be accurate – but these are unusual times, so please always check before heading out.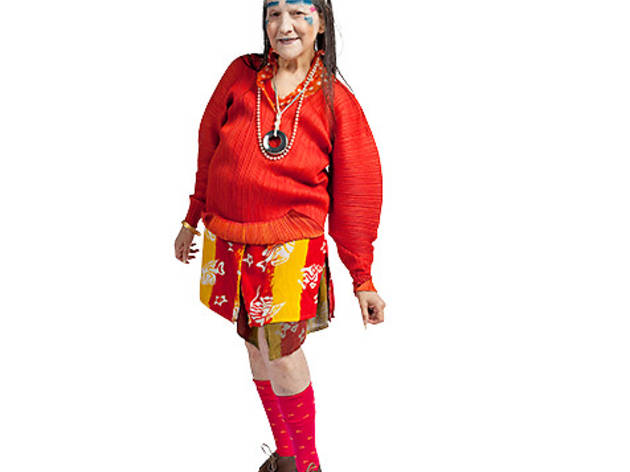 1/9
Photograph: Noffar Gat
"It looks like a beautiful lizard," says Tavella of her puffy-sleeved Issey Miyake top. She matches the orange-red of the shirt with a batik skirt that she admits could have possibly been drapes at one time.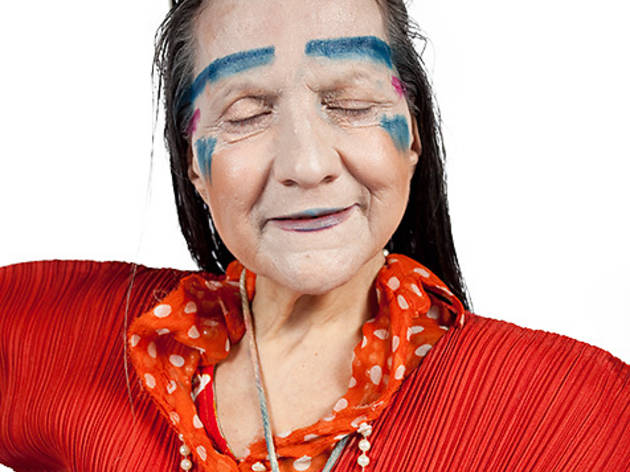 2/9
Photograph: Noffar Gat
Tavella has been wearing her eclectic makeup this way for more than 30 years; the famous makeup artist Way Bandy would compliment her when he visited her store in the 1970s. "Now, when I see models with painted eyebrows on the runway, I know I was ahead of the time," she muses. While she doesn't usually reveal her secret shade, the store owner admits that she uses Lancome eyeliner pencil in Black Lapis on her brows and can only find the coveted color at Bloomingdale's (504 Broadway between Broome and Spring Sts, 212-729-5900 ● 1000 Third Ave at 59th St, 212-705-2000 ● bloomingdales.com). She uses any pink or red lip liner as a blush to finish the job.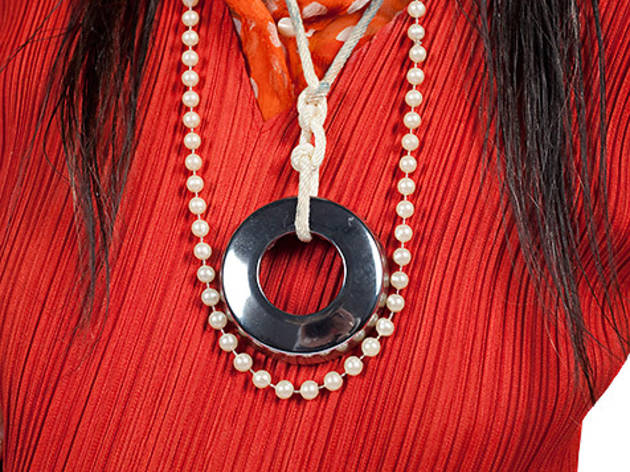 3/9
Photograph: Noffar Gat
Tavella's husband, artist Jeffrey Norfolk, made this necklace for her using leftover scraps in the back of her store. "I feel like Lolita," she says while showing off her vintage beads. The couple met while he was painting and she was studying textiles in London at Chelsea College of Art and Design (chelsea.arts.ac.uk); she calls that time her "mod, shopgirl" phase, when she wore lots of black eyeliner and graphic-print duds.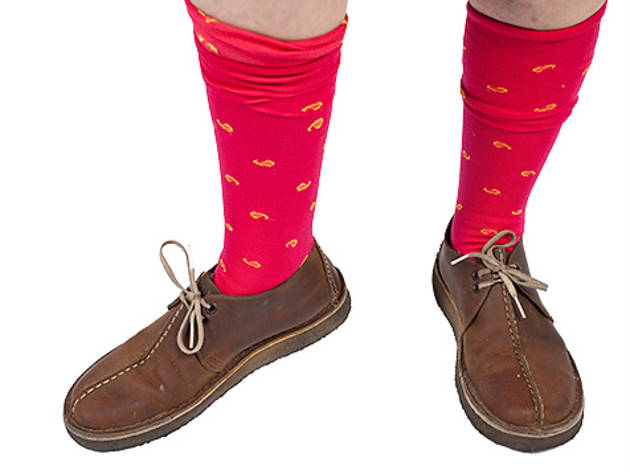 4/9
Photograph: Noffar Gat
"I bought these for Jeffrey for Christmas, but then I took them back because the color was so perfect," reveals Tavella of these bright Etro (720 Madison Ave between 63rd and 64th Sts, 212-317-9096 ● 89 Greene St between Prince and Spring Sts, 646-329-6929 ● etro.com) socks, which match the orange tones of her ensemble. While the fashionista says she would rather be in "1970s-era platform heels," she dons her comfortable Clarks shoes to run around her shop and help customers. She hopes to inspire the people that stop in, especially those from outside of NYC. "A man and his wife came in and she really loved the store," says Tavella. "I got a letter in the mail from him a week later and there was a poem about me and my shop. I hope to do that for everyone."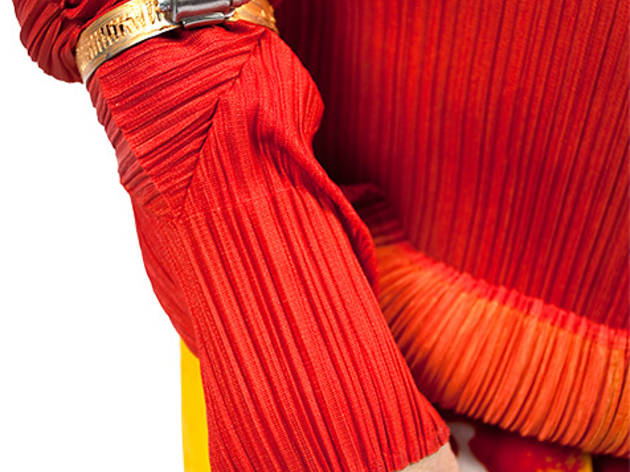 5/9
Photograph: Noffar Gat
This funky bracelet could be a hip designer's creation; instead it's the melding work of Tavella's husband, who helps out in the 40-year-old store. "I'm the resident tall guy," Norfolk says, laughing about his more-than-six-foot-tall frame. "When I'm not painting, I help customers get things down off of high shelves."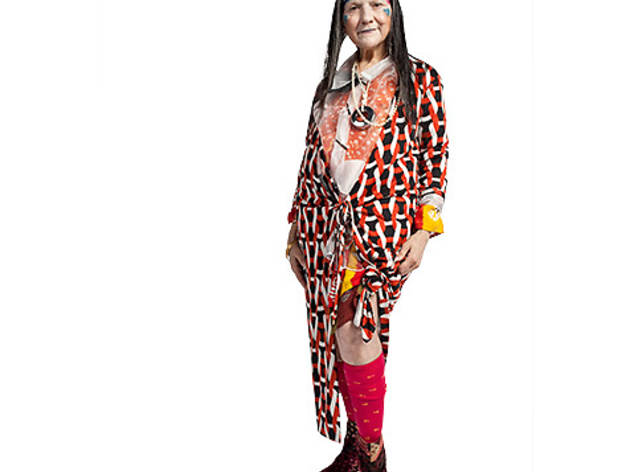 6/9
Photograph: Noffar Gat
Never one to shy away from mixing prints and fabrics, Tavella adds a graphic Diane von Furstenberg wrap dress over a vintage sheer top from her store, and ties the dress to show a little leg. "I just like to layer beautiful things," she says. "It's fashion—I live for it."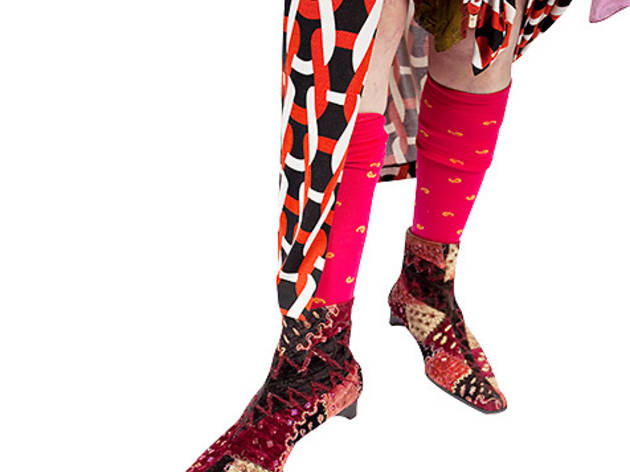 7/9
Photograph: Noffar Gat
Tavella switches up her footwear with Nello Nembro patchwork boots that she got at a Soho shop, she can't recall the name of. "I like things to clash, in a way, but I can still make them look nice together," says the store owner. She is inspired by Italian fashions and designers, such as Dolce & Gabbana (825 Madison Ave at 69th St; 212-249-4100, dolcegabbana.com), who, she says, "use fabrics in the most interesting ways."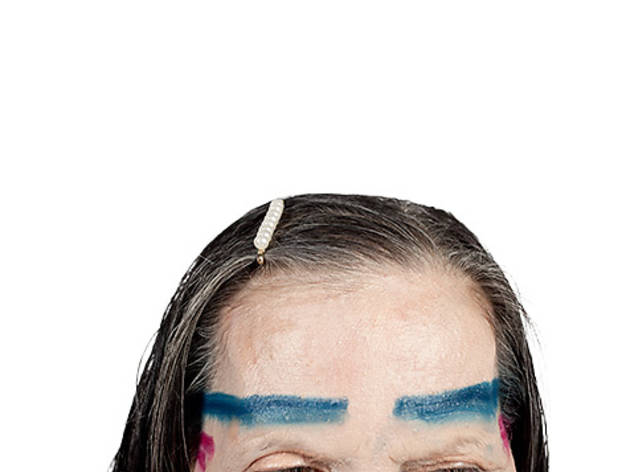 8/9
Photograph: Noffar Gat
"No one special made it," says Tavella of the beaded bobby pin holding back her long locks; it allows her vibrant face paint to take center stage. She uses Vileda (vileda.com) oil, a cleaning product from Whole Foods (locations throughout the city; visit wholefoods.com), on her hair because it's free of harsh chemicals.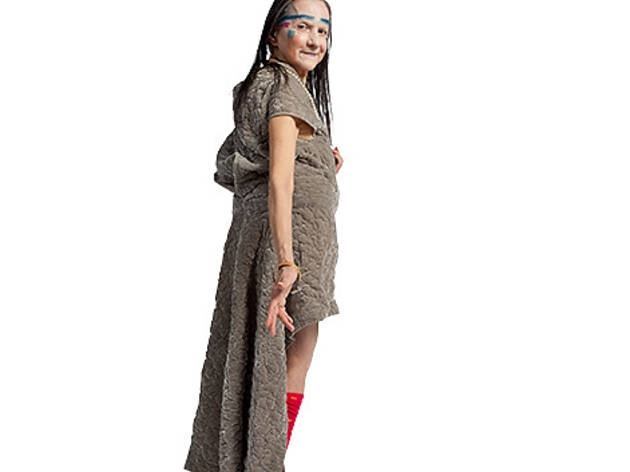 9/9
Photograph: Noffar Gat
"This dress was expensive, but it's so unique," says Tavella of her velvet Comme des Garçons (520 W 22nd St between Tenth and Eleventh Aves; 212-604-9200, comme-des-garcons.com) frock. "You can tell this was made by a master [Japanese designer] by the cut and fabric. I usually wear a lot of color, but when I don't, I appreciate shades of gray because they remind me of Italy."
Most stylish New Yorkers 2013: Luxor Tavella
Paracelso store owner Luxor Tavella, who just celebrated her eclectic shop's 40th birthday, appreciates unique designer duds layered with funky vintage finds.
Paracelso store owner Luxor Tavella proves that she is one of our most stylish New Yorkers by donning high-fashion threads from designers such as Issey Miyake and Comme des Garçons, mixed with her own vintage finds. Her dapper British husband helps accessorize these fantasy looks with jewelry made by melding scrap metal found in the back of their store. She cites New York designers such as Diane von Furstenberg and the late Alexander McQueen as inspiration for her unique look.
RECOMMENDED: Most stylish New Yorkers

Luxor Tavella, "100 or 5—you choose," Soho; owner of Paracelso (414 West Broadway between Prince and Spring Sts, 212-966-4232)

Her personal style: "It's the avant-garde idea, but that phrase is used too much. I would say a cross between [London's] Kings Road and [New York's] West Broadway."

Her inspirations: "I live in my fantasy world, and I'm lucky that my husband lets me. Sometimes French films inspire me, or customers that come in my store. Alexander [McQueen] would come in and put the most amazing things together. He was really something special."

About her shop: "The store is like my studio. The [women's] clothing is set up like art installations. It's all of my creativity. Not everyone understands it, but it's my life."

Her favorite NYC stores: "I really respect the Italian fashions of Giorgio Armani (locations throughout the city; visit armani.com). And I think what Japanese designer Issey Miyake (locations throughout the city; visit isseymiyake.com) does with women's clothing is just fantastic."

Her favorite NYC designers: "I love Diane von Furstenberg (874 Washington St between 13th and 14th Sts, 646-486-4800 ● 135 Wooster St between Prince and W Houston Sts, 212-542-5754 ● dvf.com) because she is a real woman who designs clothing for real women. And I would love to go shopping with Karl Lagerfeld. What he does with Chanel (locations throughout the city; visit chanel.com) is just inspiring."

Style motto: "Recognize a good cloth and cut, and don't worry about it looking perfect. Just be beautiful to you."

How her style has evolved: "I used to put on all Burberry (locations throughout the city; visit burberry.com) and go to the Plaza Hotel. Now, I have to wear Clarks (363 Madison Ave at 45th St, 212-949-9545 ● 993 Third Ave at 59th St, 212-207-4115 ● clarks.com) because I'm on my feet all day at the shop."

Her signature item: "I wear a lot of jewelry, because it makes me look like a goddess."

Follow Elizabeth Denton on Twitter: @elizabethann1