Heads up! We're working hard to be accurate – but these are unusual times, so please always check before heading out.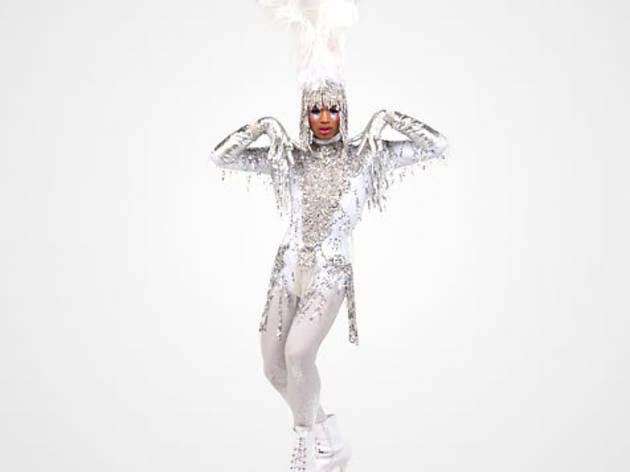 1/28
Photograph: Zenith Richards
Celso is a sparkling vision in white, in a look she designed herself for the stage show during Webster Hall's 125th-anniversary New Year's Eve Ball.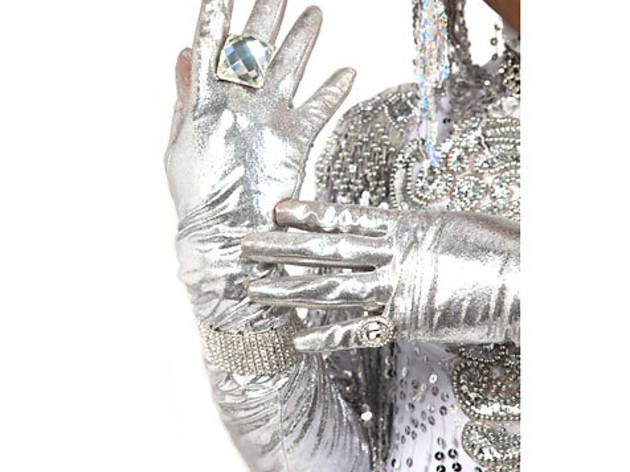 2/28
Photograph: Zenith Richards
Silver elbow-length gloves, oversize cocktail rings and a diamant cuff bling up an already glitzy outfit. "Your accessories are the icing on the cake when it comes to your look," notes Celso. "Sure, you can be modest during the day, but while onstage in front of hundreds of people, you need that jewelry to shine and dazzle the masses!"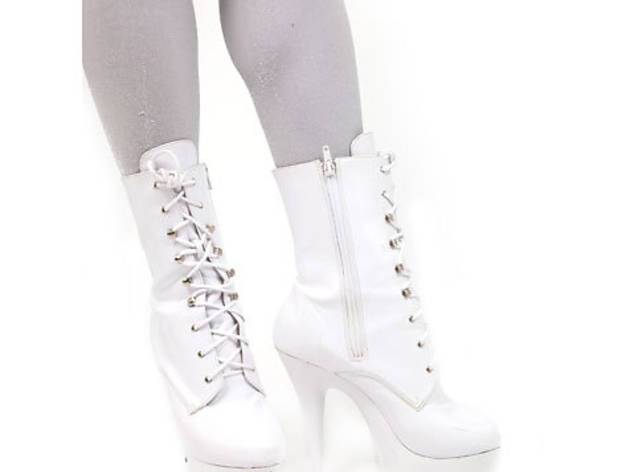 3/28
Photograph: Zenith Richards
Despite the significant height of these platform, lace-up boots, Celso swears that "they give me great support while performing onstage; I have them in an assortment of delicious colors."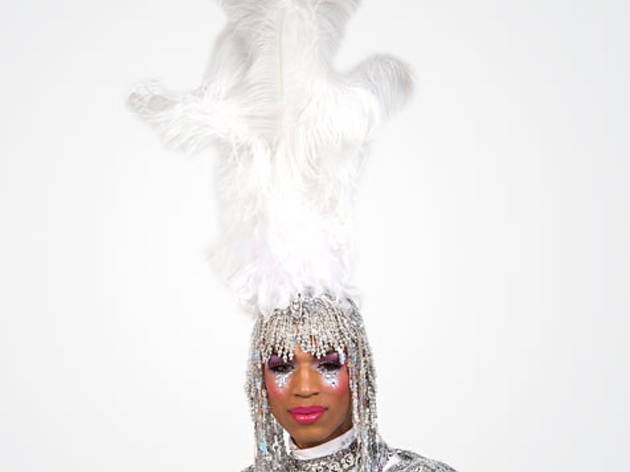 4/28
Photograph: Zenith Richards
This elaborate headpiece is another design Celso made for the 2011 New Year's Eve Ball at Webster Hall. "The feathers used for this particular piece were imported from Brazil," she boasts. Her lips pop thanks to a swipe of MAC Show Orchid lipstick.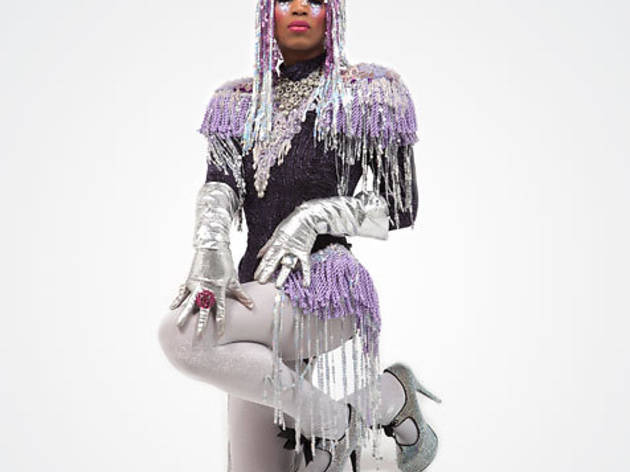 5/28
Photograph: Zenith Richards
Celso created this purple ensemble as part of a series of costumes for Webster Hall's Circus night, which she performs in every Saturday. "The collection is called Showgirl Classique, a menagerie of sequins, feathered headpieces and beaded fringe," she explains. "It explores the circus-showgirl theme from the 18th century through the present day, and every Saturday, a new costume from the series is revealed."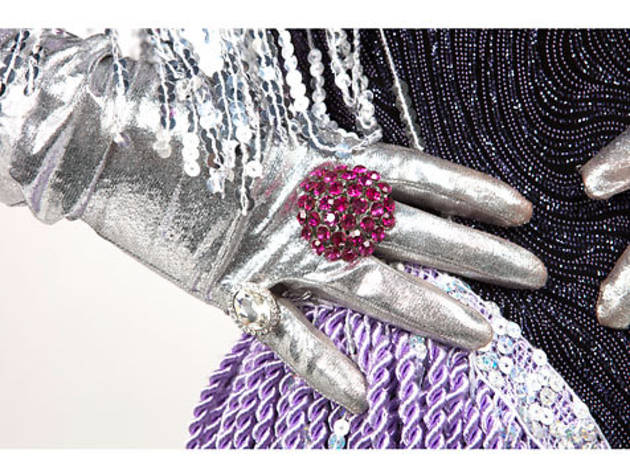 6/28
Photograph: Zenith Richards
Celso borrowed this pink burst ring from Webster Hall creative director Shane Savant.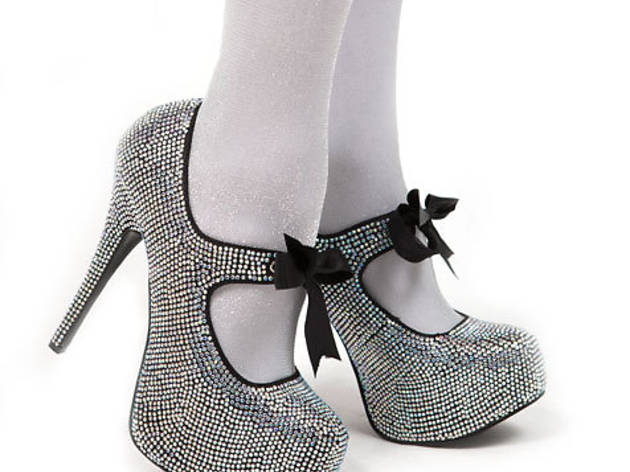 7/28
Photograph: Zenith Richards
These rhinestone-encrusted heels were a gift from Shane Savant, who brought them back from a trip to Paris.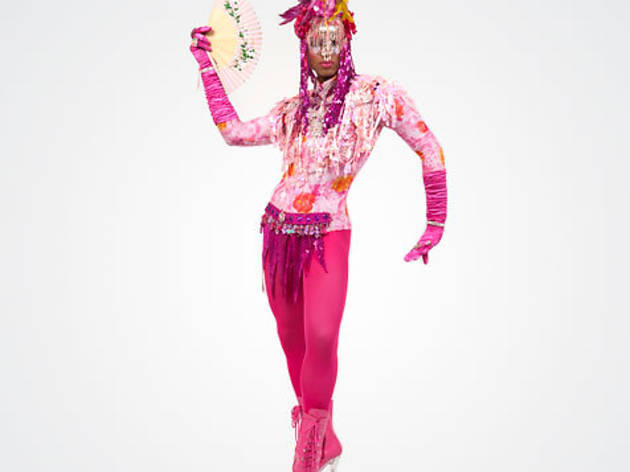 8/28
Photograph: Zenith Richards
Celso wasn't just thinking pink when creating this eye-popping outfit. "The fabric used to make the top has floral motifs in the pattern, so the hot-pink tights and the bejeweled belt all work to bring out those springtime elements," she explains.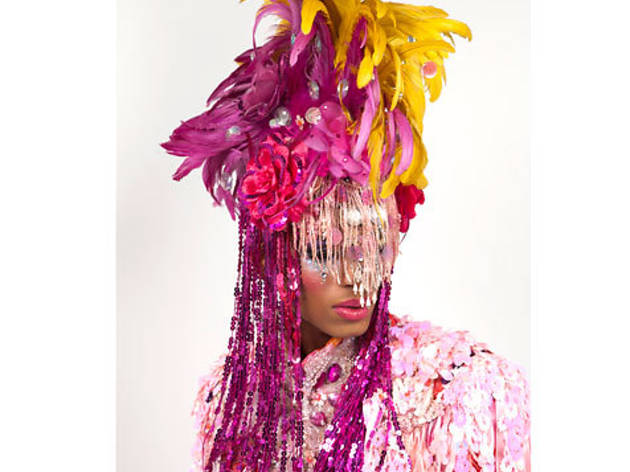 9/28
Photograph: Zenith Richards
This feather-festooned headpiece is another one of Celso's designs, and was inspired by Grecian helmets.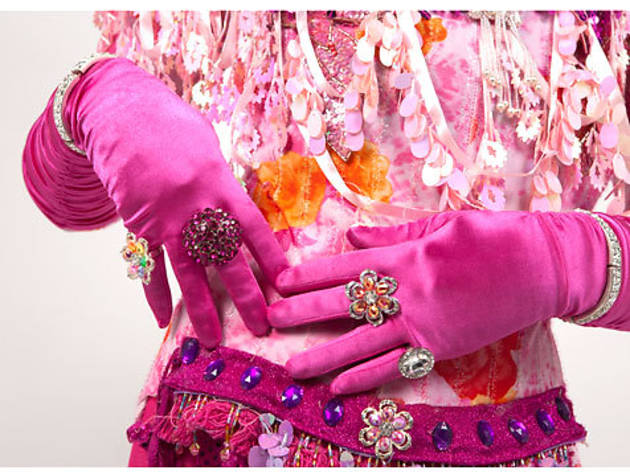 10/28
Photograph: Zenith Richards
"The fuchsia gloves and rings balance out the theme and hues of the outfit," notes Celso, whose fingers are dripping in flower-shaped baubles.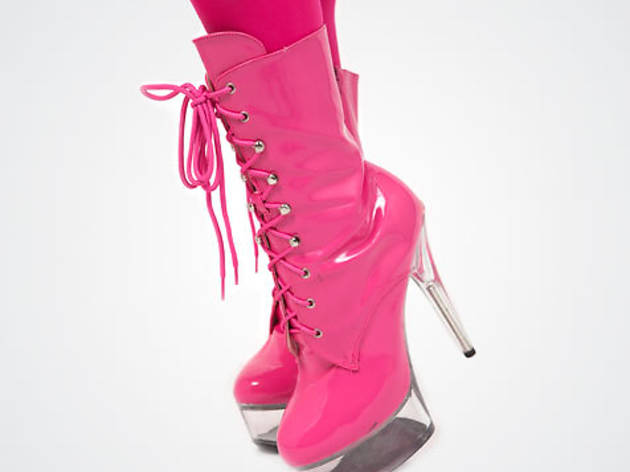 11/28
Photograph: Zenith Richards
Celso rocks another pair of sky-high lace-up boots, this time with Lucite platforms.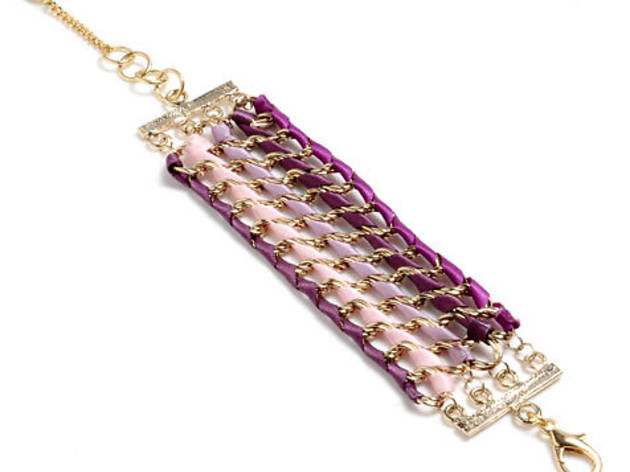 12/28
SPIN HER STYLE Amrita Singh Joana bracelet, $100, at amritasingh.com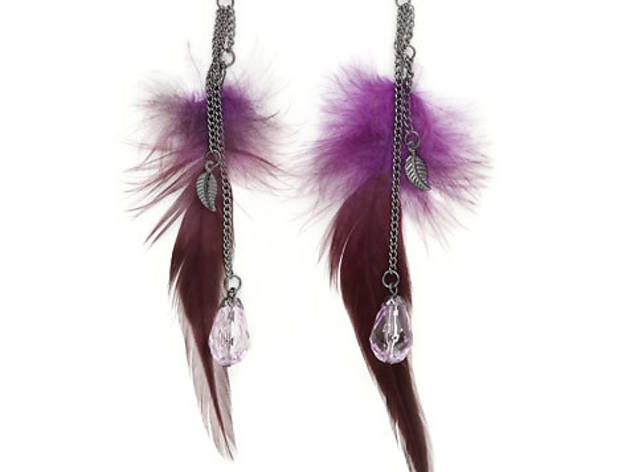 13/28
SPIN HER STYLE Charlotte Russe feather-and-gem drop earrings, $7, at charlotterusse.com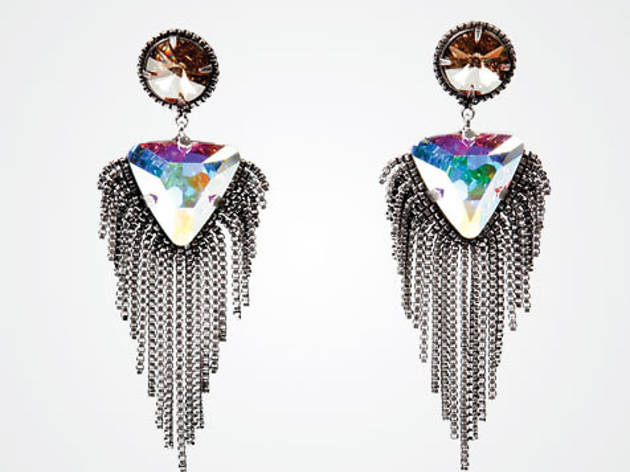 14/28
SPIN HER STYLE Dannijo Rex earrings, $296 (normally $370), at dannijo.com. Use code "DJTONY" at checkout to receive this discount through June 10.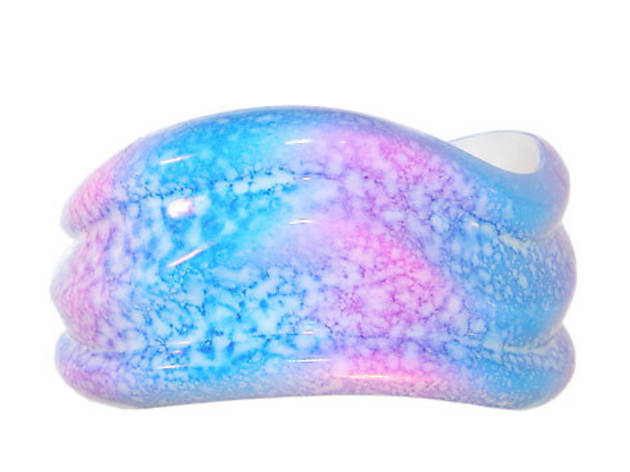 15/28
SPIN HER STYLE Girlprops.com wide wavy marbleized bangle, $3, at girlprops.com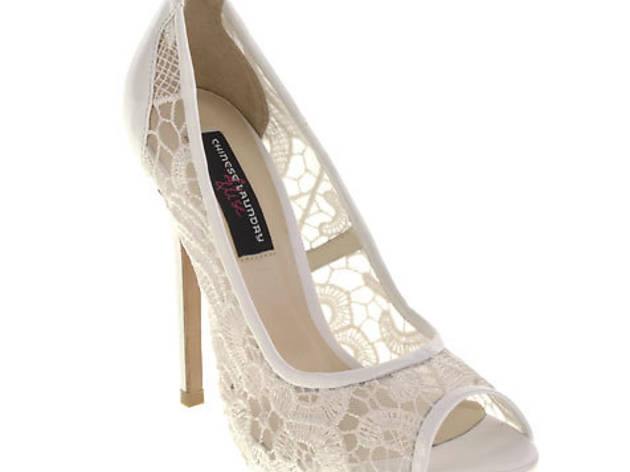 16/28
SPIN HER STYLE Chinese Laundry Tiddlywinks lace pumps, $100, at chineselaundry.com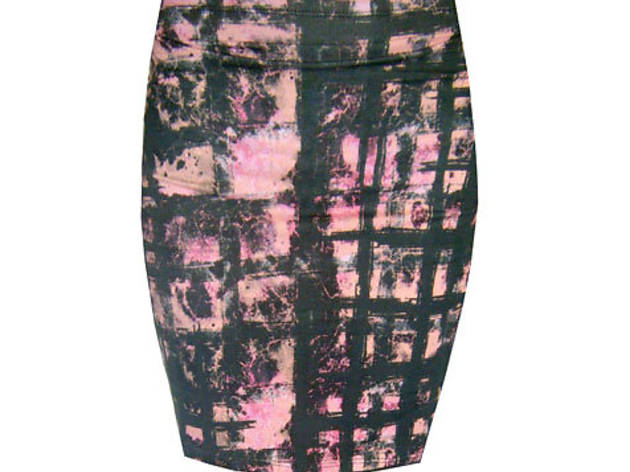 17/28
SPIN HER STYLE Motel Rocks check tube skirt, $43, at motelrocks.com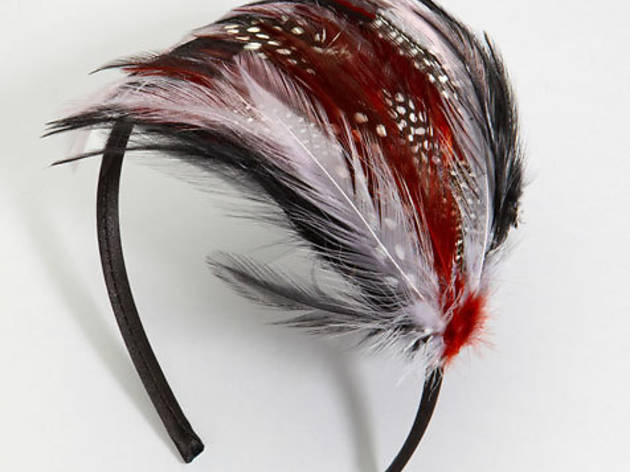 18/28
SPIN HER STYLE Fred Flare Tango feather headband, $10, at fredflare.com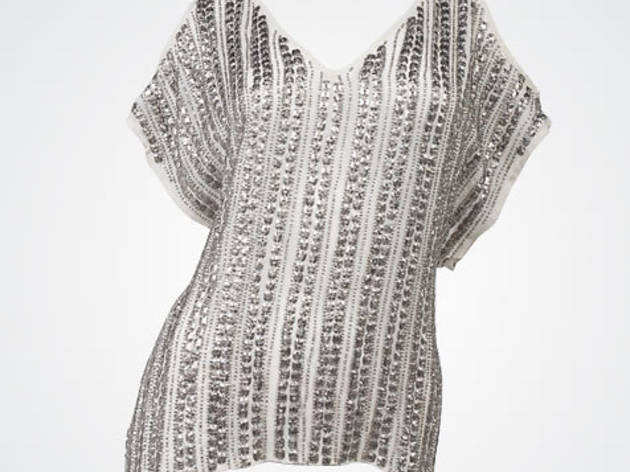 19/28
SPIN HER STYLE Parker square sequin open-shoulder top, $242, at piperlime.com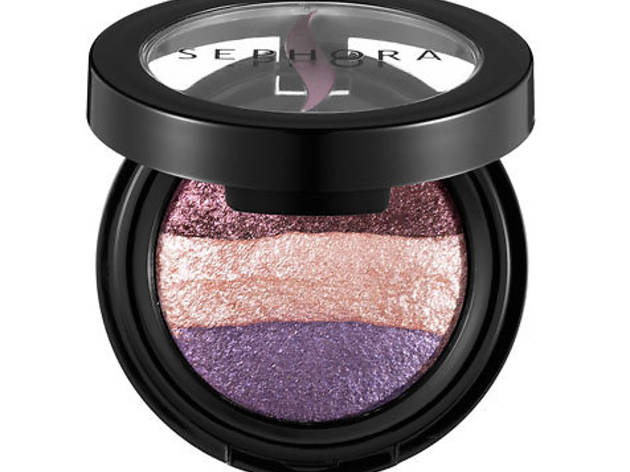 20/28
SPIN HER STYLE Sephora Baked Moonshadow eye-shadow trio, $17, at Sephora, locations throughout the city; visit sephora.com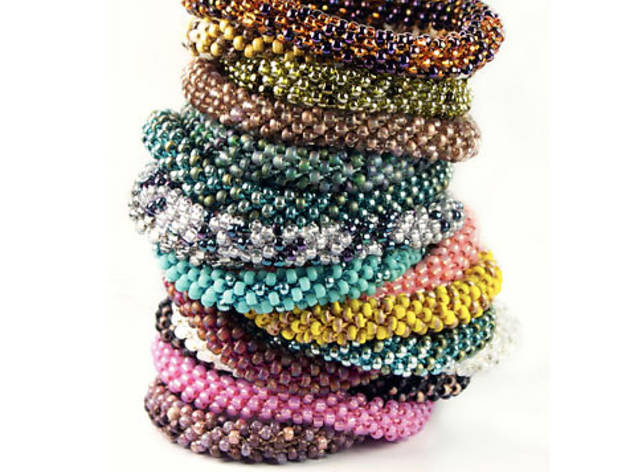 21/28
SPIN HER STYLE Same Sky Prosperity bracelets, $50--$60 each, at samesky.myshopify.com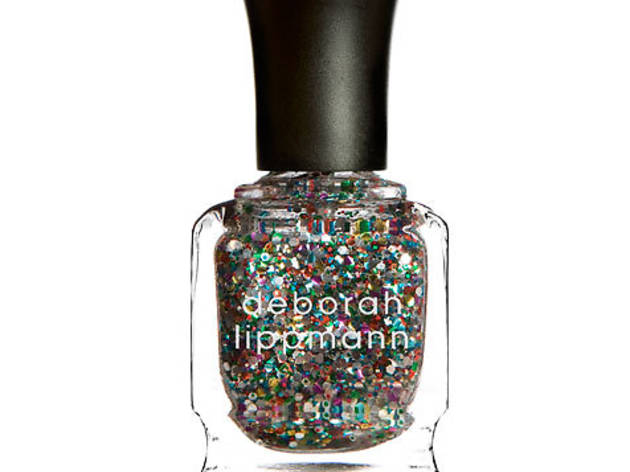 22/28
SPIN HER STYLE Deborah Lippmann Happy Birthday nail polish, $18, at Barneys, 660 Madison Ave at 61st St (212-826-8900, barneys.com)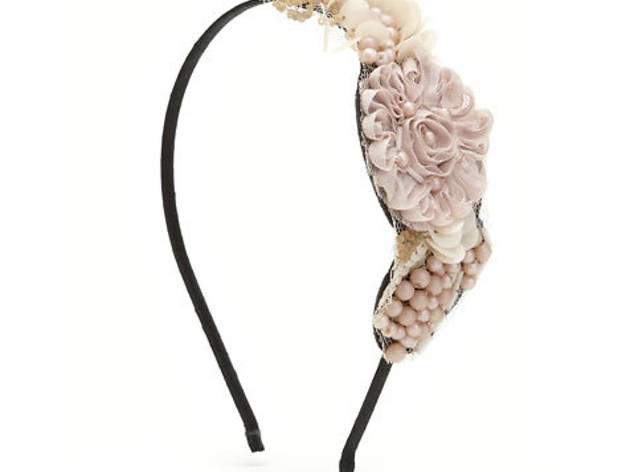 23/28
SPIN HER STYLE Charlotte Russe banquet headband, $8, at Charlotte Russe in the Manhattan Mall, 1275 Broadway at Sixth Ave (212-465-8425, charlotterusse.com)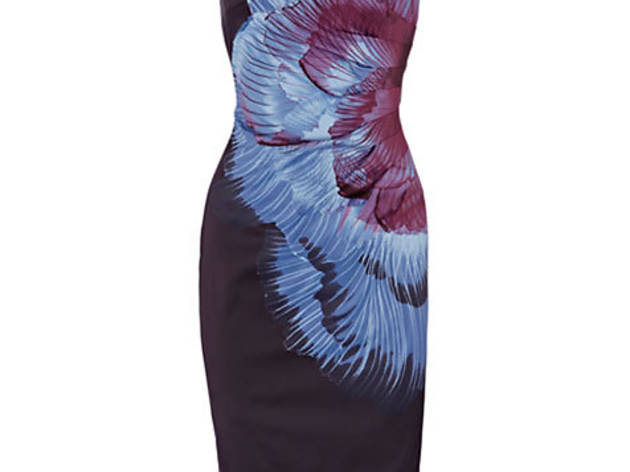 24/28
SPIN HER STYLE Karen Millen floral-print pencil dress, $299, at Karen Millen, 114 Prince St between Greene and Wooster Sts (212-334-8492, karenmillen.com)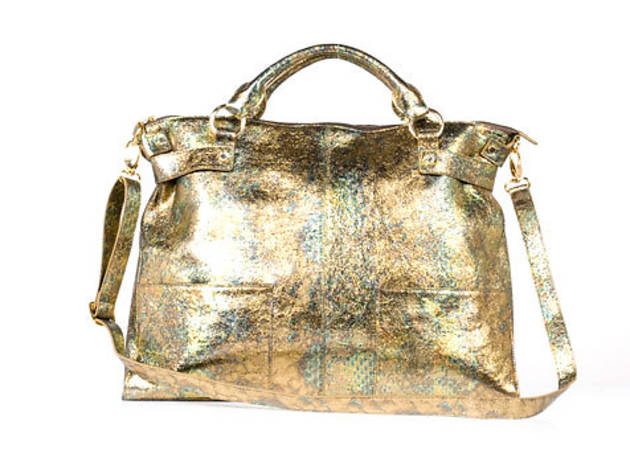 25/28
SPIN HER STYLE Lodis Athena Perri tote, $388, at lodis.com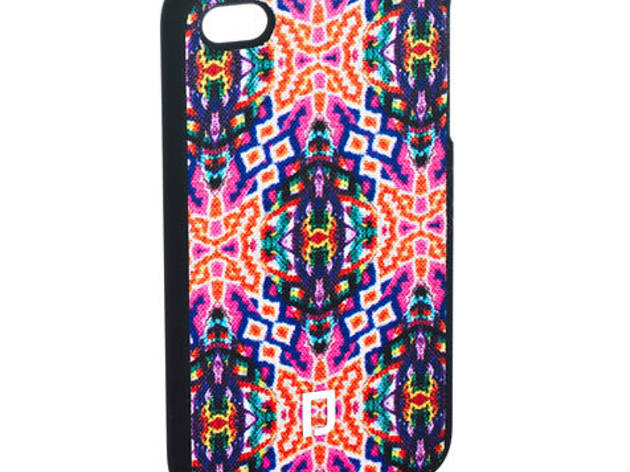 26/28
SPIN HER STYLE Dannijo Reid iPhone 4 case, $95, at dannijo.com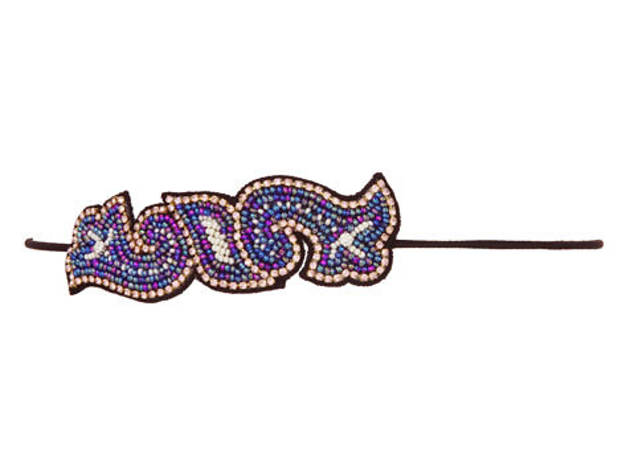 27/28
SPIN HER STYLE Deepa Gurnani rainbow headband, $38, at Henri Bendel, 712 Fifth Ave between 55th and 56th Sts (212-247-1100, henribendel.com)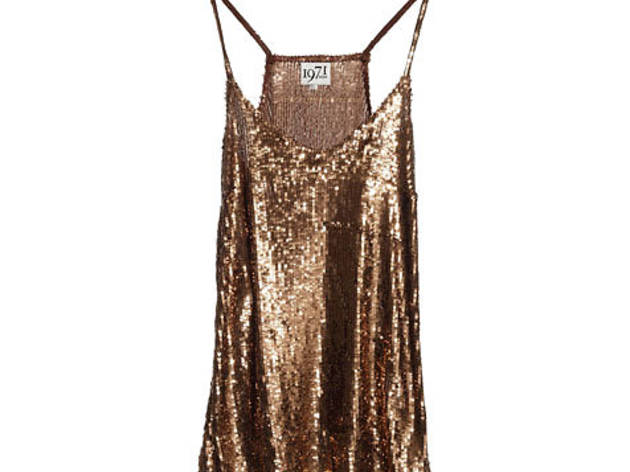 28/28
SPIN HER STYLE Reiss Millie sequin cami, $215, at Reiss, 309 Bleecker St between Seventh Ave and Grove St (212-488-2411, reissonline.com)
Most stylish New Yorkers: Celso
The performer dazzles with her over-the-top, glitzy garb; we show you how to make it suitable for everyday wear.
Celso, "a lady never reveals her age," makeup artist and performer, Chelsea
Her personal style: "Exuberant and embellished but always under control. Onstage, my outfits are flashy and meant to draw attention. During the day, I like to keep a low profile: clean lines, weather-appropriate, yet with a chic and streamlined aesthetic. I'm often in black and very fond of vintage-style hats."
Her inspirations: "I pull my inspiration from various sources and couldn't possibly name them all! Though I do have my favorite makeup artists and designers—most of whom predate the '90s—the advent of social-media marketing and networking has blurred the lines between originality and inspiration. Most of the time, they are completely overshadowed by social amnesia. With billboards and Internet ads showing the latest this or latest that, it's difficult to completely avoid outside influences creeping into your work. In the end, my personal muses inspire me to dive deeper into the depths of my own ideas and to lose any inhibitions about bringing them to life."
Favorite stores: "All of my stage costumes are handmade, so it's safe to say that I spend the majority of my time in the Garment District. Two stores I love to shop at are Halloween Adventure (104 Fourth Ave at 11th St; 212 673-4546, halloweenadventurenyc.com) and Gothic Renaissance (108 Fourth Ave between 11th and 12th Sts, 212-780-9558). Halloween Adventure's makeup counter has something for everyone, and Gothic Renaissance is simply a treasure trove of unique and fabulous pieces, often from local designers."
Her signature items: "Besides my geisha-like charms, I am known for elaborate makeup and ornamental outfits."
Favorite designers: "Garo Sparo's designs are as fabulous as they are original (garosparo.com). He's been a force to be reckoned with since 1995. Another local favorite is fellow performer Hector Perez, orchestrator of AlieNatioN (thealienation.com), whom I work alongside with at Webster Hall for Circus Saturdays. The work of these designers is part of what's keeping the pulse of New York City's originality alive."
How her style has evolved through the years: "The design of a costume, or a 'look,' is all relative to the occasion. Under the tutelage of Shane Savant (shanesavant.com), creative director of Webster Hall, my style has become much more refined, detail-oriented and more complex. He has played a key role in my development as an artist over the past few years. He's always pushing me to broaden my perspective and strengthen my skills in costume design, makeup artistry and as a performer. I am the Beatrix Kiddo to his Pai Mei, and I encourage any young artist to seek the guidance of those more knowledgeable around them. Students must have teachers and masters need apprentices; the synergy created in this relationship promotes the evolution of the arts."
SEE CELSO PERFORM!
Catch Celso voguing with the Casa De La Blanca performance group during BANZAI!!!!! Art and Performance Bash, on Saturday 28 at the Red Lotus Room (893 Bergen St between Classon and Franklin Aves, Prospect Heights, Brooklyn; muffinheadland.com; 8pm–3am; advance $10, at the door $15).
You might also like
Most stylish New Yorkers: Amado Watson
Most stylish New Yorkers: Charley Hendee
Most stylish New Yorkers: Laia Garcia
See more in Shopping & Style