Most stylish New Yorkers: DJ Louie XIV
The multitalented nightlife guru walks the line between polished and casual in his most stylish looks.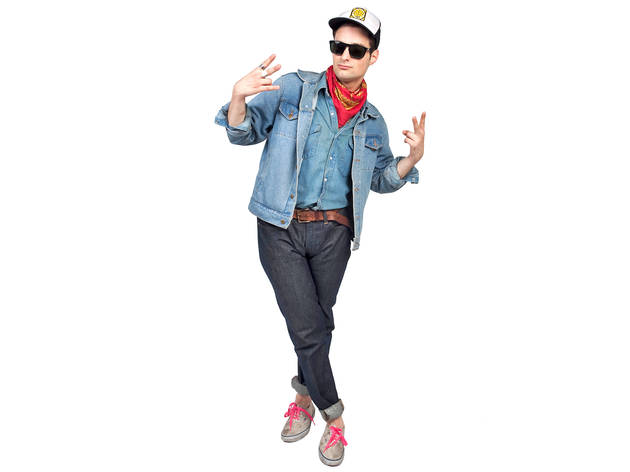 1/15
Photograph: Anna Simonak
"It's denim on denim—I'm just a fashion vigilante like that," jokes DJ Louie XIV of his American Apparel (locations throughout the city; visit americanapparel.net) jacket, vintage Wrangler button-up shirt from Eleven, and Gap (locations throughout the city; visit gap.com) jeans, all made from the same material. "This is my take on Rebel Without a Cause."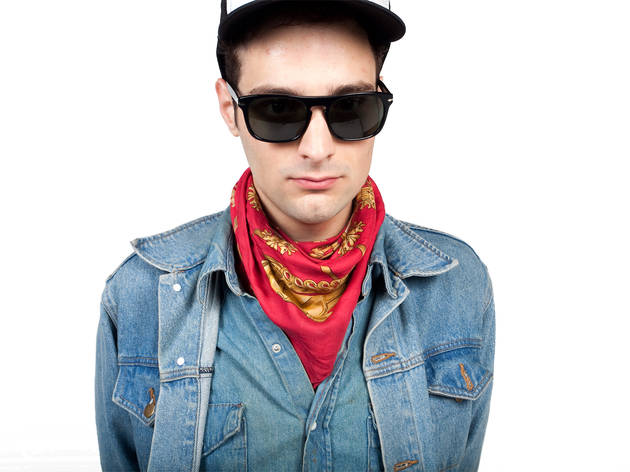 2/15
Photograph: Anna Simonak
The DJ accessorizes with Persol sunglasses from Ilori (138 Spring St between Greene and Wooster Sts; 212-226-8276, iloristyle.com) and an Hermès silk scarf "lovingly jacked from my mother," he says. "Sometimes, I like to wear it on my head like a turban."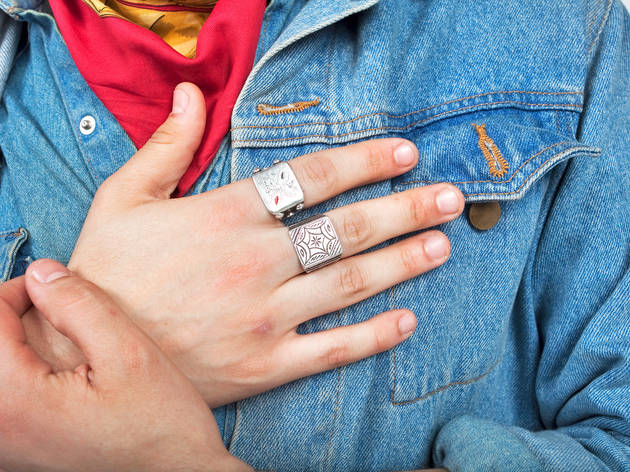 3/15
Photograph: Anna Simonak
DJ Louie XIV's sister brought back these square-shaped etched rings from Tibet and gave them to him as a 23rd birthday present. "As a DJ, you spend a lot of time looking at your hands, so it's nice to have something pretty and also meaningful to look at," he notes. "They remind me of my sister, and family is everything to me."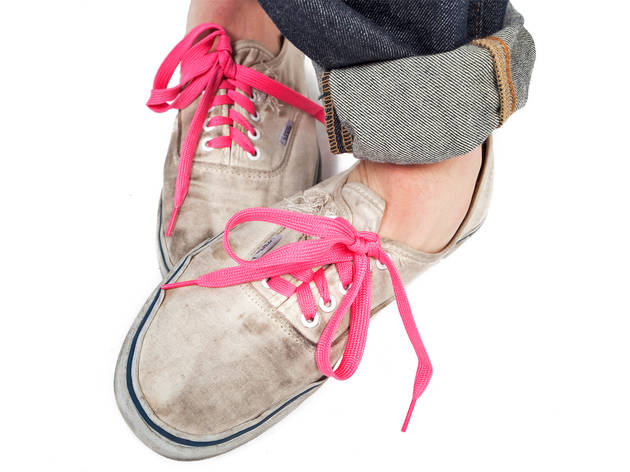 4/15
Photograph: Anna Simonak
Hot-pink laces picked up at Paragon Sports (867 Broadway at 18th St; 212-255-8036, paragonsports.com) breathe new life into a pair of beat-up Vans sneakers. "I saw the laces when I went to buy gym sneakers, oddly enough, and I just had to find a way to put them in my life," he explains.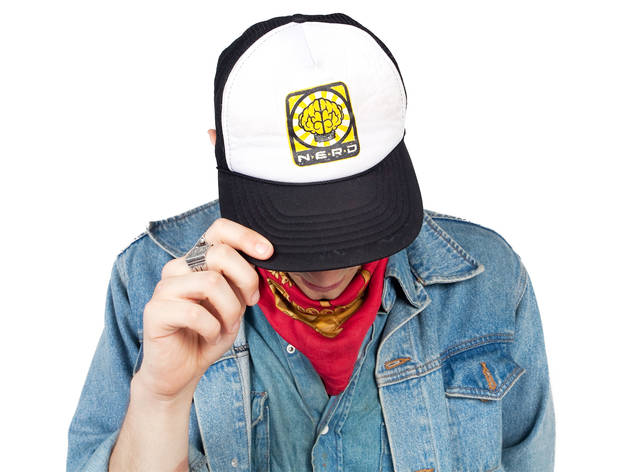 5/15
Photograph: Anna Simonak
"Pharrell, one of my all-time personal idols, actually gave [this hat] to me personally when I was about 15," recalls DJ Louie XIV. "My dad was doing some work for him."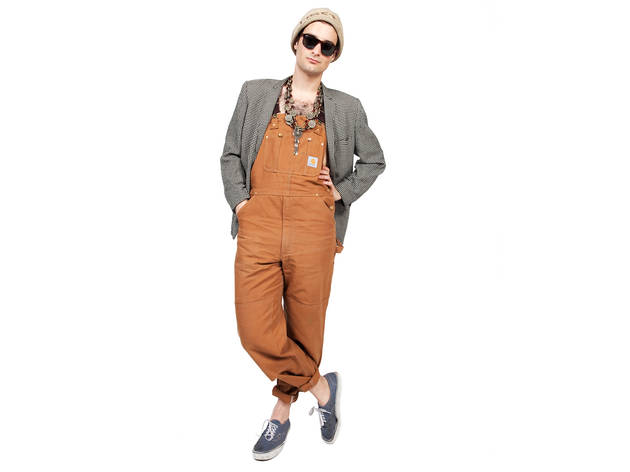 6/15
Photograph: Anna Simonak
"I love onesies in general—flight suits, you name it," enthuses DJ Louie XIV, referring to these Carhartt (carhartt.com) overalls, which he picked up at a general store in Norwich, Vermont. "Anytime you have an entire outfit in one piece of clothing, it is a win for me. If I'm feeling extra slutty, I wear them without a shirt." A vintage houndstooth blazer from American Rag (amrag.com) in Los Angeles helps keep the look somewhat modest.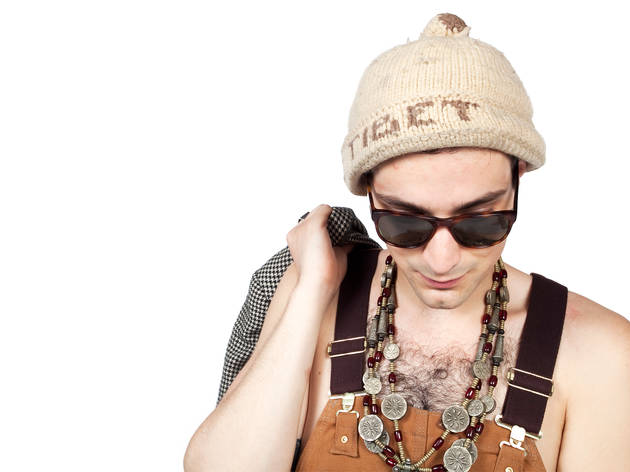 7/15
Photograph: Anna Simonak
"I like to mix seasonal items," says DJ Louie XIV, who juxtaposes a wool hat taken from his father with Paul Smith (108 Fifth Ave at 16th St, 212-627-9770 • 142 Greene St between W Houston and Prince Sts, 646-613-3060 • paulsmith.co.uk) sunglasses. "I often wear cutoff denim shorts with a giant, sheepskin-lined vest." The triple-strand Moroccan necklace was a gift from his mother, who purchased the refurbished 19th-century piece at Assembly New York (170 Ludlow St between E Houston and Stanton Sts; 212-253-5393, assemblynewyork.com). "It's noisy as hell," admits the DJ. "You can hear me coming from a mile away. When I'm walking down the street, the people in front of me must think they're being followed by someone who has just escaped from a chain gang."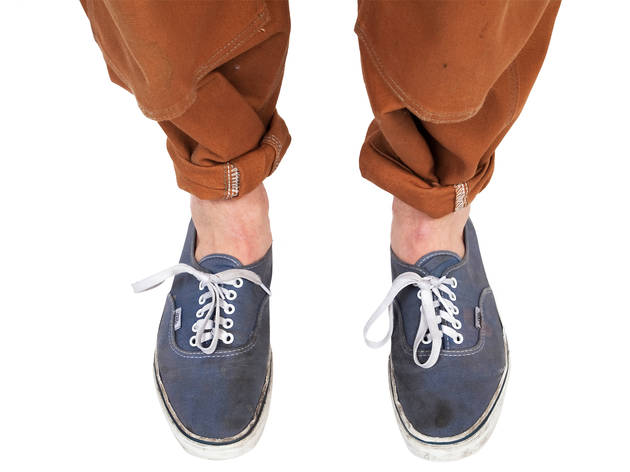 8/15
Photograph: Anna Simonak
Another timeworn pair of Vans sneakers cap off the look. "As a teenager, I discovered that Vans are just the shoes that I'm most comfortable in and have pretty much never looked back," explains DJ Louie XIV.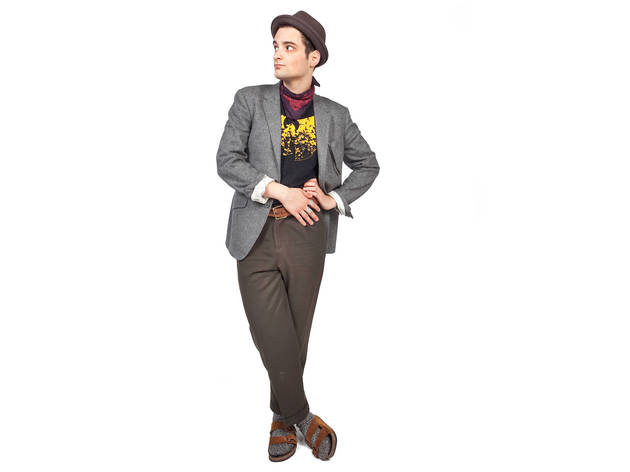 9/15
Photograph: Anna Simonak
DJ Louie XIV calls this outfit—comprised of a Paul Smith blazer purchased on sale at Barneys New York (660 Madison Ave at 61st St; 212-826-8900, barneys.com), vintage Jean Paul Gaultier pants from Tokio 7 (83 E 7th St between First and Second Aves; 212-353-8443, tokio7.net) and a Wu-Tang T-shirt from his father—his take on Mad Men–style dressing. "If I'm going to do something classic, I need to find a way to make it more me and not costumey," he explains. "The Wu-Tang shirt helps it feel more true to who I am. Discovering the Clan as a 13-year-old was a huge turning point for me in my life."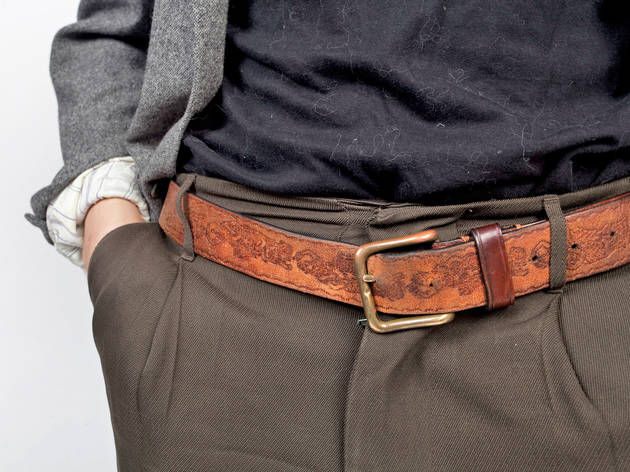 10/15
Photograph: Anna Simonak
"It's the only belt I wear," declares DJ Louie XIV of this Urban Outfitters (locations throughout the city; visit urbanoutfitters.com) etched number, which he purchased when he was 15.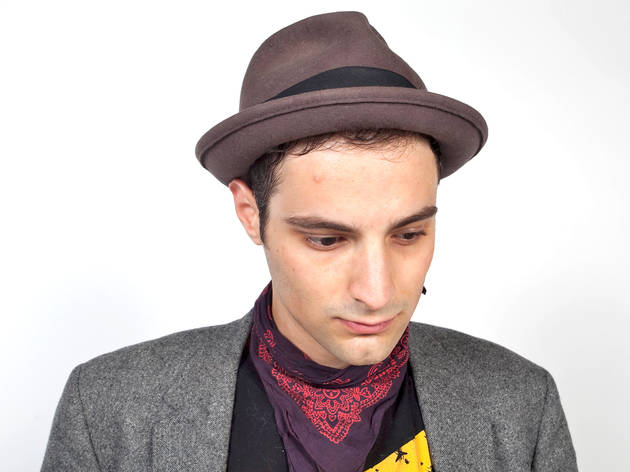 11/15
Photograph: Anna Simonak
A vintage fedora borrowed from a friend lends polish to DJ Louie XIV's ensemble. "Since my outfits tend to be more on the casual side, it's important—especially for work—for me to be able to dress things up," he explains. He ties his signature purple bandana from L.A.'s American Rag around his neck for added flair.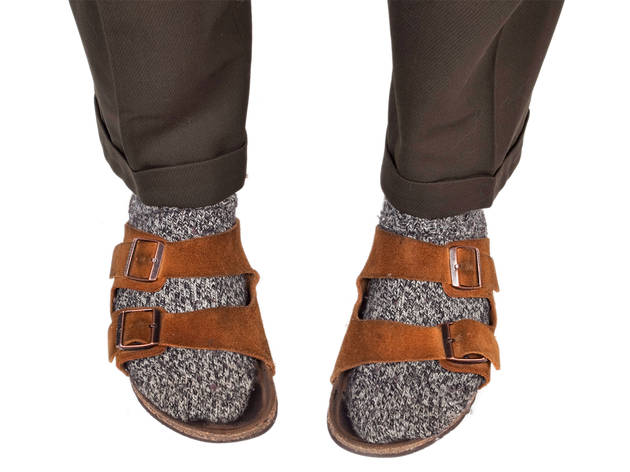 12/15
Photograph: Anna Simonak
"My nod to the distinguished lesbians of Vermont," jokes DJ Louie XIV of his wool socks from the Sock Man (27 St. Marks Pl between Second and Third Aves; 212-529-0300, thesockman.com) worn with Birkenstock (birkenstockusa.com) sandals.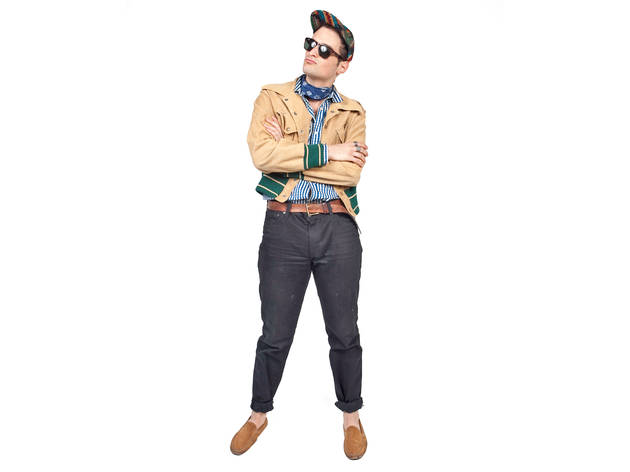 13/15
Photograph: Anna Simonak
"This is my little-schoolboy look," says DJ Louie XIV of his vintage corduroy jacket, which he purchased from a now-closed store in high school; Gap 1969 black jeans; and a Paul Smith gingham shirt from Barneys. "I like that it kind of looks like a picnic table," he says with a laugh. "The shirt actually has special meaning to me because when I was about 20, I was clinically obese and decided to get myself in shape. I lost a hundred pounds that year, and this size-medium top was one of the first items I bought for my new body."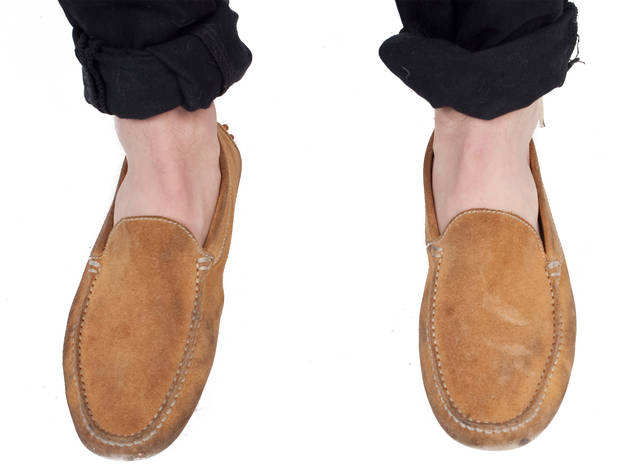 14/15
Photograph: Anna Simonak
These Tod's (650 Madison Ave between 59th and 60th Sts; 212-644-5945, tods.com) driving loafers are another purchase from DJ Louie XIV's high-school days. "They are too small and whenever I wear them, I end up regretting it to some degree, but they're so cute I can't help myself," he laments. "I think in fashion, sometimes pain is gain!"
15/15
Photograph: Anna Simonak
"Believe it or not, I stole this bandana off my own damn dog on the way to the shoot," admits DJ Louie XIV (although in fairness, he purchased it from human-clothing store Eleven). He accessorizes with a Pendleton baseball hat from Opening Ceremony (35 Howard St between Broadway and Lafayette St, 212-219-2688 • 1190–92 Broadway between 28th and 29th Sts, 646-695-5680 • openingceremony.us) and Paul Smith sunglasses.
DJ Louie XIV is one of new york's most notable DJs and fashionistas. He sat down with us to answer questions about what makes him our most stylish New Yorker this week.
DJ Louie XIV, 25; DJ, writer, actor and "noted cheese enthusiast" (louiexiv.com); East Village

His personal style: "It's the love child of James Dean, the Fresh Prince, a gay farmer, a burly lumberjack, Barbara Stanwyck, Jesse James, Biggie, Fred Mertz and Chandler Bing."

His inspirations: "Pretty much everyone and everything. I'm not really the kind of person that goes for a look. I like to cull from all of my influences—music, movies, art, my friends, random folks on the street—take the little aspects of each that catch my eye and throw it all in the pot. However, I'd have to say my mom, Elisa Goodkind, who founded Stylelikeu (stylelikeu.com), is my primary influence for fashion and otherwise. She taught me what it truly means to have personal style and that it has nothing to do with trends. She looks like an actual work of art every single day."

Favorite stores: "The Quality Mending Co. (15 Prince St at Elizabeth St, thequalitymendingco.com) has a very curated collection of vintage pieces that are mostly of the old Western persuasion. Everything in there looks like it was taken off the back of a cowboy circa 1870, and that kind of [aesthetic] is a big part of my personal style. I'm a sunglass fanatic. I'm actually not always the hugest shopper—I go once in a while, get a couple of things and am set for a long time—but sunglasses are a big weakness for me and Fabulous Fanny's (335 E 9th St between First and Second Aves; 212-533-0637, fabulousfannys.com) has all the best vintage and new styles. I stop in at least a couple times a month. What Goes Around Comes Around (351 West Broadway between Broome and Grand Sts; 212-343-1225, whatgoesaroundnyc.com) has the best vintage in New York, period. If I'm gonna splurge, it'll probably be there."

Favorite salons: "I get my hair cut by Clyde Elezi at the Drawing Room (148 Spring St between West Broadway and Wooster St, second floor; 212-226-2600, thedrawingroomny.com). He is the best! Clyde treats each haircut like his masterpiece—I literally feel like the top of my head is his Mona Lisa. I'm pretty low maintenance [when it comes to spas], so I like the Korean ladies at Purple Flower (23 Clinton St between E Houston and Stanton Sts, 212-253-2889). They do 60-minute massages for $40. They scream at each other the whole time, and the place smells like potatoes, but they actually do a great job."

His signature accessories: "I pretty much always wear a pair of Vans (vans.com). I buy all kinds of other shoes and wear them once before deciding I should just stick to Vans. They're just really me for whatever reason. I also always wear two square rings from Tibet that my sister gave me for my birthday a few years ago with every single outfit, every single day. I pretty much always wear some sort of scarf around my neck. When I'm trying on outfits, I put the scarf on first and no matter how many times I change, the scarf stays around my neck at all times. Oh, and sunglasses—always sunglasses, although not at night. That's for Jay-Z only!"

Favorite designers: "I'm not really into designer clothes—most of my wardrobe is vintage or secondhand. But I do love my friend Jeffrey Williams's (jeffreycwilliams.com) stuff. He is a very talented dude."

How he describes New York style: "At its best, it should be impossible to describe. New York is a city of individuals doing their own thing, so I think I'd be doing a disservice to the ideal of New York City that I like to believe in if I tried to sum it all up in one phrase."

How his style has evolved: "I'd say the number one aspect of my style evolution is intrinsically tied to my personal evolution as a human. The more I know myself, the more comfortable I become with who I am, the less I care what other people think, and the more refined and personal my style has become. It's a constant process of personal distillation."
You might also like
Most stylish New Yorkers: Gabe Saporta
Most stylish New Yorkers: Binki Shapiro
Most stylish New Yorkers: Theophilus London
See more in Shopping & Style