Heads up! We're working hard to be accurate – but these are unusual times, so please always check before heading out.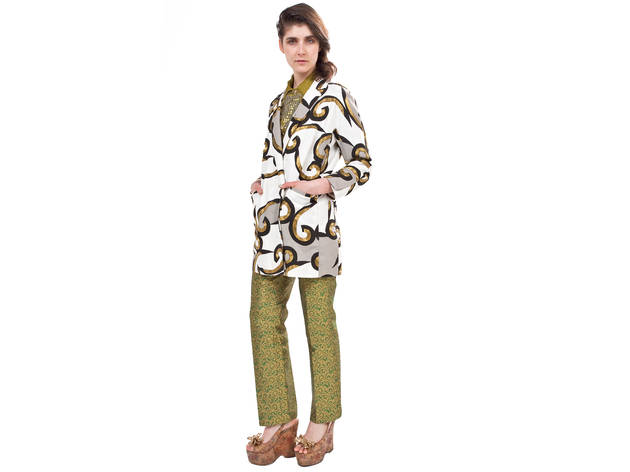 1/9
Photograph: Lauren Foy
Even though these '90s-era Roberto Cavalli brocade pants, which were hand-me-downs from Leshner's mother, and  sequined Diane von Furstenberg (874 Washington St between Ninth and Tenth Aves, 646-486-4800 • 135 Wooster St between W Houston and Prince Sts, 212-542-5754 • dvf.com) blazer have conflicting patterns, the garments' gold undertones keep the outfit cohesive.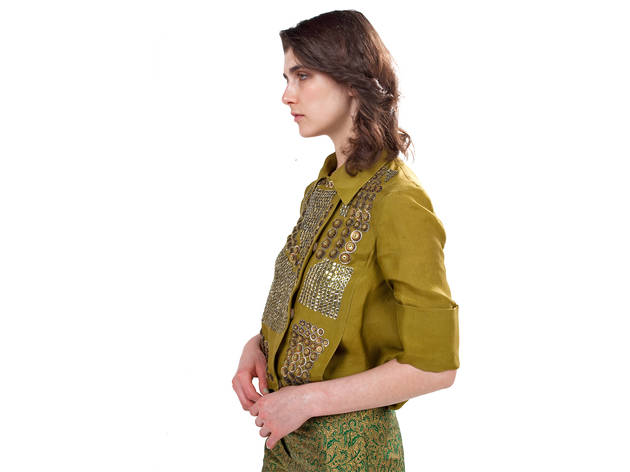 2/9
Photograph: Lauren Foy
This embellished Missoni (1009 Madison Ave at 78th St; 212-517-9339, missoni.com) cropped coat—worn here as a top—was nearly stolen from Leshner at a Nolita restaurant. "The waitress made a comment that she was a fan of my jacket, which fell off my chair at some point," she recalls. "When I approached her about it in a frantic panic, she acted all surprised and said she had found it on the floor and mistook it for one of the linens. It wasn't a convincing story, considering the joint was a hole-in-the-wall and the napkins were paper."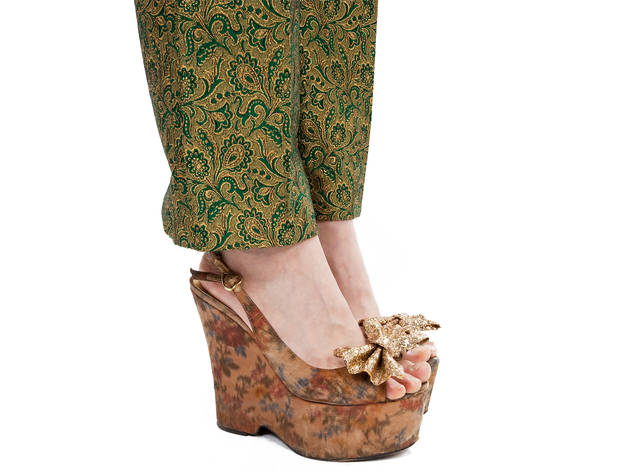 3/9
Photograph: Lauren Foy
Leshner purchased these Betsey Johnson (betseyjohnson.com) floral wedges as a birthday gift to herself five years ago.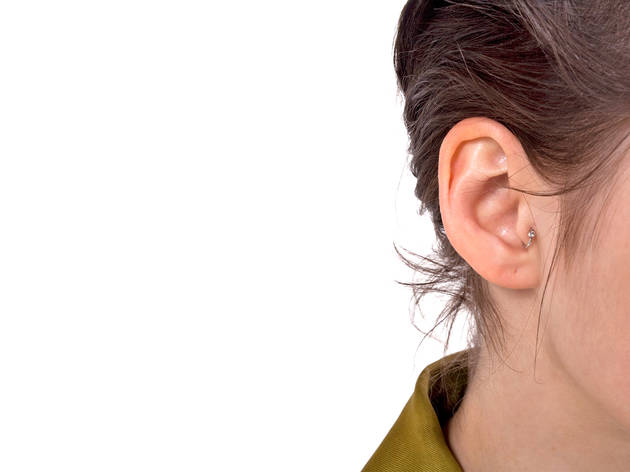 4/9
Photograph: Lauren Foy
"There was this skater kid who I was obsessed with who had it done," admits Leshner of the inspiration for her inner-ear piercing, which she got at the now-closed location of Venus Modern Body Arts (venusbymariatash.com) when she was 15. "It was such a cool detail I always noticed."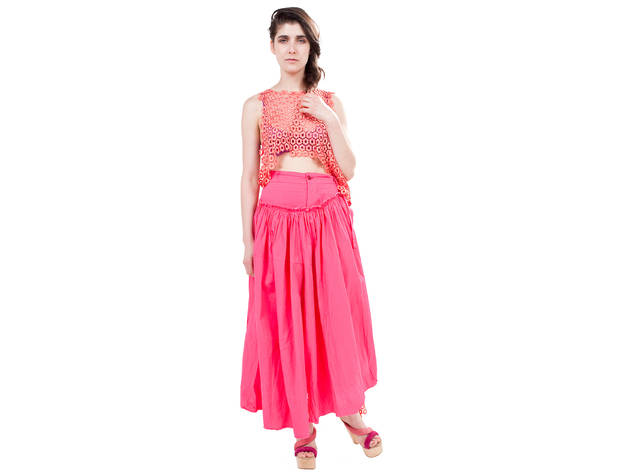 5/9
Photograph: Lauren Foy
A crochet top of Leshner's own design lends an artsy, bohemian feel to voluminous pants by Comme des Garçons (520 W 22nd St between Tenth and Eleventh Aves; 212-604-9200, comme-des-garcons.com). Even Leshner's Chantal Thomass (chantalthomass.fr) bra from La Petite Coquette (51 University Pl at 10th St; 212-473-5799, thelittleflirt.com) matches the ensemble's coherent pink hue.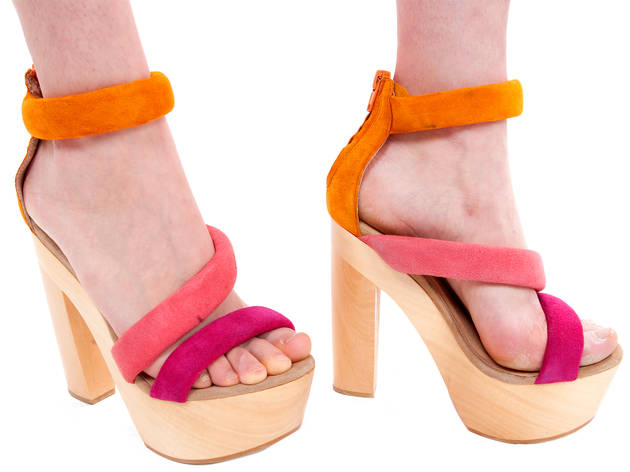 6/9
Photograph: Lauren Foy
Suede color-blocked strappy sandals by local shoe brand Messeca (78 Fifth Ave at 14th St, ninth floor; 212-643-7066, messeca.net), which Leshner says she is "lucky enough to work for," punch up a monochromatic outfit.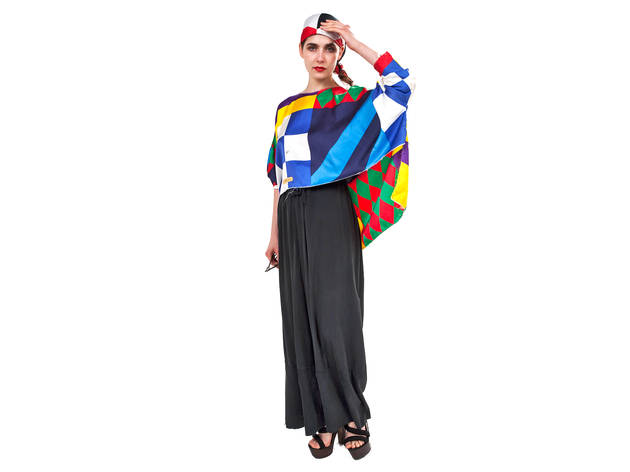 7/9
Photograph: Lauren Foy
Leshner models a top she made using salvaged Ralph Lauren silk fabric. "The pattern is a kimono style, so when [the shirt] lies flat, it looks very geometric," she notes. The high-waisted silk trousers are another Leshner creation. "I made them on a whim last summer to wear to the beach," she explains.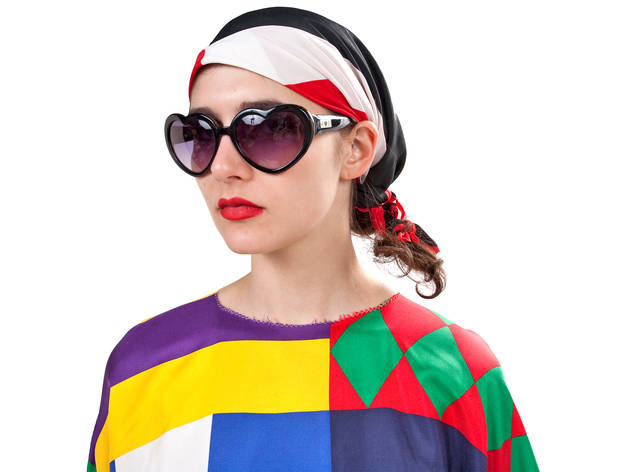 8/9
Photograph: Lauren Foy
Leshner's father picked up these Freudenhaus (freudenhaus.com) heart-shaped sunglasses for his daughter at Oculus 20/20 (267 Smith St at DeGraw St, Cobble Hill, Brooklyn; 718-554-6230, oculus2020.com), where he gets his own specs fixed. A Salvatore Ferragamo (ferragamo.com) scarf Leshner scored at a swap meet in San Diego and Jungle Red lipstick from Nars (413 Bleecker St between Bank and W 11th Sts; 646-459-2323, narscosmetics.com) are other whimsical add-ons.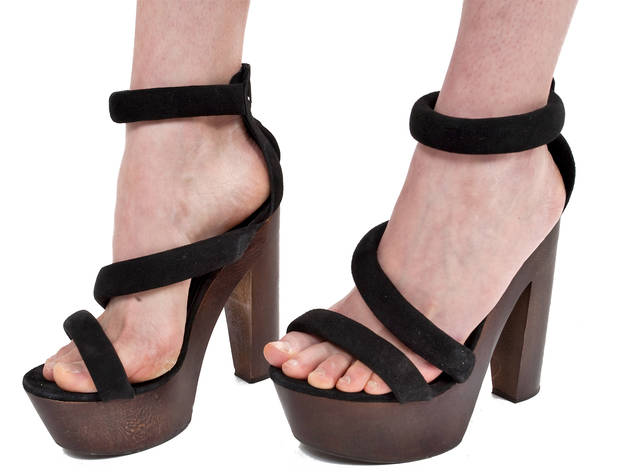 9/9
Photograph: Lauren Foy
Another pair of Messeca strappy sandals, this time in black, finish off the look.
Most stylish New Yorkers: Fay Leshner
The former model has an artist's eye for creating cohesive ensembles.
Fay Leshner, 24; designer and stylist (fayleshner.com); Bay Ridge, Brooklyn
Her personal style: "It's a representation of my state of mind. My clothing is a mix of labels, personal designs and vintage. I style similar to the way a designer develops a collection, by which there is a unity of color story, concept and shape. When I'm working, I need to be able to move, and depending on whom I'm working for at the time, I tend to dress in my version of their aesthetic. I think it's my subconscious effort to make a connection."
Her inspiration: "Every day is another opportunity to take a piece out for a walk. Whatever mood I wake up with will direct me to the shape and color in my closet, and then an outfit is formed around it."
Favorite stores: "I like Pixie Market (100 Stanton St at Ludlow St; 212-253-0953, pixiemarket.com) because it carries a lot of up-and-coming brands. The buyer is very selective and always picks great pieces. If Soho (94 Grand St between Greene and Mercer Sts; 212-334-4964, ifsohonewyork.com) is the only store in New York that carries Ivan Grundahl (ivangrundahl.dk). It also has all of the conceptual brands that I love, such as Comme des Garçons (comme-des-garcons.com) and Junya Watanabe. The salespeople are great and have been there forever, not to mention the place smells nice. I love Le Grand Strip (197 Grand St between Bedford and Driggs Aves, Williamsburg, Brooklyn; 718-599-3525, legrandstrip.com) for the ladies who are a part of it. Owner CC McGurr and manager Masako Kushiro are amazing women who live and love fashion. The store feels like a dream bedroom."
Favorite salons: "I style my own hair, but I get it cut by a mad genius named Jutta Weiss who works at John Sahag Workshop (425 Madison Ave at 49th St; 212-750-7772, johnsahag.com). I like Renew and Relax Spa (50 Third Ave between 10th and 11th Sts, 212-388-9821) for nails. They always do a great job, have a cool color selection, serve tea and give real massages, as opposed to the places that just hit you on the back and call it a day. For facials, I go to Jenny Lee at Nails Noble (1484 Third Ave at 84th St, 212-535-7363). She has a degree in dermatology, and my facial is always different because she does what [my skin] needs. I always leave glowing."
Favorite designers: "The only new designers I try to keep up with are the kids I graduated from Parsons with. Gilda Su of Revasseur (revasseur.com) makes great avant-garde pieces; David Ferron (davidferron.tumblr.com) has amazing tailored contemporary looks; Samantha Sleeper (samantha-sleeper.com) does wonderful feminine, elegant clothing; and Frank Nathan is my go-to for furs and spikes."
How she describes New York style: "Very on trend, label-driven and safe in elegance, with a few surprises thrown in the mix."
How her style has evolved: "My editing has become stronger as I come into maturity. The look is more about highlighting one idea, as opposed to every part being done to the fullest extent."
You might also like
Most stylish New Yorkers: Tziporah Salamon
Most stylish New Yorkers: Baron von Fancy
See more in Shopping