Heads up! We're working hard to be accurate – but these are unusual times, so please always check before heading out.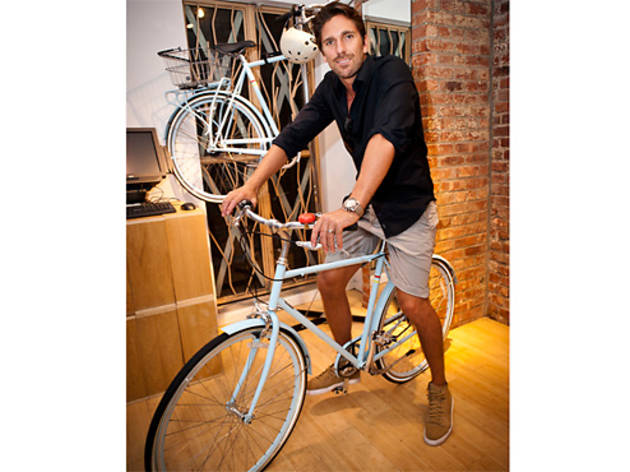 1/22
For a professional athlete, Henrik Lundqvist spends hardly any time in active apparel: When he's not in the rink, the Swedish ice-hockey player estimates that he wears a suit four to five days a week. "When we travel with the team, we always wear suits," he explains. "It's probably what I feel most comfortable in." Even more surprising, when he arrives straight from practice wearing a polished Atlas button-up shirt, Reiss khaki shorts and midtop Nike sneakers he claims, "Well, today I'm not that dressy." Can someone get this guy a sweatshirt? With the Rangers' 2011 preseason kicking off on Wednesday 21 (the team will play the New Jersey Devils in Albany, New York), we decided it was as good a time as any to ease the ice king into some more casual, sporty threads.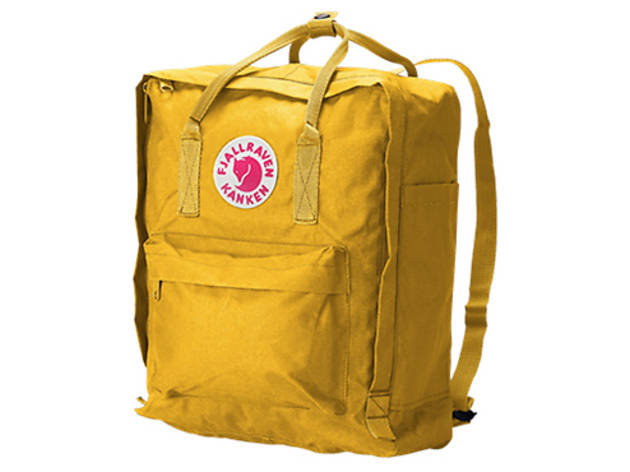 2/22
Fjällräven Kånken Original backpack, $65, at Tretorn, 150 Spring St between West Broadway and Wooster St (646-454-9680, store.tretorn.com) Since Tretorn has its origins in Helsingborg, Sweden, the footwear brand's Soho store stocks items from other Swedish labels—including this cheery backpack, which conjures nostalgic memories for Lundqvist. "I remember [Fjällräven] from when I was really young and had one of its backpacks," he recalls. "It's really retro. Now it's coming back in Sweden and all of the cool kids have these, but back then it was just my schoolbag."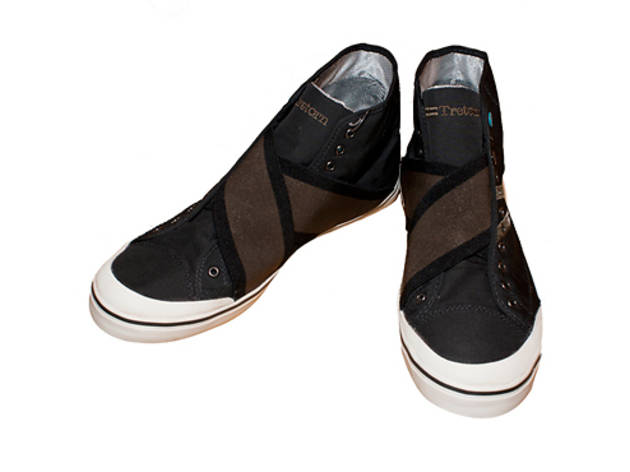 3/22
Tretorn Skymra Mid XCR Gor-Tex shoes, $84, at Tretorn Lundqvist can sum up the bulk of his wardrobe in three words: "Blue, black and gray." These waterproof mid-top sneakers manage to incorporate all of the athlete's preferred hues. "I would wear these with an outfit like I'm wearing today, or maybe with jeans and a T-shirt," he muses. The versatile kicks would even pair well with an umbrella: They're made from the same durable material as raincoats.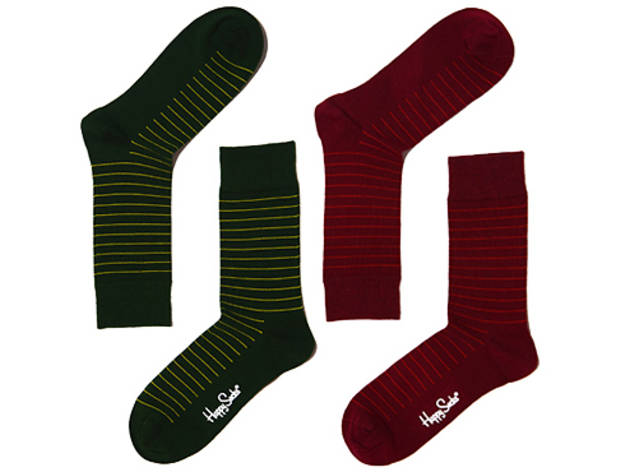 4/22
Happy Socks thin striped socks, $12, at Tretorn "A lot of Swedes have these socks," says Lundqvist. "Back home, you'll see people in black suits wearing red, pink or blue socks, and they [cuff their pants] to show them off." Though the Stockholm label is best known for its wildly patterned pairs, Lundqvist would rather slip into the trend with one of these subtle, striped options. "Those are too crazy," he admits after surveying the display. "I haven't gotten there yet!"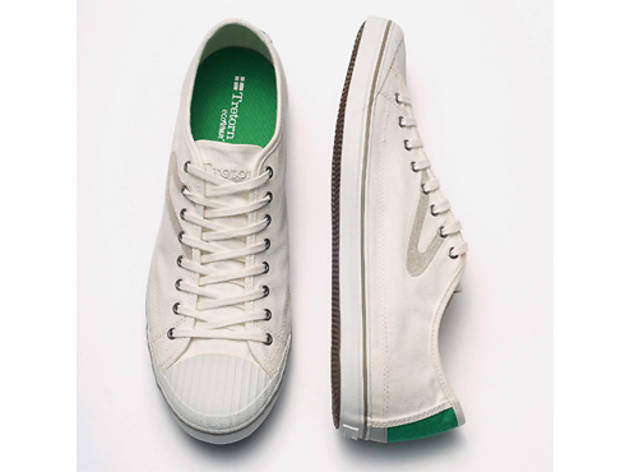 5/22
Tretorn Skymra SL canvas shoes, $65 "I played a lot of tennis this summer," says Lundqvist, who is a member at Midtown Tennis Club (341 Eighth Ave at 27th St; 212-989-8572, midtowntennis.com). "It's fun but it's also a great workout for me—as a goalie, I need to be quick on my feet and pretty flexible." He gravitates toward the sporty green stripe on the back of these canvas sneakers. "This is more [suitable for] country-club tennis—I play hard-core tennis and would honestly like more support, but you will look good in these, that's for sure!"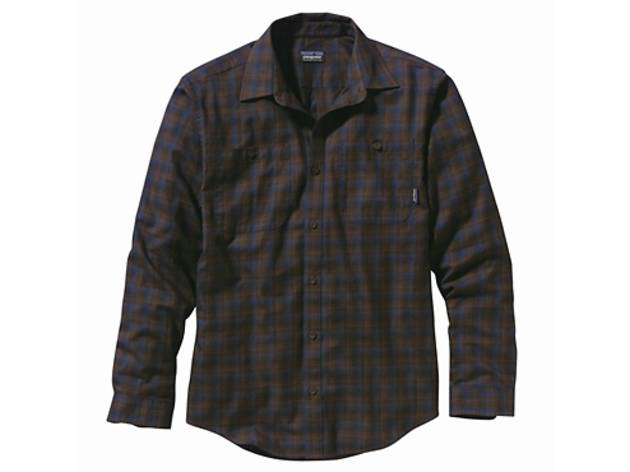 6/22
Patagonia men's long-sleeved pima cotton shirt, $75, at Patagonia, 101 Wooster St between Prince and Spring Sts (212-343-1776, patagonia.com) One of the first things Lundqvist picks up at outdoor clothing store Patagonia is this rugged plaid button-up shirt. "Where I grew up [in Sweden], it's big down south to go mountain biking and climbing," he says. "I would probably wear this hiking, but that will never happen," he says with a laugh. "I hike in the city by walking around—that's my hike." Instead, he envisions wearing the top with jeans and boots for an urban stroll.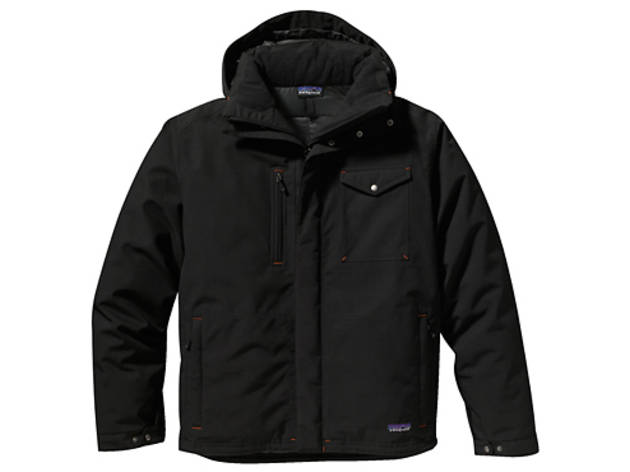 7/22
Patagonia men's Wanaka down jacket, $349 "This would be great for when I'm walking my [Doberman pinscher]," notes Lundqvist of this waterproof insulated jacket. "She's pretty big and needs a lot of exercise. My wife usually takes her out, but I get the night shift. It gets a little colder at night, so you need a good jacket."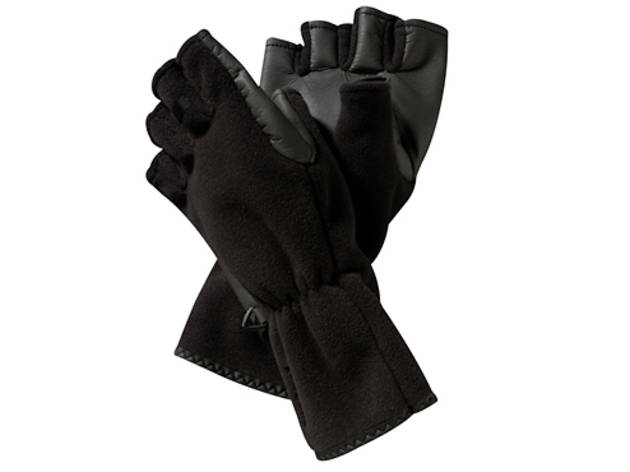 8/22
Patagonia windproof fingerless gloves, $50 Though these fingerless fleece gloves are designed with fishermen in mind (the open tips provide dexterity for tying and casting lines), this city slicker plans on using them during chilly nighttime dog walks. "They're not the best looking gloves, but they're warm and I can grip the leash," explains Lundqvist.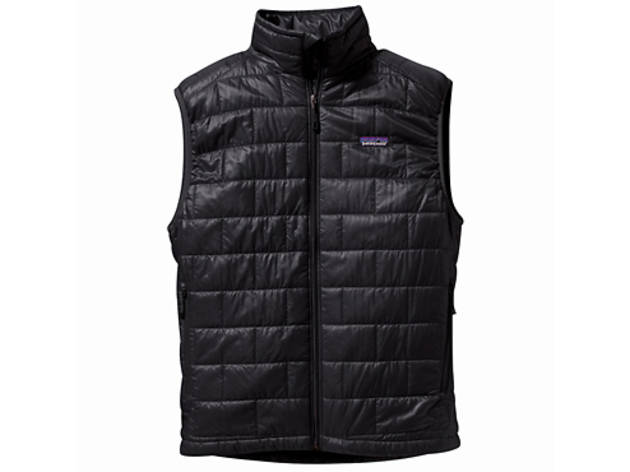 9/22
Patagonia men's Nano puff vest, $129 "I like wearing vests, especially in the fall when it's not that cold out, but it's still a little chilly. It blocks the wind a little bit, but your arms are still loose," enthuses Lundqvist, who appreciates that this style adds warmth without the bulk. "I'd probably throw on a hoodie under this."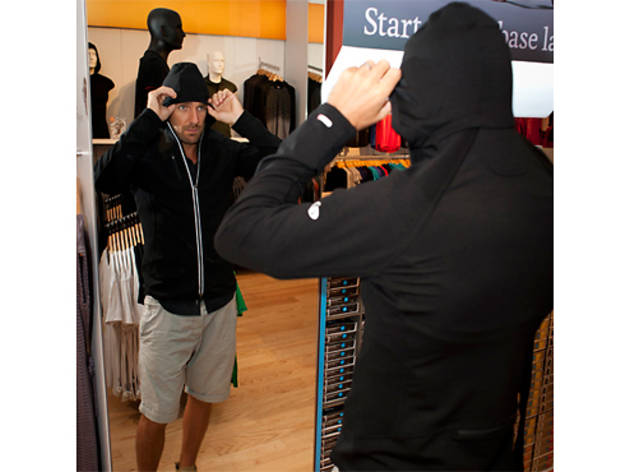 10/22
Icebreaker Quantum Hood zip-up, $119, at Icebreaker, 102 Wooster St between Prince and Spring Sts (646-861-2523, icebreaker.com) "This is perfect for going to the gym and sitting on the bike for five or ten minutes before I start working out," says Lundqvist, who slips on a form-fitting performance hoodie from New Zealand merino clothing company Icebreaker. "You can even slip your iPod in the front pocket."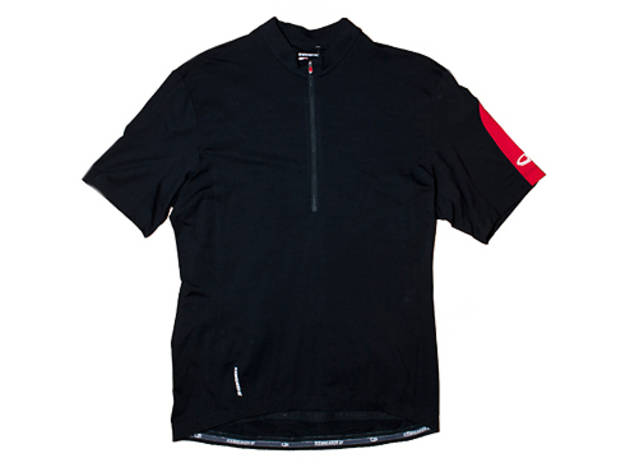 11/22
Icebreaker short-sleeved Cadence jersey, $130 Another piece ideal for biking, this merino-wool-and-spandex jersey naturally wicks away sweat—although as Lundqvist points out, it has another built-in cooling mechanism. "I like things with a zipper at the top so you can unzip it to cool down as you warm up."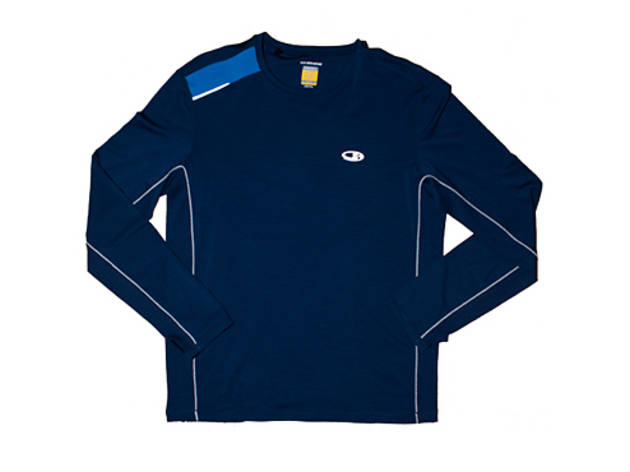 12/22
Icebreaker Ace long-sleeved crew-neck shirt, $80 "I like small details," says Lundqvist, noting the pop of color on the shoulder of this running shirt. And there are plenty of nuances to appreciate about the garment: For one, that vibrant strip is actually reflective piping. There's also a pocket on the back for stashing money or an ID, and a loop in the neckline for stringing your iPod cord through. "This is good for when I'm lifting at the gym," assesses Lundqvist. "It's got good stretch."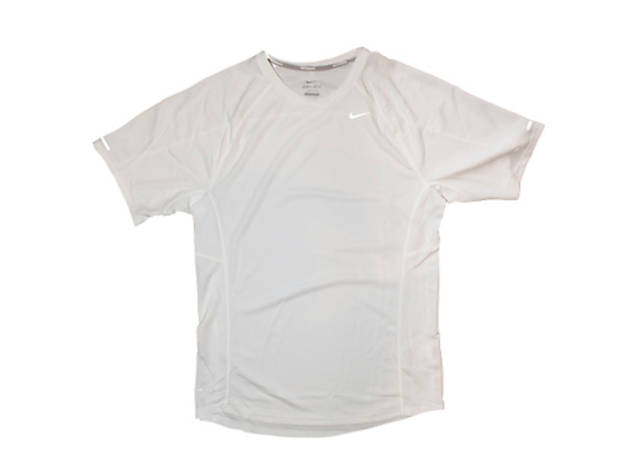 13/22
Nike Dri-FIT short-sleeved running shirt, $44, at the Shop at Equinox, 568 Broadway at Prince St (212-334-4631, equinox.com) Lundqvist discovers plenty of gym basics—including this staple sweat-wicking tee—at Equinox's petite shop on the ground floor of its Soho location. "I like that it's long in the back, and the lightweight material is perfect," he enthuses. When asked if he's worried about developing sweat stains on the unforgiving white fabric, he quips, "You should be sweaty when you leave the gym. I don't care if I'm sweaty—I never think like that. I usually work out in our team gym anyway, so it's just a bunch of guys in sweats."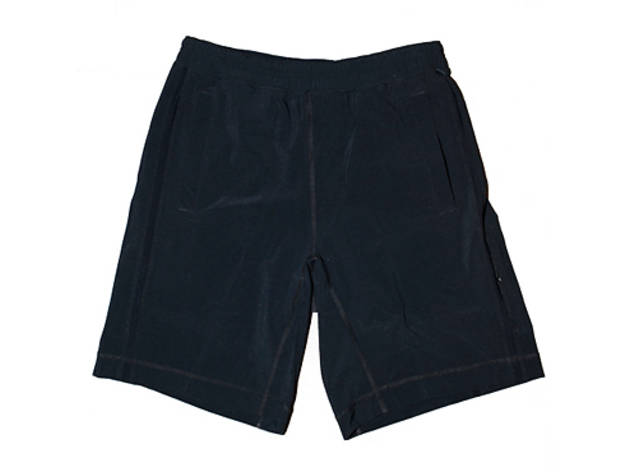 14/22
Lululemon Run: Response shorts, $68, at the Shop at Equinox Lundqvist is a fan of Lululemon's men's line of athletic apparel, which he wears both at the gym and while relaxing at home. "They're just comfortable," he says, picking up a pair of the brand's running shorts. "The thing about workout gear for me is it needs to function; it's not that important to me that it looks great."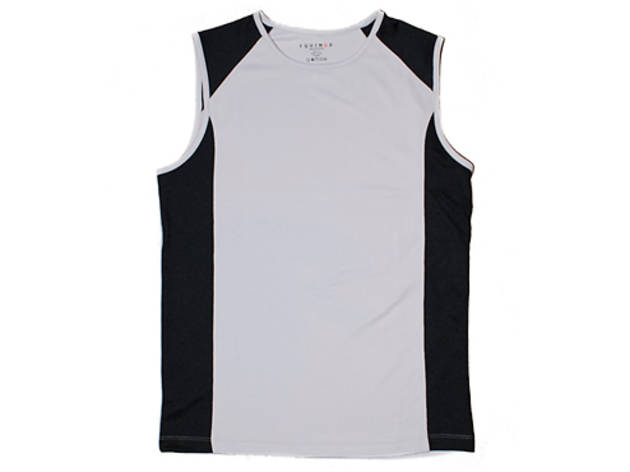 15/22
Equinox Orange Label Active sleeveless crew tank, $58 "Even though I'm not that great of a tennis player, I try to look like a tennis player so I have a mental advantage when I show up,"says Lundqvist, who favors traditional whites on the court. "Normally, I like to wear a three-button polo, but I could play tennis in a shirt like this; the shoulders are more free, so it's easier to serve."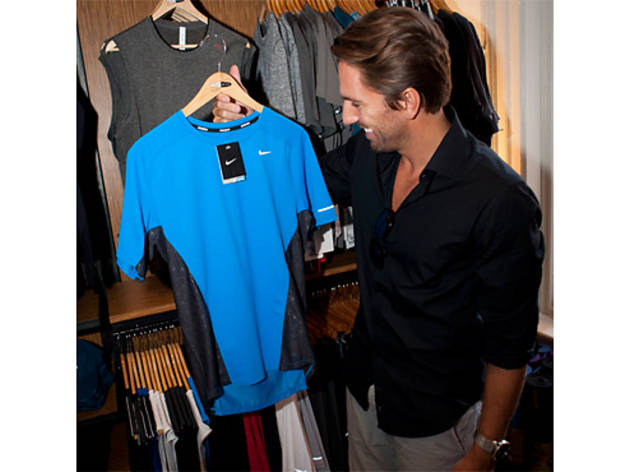 16/22
Nike Dri-FIT Sphere tee, $50 You might be hard-pressed to find Lundqvist wearing this bright blue T-shirt on the tennis courts. "Roger Federer always looks really sharp and classic—that's more my style," he says. "I'm not like [Rafael Nadal], and this shirt is definitely Rafa. But once in a while I'll mix it up with something like this."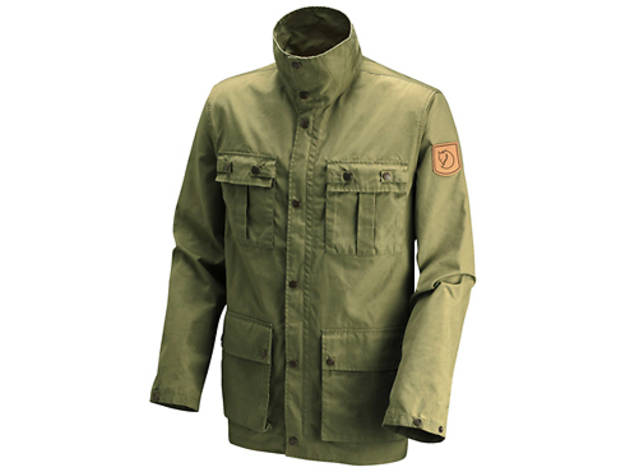 17/22
Fjällräven Oban jacket, $299, at Fjällräven, 262 Mott St between E Houston and Prince Sts (212-226-7846, fjallraven.us) The first thing Lundqvist slips into at Swedish brand Fjällräven's only stateside store is this water- and wind-resistant jacket, fashioned from tent fabric. "This I could wear on my way to practice," he declares. "A lot of the guys wear T-shirts and sweatpants and they'll ask me, 'Where are you going after practice?' I tell them, nowhere! I just don't like to wear sweatpants."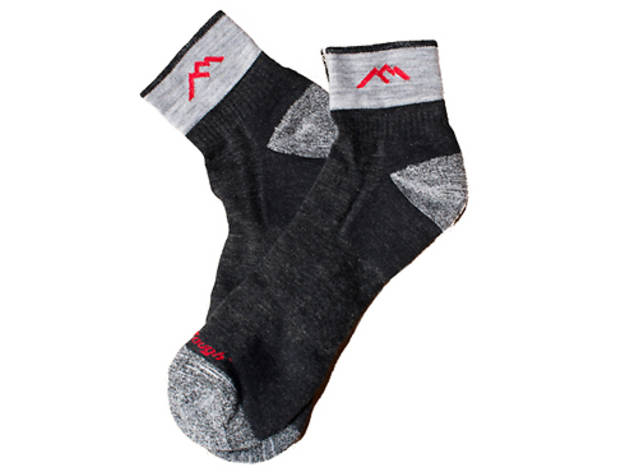 18/22
Darn Tough merino-wool hiking socks, $18, at Fjällräven "You should never underestimate [the importance of] socks," cautions Lundqvist. "I grew up skiing and if you had the wrong socks you would freeze right away." Perhaps he should have had a pair of these high-density knit styles while hitting the slopes in his youth. "My dad was a ski instructor and he always told us to wear thick socks, but after just 20 minutes, my brother and I would be sitting inside drinking hot chocolate."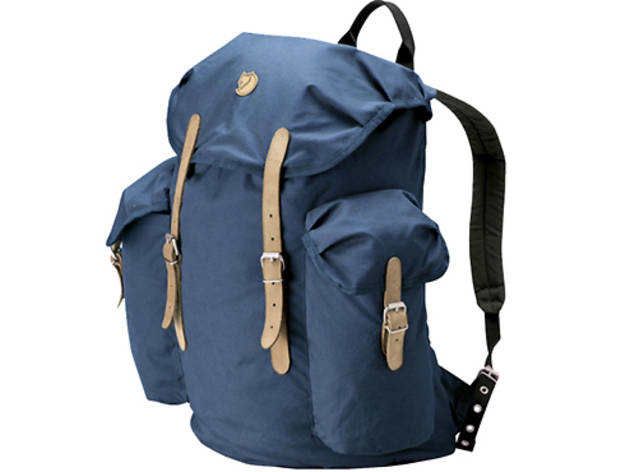 19/22
Fjällräven 30-liter Vintage bag, $200 Although Lundqvist grew up in the ski resort town of Are, Sweden, he hasn't hit the slopes since he started his hockey career in 2000. "It's easy to get into an accident," he explains. "Especially me—I remember myself as a good skier and then I'd go out there and do stuff that I should not be doing. If you come back with a broken leg, there would be a lot of upset people." As such, this roomy backpack is more of an aspirational item for Lundqvist until he retires. "If I were to go skiing again, I would bring this bag and stuff it with hot chocolate, coffee and a bag of brownies," he says, pointing to the compartments on either side that seem destined for thermoses. "My mom always had brownies and hot chocolate waiting for us after we went skiing."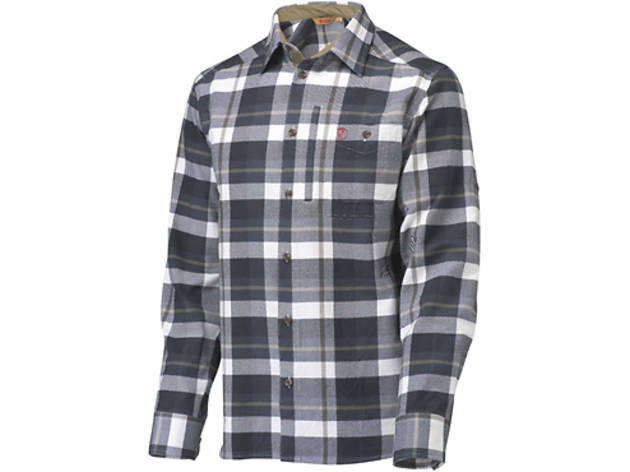 20/22
Fjällräven Fjällglim shirt, $140 Lundqvist envisions pairing this insulating cotton-flannel button-up with a leather jacket for some unexpected edge.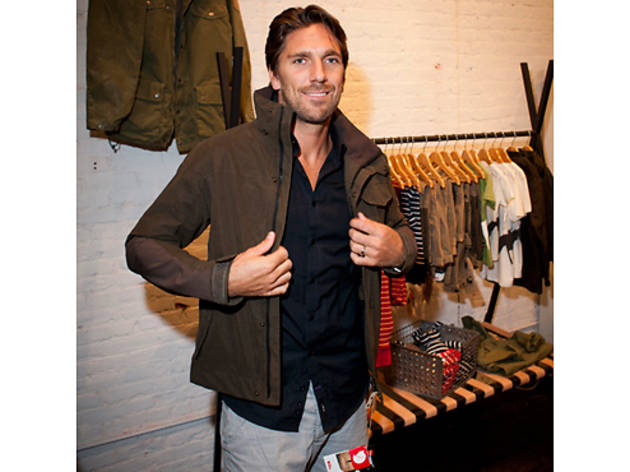 21/22
Fjällräven Ripa jacket, $599 "I love when you wear a suit and you feel the tightness in the shoulders," says Lundqvist. "I feel like when I put it on, it straightens my back." It's perhaps why the close cut of this hunting jacket earns major points in the goalie's book. "I like the high collar in case it's really windy," he adds.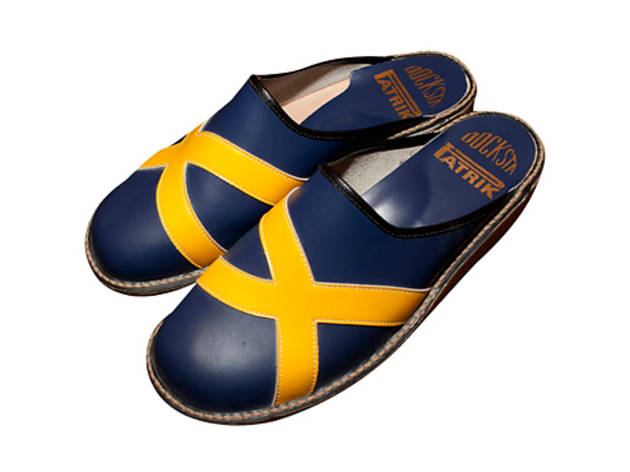 22/22
Docksta Sko Patrik slippers, $43, at Fjällräven Lundqvist can represent his native country by kicking around in these Swedish-flag clogs. "Maybe I'd wear these on my terrace," he ventures. "I'd barbecue, have people over and walk around with the flag on my feet." Rummaging with…Henrik LundqvistThe normally dapper New York Rangers goalie steps outside his sartorial comfort zone to shop for sporty activewear.
Rummaging with Henrik Lundqvist
The normally dapper New York Rangers goalie steps outside his sartorial comfort zone to shop for sporty activewear.