Style passport China: Where to find Chinese shops and salons in NYC
These Chinese shops and salons in NYC prove you can venture outside of Chinatown to find trappings of the world's most populous nation.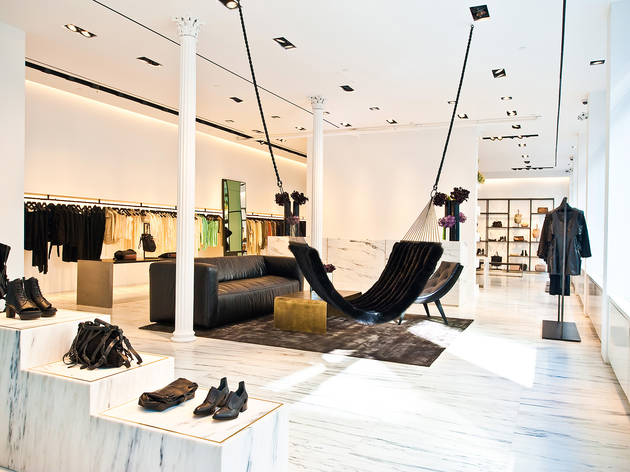 1/22
Photograph: Ian Tong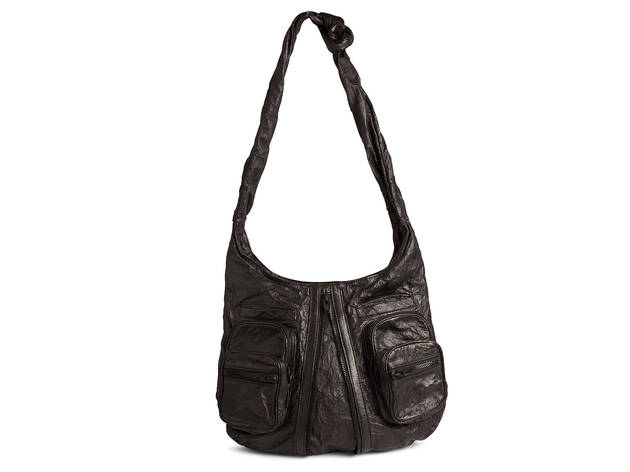 2/22
Alexander Wang lambskin hobo bag, $648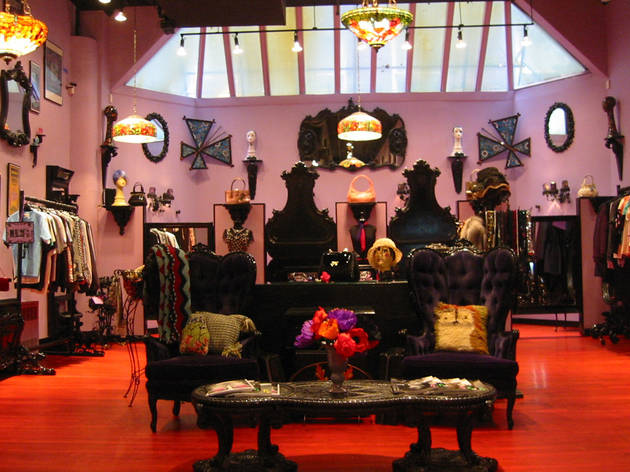 3/22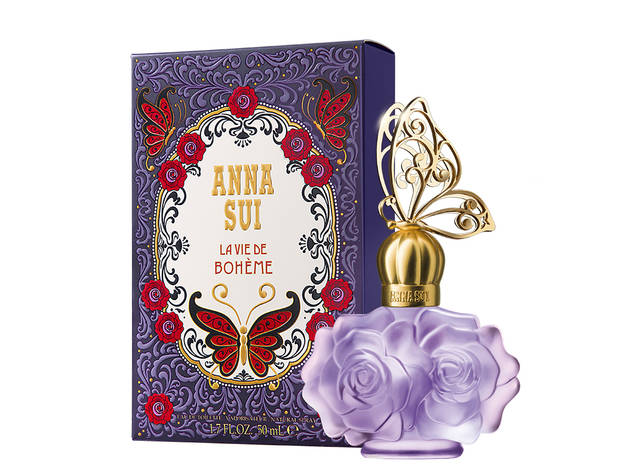 4/22
Anna Sui La vie de Boheme eau de toilette, $65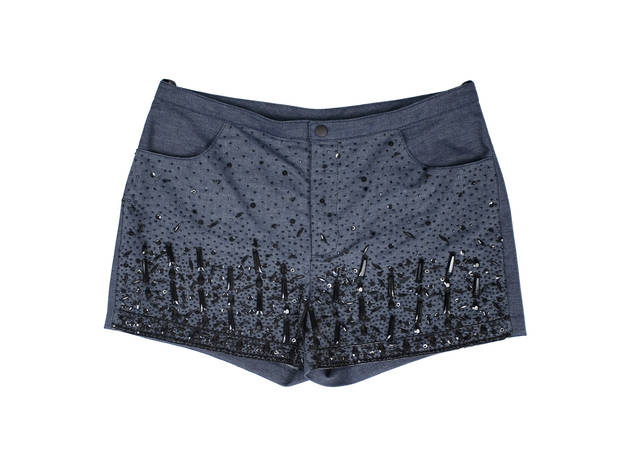 5/22
Photograph: Alvina Lai
Anna Sui denim short shorts embellished with beads, $239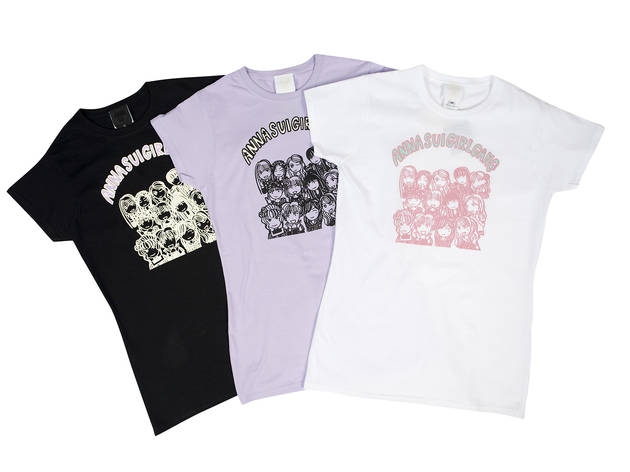 6/22
Photograph: Alvina Lai
Anna Sui T-shirts, $56 each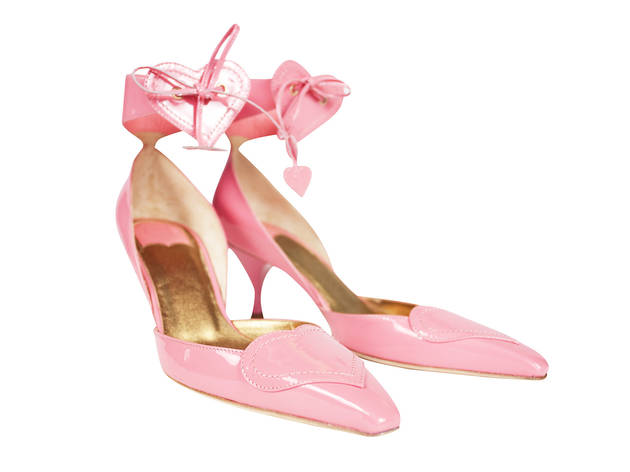 7/22
Photograph: Alvina Lai
Anna Sui heart-detailed patent-leather pumps, $485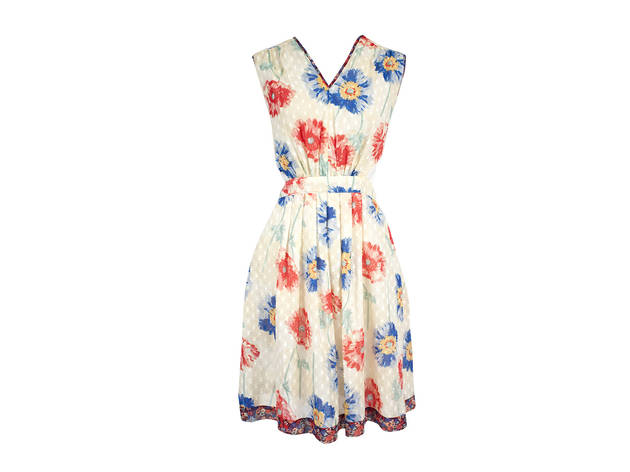 8/22
Photograph: Alvina Lai
Anna Sui backless floral dress, $493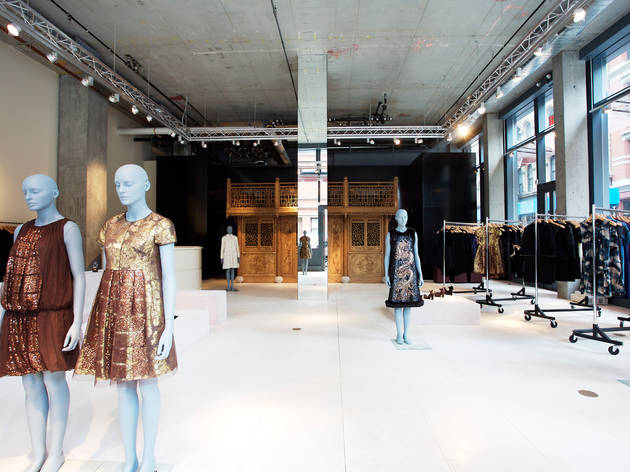 9/22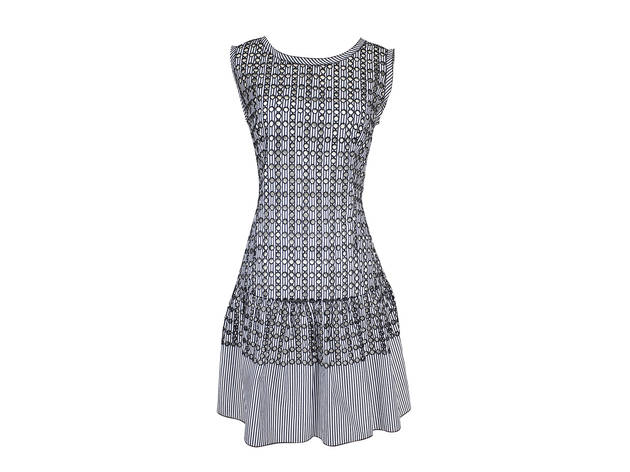 10/22
Photograph: Alvina Lai
Vivienne Tam drop-waist eyelet dress, $344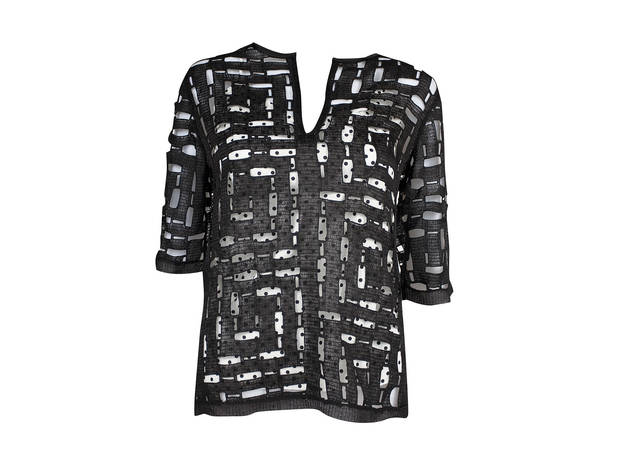 11/22
Photograph: Alvina Lai
Vivienne Tam laser-cut tee with mesh accents, $440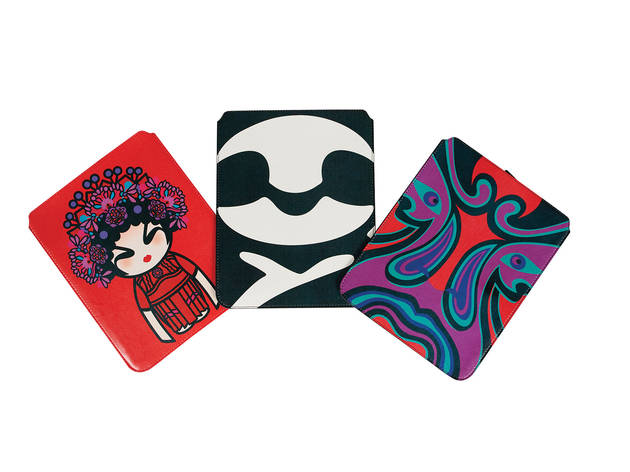 12/22
Photograph: Alvina Lai
Vivienne Tam vibrant leather iPad sleeves, $72 each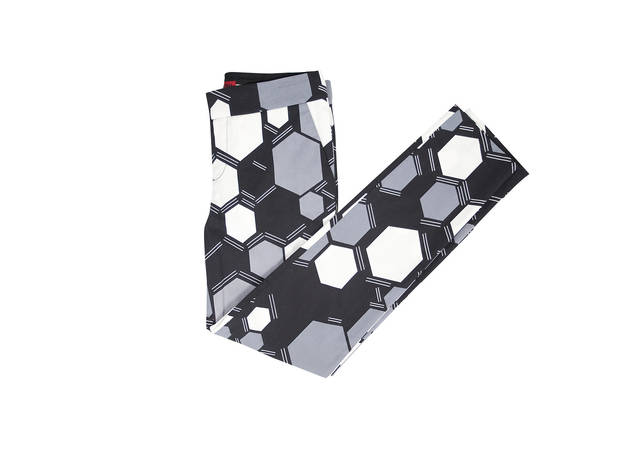 13/22
Photograph: Alvina Lai
Vivienne Tam geometric-print skinny pants, $186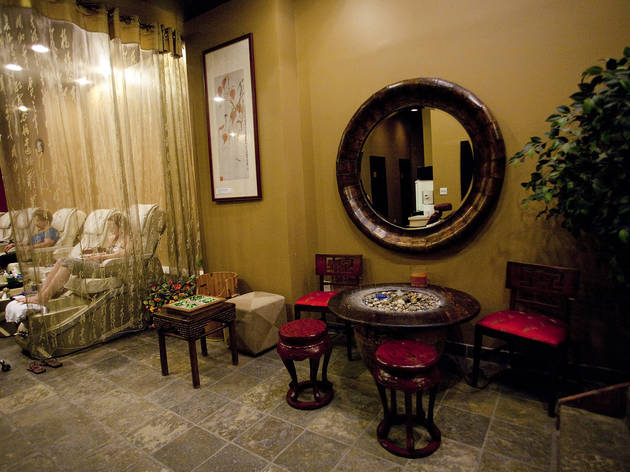 14/22
Photograph: Alvina Lai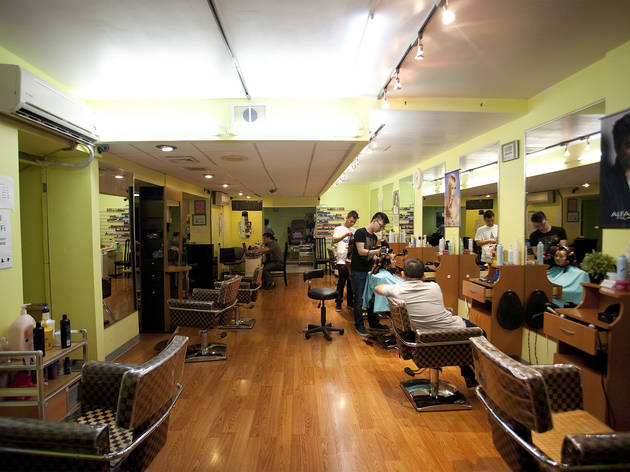 15/22
Photograph: Alvina Lai
Mian Tian Sing Hair Salon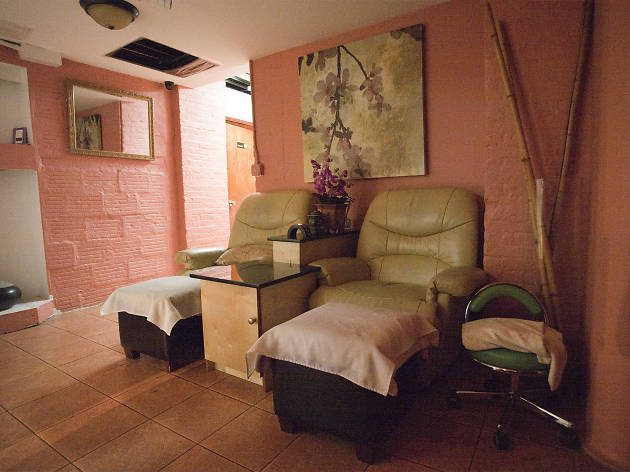 16/22
Photograph: Alvina Lai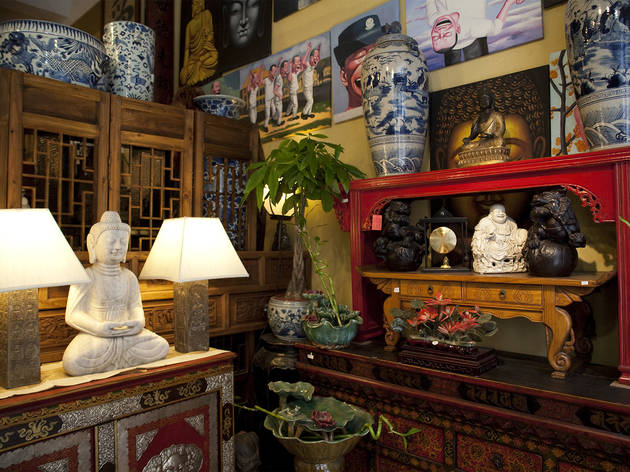 17/22
Photograph: Jolie Ruben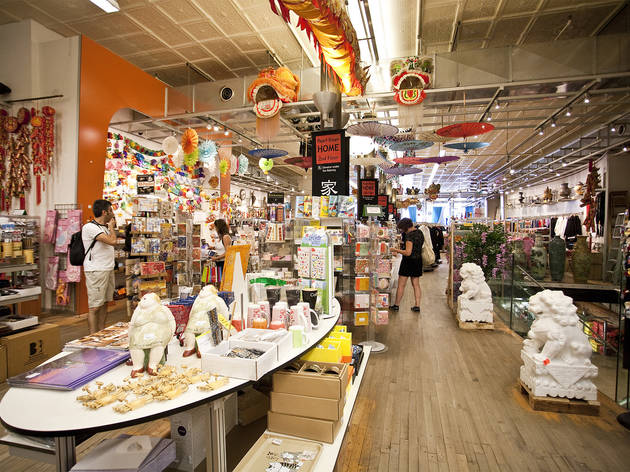 18/22
Photograph: Virginia Rollison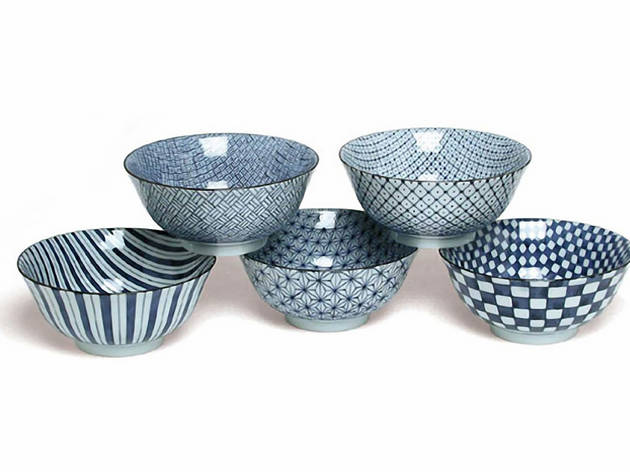 19/22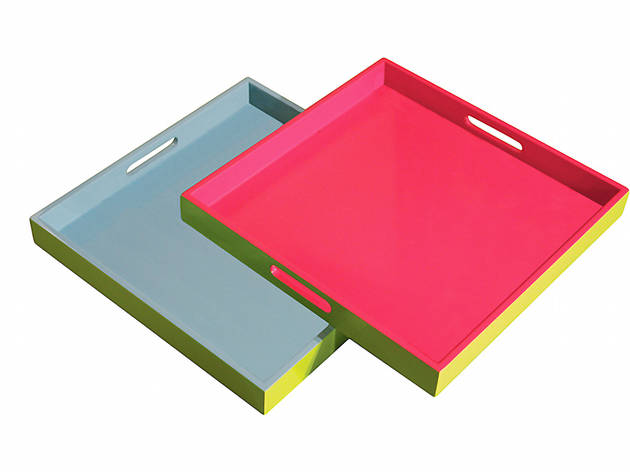 20/22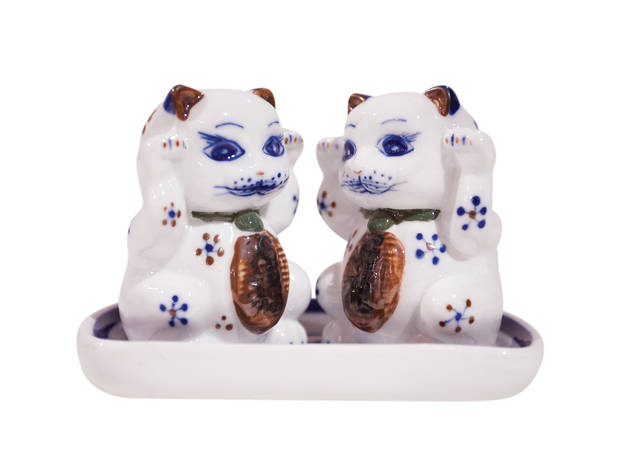 21/22
Photograph: Alvina Lai
Porcelain salt-and-pepper-shaker set, $10, at Silk Road Antiques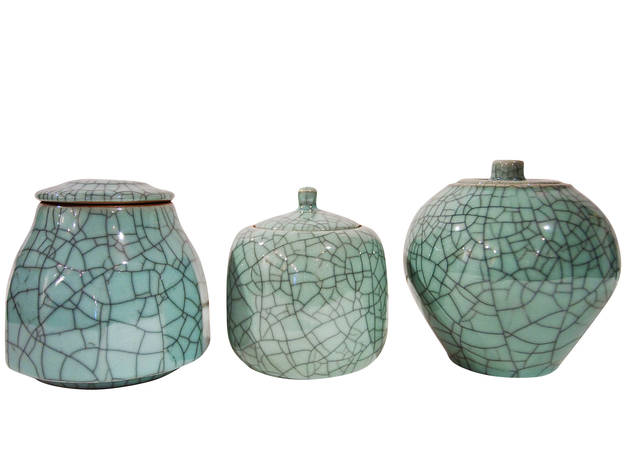 22/22
Photograph: Alvina Lai
Glazed ceramic canisters, $36–$50 each, at Silk Road Antiques
Attire
Lauded for his impeccable tailoring and chic sensibilities, San Francisco native Alexander Wang first charmed the fashion world in 2007 with his debut women's clothing collection. Although he was born to Chinese-American parents, Wang's aesthetic isn't explicitly Eastern or Western, but rather universal in its clean lines and primarily black palette. A fox-fur hammock and black-leather couches furnish the center of his marble-floored flagship, where you'll find minimalist pieces such as athletic-inspired miniskirts that cinch at the waist ($350), long-sleeved crop tops ($165) and sleek lambskin clutches ($450). Also look for items from his more casual T by Alexander Wang diffusion line, such as sporty knit shorts ($145), plus a smattering of men's looks, including pants with leather pockets ($295)—all of which are manufactured in China.
Read more
A star of the New York fashion scene since her womenswear label's 1991 runway debut, Anna Sui has filled this global flagship with her covetable designs for more than 20 years. Inside, her signature purple-and-black color scheme is carried out through violet walls and dark furniture. Denim shorts embellished with beads ($239) and backless floral dresses ($493) point to the Chinese-American designer's rock & roll aesthetic, as do heart-detailed patent-leather pumps ($485) and T-shirts emblazoned with anna sui girl gang ($56). A front table displays Sui's array of 13 fragrances, including the flowery Flight of Fancy ($44) and alluring Forbidden Affair ($44). Most of the boutique's offerings are decidedly feminine, but boys aren't left out completely: Sui's photography hobby has translated into men's shirts ($58) printed with the designer's spirited shots of NYC party people.
Read more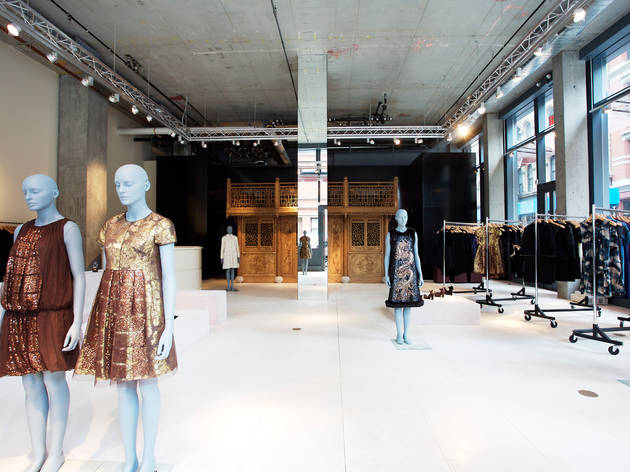 Vivienne Tam
Born in Guangzhou and raised in Hong Kong, Vivienne Tam launched her East-meets-West women's clothing label in 1994. A slew of accolades, runway shows and boutiques followed, including this industrial flagship that opened in 2007. A vaulted ceiling, limestone flooring and a replica of a two-story teahouse provide the backdrop for racks of geometric-print skinny pants ($186), drop-waist eyelet dresses ($344) and laser-cut tees with mesh accents ($440). In a corner, four mounted flatscreens loop Tam's most recent runway shows. Watching the clothes on the catwalk is a reminder that the threads are investment pieces, but the sight of vibrant leather iPad sleeves ($72) should put budget seekers at ease. 212-966-2398, viviennetam.com
Beautify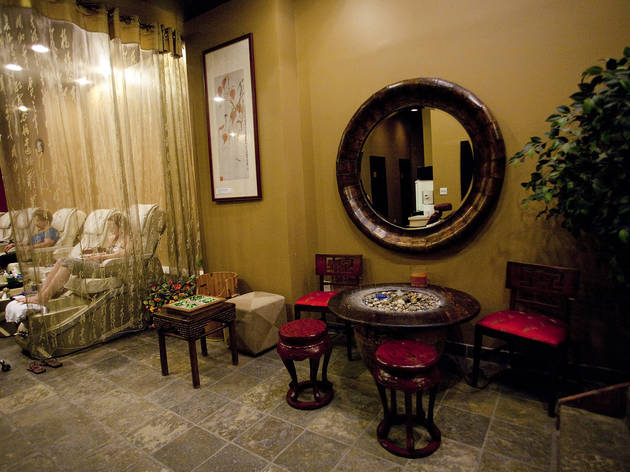 Jade Day Spa
In 2003, married couple Zhongmei Li and Richard Bernstein teamed up with Li's sister, Zhong Qin, to open their first pampering den on the Upper West Side. Six years later, the trio debuted a second sprawling location in Murray Hill, offering even more Far East–influenced treatments. A soothing rock fountain, red accent walls and six leather pedicure chairs outfit the space, where the friendly staff performs everything from traditional Chinese foot massages (60mins $88)—complete with a green-tea soak—to the signature facial (90mins $188), during which jade stones are applied to acupressure points for enhanced circulation. You can book pearl-powder–infused Asian body wraps (60mins $120) knowing that the experience will be authentic, as Jade's friendly aestheticians are trained annually by specialists from China. And if it's a quick beauty fix you're after, opt for basic manicures ($12) featuring an aromatherapy soak, cuticle conditioning and a mini hand massage. 143 E 34th St between Lexington and Third Aves (212-679-0811) • 2573 Broadway between 96th and 97th Sts (212-362-5763) • jadebeautyspanyc.com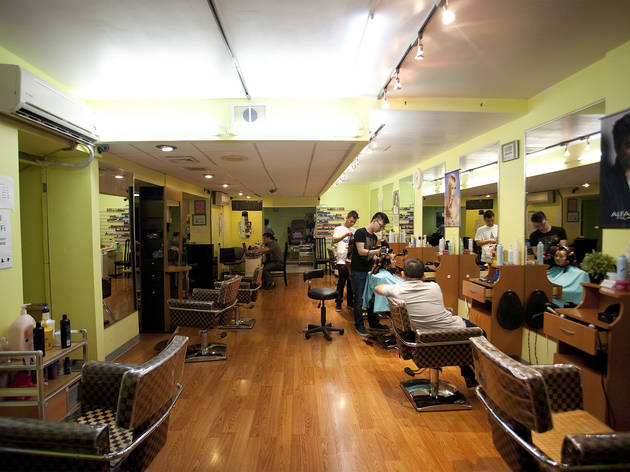 Mian Tian Sing Hair Salon
Blue and white signage points to this modest salon, known for inexpensive blowouts ($15–$20) that include a pre-shampoo shoulder massage and getting your hair lathered while sitting upright—a popular approach in Asian salons, according to owner Steven Liu. Although any semblance of decor is limited to a leather sofa and a small magazine-strewn coffee table in the waiting area, it's the value—not the frills—that keeps the 11 salon chairs occupied. Haircuts (men $15, women $25–$30), highlights ($65–$85) and keratin treatments ($120–$150) are priced according to tress length and texture, but you'll get more hair care for your buck with a package deal (a shampoo, cut and style cost a mere $15–$30). Coiffing bangs, taming flyaways and nourishing hair with vitamin C–infused products imported from Asia aren't the only things that have kept this salon open for 14 years: Nails are another specialty, with mani-pedis using Essie and O.P.I. polish going for a cool $23. 212-571-0820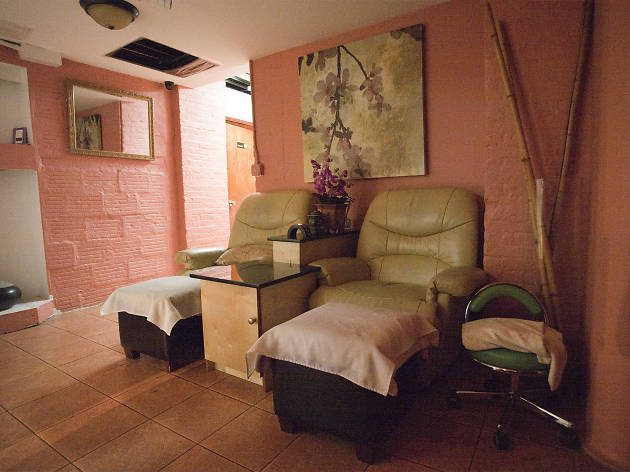 Yan Foot Spa
Opened by Beijing native Ian Yin in 2008, this quaint relaxation haunt specializes in reflexology—a Chinese foot-massage technique aimed at alleviating pain and promoting healthy organ function. A colorful chart mapping out which areas on the feet correspond to other body parts hangs in the entryway, where you select the length of your service: 15 minutes ($12), 30 minutes ($20), 60 minutes ($35), 90 minutes ($52) or 120 minutes ($70). You're then led to a small candlelit room, where a reclining chair, foot bath and therapist await you. Most patrons opt for the 60-minute rubdown, which includes a 15-minute neck and back massage while your dogs soak in a steamy concoction of Chinese herbs and water. During the ensuing reflexology session, your technician applies pressure to specific points on your feet, employing a method that's been practiced for more than 5,000 years. 212-625-8222, yanfootspa.com
Decorate
Antique furniture and replica pieces ($50–$5,000) imported from Beijing, Tibet, Mongolia and Korea are piled from floor to ceiling at South China native Ken Cai's well-lit shop. Larger items come with equally sizable price tags, but affordable finds are ample: Lacquered end tables ($250) and ceramic tea sets with dragon motifs ($150) are stocked alongside floral jewelry boxes ($75), woven baskets ($40) and Chinese-character paintings encased in wooden frames ($75) that feature simple words such as treasure. The vast majority of CQ's furniture was either made during or inspired by the Qing and Ming dynasties, including a hand-painted porcelain vase ($195) rendered in the late 19th century. Mention TONY for 30 percent off all purchases through August 1.
Read more
Since opening its doors in 1971, this massive apparel and home-goods emporium has lured customers with inexpensive Asian furniture ($25–$2,950) and housewares ($5–$500) for every corner of one's abode. The three-story shop's main level overflows with kitchenware, such as wooden dim sum steamers ($10– $23) and rice bowls painted with chirashi blossoms ($5). Head upstairs to discover floral enamel trays ($10) and ceramic pagoda towers ($33), shelved beneath the soft light of hanging lamps ($80). Many of the stylish goods come with historical significance, including wooden abacuses ($40) and sheets of bamboo ($20) inscribed with centuries-old poems by famed writer Su Shi. Mention TONY for 15 percent off all regular-priced items through July 1.
Read more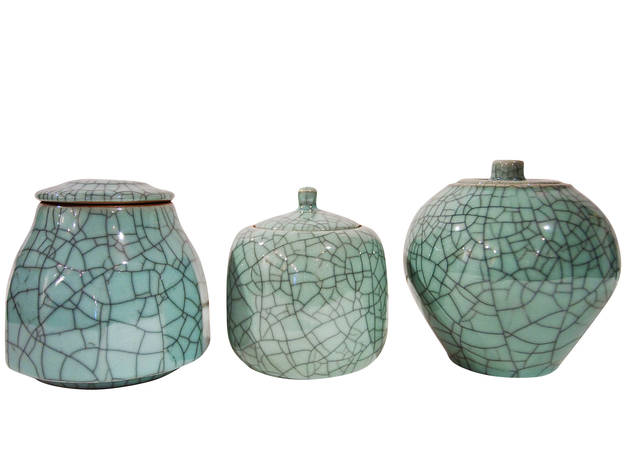 Silk Road Antiques
Inspired by her longtime love of Asian art and furniture, retired math teacher Frances Caroll opened this treasure trove of Chinese antiques in 2001. Although it's located a few steps below street level, the space is bright and filled with pieces Caroll handpicks during trips to Zhuhai every few years. A lacquered console table ($800) and curved "horseshoe" chair ($450) are among her most recent finds, along with a cylinder-shaped leather hat box ($350) made around 1880. Caroll brings back small housewares too, such as glazed ceramic canisters ($36–$50) and porcelain salt and pepper shakers that resemble cats ($10). Mention TONY for 20 percent off armoires, sideboards and tables through July 11. 718-802-9500, silkroadartandantiques.com