The best shops in Midtown
Head to Midtown to shop from the best fast-fashion chains, department stores and independent shops in one-go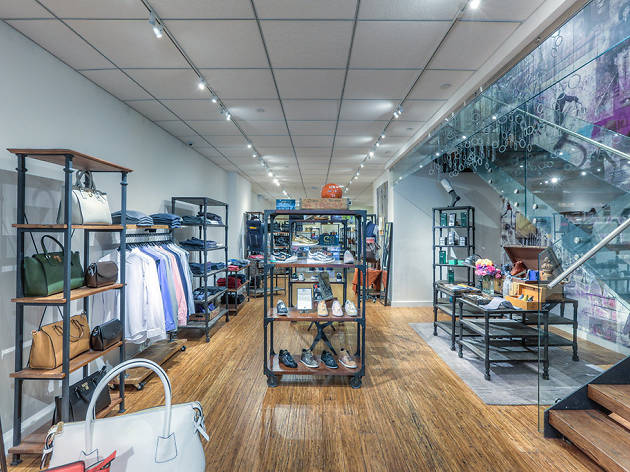 The ninth circle of hell to some, Midtown is the beating heart of our city. And we consider ourselves pretty fortunate to live in a place where we can hit all of the popular budget-friendly chain stores—Urban Outfitters, Zara, Aritzia, Topshop—and department stores like Saks Fifth Avenue without having to bust out a MetroCard. From independent shops that specialize in rain gear (and candy) to a marketplace that stocks super chic, unique wares, the shopping scene in Midtown is strong.

RECOMMENDED: Full guide to shopping in NYC
The best shops in Midtown
If Topshop and Urban Outfitters made a baby, it would be this Canadian brand. We love this store especially, because unlike its smaller Soho counterpart, this spacious flagship stocks the complete women's collection comprising four exclusive labels: Wilfred, TNA, Talula and T.Babaton.
Read more
Decidedly more refined and upscale than its sibling shop, Urban Outfitters, Anthropologie specializes in bohemian and vintage-inspired clothing and home decor, as indicated by its eternally inspiring, always-changing store design schemes. While it offers a slew of in-house clothing lines, it's started turning out designer capsule collections with harder-to-find labels.
Read more
Ranking among the city's top tourist attractions, Bloomie's is stocked with everything from bags to beauty products, housewares to designer duds. The cosmetics hall is complete with an outpost of globe-spanning apothecary Space NK and a Bumble and bumble dry-styling bar.
Read more
Feel like you're dressed like everyone and their mother? Head to this marketplace, which boasts affordable designer staples from brands you've probably never heard of (but should!). We have our eye on Alibi Teo spike earrings ($46) and Cruyff beige sneakers ($165).
Read more
Liven up your all-black New York uniform at this Barcelona-based chain, which counts Herald Square among its holdings (there are some 200 stores worldwide). Here you'll find an eclectic mix of patchy knits, bright patterns and blingy embellishments (beading, buttons, jewels) for women, men and children.
Read more
Eco-friendly shoppers should stop by the East Village flagship and nab organic duds. The 24-year-old brand is particularly known for its comfy, wear-anywhere basics, such as superfine wool cardigans, organic cotton and cashmere V-neck hooded tunics, and crinkled cropped jackets.
Read more
Dudes, boot up! Engineer-inspired cap-toe boots ($175) and lace-up wing tips ($150) exemplify what this 122-year-old men's brand is all about: durability, style and comfort. From polished leather pull-ons outfitted with elastic side panels ($120) to casual suede chukkas ($110), there's a style for every gent at this modern-meets-retro store.
Read more
This trendy chain picked Virgin Megastore's former Times Square store as the spot for its Big Apple flagship. Highlights of the gigantic 90,000-square-foot, four-level space include more-organized department displays (as opposed to the typical free-for-all madhouse) and a 2am closing time (so you can pick up a last-minute outfit before heading to da club).
Read more
This trendy plus-size chain stocks fashionable clothing ($25–$295) and accessories ($10–$70) from its house labels, as well as brands such as Seven7 and Spanx. The 7,835-square-foot, bi-level flagship's ground floor carries day-to-night looks, and you'll know you look good with luxe fitting rooms featuring adjustable dimmers that simulate office, daylight and evening light.
Read more
It may not be as glamorous as New York's other famous stores, but for sheer breadth of stock, the 34th Street behemoth is hard to beat. You won't find exalted labels here, though—moderately priced fashion and designers' diffusion lines for all ages are its bread and butter, along with all the big beauty names.
Book now
Read more
This department store has everything—a brow bar, a nail art bar and even some snazzy holiday windows. Stomach the crowds for the sporadic sales. A soft Polo Ralph Lauren V-neck sweater for $50 instead of $125? Yes, please!
Buy tickets
Read more
The inspiration behind this U.K. import is a fusion of Japanese graphics and vintage Americana with a dash of British style. Basically, it's a funkier Hollister. The 6,000-square-foot flagship resembles an open loft with exposed brick and raw ceilings. The shop offers an array of casual wear ranging from tees and jogging pants to hoodies and sunglasses. Stockpile basics include rustic plaid button-downs ($79), black leather blazers ($465) and premium denim ($104).
Read more
At 57,000 square feet, this UO outpost is the company's biggest store yet and features more than 800 vinyl titles curated by Amoeba Records, a coffee shop powered by Intelligentsia Coffee, a huge department catered to workout-ready wares, Korean beauty products and, oh yeah, cool-as-hell clothing.
Read more
Find more shops in Midtown