Heads up! We're working hard to be accurate – but these are unusual times, so please always check before heading out.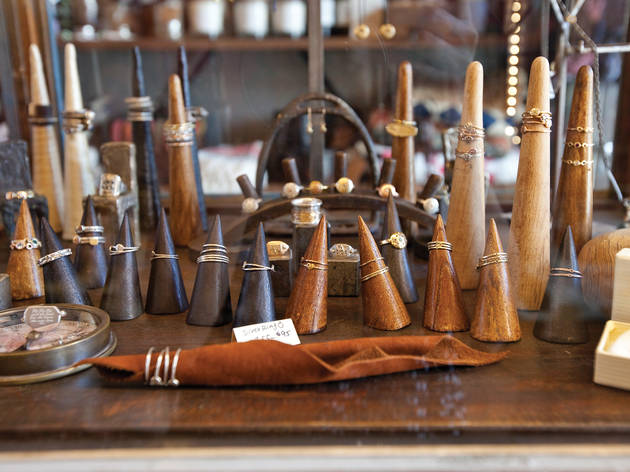 1/13
Photograph: Jessica Lin
Affordable baubles at ScoshaAustralian artist Scosha Woolridge draws inspiration from her globe-trotting days, incorporating Indian and Brazilian techniques into her simple yet finely detailed jewelry ($25–$2,000) for men and women. At her namesake studio and shop, which opened in December 2010, you'll find an abundance of budget-friendly pieces, including tiny sterling-silver heart rings adorned with black diamonds ($55) and gold-plated first-knuckle rings ($39–$144) featuring semiprecious stones. Start an arm party by stacking 14-karat gold-fill fine chain bracelets ($45) with colorfully braided waxed-nylon styles ($16). Dudes can get in on the action by scooping up bicycle cufflinks ($145) and thick sterling-silver rings ($119) engraved with the words me and you. Mention TONY to receive 20 percent off all Scosha jewelry through Wednesday 15. 64 Grand St between Kent and Wythe Aves (718-387-4618, scosha.com)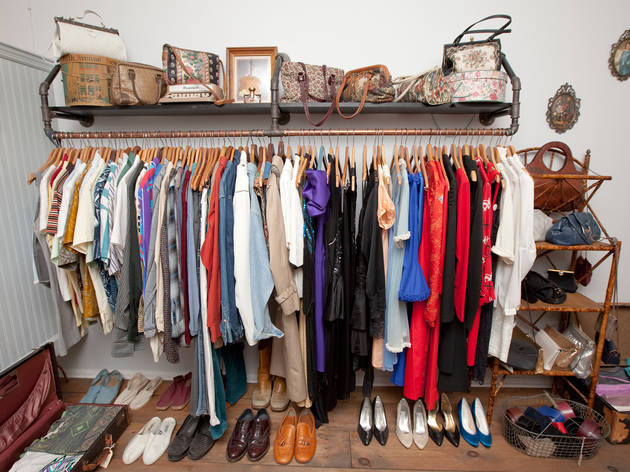 2/13
Photograph: Jessica Lin
Under-$100 vintage garb at Antoinette VintageLexi Oliveri may have opened this charming vintage-clothing boutique last May, but the FIT grad has been gathering inventory for years: Practically every piece comes from the personal collection of her mother, Antoinette, whom the shop is named for. Items date from the early 1900s (an heirloom costume cameo, $40) through the early '90s (an Esprit floral maxidress, $60), and everything clocks in under a Benjamin. We recently spotted '80s Lee high-waisted shorts ($38), a pair of '90s Nine West leather pumps ($50), early 1900s equestrian bridle pins ($75) and assorted silver crucifixes ($60–$85) from the '70s. Although the majority of the stock is womenswear, guys can walk away with great finds such as '80s OP denim shorts ($35) and '90s Hanover tasseled loafers ($40). Mention TONY to receive 10 percent off all purchases through August 29. 119 Grand St between Berry St and Wythe Ave (718-387-8664, antoinettebrooklyn.com)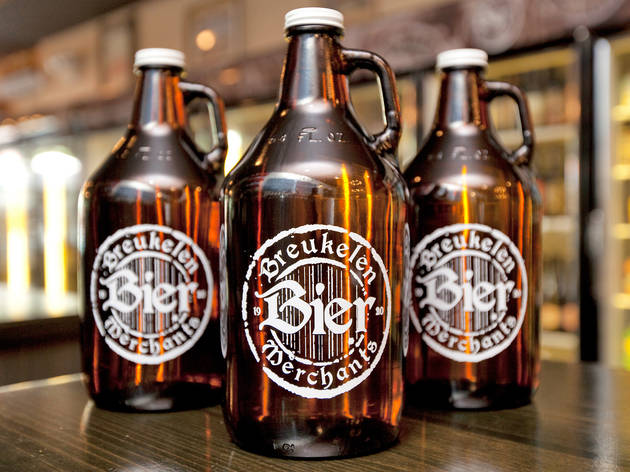 3/13
Photograph: Jessica Lin
Craft-beer growlers at Breukelen Bier MerchantsRather than celebrate the weekend with yet another subpar six-pack, swing by this hybrid brew shop and bar, opened by Renee Esposito, Denise Kubovic and Greg Golembiowski in April 2011. For $5 (plus the cost of beer), you'll get a 64-ounce growler to fill with one of 16 small-brewery domestic drafts; the fee also acts as a deposit on the jug, should you care to return it at your leisure. Although the suds on tap change as soon as they're kicked, summer favorites include lemony, Belgian-style Empire White Aphro ($13); crisp, fruity Bar Harbor Blueberry Ale ($15); and coffee-infused Local Option Morning Wood ($24). Enjoy your suds at one of the communal picnic tables in the back, or take it with you and be the hero of your summer shindig. Mention TONY to receive 10 percent off growler fills through August 29. 182 Grand St between Bedford and Driggs Aves (347-457-6350, breukelenbiermerchants.com)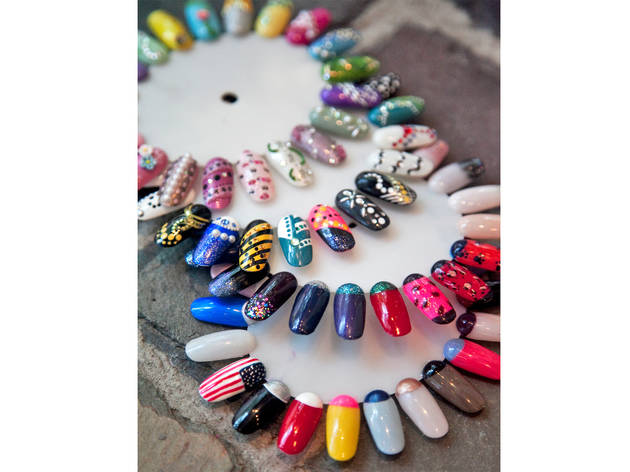 4/13
Photograph: Melissa Sinclair
Eye-catching nail art at Primp & PolishIf classic French manicures have you bored to tears, drop by this chic salon and give your digits a major upgrade. Head manicurists Kieu Bui and Yang Ping accept walk-ins for services including stickerlike Minx styles ($7 per nail). Those seeking 3-D embellishments such as pearls and crystals ($4–$10 per nail), or hand-painted creations—half-moons ($50), color gradations ($55) and animal prints ($55) are popular requests—will need an appointment. Most handiwork takes half an hour to complete and uses gel polish as a base, ensuring your manicure will last upwards of two weeks. Mention TONY to receive 20 percent off all services (except massages) through Wednesday 15. 189 Grand St between Bedford and Driggs Aves (718-599-1949, primpandpolish.com)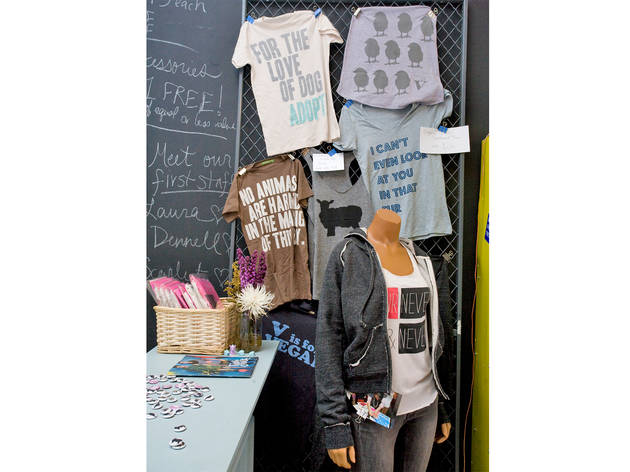 5/13
Photograph: Alex Strada
Vegan threads at Vaute HereFashion lover and animal-rights activist Leanne Mai-ly Hilgart founded her vegan women's outerwear label, Vaute Couture, in 2008, selling her wares exclusively online. Four years later, Hilgart opened this brick-and-mortar boutique, offering the full line of ethically produced coats ($300–$500), dresses ($100–$200) and graphic tees ($32) for both sexes. PETA-friendly picks include hand-cut tunics ($44), organic-cotton strapless dresses ($80), hemp jumpers ($150) and frocks ($250–$500) hand-painted by local vegan artists Joshua Katcher, Crystina Gaines Rodriguez and Julie Gueraseva. Mention TONY to receive 20 percent off organic tees, tanks and dresses (excludes hand-painted items) through August 29. 234 Grand St between Driggs Ave and Roebling St (718-717-2193, vautecouture.com)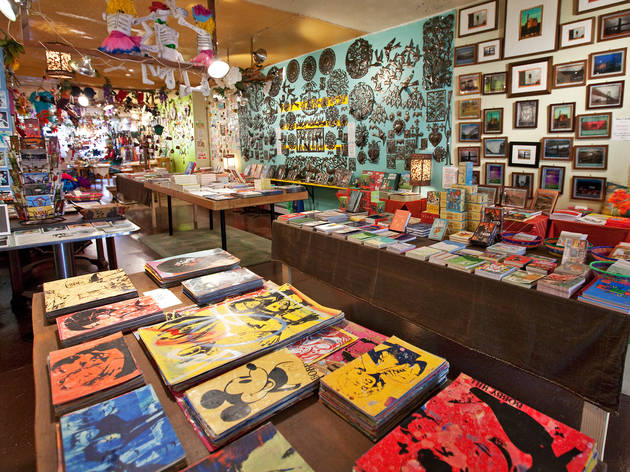 6/13
Photograph: Jessica Lin
Global gifts at Fuego 718Faux-grass carpeting and ornaments dangling from the ceiling set the stage for the eclectic offerings at Barcelona native Alex Aldama's whimsical shop. Items are sourced from around the world, including Canadian artist Amanda Spicer's illustrated stationery ($12 each), character renderings ($18–$32) from Colombian transplant Laura Osorno, Madrileño Mara Catalán's black-and-white photographs ($72) and one-of-a-kind, nature-inspired Haitian metal artwork made from recycled petrol barrels ($18–$450). Pick up Mexican tin wall hangings ($12–$58) before your next housewarming party or gift a lucky birthday girl one of Swiss brand Mariana's leather-and-brass statement necklaces ($86). Mention TONY to receive 40 percent off all purchases through August 29. 249 Grand St between Driggs Ave and Roebling St (718-302-2913)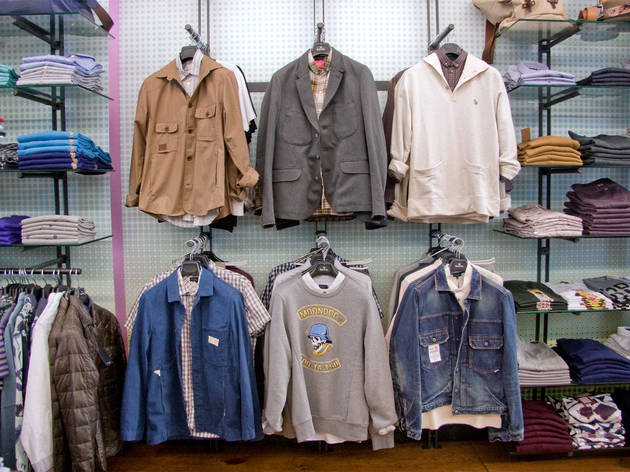 7/13
Photograph: Jonathan Aprea
Discounted dapper duds at Paul Smith Sale ShopFans of popular British clothing line Paul Smith, best known for its modern take on traditional tailoring, should beeline to this outlet store, where birds and blokes can snag past-season threads at up to 50 percent off. Men can upgrade their work wardrobes with wool herringbone suits marked $800 (instead of $1,600), slim-fit dress shirts tagged $126 (were $235–$310) and engine-print leather billfolds for $158 (once $315). Women can nab mohair cocktail dresses, nipped from $825 to $400; studded leather jackets for $550 (usually $1,105); and zip ankle boots, reduced from $675 to $338. The shop hosts performances and clearance events in its backyard space at the end of each season, with prices plummeting 60 to 70 percent off original price tags. Mention TONY to receive 10 percent off all purchases (excluding sunglasses) through August 29. 280 Grand St between Havemeyer and Roebling Sts (718-218-0020)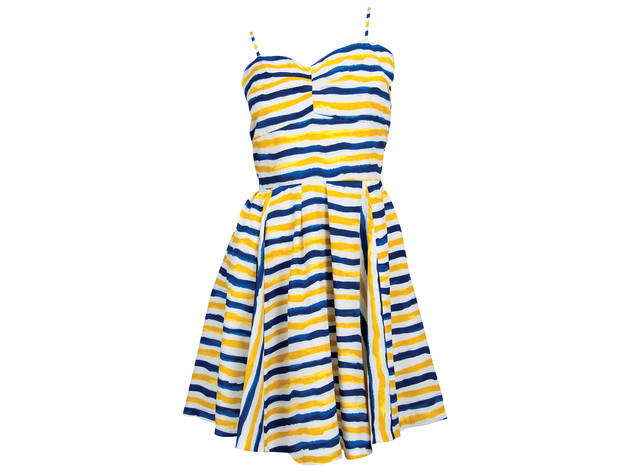 8/13
Photograph: Jonathan Aprea
Flirty summer frocks at PopThe dog days of summer make us want to wear as little clothing as possible, which means we'll be loading up on breezy dresses at this women's clothing boutique. Owner Sheila Sharma stocks her store with a rainbow of affordable frocks—the vast majority are under $100—from a mix of recognizable labels (BB Dakota, Tulle) and lesser-known brands (Double Zero, Moon Collection). Comb the color-coordinated racks to discover Ya Los Angeles flamingo-print flutter-sleeve styles ($58), BB Dakota striped A-line numbers ($68) and Flying Tomato paisley maxis ($68). Mention TONY to receive 10 percent off all purchases through Wednesday 15. 310 Grand St between Havemeyer and Roebling Sts (718-486-6001, shoppop.com)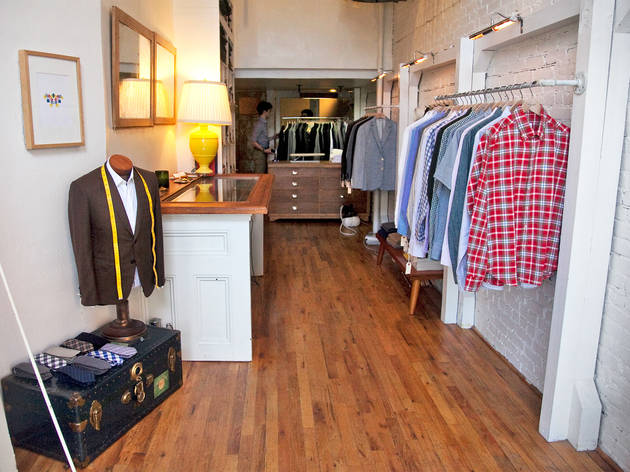 9/13
Photograph: Melissa Sinclair
Bespoke men's suiting at Brooklyn TailorsAfter a fruitless search for a suit that fit his physique and personality, Daniel Lewis took it upon himself to create his own dream two-piece ensemble. In 2007, the California transplant founded custom clothing company Brooklyn Tailors along with his now-wife, Brenna, out of the couple's Clinton Hill abode. The pair finally stopped taking appointments from their home last August, when they opened this airy boutique to offer affordable bespoke shirts ($215 each, three or more $185 each) and two-piece suits ($995–$1,295). Over the course of three to four fittings, the duo will measure and advise you on fabric selection (there are more than 1,000 to choose from) and fine details such as lapel width, cuff style and button placement. First-time clients receive their purchase in about ten weeks; subsequent orders arrive closer to six weeks, since your measurements are kept on file. Those who don't have such patience can pick up the brand's ready-made items, including cotton shirts ($150–$200), twill pants ($195) and striped neckties ($85). Mention TONY to receive 15 percent off all off-the-rack purchases through August 16. 358 Grand St between Havemeyer St and Marcy Ave (347-799-1646, brooklyn-tailors.com)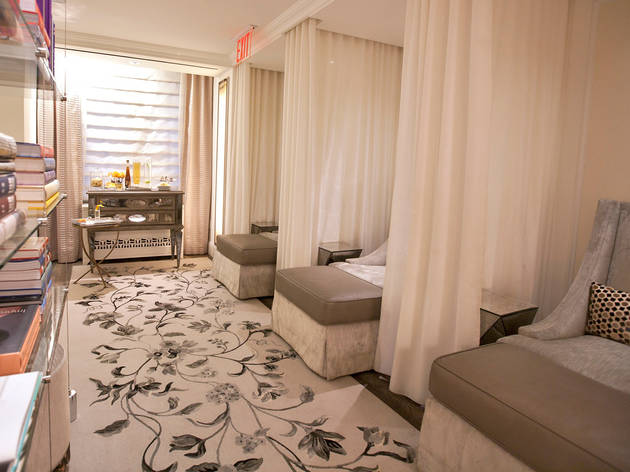 10/13
Cornelia Spa at the Surrey For the past three years, Midtown East residents have been mourning the loss of this boutique spa, but husband and wife Rick Aidekman and Ellen Sackoff have finally reopened the popular spot in a smaller hotel setting. The intimate oasis is luxurious in an understated way, and is designed to make you feel like you're lounging in your own living space. Inside the five treatment rooms, some of which are the size of small studio apartments, you'll find a full-size armoire to store your stuff. Attention to detail is further evident in the warm welcoming, during which guests are greeted with a ginger-and-neroli–infused hand cloth and a heated herbal neck pillow. A so-called botanical tasting bar serves savory and sweet treats to complement your service, such as cooling sorbet and a glass of champagne paired with massages. Splurge on the Reparative Caviar and Oxygen Quench facial (90mins, $325), which uses laminaria seaweed and sea mud to exfoliate, and a caviar mask and marine collagen cream to hydrate and smooth skin; or indulge in a signature massage (60mins, $175), which combines deep-tissue, Swedish and shiatsu techniques customized to your needs. Manicures ($35), pedicures ($65) and waxing services ($20–$125) are also available. Stick around for the daily 5pm champagne pour and enjoy seasonal access to the private roof garden. Mention TONY to receive 20 percent off all services (excluding nail care) through Wednesday 15. 20 E 76th St at Madison Ave, second floor (646-358-3600, corneliaspaatthesurrey.com). Mon–Fri, Sun 10am–7pm; Sat 9am–7pm.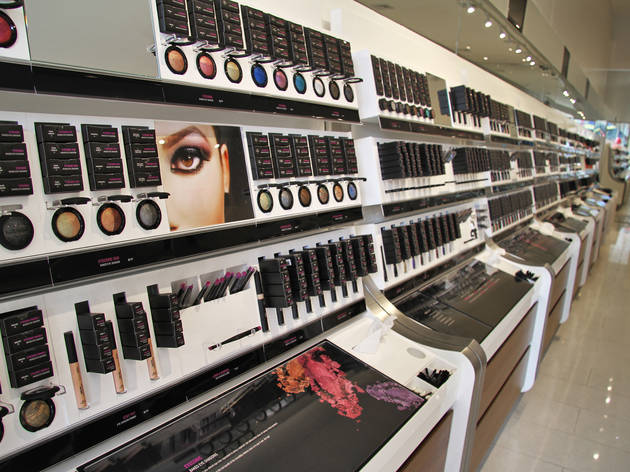 11/13
LiSi Cosmetics Budget-friendly beauty lovers will want to visit this NYC brand's first store to pick up high-quality cosmetics priced $20 and under. The all-white interior boasts bright lights that highlight the merchandise's sleek, vibrant packaging. You'll find jewel-toned eye shadows ($5–$7), SPF-infused liquid foundations ($15) and neon nail lacquers ($5). Before you leave, hit one of the so-called glam stations and let a trained makeup artist apply the trendy products for free. Mention TONY for 15 percent off any purchase through September 1. 741 Broadway at Astor Pl (212-260-5474, lisicosmetics.com). Mon–Sat 11am–9pm, Sun 11am–7pm.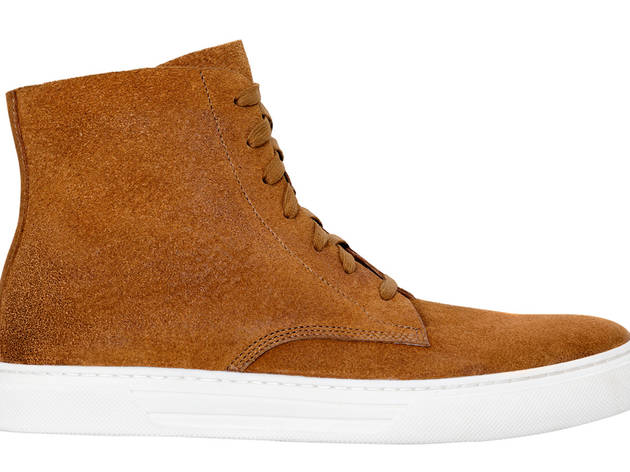 12/13
A. Cheng This indie shop's fashionable threads are already discounted for the summer, but if you mention TONY, you'll nab an additional 20 percent off. Grab Jesse Kamm cotton-and-linen tops for $88 (were $235); Sessun cotton A-line skirts, lowered from $179 to $100; and A.Cheng silk dresses marked $119 (retail $195). 152 Fifth Ave between DeGraw and Douglass Sts, Park Slope, Brooklyn (718-783-2826, achengshop.com). Fri 10, Sat 11 11am–7:30pm; Sun 12 11am–7pm.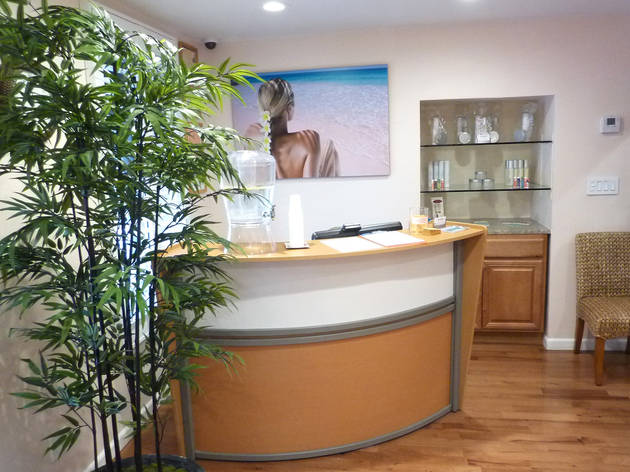 13/13
Pink Sands This salon is the first in NYC to use Infinity Sun's airbrush tanning system, which combines lotion with coloring agents. Step into a tanning room in the buff or a bathing suit, and a technician will use a soft mist to coat your skin. Prices run from $30 for just your face, neck and chest to $70 for a full-body session. The salon also offers exfoliating scrubs ($75–$150), which will help your tan be as even as possible, and holistic, destressing bodywork ($70–$230) using ayurvedic oils. On your way out, grab some Infinity Sun products such as at-home tanning creams ($40), hydrating serums ($40) and fruit-infused exfoliants ($40) to help make your faux glow last. Mention TONY for 50 percent off full-body airbrush tans through August 31. 829 Third Ave between 50th and 51st Sts (212-588-0111, pinkbeachtan.com). Mon–Wed 11am–7pm, Thu 10am–7pm, Fri–Sun 10am–6pm.
TONY deals of the week (August 9–15, 2012)
Save big with these exclusive discounts for TONY readers.