Heads up! We're working hard to be accurate – but these are unusual times, so please always check before heading out.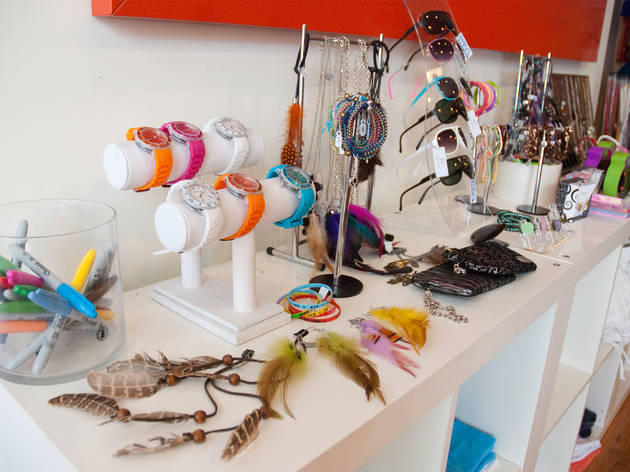 1/9
Photograph: Kayla Rice
Affordable accessories at Level 2Although Leigh Whitney's purple-walled shop caters to tweens, you don't have to be a preadolescent to appreciate its ultrahip selection of accessories, which are adult appropriate and bank-account friendly. Adorn your wrist with Popochos rubber watches ($16), which can be snazzed up with the brand's plastic pop-on watch faces ($16) in an array of funky designs, including cheetah print and Andy Warhol–style lips. If you can't afford an $800 designer bag, Level 2 carries trendy alternatives, such as Desigual water-resistant, nature-patterned totes ($34) and Zara Terez mini sequined purses ($44). Flutter rings featuring rhinestone owls ($12) and pastel-colored roses ($14) will enliven dull digits in no time. Mention TONY for 10 percent off all accessories through August 12. 456 Bergen St between Fifth and Flatbush Aves, Park Slope, Brooklyn (347-599-0543, level2-nyc.com)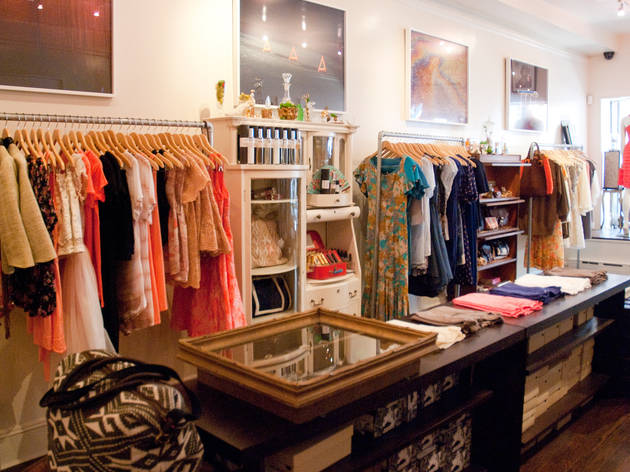 2/9
Photograph: Kayla Rice
Flirty summer dresses at EponymyUpon entering this quaint women's boutique, adorned with black-and-white prints of old Italian military heros ($500–$1,200) and Victorian-style display cases, you'll be welcomed by Lady Bianca Miller, owner Andrea Miller's white-haired French bulldog, who is so popular around town she has her own blog (ladybiancamiller.wordpress.com). Miller stocks her shop with a mix of vintage and contemporary threads and accessories from lesser-known designers such as Timo Weiland, Paul & Joe Sister and Anagram by Gary Graham that reflect styles from the turn-of-the-19th-century through the 1960s. You'll find an abundance of feminine frocks, including night-out-appropriate Eryn Brinié formfitting long-sleeved lace dresses ($335) and Eva Franco 1950s-style garden-print looks ($318). For casual outings, check out Minkpink striped sundresses ($95) and Bridge & Burn striped sheaths with pockets ($98). In the vintage collection, we fell head over heels for a transparent 1960s sleeveless number with a knee-length tutu-style skirt ($198). Mention TONY for 15 percent off all full-priced apparel through August 12. 466 Bergen St between Fifth and Flatbush Aves, Park Slope, Brooklyn (718-789-0301, shopeponymy.com)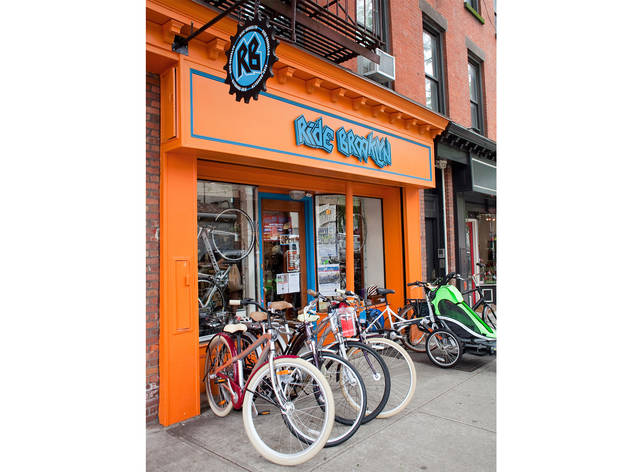 3/9
Photograph: Anna Simonak
Chic cycling duds at Ride BrooklynWhether you're a hard-core racer or just enjoy leisurely pedaling, husband and wife Peter and Jessica Kocher will make sure you ride in style. In addition to hawking high-quality wheels from brands such as Raleigh and Linus, Ride carries cycling apparel with street-savvy designs that make them suitable for other sports or just kicking it around town. Unisex Chrome lace-up sneakers ($70–$120), for example, look nothing like your average Velcro bike shoes, plus their skid-resistant flat rubber soles and water-repellent Cordura material make them more durable than typical pairs. Other versatile picks include Louis Garneau cargo-style bike shorts ($55), Cannondale ventilated hooded rain jackets ($100–$200) and sleek Sugoi tanks ($65). Mention TONY for 10 percent off all cycling apparel through August 12. 468 Bergen St between Fifth and Flatbush Aves, Park Slope, Brooklyn (718-857-7433, ridebrooklynny.com)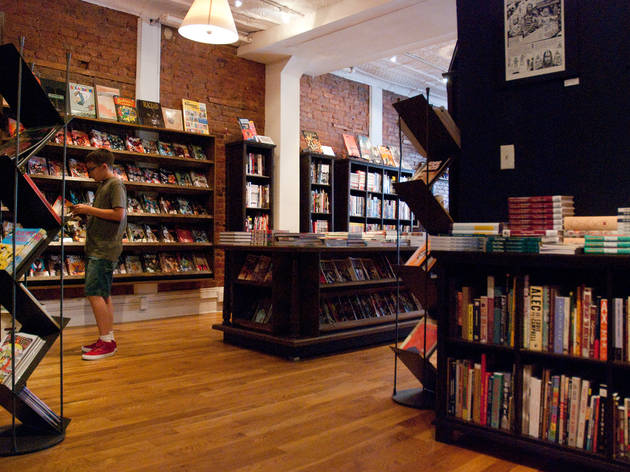 4/9
Photograph: Kayla Rice
NYC-artist comics at Bergen Street ComicsIf you've outgrown Batman but still enjoy reading graphic novels, you should beeline to the  small section at the back of Tom and Amy Adams's gallery-like comic-book shop, where you'll find an abundance of lesser-known titles by local artists. For something with a fine-art sensibility, pick up a copy of Brooklyn artist L. Nichols's colorful Seeking the Spirit ($8), which explores the female form through movement, or Brooklyn cartoonist Yuko Ota's Benign Kingdom ($15), featuring her detailed, other-worldly illustrations. You'll get a good chuckle from Billy Burkert and Samuel Rhodes's black-and-white, cartoon-style Too Many Nitrous ($5), which serves as a parody prequel to the film The Fast and the Furious. Those who can stomach violence might consider Williamsburg artist Benjamin Marra's Lincoln Washington: Free Man ($3), which depicts the troubled life of a former slave in 1868. Mention TONY for 15 percent off all purchases through August 12. 470 Bergen St between Fifth and Flatbush Aves, Park Slope, Brooklyn (718-230-5600, bergenstreetcomics.com)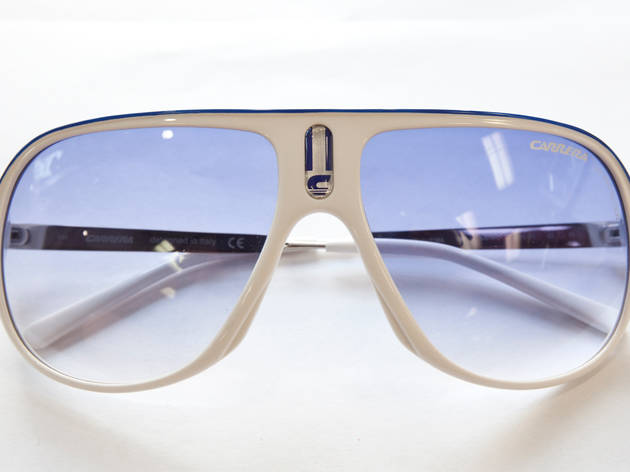 5/9
Photograph: Jessica Lin
Trendy shades at Park Slope OpticsOwners and licensed opticians Charles and Lisa Reischer are no strangers to the neighborhood: Their tiny eyewear shop has been providing patrons with custom-made prescription frames for more than 25 years. Glass cases and counters are filled with chic shades from indie brands such as Zen and Martin & Martin, as well as high-end designers including Prada and Jimmy Choo—all of which are 20 percent less expensive than they would be at chain stores like Sunglass Hut, thanks to Park Slope Optical's low overhead. Shade your peepers with Revo sleek titanium sunnies ($299), Ray-Ban classic aviators ($99–$149), Carrera plastic styles ($99) and Persol special-edition blue-lens sunglasses ($330) made popular by Steve McQueen. If you're in search of funkier shapes, such as cat-eyes or oversize rounds, peruse the selection of ophthalmic glasses—the Reichers can add polarized lenses ($50) in an hour. Mention TONY to receive 10 percent off all eyewear through August 1. 226 Flatbush Ave between Bergen St and St. Marks Pl, Park Slope, Brooklyn (718-622-1880)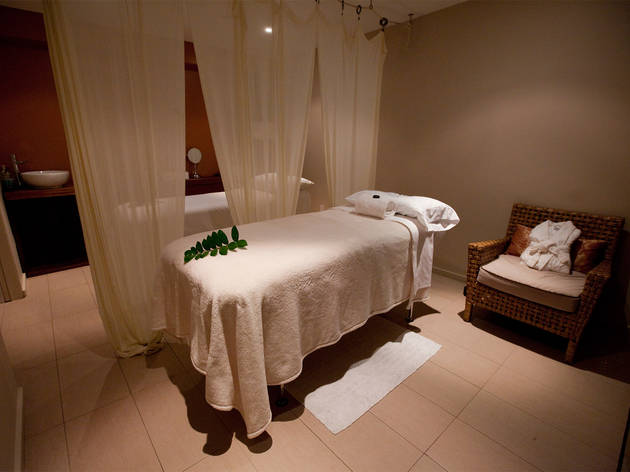 6/9
Photograph: Jessica Lin
All-natural spa treatments at Wayne Agassi's Salon & SpaUnwind without worrying about what potentially harmful ingredients you might be putting onto your skin by booking a service at Wayne Agassi's, which uses exclusively Aveda plant-based products that are alcohol- and fragrance-free. All of the facials and massages, which take place in one of three candlelit rooms, are priced depending on what day of the week you receive them: Fridays and Saturdays command top dollar, while less busy Thursdays and Sundays are considered off-peak; you'll save the most on sluggish Tuesdays and Wednesdays. Degunk your sunscreen-clogged mug with an Elemental Nature facial (60mins $60–$100, 90mins $90–$150), which incorporates a tourmaline-packed mask and a toning mist containing witch hazel and peppermint to hydrate and balance skin. If you're starting to see a few fine lines on your face, banish them with an hour-long Green-Science Skin Renewing Treatment facial ($60–$100), which utilizes wrinkle-reducing toners and creams from Aveda's antiaging Green Science line. Those in need of a full-body reboot can opt for an exfoliating Aqua Body Polish Treatment (60mins $100–$125, 90mins $150), in which minerals, oils and sea salts slough off dead skin. Mention TONY for 20 percent off all services through August 30. 477 Bergen St between Flatbush and Sixth Aves, Prospect Heights, Brooklyn (347-227-7249, wayneagassis.com)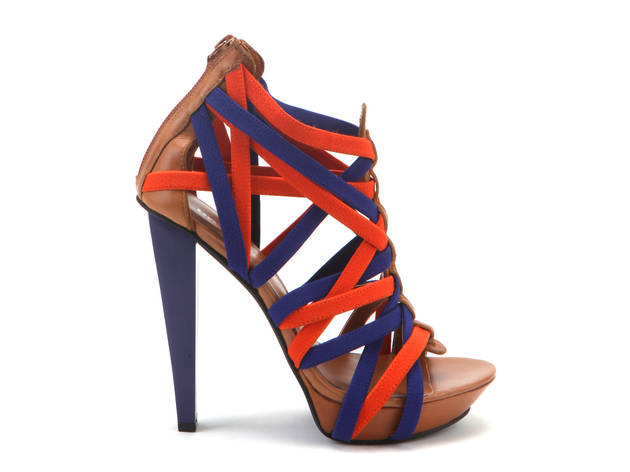 7/9
United NudeFashion-forward girls and guys can score half off architectural footwear. Leather wedges are $155 (normally $310), colorful strappy heels are cut from $280 to $140, and men's desert boots are tagged $100 (usually $200). Mention TONY for an additional 10 percent off all sale items. 25 Bond St between Bowery and Lafayette St (212-420-6000, unitednude.com). Mon, Sun noon–7pm; Tue–Thu 11am–7pm; Fri, Sat 11am–8pm. Sun 15–Aug 24.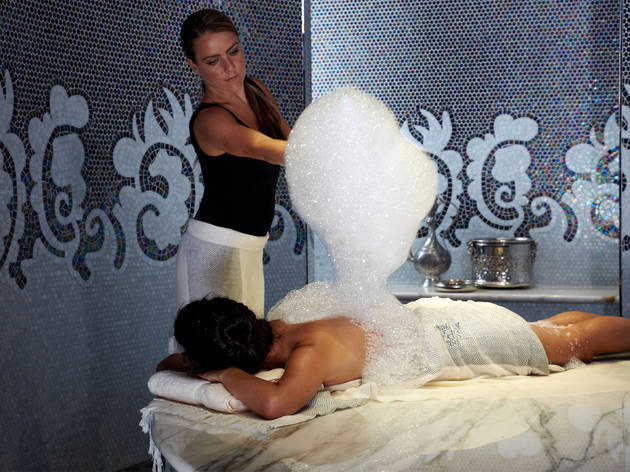 8/9
Moroccan Rain Body PolishSlough off dead cells with this 60-minute full-body exfoliating treatment that uses skin-nourishing Moroccanoil products. You'll begin by lying on a cushioned bed, beneath a seven-head Vichy shower. After you are draped in towels, your technician (we recommend Stephanie Fernandez) scrubs on an orange-peel exfoliator that contains natural ingredients such as avocado, grape-seed and almond oils. Once the vitamin-E–enriched polish has been applied front and back, hot water streams from the overhead spouts and rinses it away. While soaking under what feels like warm rain, you'll be treated to a 15-minute oil-infused scalp massage, followed by a hydrating hair mask. Finally, a blend of argan oil and shea butter is applied to your entire body. The treatment ends with a 20-minute soak in a bubble-and-jet-filled tub. If you need further relaxation, head to the spa's lounge to unwind in the sauna and luxurious shower. Moroccan Rain Body Polish weekdays $153, weekends $166 (normally weekdays $180, weekends $195); at Trump SoHo hotel, 246 Spring St between Sixth Ave and Varick St (212-842-5505, trumphotelcollection.com). Mention TONY to receive this discount through July 31.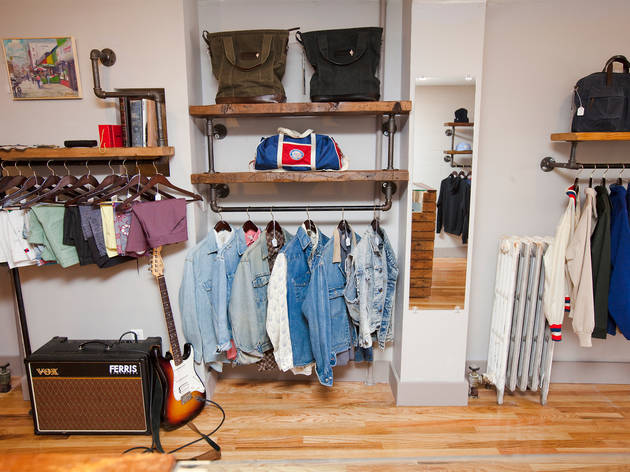 9/9
Photograph: Jessica Lin
Ferris New YorkTaylor Spong, Andrew Livingston and Taylor Conlin met at a Parsons party while they were each attending different art schools in NYC. They pooled their resources to open this Brooklyn menswear boutique, featuring one-of-a-kind vintage and house-brand apparel ($28–$250), tailor-made duds ($150–$3,500) and handcrafted silver jewelry ($175–$230) that's all made in America. The space has a rustic vibe, with steel-pipe racks, a custom wood register and oak benches. We spotted a ton of reworked vintage items, including a wool-and-suede jacket ($450) embellished with 1950s pennant flags, old-school Ralph Lauren polos ($50–$80) and silver Scrabble-letter rings ($230) crafted by Spong. Nautical-inspired cotton T-shirts ($28) and fleece sweatshirts ($50) are standouts from the house label. Mention TONY for 10 percent off all purchases through August 1. 243 Berry St between Grand and North 1st Sts, Williamsburg, Brooklyn (917-751-7268, ferrisnewyork.com). Daily 11am–7pm.
TONY deals of the week (July 12-18, 2012)
You might also likeSee more in Shopping & Style