Heads up! We're working hard to be accurate – but these are unusual times, so please always check before heading out.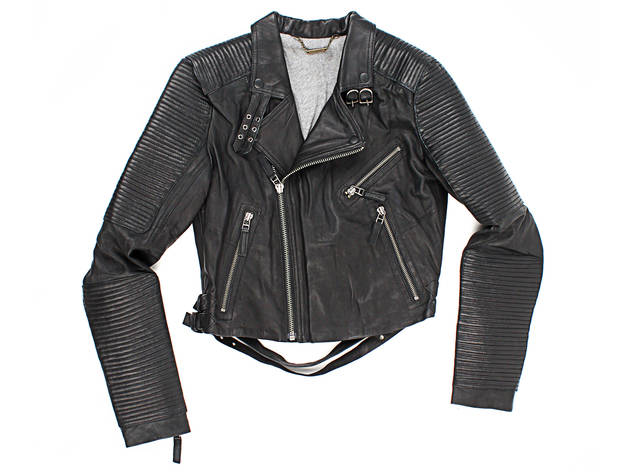 1/10
I Don't Like Mondays (idontlikemondays.us)Started in 2009 by former photo-agency staffer Colin Talbot, this edgy site specializes in men's and women's basics with unexpected cuts and avant-garde details. Working from his Bowery office, Talbot sources items from local designers such as Bedford Street Laundry, Sir New York and Savant. Color-averse New Yorkers will appreciate the abundance of black and neutral-hued items such as Asher Levine guys' mesh shorts ($95), ladies' Kill City open-back tunics ($65) and Blackheart one-shoulder print bikinis ($98). There's also lots of leather, including Horace men's skinny pants ($395) and Capulet motorcycle jackets ($485). In the IDLM Gallery, you can read interviews with cutting-edge designers and then shop their one-of-a-kind pieces made exclusively for the e-tailer. It currently features Littledoe feathered headdresses ($500) and Heather Huey braided epaulets ($360). If you're not sure whether or not a Bond Hardware metal-ring necklace ($66) will fit into your wardrobe, you can rest easy knowing that shipping and returns are always free. Use code "TIMEOUT" for 10 percent off purchases more than $100 through July 5.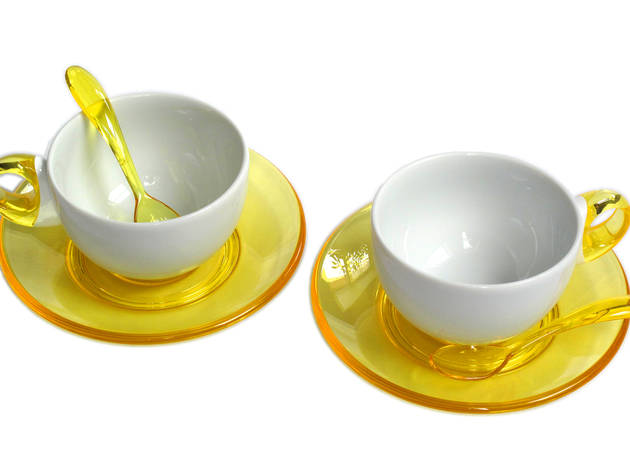 2/10
Dall' Italia (dallitaliaonline.com)Born into an Italian family in Brooklyn, Gerard Cordano has always loved the food and culture of his ancestral country. In 2010, he left his corporate job at a foreign-currency exchange bureau to pursue his passion full-time. After having trouble finding the right space for a brick-and-mortar shop in his neighborhood of Jackson Heights, Cordano decided that it would be more affordable to launch his business online. Though Cordano still hopes to open a physical storefront someday, he currently stocks his virtual one with ceramics, kitchenware and beauty products that are all imported from or inspired by Italy. Browse finds organized by function, such as Rampini hand-painted ceramic pasta bowls ($165), e.Vulcano Sicilian-lemon–scented body scrubs ($25), Guzzini porcelain-and-acrylic cappuccino cup sets (two for $45) and Egizia blown-glass biscotti jars ($78), which would spice up your own pad or make great housewarming gifts. Use code "TONY17" at checkout for free shipping (usually $8–$18) through July 2013.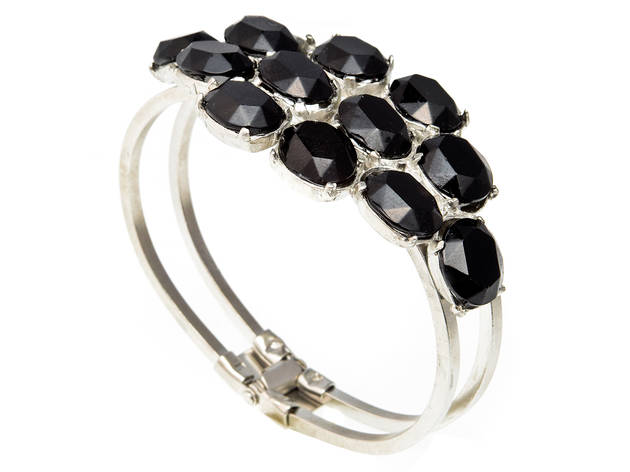 3/10
Imilla Road (imillaroad.com)After working in wholesale clothing sales for corporate brands such as BCBG, Lucky Brand and Polo Jeans, Cassidy Schulz Brush wanted to collaborate with independent designers. In 2010, she opened a series of pop-up shops in downtown Manhattan and the Hamptons featuring local and handmade women's threads and accessories. One year and a baby daughter later, Schulz Brush now runs Imilla Road online-only from her Battery Park apartment. All of the items on the site come from 36 under-the-radar designers, most of whom produce their wares domestically using eco-friendly materials. To wit, Umsteigen scissor-print tees ($50) are created in New York, Feel Handmade clutches ($248) are fabricated using vegetable-tanned leathers, and Margaret Miller one-shoulder dresses ($108) are handmade in Los Angeles. The site also hawks plenty of handcrafted jewelry, such as Penstemon + Pine wooden arrowhead pendant necklaces ($48), Ashaloo brass-knuckle rings ($95) and Rhode Island designer Jennifer Elizabeth's black stone bangles ($76). We especially love that shipping and returns are always free. Use code "TONY15" at checkout for 15 percent off all purchases through July 5.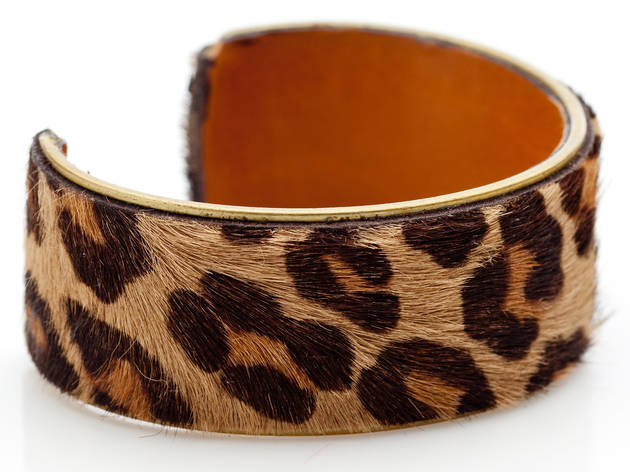 4/10
Lion'esque Style (lionesquestyle.com)This showcase for emerging talent started out as the RS Pop Up, a rotating series of temporary shops at the Roger Smith Hotel run by former Wall Street executive Melissa Gonzalez. While the still-active pop-up highlights only one brand per month, Gonzalez's virtual shop—which launched this April and spans womenswear, accessories, jewelry and beauty—constantly shines the spotlight on 25 up-and-coming designers from around the world. Each label has its own page where you can read up on the company's background and shop all of its styles. Every item description also includes pairing suggestions, so when you click on Zara Terez's patent-leather fold-over clutch ($175), you'll be lead to Nona E Rose's velvet bow belt ($40). Even Purlisse petroleum-free lip nourisher ($16) comes with a recommended purse (Cecelia's embossed ostrich cross-body bag, $475) to store it in. Another way to uncover items is by browsing Gonzalez's virtual closet, where she highlights her favorite pieces on the site each month (it currently includes Heather Belle animal-print cuffs, $20). The 34th Street–based site has also partnered with trend-forecasting agency Fashion Snoops (fashionsnoops.com) to bring you weekly style reports and news on the Trending Now page. Use code "TIMEOUTNY" at checkout for free shipping (usually $6) on orders more than $150 through July 5.
5/10
Pink Clouds (pinkclouds.com)Buying preloved garb doesn't have to mean digging through racks of dusty clothes to find that one gem. At this online vintage boutique, former retail consultant Jennifer Collins does all of the legwork, bringing you pristine designer goods from the '50s through the '90s that she sources from vendors and estate appraisers across Europe and the U.S. After rolling out her site in 2010, Collins filled its pages with womenswear and accessories from more than 70 high-end brands, including Balmain, Oscar de la Renta and Missoni. Each piece is expertly styled on models in Pink Clouds' Flatiron showroom and comes with pairing suggestions in the right-hand rail. Click on a pair of Alexander McQueen side-button pants ($405), and you'll be directed toward a '70s Gucci sheer striped blouse ($350) and Ted Lapidus square-frame sunglasses ($225), while Wild Pair leopard-print pumps ($125) are matched to a '70s Anne Klein minidress ($250) and a Givenchy heart-and-star brooch ($150). The Style section allows you to view the merchandise shot magazine-editorial-style and scan weekly picks from the Pink Clouds staff, while the Fix page features curated, themed sales that recently led us to a Marc Jacobs terry-cloth jacket ($205) in a minishop inspired by casting agent Natalie Joos. Since vintage fits can be tricky, the site provides detailed measurements and a sizing chart for guidance. Use code "TIMEOUTMAG" at checkout for free shipping (normally $15 with free returns) through July 5.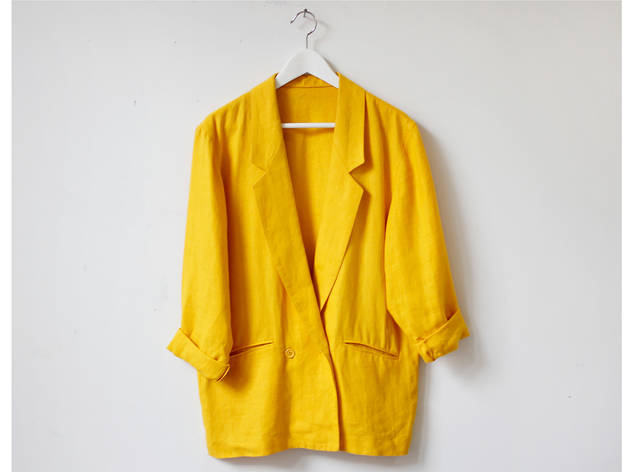 6/10
Where I Was From (whereiwasfrom.com)Designer Claire Lampert and photographer Darroch Putnam met in 2010 while on a photo shoot for women's clothing brand La Garçonne and bonded over their shared love for—and similarly massive collections of—vintage garb. At the end of last year, the pair decided to launch this men's and women's vintage-clothing site out of their shared Williamsburg work studio. The two focus on finding utilitarian and unisex pieces that are sourced from trips around the U.S., which are shot editorial-style in New York and the Southwest. You'll feel like you're shopping the pages of a hip, indie magazine while browsing through a '90s color-blocked linen dress ($128), a sleeveless denim vest ($108) and a faded henley tee ($78). In the Worn With section, you can see pieces such as a women's bright linen blazer ($108) and Carhartt men's khaki work overalls ($128) styled on Lampert and Putnam's friends along with their own street clothes to give you an idea of how they would fit into your own wardrobe. Finishing touches include a wooden giraffe necklace ($108), a canvas backpack ($78) and a cotton crinkle scarf ($78). Use code "TIMEOUT" at checkout for free domestic shipping (normally $7–$15) through July 5.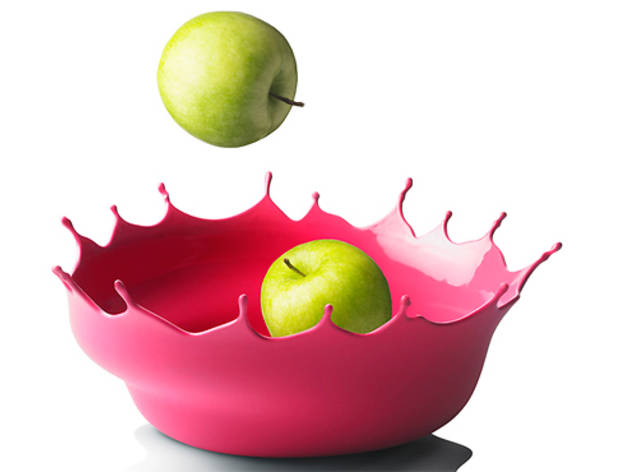 7/10
While this funky fruit bowl was designed to serve food, we're more apt to keep it on display to stash keys, coins, and other knick knacks that constantly clutter our desks. Menu A/S Dropp bowl, $40 (normally $50), at shophorne.com. Enter code "TIMEOUT20" to receive this discount through Wednesday 27.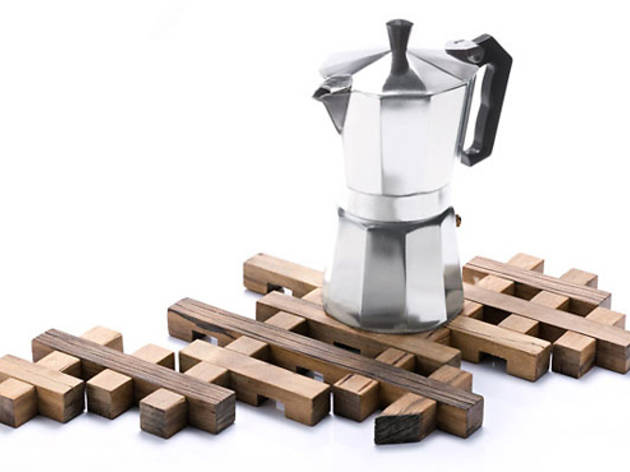 8/10
Local designer Martins Straupe uses reclaimed wood salvaged from the Coney Island boardwalk's 2010 renovation to craft these modular trivets. Assemble the 14 individual hand-notched pieces in various configurations to save your table from being scorched by hot plates and bowls. Dfnqline Coney Island Boardwalk trivet, $140 (normally $175), at dfnqline.etsy.com. Use code "TONY20" at checkout to receive this discount through July 11.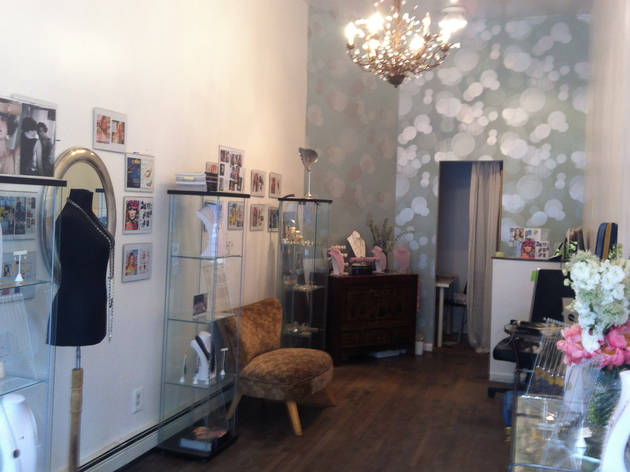 9/10
Delicate Raymond Jewelry Bar pop-upLocal designer Michelle Zimmerman has been in the jewelry business for seven years, making dainty gold-filled necklaces ($45­–$325), bracelets ($30–$80) and earrings ($70­–$190) for her e-commerce site. This temporary space is her first brick-and-mortar retail endeavor. It's decked out with vintage furniture, a sparkly chandelier and icy blue hues. The collection includes engraved monogram coin pendants accented with a mini pearl ($165­–$190); handblown-glass evil-eye bracelets ($30); and crystal-, pearl- and gemstone-adorned chain necklaces ($258). Mention TONY for 20 percent off all items through June 30. 179 Orchard St between E Houston and Stanton Sts (212-695-7898, delicateraymond.com). Mon–Sat noon–8pm, Sun noon–7pm. Through Aug 14.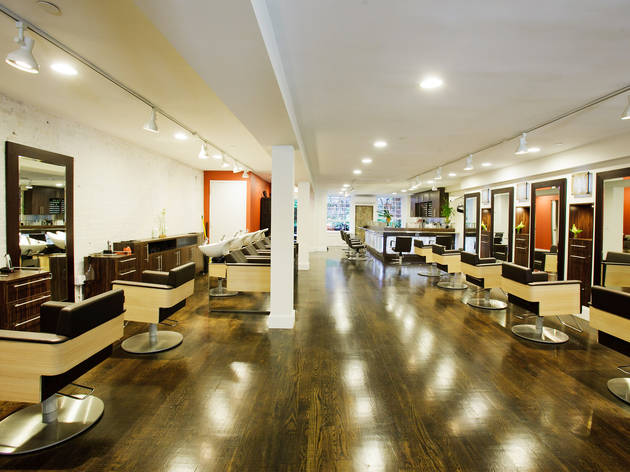 10/10
James Corbett StudioAfter five years of being cramped in a tiny Union Square salon, James Corbett opened this luxe space offering hair ($60–$250) and nail ($25–$45) services. The space features a vibrant red door and accent walls, eight wood-and-leather cutting chairs and a sleek wood bar that stores hair color and lets clients sit and plug in a computer or cell phone (there are also outlets at every chair). Nab a haircut (men $85, women $110), highlights ($150–$250, with Corbett $200–$250), single-process color ($125, with Corbett $140) or a blowout ($60). The showcase here is the outdoor garden in the back, where you can even get your manicure ($25) and pedicure ($45). Don't leave without checking out the large selection of organic products from brands such as Tela Beauty Organics ($28–$36), Vapour Organic Beauty ($20–$54) and locally made Priti nail polish ($13), as well as jewelry ($120–$400) from Corbett's friend designer Keri Starker (keristarker.com). Mention TONY for 20 percent off any service through July 31. 25 W 19th St between Fifth and Sixth Aves (212-388-1296, jamescorbettstudio.com). Tue–Fri 9am–7pm, Sat 9am–5pm.
TONY deals of the week (June 21–27, 2012)
You might also like:See more in Shopping + Style