Heads up! We're working hard to be accurate – but these are unusual times, so please always check before heading out.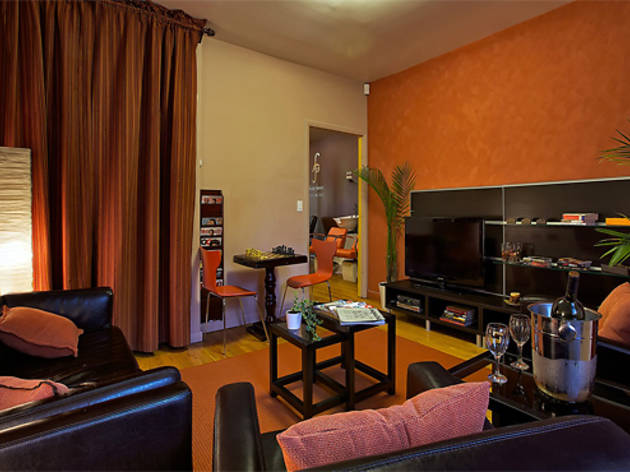 1/7
Adrian Fanus Grooming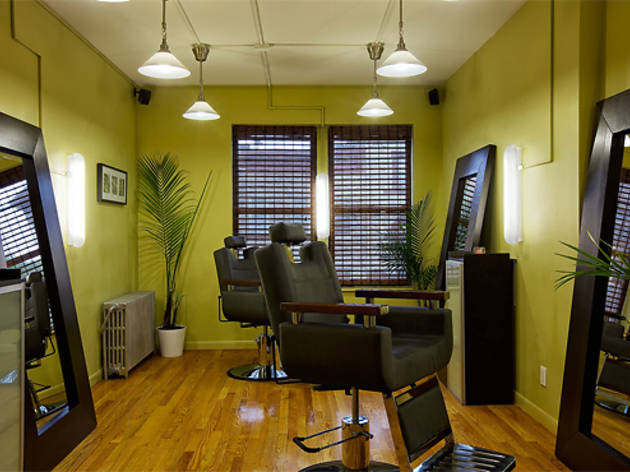 2/7
Adrian Fanus Grooming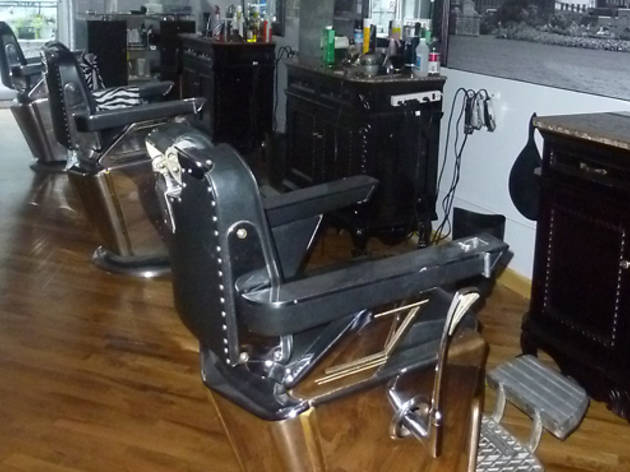 3/7
Barber on Pearl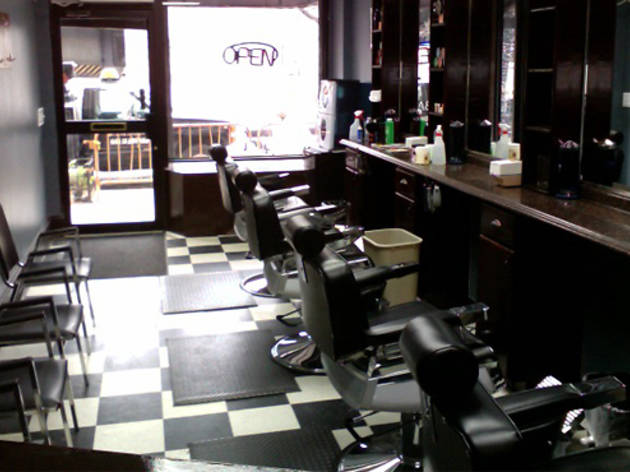 4/7
Bedford Barbers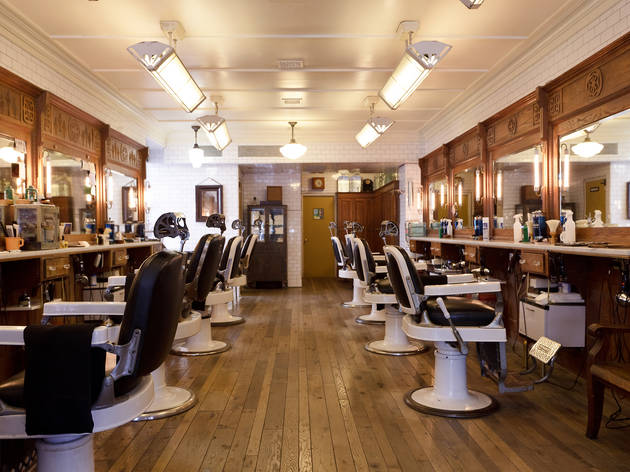 5/7
F.S.C. Barber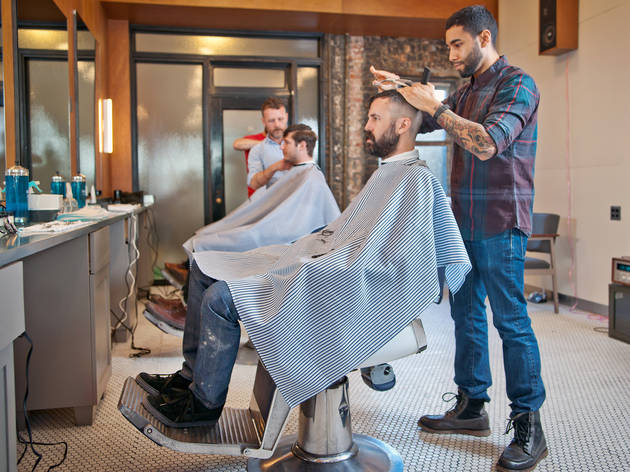 6/7
Photograph: Paul Wagtouicz
Persons of Interest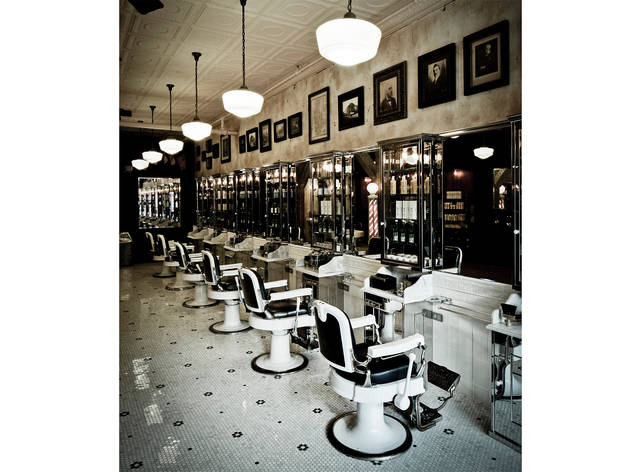 7/7
Photograph: Ed Reeve
Tommy Guns
Top ten: Barbershops
Guys can get a cut and a shave the old-fashioned way at these mancentric salons.
For more than two years, affable St. Lucia native Adrian Fanus has been running this stylish, modern space on the top floor of a Clinton Hill apartment building. His no-fuss treatments cater to a mostly male clientele (Fanus counts pro ballers Grant Hill and Nate Robinson as regulars) and include haircuts with a shampoo and condition ($35–$40), hot shaves using Art of Shaving products ($20–$25), facials incorporating Kiehl's moisturizers ($30–$40), manicures ($20) and pedicures ($30). Before services, patrons can relax by sipping a complimentary glass of vino and watching a game on a flatscreen TV in the comfy back lounge—you can even request a Pandora playlist to listen to during the treatment. Fanus has a real knack for making people feel at ease, suggesting what 'do might work best for your face shape and bone structure, and only proceeding with the cut once you feel totally comfortable. Mention TONY for 10 percent off all treatments through March 1. • (347-533-8827, afgrooming.com). By appointment only.—Tim Lowery
Opened in July 2010, this quaint, affordable neighborhood joint has roots in Brooklyn Heights, where owner Robert Isakov's brother, Sergey, runs the similarly structured Clinton Street Barber Shop. The Isakov brothers certainly have a way of making customers feel right at home, starting with the Woodford Reserve whiskey they offer while you wait. Although children's ($15) and women's cuts ($20) are available, the offerings mostly cater to guys, and include traditional chops ($17), beard trims ($12), men's manicures ($15) and the signature hot-lather straight-razor shave ($30), which will soothe your mug with a facial massage and aloe-vera moisturizer. Black-and-white murals depict the Manhattan Bridge on one wall and the Brooklyn Bridge on the other as a nod to the shop's many customers who trek from Manhattan—and even New Jersey—to show their support. Mention TONY for 20 percent off all services through March 16. • (718-855-3090, barberonpearl.com)—Alex Schechter
This four-chair hangout near the Queensboro Bridge has only been around for a year and a half, but it has a distinctly old-school attitude (and pricing). Even during peak times (Thursday through Saturday), the wait at the walk-ins--only space shouldn't delay you more than 15 minutes. The cost of men's haircuts ($14) makes it affordable enough to keep your locks looking sharp with a straightforward, quick trim every week or two. Other bargain-priced services, including hot-towel shaves ($14), beard trims ($6) and simple shampoos ($6), will ensure you're well coiffed. But to really treat yourself, pay a princely sum for the Royal Shave ($30), which uses a straight-edge razor, menthol and almond balms, plus a cucumber-scented one applied with a vibrating massager strapped to the barber's wrist, and copious hot towels, and finishes with a bracing alum-block astringent and a refreshing cold towel. In summer months, there's a bench outside for shooting the breeze or perusing the copies of Playboy and Maxim that are on hand. • (212-308-0333, bedfordbarbers.com)—Jonathan Shannon
Guys can be stingy about spending dough on their hair. However, if you've outgrown the contemptuous $15 buzz cut from your corner Supercuts, you might want to upgrade with a visit to either location of the retro-chic F.S.C. Barber (the original location opened inside men's clothing boutique Freeman's Sporting Club in 2007, while a second spot, in the West Village, followed just a year later). Displays of antique brushes and straight razors add to the gentlemanly charm of the vintage interior. After a usually brief wait (no appointments necessary), you will be treated to a sensitive, no-nonsense cut ($40), polite conversation and a refreshing eucalyptus-menthol hot towel to finish off. A straight-razor shave alone will also run you $40, but you can save $5 with a shave-and-haircut combo ($75). F.S.C. also offers beard trims ($15) and buzz cuts ($20), but we recommend strolling in the morning after a bender and taking advantage of the effective Hangover Treatment ($25), which includes a Malin + Goetz foaming gel mask, aromatic hot towels and a stress-relieving facial massage. • 8 Rivington St between Bowery and Chrystie St (212-673-3209) • 5 Horatio St at 4th St (212-929-3917) * fscbarber.com—David Cote
With contrasting-wood-plank walls and immaculately clean facilities, the nearly two-year-old Geno's Barberia works a hyperstylish cabin-in-the-woods vibe. Yet the display of antique straight razors and a massive 110-year-old cash register scream manliness without a hint of pretension or sleaze (despite the copies of Fast Company and Maxim laid out by the waiting bench). Take a seat in one of the three chairs—manned by Montenegrin immigrant Geno Bicic, his Italian cohort Franco DiMaggio and the seven-days-a-week workaholic N.J. Vukinovic—for a $30 cut, $25 shave or the combo package for $55, and enjoy classically professional service and friendly conversation. A selection of Joe Grooming products ($7–$15) are also on offer, ensuring that you stay classy long after you plunge back into the hectic Village streets. • (212-929-9029)—Noah Tarnow
Placing equal emphasis on quality service and vintage decor, this pair of retro Brooklyn barbershops is leagues above your usual hipster haircut spot. Owner and former Daily Show producer Steve Marks has certainly turned back the clock in terms of the place's Americana look, from the blown-up, faded pastoral picture gracing the storefront's wood-paneled back wall to the Eisenhower-era seats. Like its sister salon in Williamsburg, the original offers you complimentary old-fashioned fizzy sodas and Brooklyn Lagers while you wait. But it's how you look that matters here, and whether you opt for a simple buzz cut ($25), a mere cleanup ($20) or something a bit more complicated cut-wise ($40), the hairstylists on staff have your head covered. They also offer a nice close shave ($40) and beard trims ($15), although we suggest the combo platter ($75), a shave-and-a-haircut duo designed to help you keep a clean look that's reasonably priced but still timelessly handsome. •299 Smith St between Sackett and Union Sts, Carroll Gardens, Brooklyn (718-858-5300) • 84 Havemeyer St at Metropolitan Ave, Williamsburg, Brooklyn (718-218-9100) * personsofinterestbklyn.com)—David Fear
This drop-in spot is just as cheap as the ubiquitous East Village chop shops designed to turn around hundreds of heads a day, but Rafael's is no bang-'em-in, bang-'em-out joint. The haircutters at this four-chair pastel-hued salon offer competent, standard cuts ($14–$17) and shaves ($10–$15), but spend plenty of time chatting with each client, determining exactly what you want. The personalization is great—and unheard of at these prices; a haircut this cheap usually comes from a guy who chats on his cell phone and shaves off your perfectly groomed sideburns before you can get a word in. Those looking for a quick buzz will likely grow weary of the lengthy waits, but if you want lots of input into your look without laying out a ton of cash, Rafael's is tough to beat. • (212-253-8856, rafaelsbarbershop.com)—Ethan LaCroix
Steve's Editing Barber Shop
For more than 25 years, soft-spoken owner Steve Polanco has been cutting men's hair at his no-frills shop, applying a judicious eye to the individual challenges presented by the heads in his care. The traditional space is spare and clean, with brick walls and a small tricolor pole in the window. Although prices are low—just $15 for a clipper cut, $20 for a scissor trim and $15 for a straight-razor shave—the level of craftsmanship is high, and the atmosphere is welcoming: For just $5, you can get a 15-minute back-and-shoulder massage, and there's a TV set on which customers can watch old movies and cartoons while waiting for a chair. • (212-974-3230)—Adam Feldman
The impressive array of knickknacks—an Elvis bust, a miniature replica of the notorious leg lamp from A Christmas Story, a full-size double bass—tells you much of what you need to know about this kitschy spot. It's co-owned by married couple Alex and Renee Melnichenko, who previously ran the Gravesend motorcycle shop Brooklyn Performance. The salon, which opened in smaller digs across the street from the current spot in 2006, specializes in punk-rockabilly gentlemen's cuts that are heavy on the pomade—specifically Murray's ($3), of which the shop is one of the star sellers on the Eastern Seaboard. You'll often find patrons in the waiting area sipping complimentary cans of Pabst as Tom Waits growls out a mournful ballad over the speakers. Clipper cuts run $20, and $30 will get you either a scissor cut or an unbeatable straight-razor shave; there's no extra charge for tales from the road via ace stylist Matt Goldpaugh, whose other gig is playing bass for local punkabilly mainstays the Arkhams. •(718-349-9666, tomcatsbarbershop.com)—Hank Shteamer
Both NYC locations of this salon appear to have been plucked from the Prohibition era: The tin ceilings, crafted by a local metalworker; 1870s mahogany apothecary shelves and display cabinets, sourced from a North Carolina drugstore; spotless white tile floors; and 1920s barber chairs create a retro, homey vibe. Barber Russell Manley founded the brand in London in 1994, and today cuts hair in both boroughs. He recently oversaw the Brooklyn space's transformation to replicate the look of the original U.K. shop. It should come as no surprise that the similarly manicured LES joint was tapped as a location for Boardwalk Empire. Haircuts for men ($75) and women ($95) start with a consultation, before a shampooing and the trim (plus complimentary wine or beer to loosen you up). While you're in the shop, we'd recommend rounding out the visit with a traditional hot-towel shave ($40), featuring a series of citrus-scented steamy cloths, Proraso preshave balm and Baxter of California shaving cream to soften the whiskers for a clean cut (we recommend Frances Elizabeth, who does the task at the Brooklyn locale). The salon also offers coloring ($90–$195), conditioning treatments ($35–$40), blowouts ($60) and updos ($70–$400). Mention TONY for 10 percent off all cuts and shaves through Wed 22. • 138 Ludlow St between Rivington and Stanton Sts (212-477-1151) • 85 North 3rd St between Barry St and Wythe Ave, Williamsburg, Brooklyn (718-388-8288) • tommygunsny.com.—Andrew Frisicano