Heads up! We're working hard to be accurate – but these are unusual times, so please always check before heading out.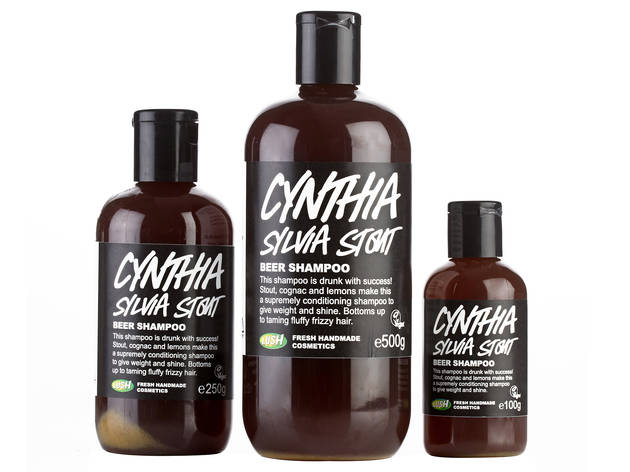 1/7
Rinsing your hair with beer, an oft-touted beauty trick, can add body and shine, but you don't need to waste a perfectly potable brew to reap such benefits. This liquid shampoo—made with protein-laden organic vegan Back Hand of God stout from Canadian brewery Crannóg Ales—thickens into a mild lather, and gets its citrusy, fermented smell from cognac oil and lemon juice. Just one wash left our strands soft and fluffy. Lush Cynthia Sylvia Stout shampoo, $9–$30 each, at Lush, locations throughout the city; visit lushusa.com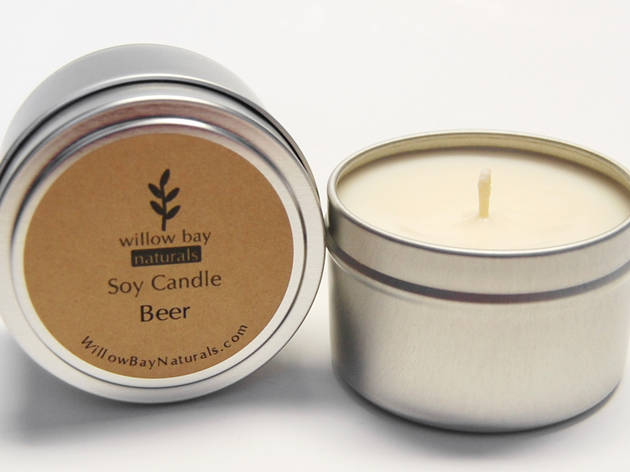 2/7
Aromatherapist Marcy Moorhead hand-makes natural beauty products in small batches out of her Michigan home, and manages to capture the effervescence of beer in this soy-wax candle. Boasting up to 35 hours of burn time, the votive casts a soft glow and an equally gentle yeasty aroma. Extinguishing the flame releases fruity notes of strawberry, pineapple, apple and raspberry. Willow Bay Naturals beer travel tin soy candle, $8, at willowbaynaturals.com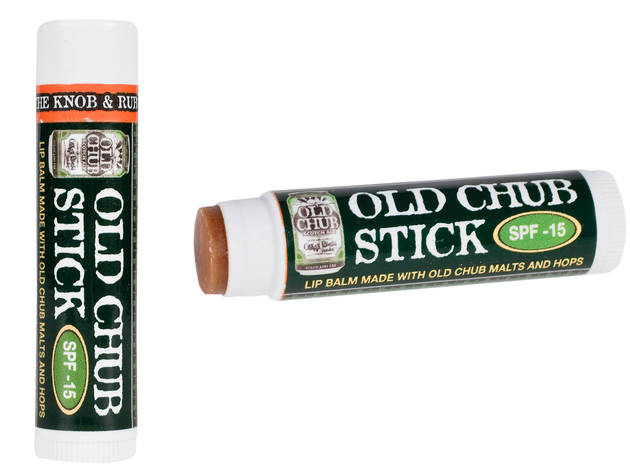 3/7
Photograph: Camille A Fernandez
Although beer brands both corporate (Coors) and indie (Sierra Nevada) offer suds-kissed lip balms, Colorado's Oskar Blues Brewery claims to have launched the first. The brown-tinged SPF 15 stick incorporates the same malted barley and hops used to create the company's Old Chub Scotch Ale, and bears a bitter-chocolate scent, just like its namesake. We were pleasantly surprised at how smoothly the salve melted onto our lips, moisturizing with a hint of subtle shine. Oskar Blues Old Chub Stick lip balms, $4 each, at store.oskarblues.com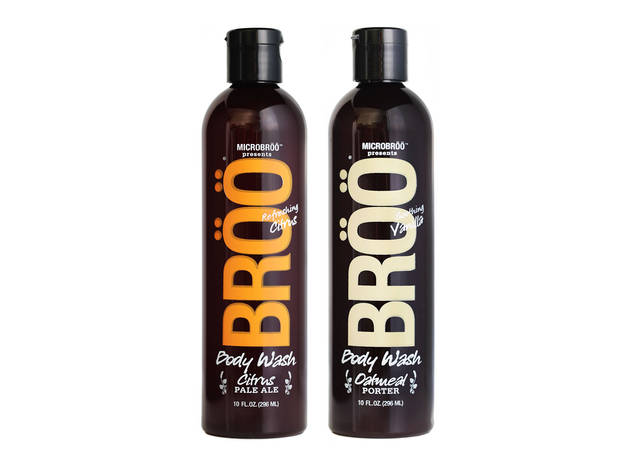 4/7
After learning that their mothers had incorporated beer into their hair-care regimens in the '50s, married couple Brad and Sarah Pearsall created their own line of ale-infused shampoo in August 2011. The duo has since expanded its offerings to include a pair of body washes featuring two beverages from North Carolina craft brewery Highland Brewing: Oatmeal Porter and St. Terese's Pale Ale. The former product smells like booze-soaked vanilla oatmeal, while the latter is redolent of hoppy orange zest. Both produce a frothy lather and deliver smooth, supple skin. Bröö Citrus Pale Ale and Oatmeal Porter body washes, $13 each, at drugstore.com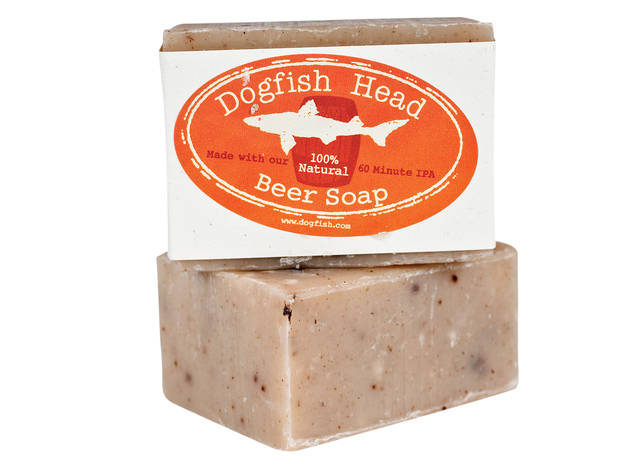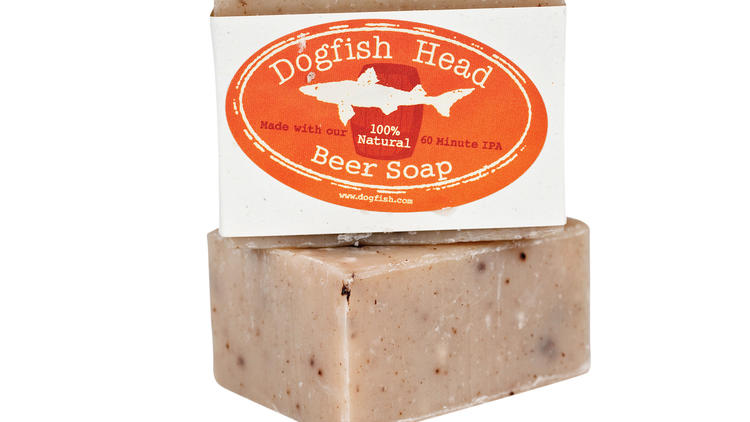 5/7
Photograph: Camille A Fernandez
This hand-cut soap from Virginia brewery Dogfish Head gives new meaning to the concept of sudsing up in the shower. The lightly exfoliating bar is made with ground hops and barley, plus the brand's cedar-and-citrus-inflected 60 Minute IPA. Essential oils such as lavender, rosemary and fir leave behind a fresh, lovely scent that's far from the smell of a frat party. Dogfish Head beer soaps, $5 each, at dogfish.com/store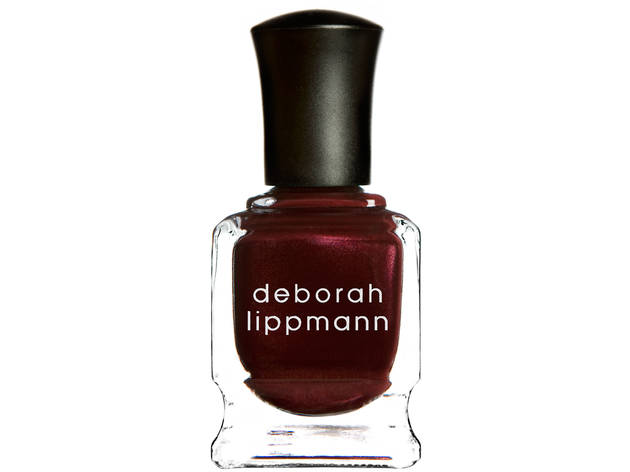 6/7
There may not be actual alcohol in this vampy varnish, but we're drunk on its chocolate-burgundy color and shimmery finish. One coat resembles an amber ale, while a second layer makes your nails look like a freshly poured Guinness. Deborah Lippmann Bitches Brew nail polish, $17, at Barneys New York, 660 Madison Ave at 61st St (212-826-8900, barneys.com)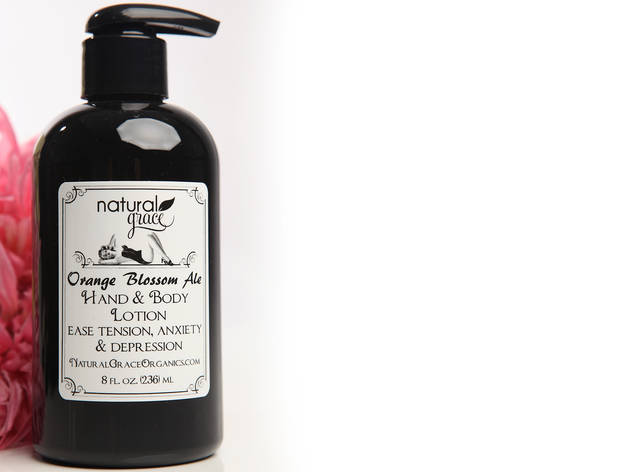 7/7
Instead of hitting the bar to drown your sorrows, slather on this vegan lotion, which purports to combat depression through its sedative hop flower scent. The all-natural, nongreasy formula is handmade in upstate New York by aesthetician Heather McCoy and features a musky orange aroma that will appeal to bitter palates. Natural Grace Organics Orange Blossom Ale hand and body lotion, $14, at naturalgraceorganics.com
Trend watch: Beer-infused beauty products
Celebrate St. Patrick's Day 2013, minus the hangover, with these beer-infused beauty products.
New York City bars
are guaranteed to be packed with revelers drinking beer on
St. Patrick's Day
, but you can toast the Irish holiday in spirit with these brew-fueled beauty products. Get shiny hair with stout shampoo from Lush and porter-hued fingertips from Deborah Lippmann nail polish. There's also lotion, soap, body wash, lip balm and a
candle
that incorporates beer.
Follow Cristina Velocci on Twitter:
@cvelocci