Westfield World Trade Center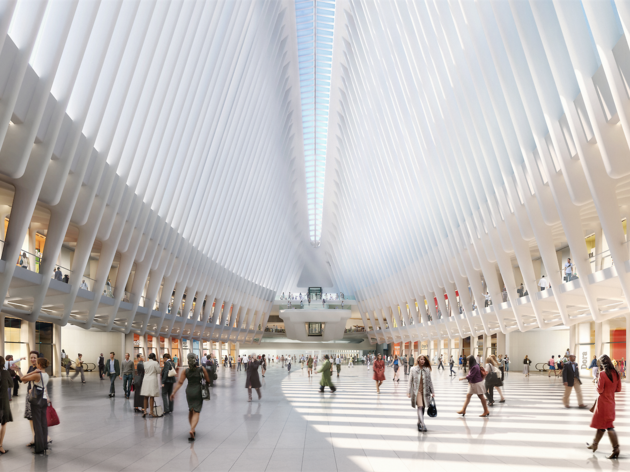 Time Out says
The Oculus is the world's most expensive train station, so it makes sense that it threw in a brand-new mall, too. The new shopping center has posh stores like Lacoste and UK-based Westfield, the latter of which invested 1.4 billion bucks into the project. Not too shabby.
Details
Rating Breakdown
5 star:

3

4 star:

0

3 star:

0

2 star:

0

1 star:

0
The architecture of this space is a sight to behold. It's clean, modern and a representation of what a transit hub should be in the world's capital of New York City. It is steps away from the World Trade Center and thee's something for everyone here from shopping to food. It's now a must visit if you're doing a downtown tour of NYC nowadays.
The shops are more on the higher end though that shouldn't deter you from visiting and with a dozen or so subway lines crossing the Oculus, it is easy to visit.
Happy exploring and remember: Don't deny, satisfy!
I rarely went to this part of downtown because of all of the 9/11 memories surrounding it. Being a life long New Yorker, its never easy. Theres a quietness that lingers in the air. So it was great that within the oculus there is a stunning shopping center bringing back life to the area. Stores like Apple, Dior, Sugarfina call the Oculus home. This also serves a transportation hub for most of the major lines that run thorough out the city. Great boutiques, restaurants & ever changes art exhibits in the heart of the Oculus add to the wonder of the buildings architecture. Entrances offer some of the best photo ops of this marvel.
Giant transit hub. Newly built, shiny, clean, and uniform modern aesthetic. The oculus, as well as the clean sloping architecture creates a bright, welcoming vibe. There are now tons of stores here, from high end groceries and restaurants, to an upscale food court, department stores and boutiques, and concession stands and kiosks. Connects all of downtown, great for revitalization.