Heads up! We're working hard to be accurate – but these are unusual times, so please always check before heading out.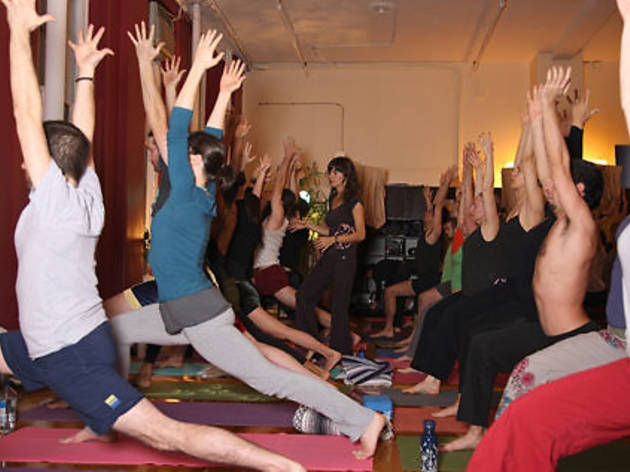 1/2
Virayoga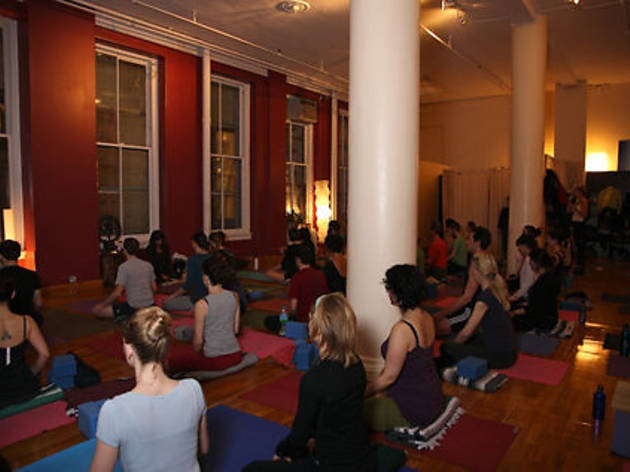 2/2
Virayoga
Anusara yoga
This modern school blends tantric philosophies with principles of alignment and movement.
RECOMMENDED: Fitness guide to NYC
Virayoga
(580 Broadway between E Houston and Prince Sts, suite 205; 212-334-9960, virayoga.com). Single class $18, packages available.
Type of yoga offered: Anusara
Name of class: Anusara
Length: 90 minutes
What to expect: Elena Brower, Virayoga co-owner and yoga celeb, leads a challenging class, giving personal adjustments in the packed room of 60-plus students without interrupting the flow—or her ongoing discourse about inner spiritual symmetry and peace.
Level: Serious yogis only.
The verdict: I recoiled a little when I entered the studio 20 minutes before class to find mats already crammed nose to nose across the floor. And when I noticed $3 drink-mix packets for sale at the front desk (nutritional support for pre- and postyoga bliss). And when the teacher walked in wearing skinny jeans and an expensive haircut. She sat down, dumped some drink mix into a water bottle—and taught a stunning class. She methodically and thoughtfully guided our movement, our alignment and our attention in each pose. Well-sequenced flows opened up my lungs, focused my mind and unknotted my lower back. I loved poses I thought I hated. I learned new approaches to poses I've done for years. I never once bumped into my neighbors six inches away.—Megan Gendell
World Yoga Center
(265 W 72nd St at West End Ave, second floor; 212-877-4153, worldyogacenter.com). Single class $17, packages available.
Type of yoga offered: Anusara
Name of class: Gentle/Restorative Yoga
Length: 90 minutes
What to expect: Class starts and ends with meditation in restorative poses (read: nap time, with yoga props arranged under and around your body to hold you in a yogic shape). In between, the teacher drags you through some slow-down dogs and standing poses.
Level: Some experience helps.
The verdict: My inexperienced teacher was best at guiding us through relaxation, helping me slow my breath and calm my body. But she lacked confidence in the asana department: She often suggested Sanskrit pose names with no English equivalent, no clear "right foot forward, arms up" instruction and no demo. "When you're ready, no pressure," she cooed, as if our hesitancy came from reluctance rather than confusion. It was hard to let go and trust a teacher who seemed afraid to make too strong a suggestion of any sort. But I'd try another class in this cozy, plant-filled space, which I shared with just two other students on a recent visit.—Megan Gendell
NEXT Forrest Yoga
This modern, Western-influenced practice focuses on core strength, breathing and vigorous sequences.
Vinyasa | Hatha | Bikram | Anusara
Forrest Yoga | Iyengar | Kundalini | Acroyoga | Hybrids
BACK TO MAIN PAGE
Winter fitness guide
100 yoga and fitness classes reviewed and profiles of the city's best personal trainers.