RECOMMENDED: Fitness guide to NYC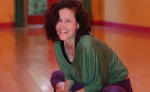 The guru: Dana Flynn of Laughing Lotus
The class: Lotus Flow 2/3
Promised: The cofounder of Laughing Lotus, Flynn created the Lotus Flow style of vinyasa yoga. She's known for bringing playfulness back to a tradition most often taken seriously. According to her website, her yoga sequencing is intended to help liberate the spirit.
Delivered: As soon as Flynn entered the room, her contagious smile caught on, and participants, consisting mostly of lithe regulars in their twenties and hard-bodied teacher trainees, followed her instructions to remove blocks, water bottles and other junk to make room for more patrons in the already-packed studio. It soon became clear why her students act like rock-star groupies—instead of being strict with poses as most other gurus are, Flynn let everyone explore movement and go with the flow through dancelike poses set to new-age music while she swayed around the room. The downside: A lighthearted mood was emphasized over proper alignment. Of course, her offbeat approach might not matter to those who want to let go and just have fun.
Laughing Lotus, 59 W 19th St at Sixth Ave, third floor (212-414-2903, laughinglotus.com). Single class $16, packages available.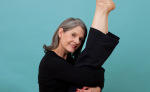 The guru: Cyndi Lee of OM Yoga
The class: Advanced Yoga
Promised: Lee, founder of OM Yoga, is the first prominent Western teacher to integrate yoga and Buddhism. As she states on TV appearances and in her books, her class aims to enlighten through meditation and authenticity.
Delivered: Lee began with a brief talk on how to create space within our bodies through yoga practice, then asked everyone to introduce themselves. We were a varied bunch: ardent young yogis, working mothers and retirees who've been practicing for decades. In a quiet, airy studio, Lee then led us through balancing poses, twists and back bends while explaining the meanings of each move's Sanskrit name. The pace was slow, but Lee was patient with demonstrating postures, sometimes asking if we wanted to try a pose again and giving us blocks and other support props when needed. Her nurturing approach is a welcome respite for those wanting to do yoga in a relaxed setting, but make sure you have a few years of practice under your belt.
OM Yoga, 826 Broadway at 12th St, sixth floor (212-254-9642, omyoga.com) Single class $20, first-timers can get two classes for $28, packages available.


The guru: Sri Dharma Mittra of Dharma Yoga Center
The class: Dharma Sadhana
Promised: Ask anyone who practices yoga: Odds are they've either taken a class with this guy or heard how great he is. Since 1974, the Brazilian-born Mittra has been revered as one of America's original yoga teachers, known for creating more than 300 postures and the master chart of 908 postures that he still teaches at 71. Mittra's style stems from his idea of connecting daily actions to a higher power through traditional yoga.
Delivered: Despite his larger-than-life persona, Mittra is unassuming and puts newbies at ease with humor and charm. One minute he's correcting a pose, the next he's cracking a good-natured joke (once at my expense when I inadvertently became a salmon going against a river of yogis before the superman stretch). While he began the class with ten minutes of chanting, Mittra spent an equal amount at the end speaking on yoga philosophy. A believer in God, he gently lectured skeptics, asking, "What makes the heart beat?" and reminding us that material things won't bring happiness. The class is ideal for those seeking a spiritual experience—it almost feels like an escape to an ashram in India.
Dharma Yoga Center, 61 W 23rd St between Fifth and Sixth Aves (212-889-8160, dharmayogacenter.com). Single class with Sri Dharma Mittra $25, packages available.