Heads up! We're working hard to be accurate – but these are unusual times, so please always check before heading out.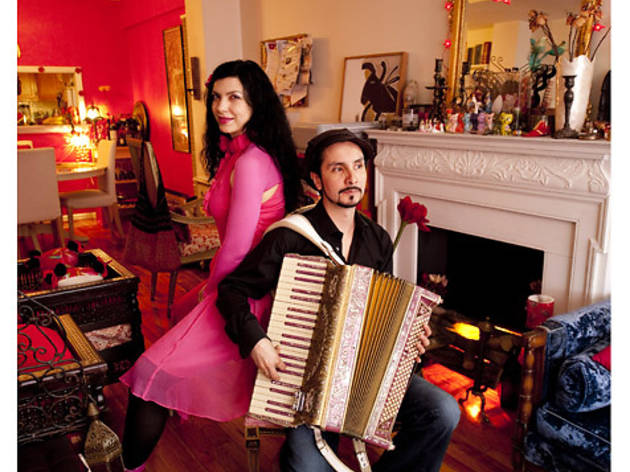 1/17
Photograph: Matthew Williams
On first glance, Anath Benais (anathmusic.com) and Pablo Vergara's rose-colored abode appears to be the dwelling of Moroccan flower children. Not quite, but close: The married couple (she's a singer-songwriter and dance instructor from Israel and France; he's a pianist from Chile) have decked out their cozy apartment with global trinkets, velvet accents and beaded curtains. The 900-square-foot space, which they've owned for three years, also doubles as a recording studio, with pianos, keyboards, guitars and accordions strewn among the exotic kitsch. "What I like the best is that every piece has a story and a past," says Benais. "I'm attracted to the fantasy world—the imaginary world."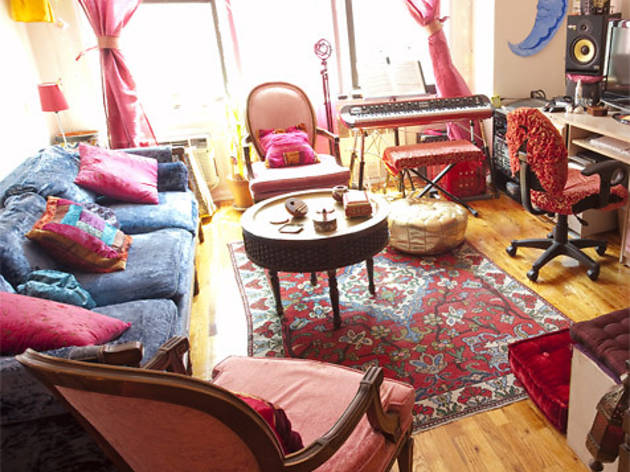 2/17
Photograph: Matthew Williams
"I like mixing international objects from our travels," explains Benais. "I'm also attracted to the fantasy of the theater—deep reds and pinks." She has outfitted the apartment in flea-market finds, Craigslist scores and souvenirs in her preferred hues.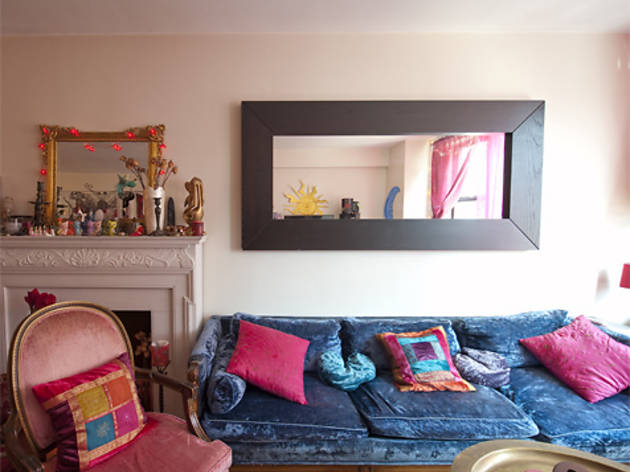 3/17
Photograph: Matthew Williams
This feather-filled velvet sofa was the ultimate discovery—Benais got it for free via Craigslist. The old-fashioned round-back chairs are also from the online classifieds forum. "They're French Victorian," notes Benais. "I think the original owner found them in an antique store in Fort Greene. That's the beauty about New York, I think: the findings." She purchased the dramatic rectangular mirror from Ikea(1 Beard St at Otsego St, Red Hook, Brooklyn; 718-246-4532, ikea.com).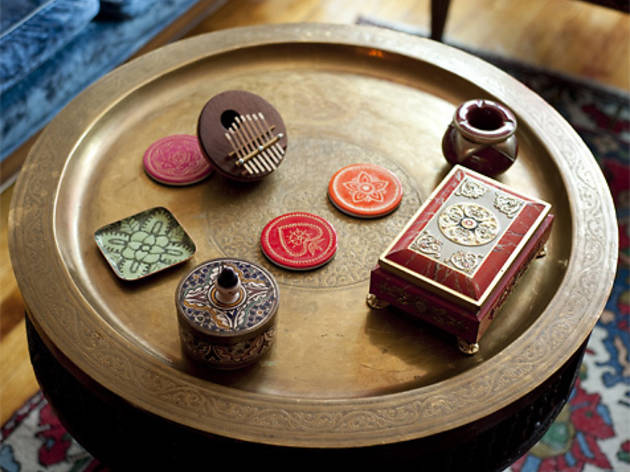 4/17
Photograph: Matthew Williams
Benais tops an Egyptian handcrafted table with an aged bronze tray from Imports from Marrakesh (importsfrommarrakesh.com), a favorite store formerly located in Chelsea Market that currently operates online only. It serves as an ideal showcase for a metallic painted box from the Park Slope Flea Market; a kalimba, a musical instrument from Argentina; and a Moroccan ashtray. The oriental rug was purchased at Trailer Park (77 Sterling Pl between Sixth and Seventh Aves; 718-623-2170, trailerparkslope.com), a vintage store in neighboring Park Slope.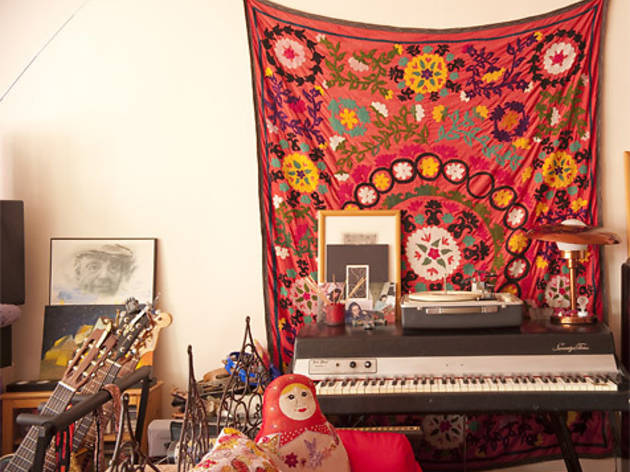 5/17
Photograph: Matthew Williams
As a musician, Benais believes her craft affords her the freedom to be creative with aesthetic choices. "I will never have any doubt as far as colors, objects, mixing things and painting go," she explains. "I like to see the beauty—it's important to me to be in an environment that is inspiring." A Moroccan tapestry from Imports from Marrakesh hangs behind a wall of instruments. Benais and Vergara recorded their most recent album, Dark Lullaby, in the living room.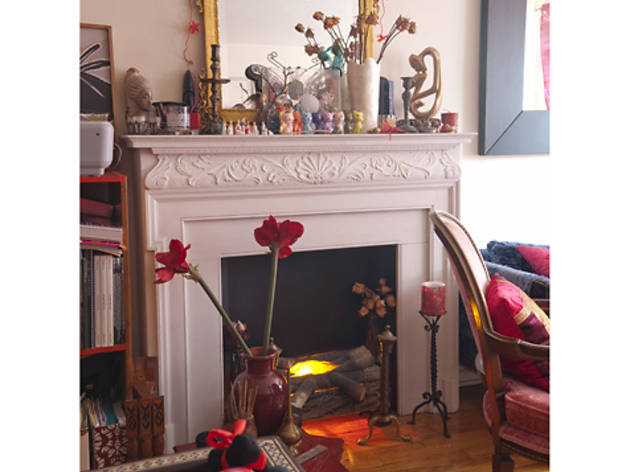 6/17
Photograph: Matthew Williams
"We can't really afford to do fancy renovations," admits Benais, "so everything we do, we do it one step at a time and we do it ourselves." Take, for example, this carved mantel, which did not come with the apartment. Benais found the piece at the Park Slope Flea Market and added faux firewood from Lowe's (locations throughout the city; visit lowes.com).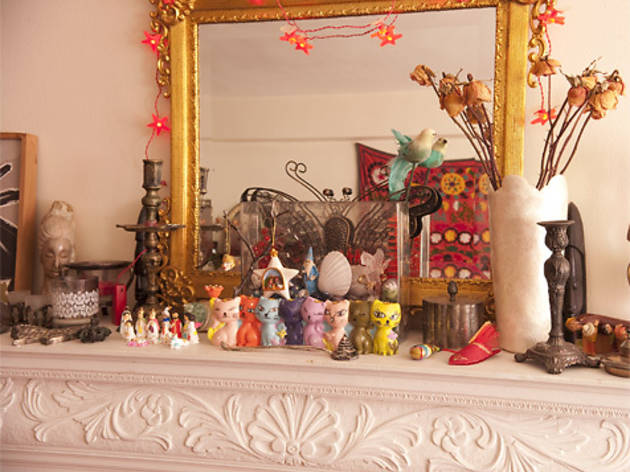 7/17
Photograph: Matthew Williams
"These are from different places and different religions," Benais says of the accessories cluttering the mantel, including a Jewish menorah, a Mexican nativity scene, a Peruvian cross and various African trinkets. She picked up the gilded mirror at a stoop sale in Park Slope and draped it in star-shaped lights from Ikea for added sparkle.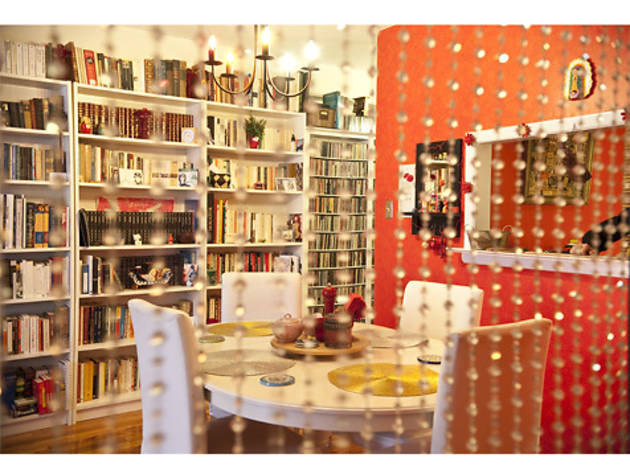 8/17
Photograph: Matthew Williams
Although Benais prefers vintage items, she turns to Ikea for affordable modern staples. This white dining set, as well as the bookcases along the back wall, are courtesy of the home-goods giant. Vibrant Benjamin Moore paint in Outrageous Orange was sponged with a glossy red hue to create the accent wall. "I want to paint all of these walls, but not in the same color," says Benais of her plan to turn the apartment into a multihued patchwork. The beaded curtain was purchased at the New York International Gift Fair (nyigf.com).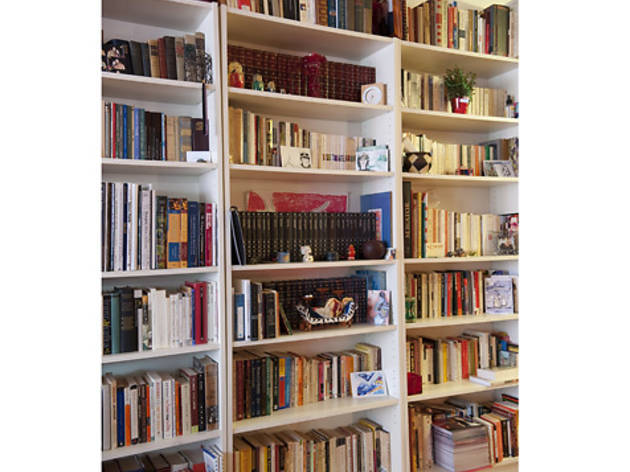 9/17
Photograph: Matthew Williams
"I've always loved houses that have libraries," says Benais. "I would do a room with a library all over." For now, this book-case-lined wall is a fine substitute. "We're very old-fashioned because we like to keep books, CDs and LPs," she says. "We will never throw a book away [just] because we have it in the computer."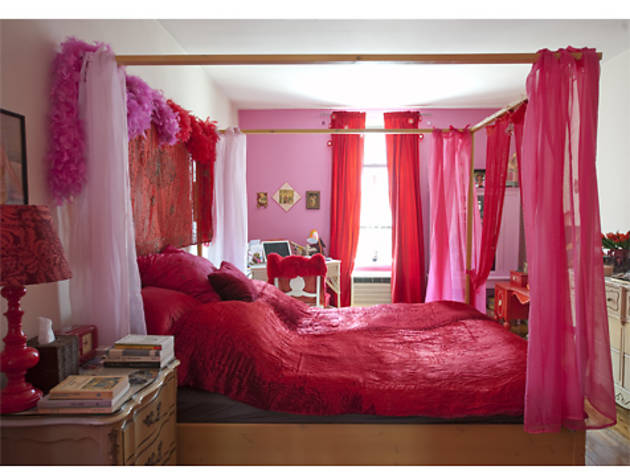 10/17
Photograph: Matthew Williams
The bedroom is covered in splashes of Benais' signature red and hot pink. "I'm just attracted to soft and luxurious fabric, like fur and silk," says Benais. "I love red velvet." That explains the dramatic duvet cover, purchased in France, on top of the Ikea four-post bed. She adorned the bedposts with feather boas from Ricky's (locations throughout the city; visit rickysnyc.com) and hung fabric from India as a headboard.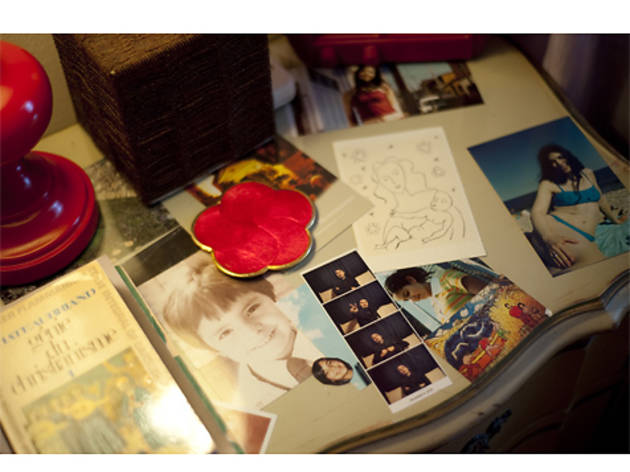 11/17
Photograph: Matthew Williams
All of the dressers and desks in the bedroom, including this glass-topped nightstand, were scored on Craigslist or at the Park Slope Flea Market. Benais cleverly uses the piece as a scrapbook by slipping family photos underneath the glass.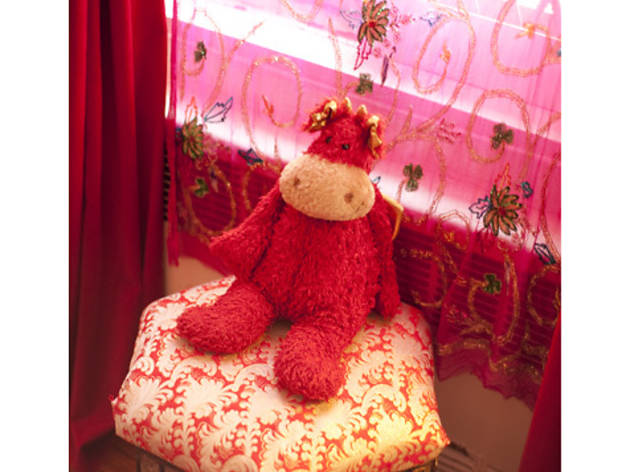 12/17
Photograph: Matthew Williams
"One day, I was coming from a show in the Meatpacking District at midnight, and there was this little van selling records and things," recalls Benais of the moment she purchased this plush cow. "I never had a stuffed animal as a child, so this is my first one. I named him Ruby. He makes me think of my father, who passed away." Ruby sits on top of an Egyptian stool covered by a cushion that Benais fashioned out of fabric from Mood (225 W 37th St between Seventh and Eighth Aves, third floor; 212-730-5003, moodfabrics.com). An embroidered Indian shawl from Israel functions as a sheer curtain.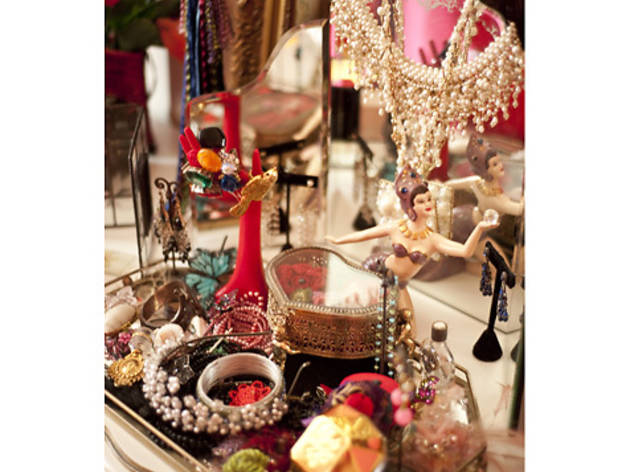 13/17
Photograph: Matthew Williams
"It's just the theater influence," Benais says of her love for costume jewelry. She hangs a pearl necklace from local designer Miss Ellie (miss-ellie.net) on a romantic mirror from Urban Outfitters (locations throughout the city; visit urbanoutfitters.com), while the rest of her treasures are heaped onto an antique tray found at the Park Slope Flea Market.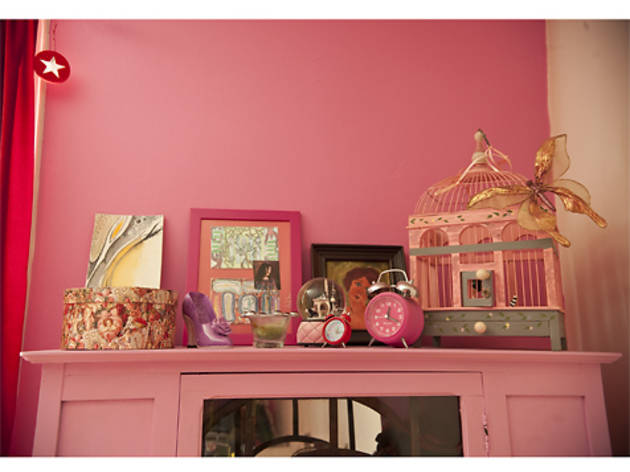 14/17
Photograph: Matthew Williams
Benais painted this dresser from the Park Slope Flea Market bubblegum pink and topped it with a birdcage, old-fashioned clocks and other dreamy knickknacks that fit in with the apartment's fantastical theme. "Maybe it's nostalgia for something I lived or I didn't live," muses Benais. "An imaginary childhood I built for myself."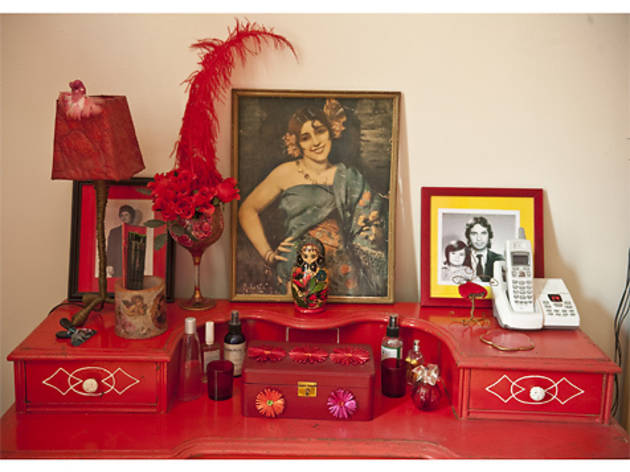 15/17
Photograph: Matthew Williams
The red-painted desk was a vintage discovery from a Park Slope store, which Benais covers with an old-timey painting found at the Park Slope Flea Market, a miniature lamp from Paris boutique Le Monde Sauvage (lemondesauvage.com) and a vintage French jewelry box from the '70s.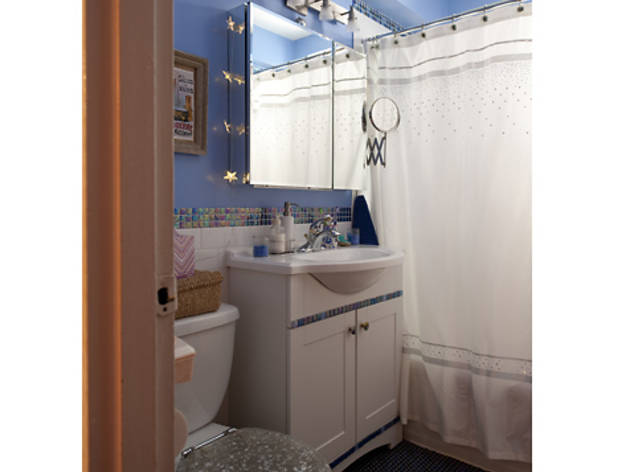 16/17
Photograph: Matthew Williams
Benais turns the bathroom into a glam oasis with a sparkly toilet cover from Bed Bath & Beyond (locations throughout the city; visit bedbathandbeyond.com), star lights from Ikea and a coat of soothing Valspar paint in Denim Blue.
17/17
Photograph: Matthew Williams
"These were made by an artist who helped us with our video clip for our new album," Benais explains of the celestial wall decorations. "We had this person make the sun and moon because day and night are mentioned in the song, and we made a scene where we were holding them." Benais dolls up the desk chair by covering it with fabric purchased in the Garment District, while the gold Moroccan pouf was purchased at Imports from Marrakesh.
Apartment tour: 1BR in Kensington, Brooklyn
Musicians Anath Benais and Pablo Vergara create an exotic wonderland of flea-market finds and worldly treasures.