Heads up! We're working hard to be accurate – but these are unusual times, so please always check before heading out.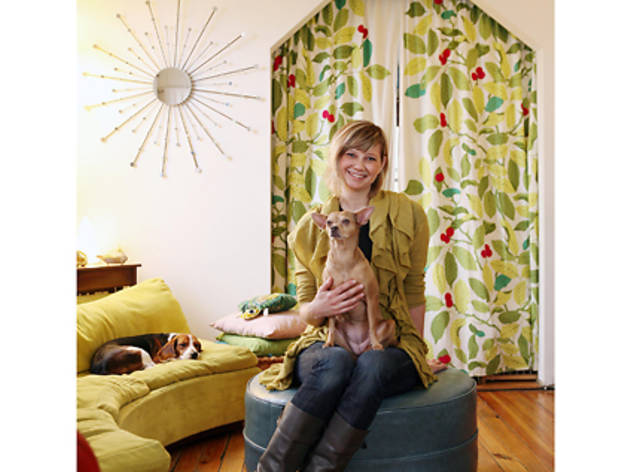 1/17
Photograph: Imogen Brown
Meg Allan Cole, with Gracie Strudel, a Chihuahua mix, and Milo Shoeshine, a beagle. Both are rescue dogs, another cause dear to the crafty lady's heart.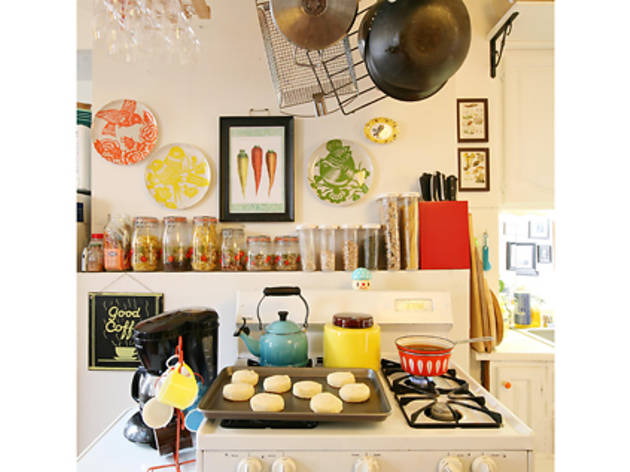 2/17
Photograph: Imogen Brown
The meticulously organized and festively colored kitchen doubles as a lab for Meg's Decor It Yourself podcast (threadbanger.com/decorityourself), on which she teaches other "nesters" how to fashion art pieces, strip floors and prepare organic cleaning products.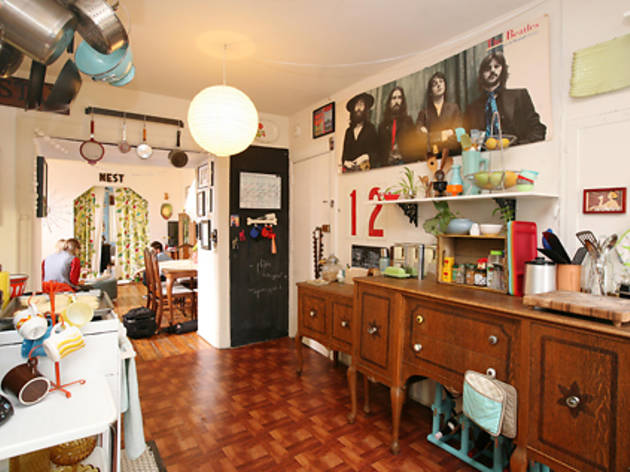 3/17
Photograph: Imogen Brown
Through a diner window years ago, Meg spotted a man carrying a huge Beatles poster and what looked like the contents of his office desk in a box, perhaps on his way to drink to his new unemployment. Minutes later, the five-foot-wide-plus poster flew past unattended. Meg rushed to its rescue; its original owner had vanished. Now it lords over her kitchen.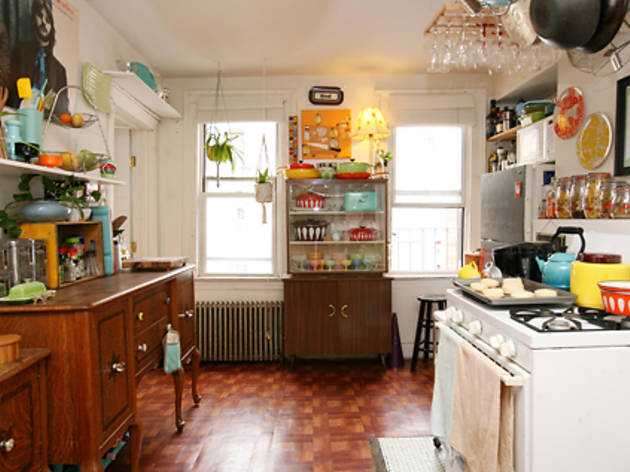 4/17
Photograph: Imogen Brown
Meg and Will refinished the kitchen floor with faux-wood laminate for an episode of Decor It Yourself.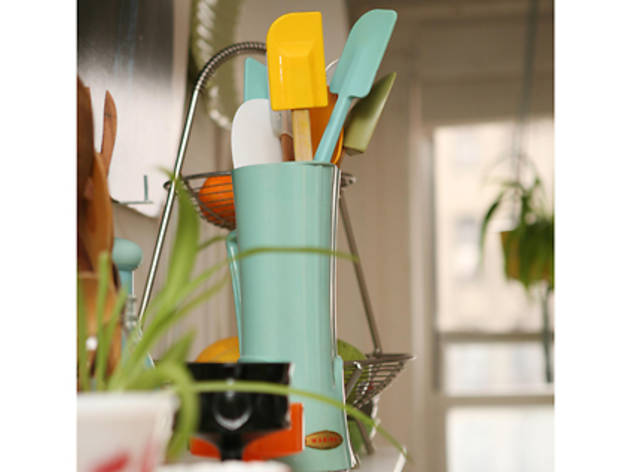 5/17
Photograph: Imogen Brown
This vintage blender belonged to Will's grandmother, and though it doesn't work, Meg found use for it as storage.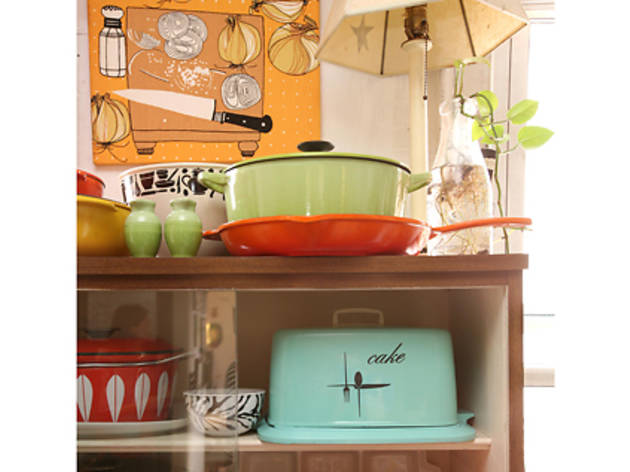 6/17
Photograph: Imogen Brown
Meg's beloved heirloom Cathrineholm collection.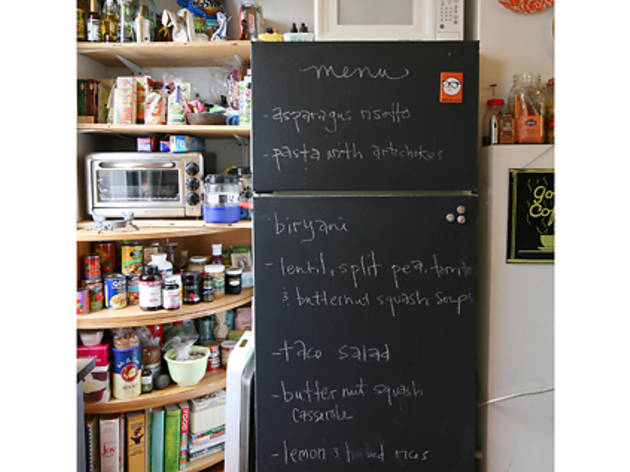 7/17
Photograph: Imogen Brown
"Our goal is to eat healthier this year," says Meg, who scribbles her and her husband's menus in chalk on the painted fridge door.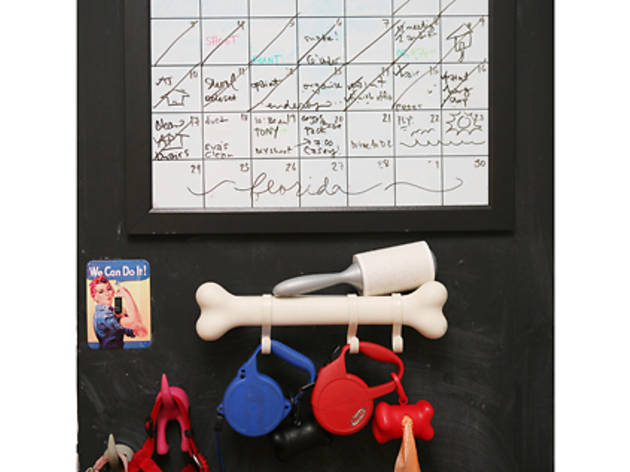 8/17
Photograph: Imogen Brown
Even the dogs have their own setup.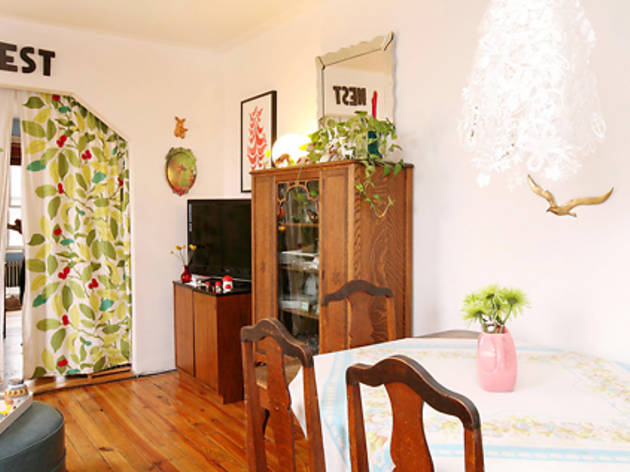 9/17
Photograph: Imogen Brown
Natural elements—plants, seascapes and organic forms—are at home in this nest. The lamp, by designer Tord Boontje, is one of Meg's favorite pieces; it even inspired her to make cutout art of her own.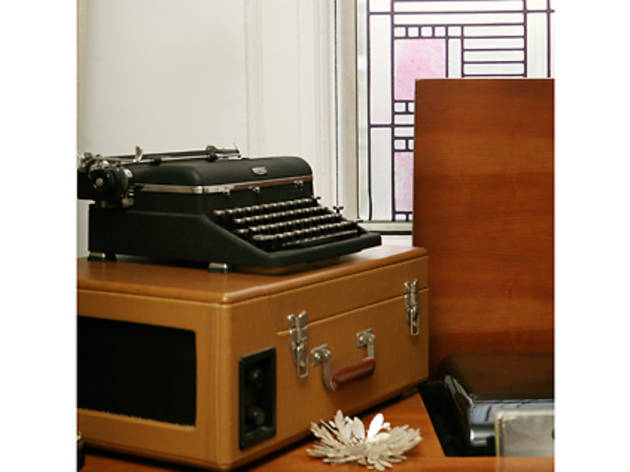 10/17
Photograph: Imogen Brown
Meg found the perfect solution to mask the noisy BQE: stained-glass appliqués from Lowe's. With the view masked, the constant hum transforms into a sort of ebbing urban tide. The original Royal typewriter, meanwhile, belonged to Meg's grandfather. "I don't think there's anything in this house that doesn't have a story," she says.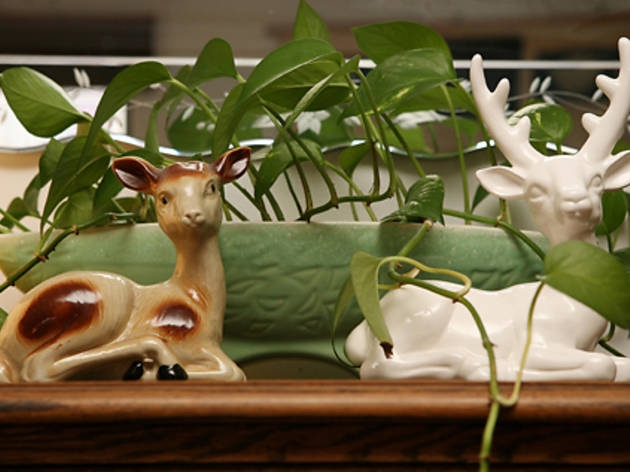 11/17
Photograph: Imogen Brown
Meg has inherited her grandfather's love of nature; she fondly recalls a time he took her to a deer sanctuary and they fed carrots to the animals.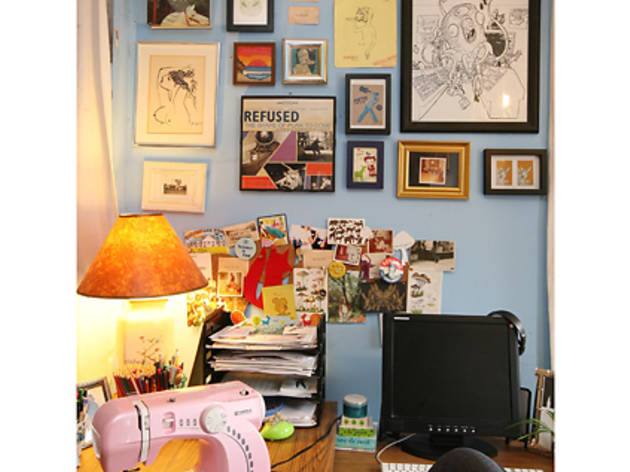 12/17
Photograph: Imogen Brown
Meg's design company (enderbydesigns.com) fits into the space between the office's "inspiration wall" and the headquarters of her husband's record company, Handstand (handstandrecords.com).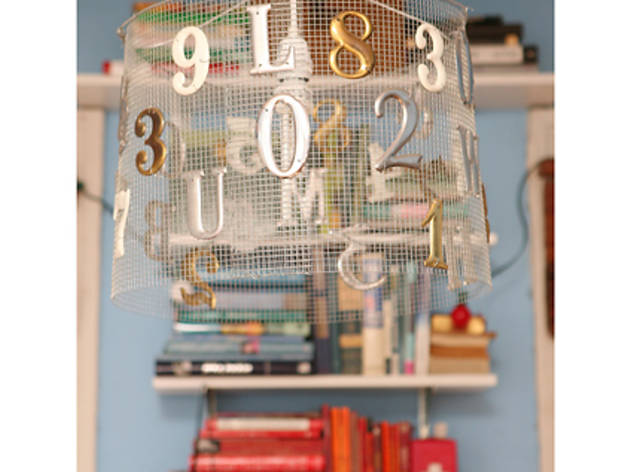 13/17
Photograph: Imogen Brown
Meg made the lamp that hangs in her office.
14/17
Photograph: Imogen Brown
Meg's best friend gave this needlepoint as an engagement gift; it's a reference to the Air Supply song "Two Less Lonely People in the World."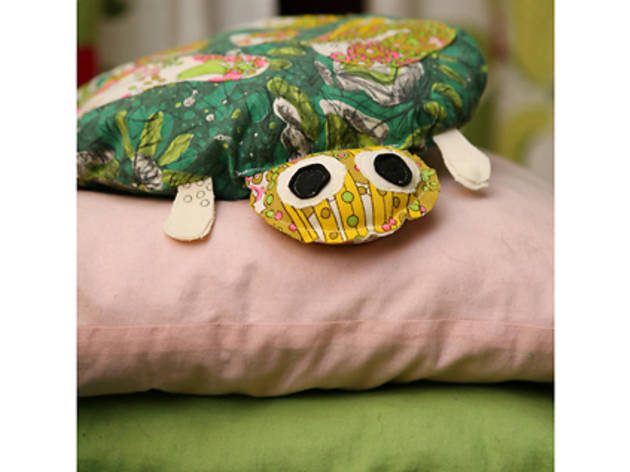 15/17
Photograph: Imogen Brown
Meg made this quirky pillow creation using vintage fabric.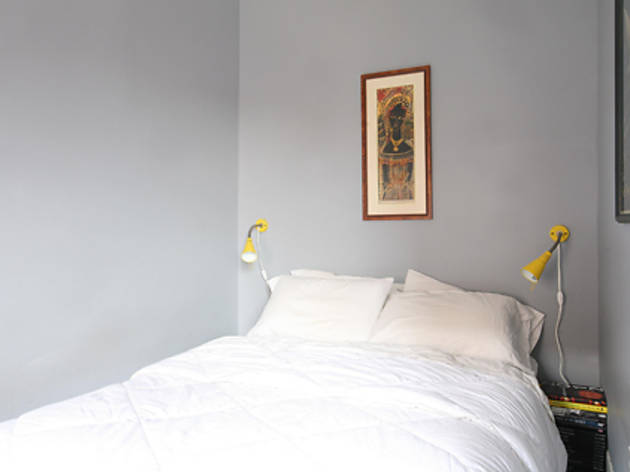 16/17
Photograph: Imogen Brown
The couple's bedroom is intentionally simple and actually has the same dimensions as their bathroom.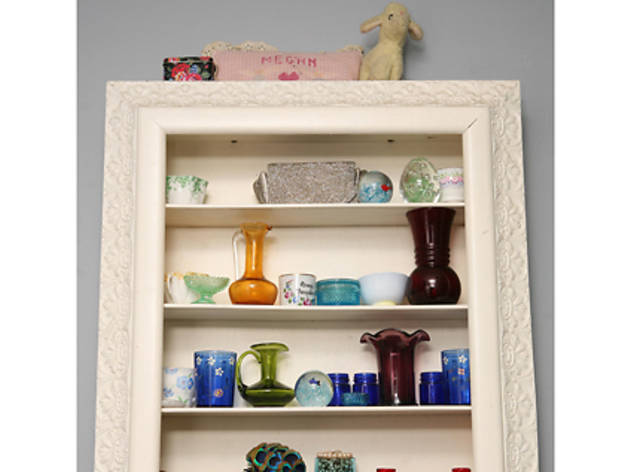 17/17
Photograph: Imogen Brown
Meg's grandfather made this hanging shelf by mounting what was once "a hideously gaudy gold frame." It is now filled with a collection of Meg's grandmother's glass in the bedroom.
Apartment tour: 1BR in Williamsburg
Sustainable-design maven Meg Allan Cole shows what can be accomplished with a little DIY attitude.
Love the look? Get it here!
Ashley G (ashleyganddrew.com)
This Portland, Oregon, designer (and friend of Meg's) has had her prints picked up by Urban Outfitters, but you can still buy her darling pieces for cheap through her Etsy store.
Junk (197 North 9th St at Driggs Ave, Williamsburg, Brooklyn; 718-640-6299, myspace.com/brooklynjunk)
Meg and her husband, Will, try to support stores and businesses that promote sustainability. They found their lime-green, crescent-shaped couch here.
Three Potato Four (threepotatofourshop.com) Meg often browses this design site for inspiration. The $35 flock print by Good Shape Design hangs over her television and is one of the few nonvintage items in the apartment.
Tord Boontje (www.tordboontje.com)The contemporary Dutch designer creates light installations that are modern and whimsical; his Midsummer Night lamp floored Meg. "I just had to have it," she says.
You might also like
See more Apartment tours
See more in Style & Design