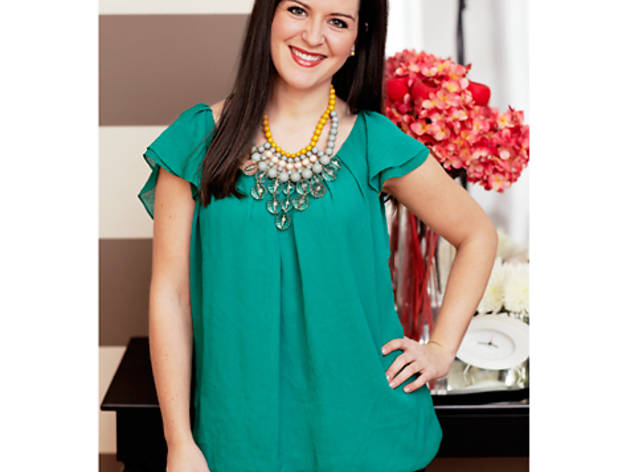 1/13
Photograph: Susanna Blavarg
Art buyer and part-time interior designer Hannah Flora (hannahkateflora.com) transformed her prewar classic-six rental into a four-bedroom pad where she and her three roommates can host social gatherings like "Taco Tuesdays" and football nights. "We wanted to move into a big apartment so we could have people over all the time," explains the Dallas native, who has appeared on HGTV's First Time Design. "When I first saw this place, there were beer cans and futons everywhere, but it had such potential," she recalls.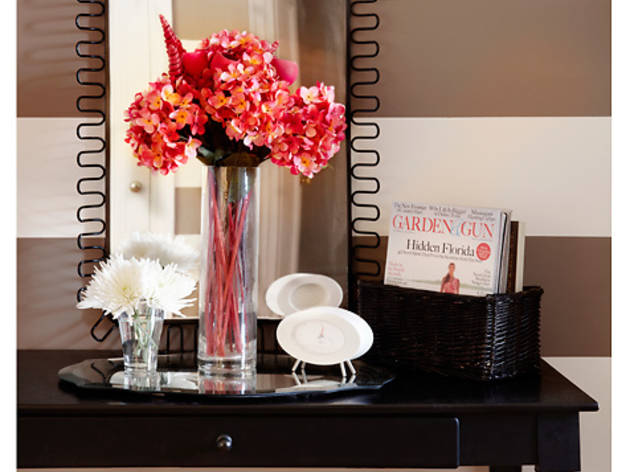 2/13
Photograph: Susanna Blavarg
"I'm a huge fan of Oops paint from Home Depot," says Flora, referring to cans of paint that were purchased and returned because they were the wrong color (and are therefore resold at a discount). "You can get a gallon of it for $5 and you can find great colors; it's the best way to affordably paint things." To spice up her foyer, she used Oops paint to create thick beige-and-white stripes on the walls.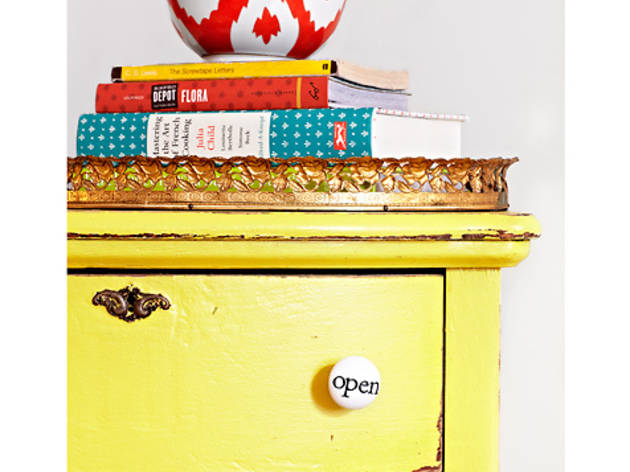 3/13
Photograph: Susanna Blavarg
Flora's favorite place for spotting unique pieces, like this antique dresser she painted bright yellow and turned into an entertainment unit, is on her walk to the subway. "I love finding things on the street and reclaiming them," admits Flora. "I call it 'street merch.'"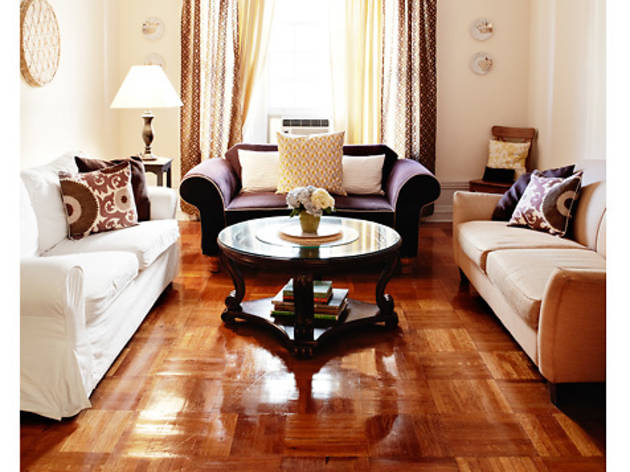 4/13
Photograph: Susanna Blavarg
"We've had to mesh styles," Flora concedes of living with three other people. As a result, her spacious living room contains three contrasting couches—each brought to the apartment by a different roommate—that she unified with matching patterned pillows, made by her roommate's mother.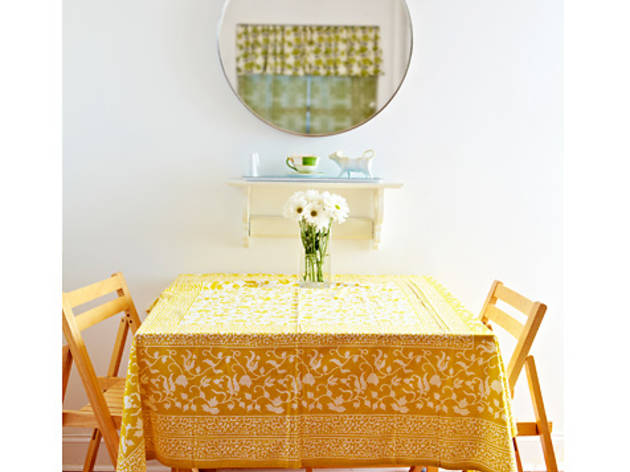 5/13
Photograph: Susanna Blavarg
"I come from a really creative family," acknowledges Flora. "My mom is the most crafty, thrifty person I know." Flora's mother scouts Dallas home-goods stores and regularly sends her care packages of odds and ends for the apartment, like the cheery yellow-and-white floral tablecloth on her kitchen table.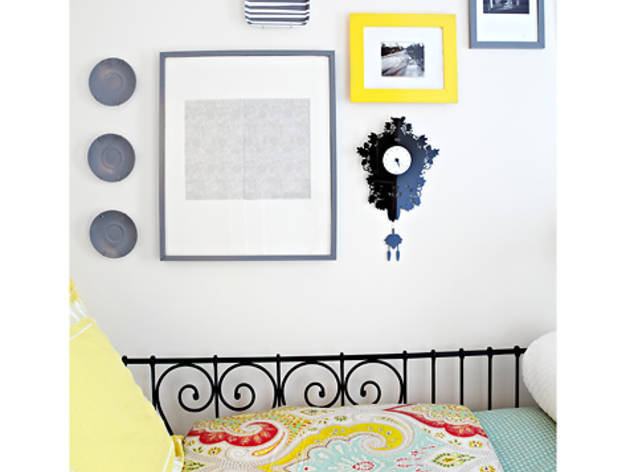 6/13
Photograph: Susanna Blavarg
"I love a good spatial challenge," says Flora, referring to her pint-size, 70-square-foot bedroom, which once served as the maid's quarters. She's constantly changing the art in the room, but right now her walls showcase frames that she's collected from craft stores like Michael's and a modern cuckoo clock she found at Urban Outfitters.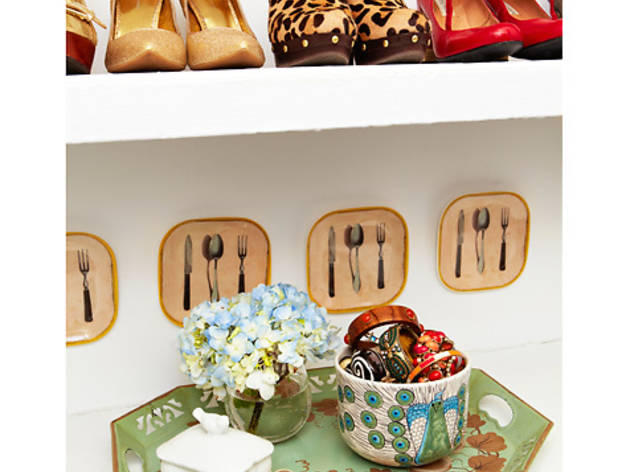 7/13
Photograph: Susanna Blavarg
Flora uses porcelain bowls and antique trays to store her jewelry and other keepsakes. Her shoe collection, meanwhile, is displayed on shelves that were once part of the butler's pantry. "I'm all about creative storage," she explains. "Everything I own can be used in a variety of different ways. I find things that I love and I make them work."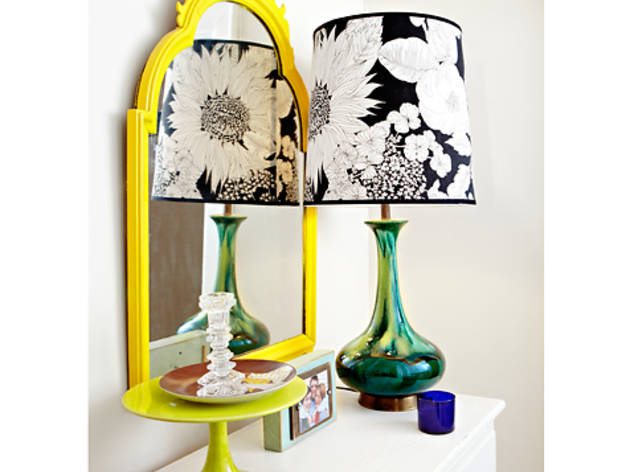 8/13
Photograph: Susanna Blavarg
A flea-market junkie, Flora is always on the hunt for funky accent pieces at the GreenFlea Market (Columbus Ave between 76th and 77th Sts; 212-239-3025, greenfleamarkets.com). It's where she discovered this iridescent green lamp base and vintage mirror that she repainted in a bold yellow for what she calls an "old-meets-new" look.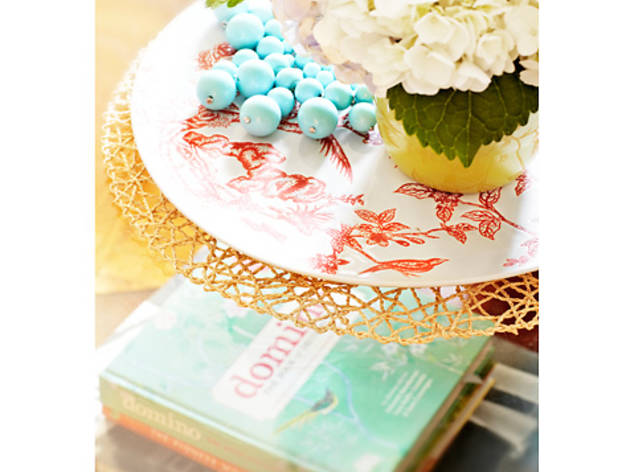 9/13
Photograph: Susanna Blavarg
Flora's design aesthetic, which she describes as "modern traditionalist with some Anthropologie charm," is so distinctive, her friends will often gift her items that fit right into her apartment. One example is this chartreuse vase, which serves as a centerpiece on her coffee table. "One of our superintendents has even started setting aside furniture he thinks I'll like," she laughs.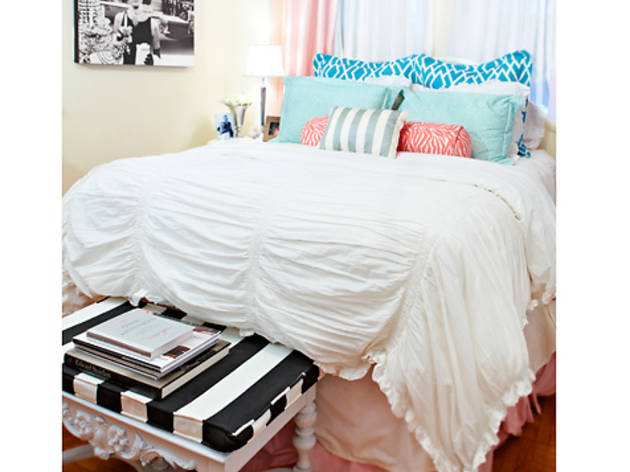 10/13
Photograph: Susanna Blavarg
"She has fun, girly, loud style—very Old Hollywood glamour," says Flora of her fashion-designer roommate, Lindsay Ann Wonson, whom she often collaborates with on decorating. "Her mom is incredibly savvy with a sewing machine," Flora enthuses. "She'll mail us a dozen swatches, we'll pick our favorites and then a couple of weeks later, we have new pillows waiting for us." Vibrant examples of this creative process jazz up Flora's roommates' otherwise stark-white bedding.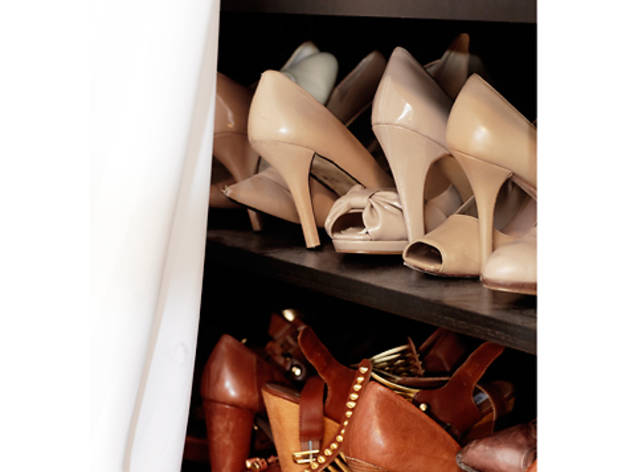 11/13
Photograph: Susanna Blavarg
Flora isn't the only resourceful one around the apartment: To create more storage, Flora's roommate hung giant pieces of white fabric from the ceiling with curtain rods to create a wall-length closet that would hide her clothing and shoes while still blending in with her room.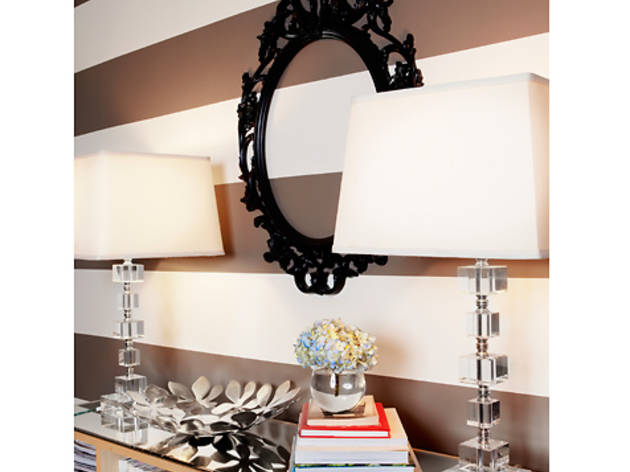 12/13
Photograph: Susanna Blavarg
Flora hits up Scandinavian home-furnishings superstore Ikea (1 Beard St at Otsego St, Red Hook, Brooklyn; 718-246-4532, ikea.com) for affordable accessories, like the silver, flower-etched decorative bowl and oversize black oval picture frame, which she hung without the glass, adorning her foyer. "I love home goods with personality, character and function," explains Flora. "This frame is one of those pieces with just the right amount of spark."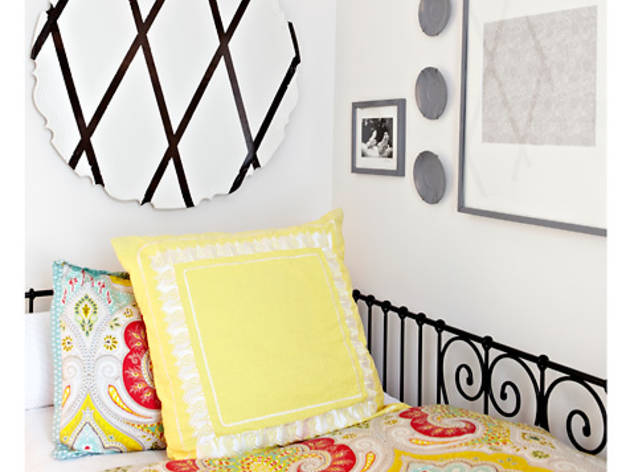 13/13
Photograph: Susanna Blavarg
"I love fabric, patterns and found furniture," gushes Flora, who painted a tabletop she discovered on the street with white paint and applied blue tape to form the crisscrossing diamond pattern. The reworked piece hangs above her twin bed.
Apartment tour: 4BR on the Upper West Side
Art buyer Hannah Flora proves you don't need a big budget to create eye-popping decor.
Love the look? Get it here!
Housing Works 306 Columbus Ave between 74th and 75th Sts (212-579-7566, shophousingworks.com)
When she's not rescuing discarded furniture from the streets, Flora can be found searching for preloved pieces at this popular thrift store.
Fishs Eddy 889 Broadway between 19th and 20th Sts (877-347-4733, fishseddy.com)
Flora buys dinnerware—both for eating from and displaying as art—from this housewares hot spot. "I'm from Texas and went to college in Alabama," says Flora. "Call me Southern, call me traditional, but I just love hanging plates on the wall!"
Olde Good Things 124 W 24th St between Sixth and Seventh Aves (212-989-8401, ogtstore.com)
Flora enjoys browsing the one-of-a-kind vintage and antique offerings at this Chelsea shop even though the goods always in her price range.
You might also like
See more Apartment tours
See more in Style & Design