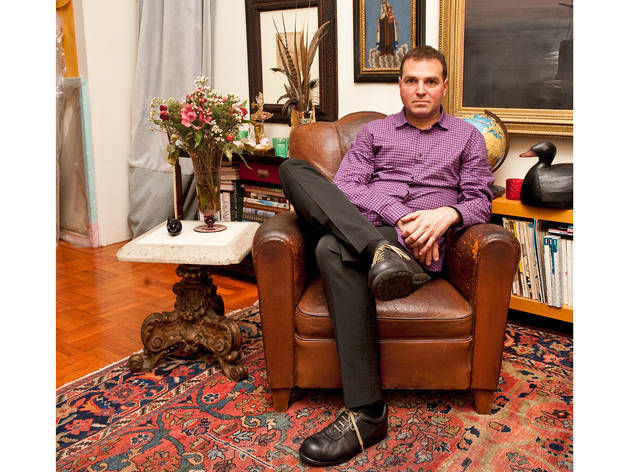 1/17
Photograph: Caroline Voagen Nelson
John Serdula, a part-time painter and former director of the defunct Annina Nosei Gallery, covers every inch of wall space in his rent-stabilized studio with assorted paintings and photographs from his favorite artists. The proud graduate of Pennsylvania Academy of the Fine Arts and Cranbrook Academy of Art in Michigan has lived in his 450-square-foot space for the past 14 years, and currently shares it with a pet rabbit named Bunny and a parrotlet called Bluebird. Serdula's well-curated hodgepodge of styles, ranging from antique to contemporary, make for pure artistic eye candy. "When I get a new piece, things get changed," says Serdula of his ever-evolving apartment. "It's always ongoing."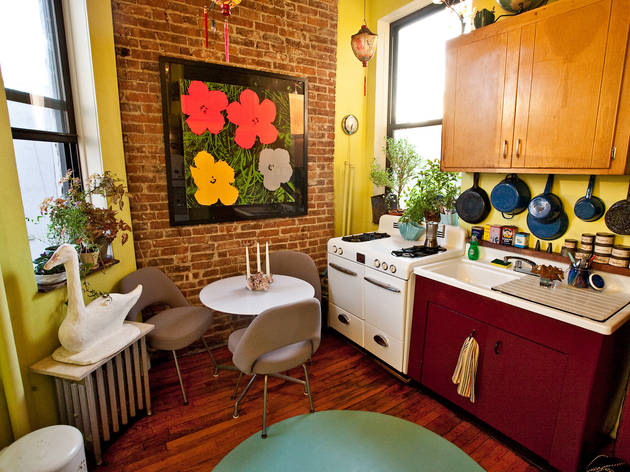 2/17
Photograph: Caroline Voagen Nelson
"I used to work in advertising sales at Art in America (artinamericamagazine.com), and [the office] had a whole suite of them," says Serdula, referring to the bold floral Andy Warhol print he purchased at a Christie's auction (20 Rockefeller Plaza between Fifth and Sixth Aves; 212-636-2000, christies.com). "Every morning, [the prints] greeted you. I said, 'As soon as I make some money, I'm going to buy one.' " It hangs prominently above a trio of Eero Saarinen chairs and an Eames table, which are both from vintage shop Two Jakes (320 Wythe Ave between Grand and South 1st Sts, Williamsburg, Brooklyn; 718-782-7780, twojakes.com). A barnacle candleholder from art and antique warehouse Center44 (222 E 44th St between Second and Third Aves, second floor; 212-450-7988, center44.com) serves as the table's centerpiece, while painted-silk Chinese lanterns from Leekan Designs (4 Rivington St between Bowery and Christie St; 212-226-7226, leekan.com) dangle overhead.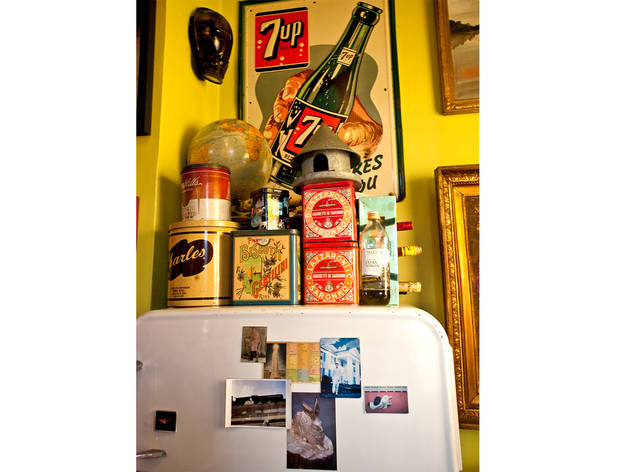 3/17
Photograph: Caroline Voagen Nelson
"Growing up, we had Charles Chips; they would come to deliver them," says Serdula, nostalgically referring to the old-fashioned food tins lining the top of his refrigerator (some were collected from childhood, while others are more recent supermarket buys). To keep in theme with the kitchen's food-related decor, Serdula hung a vintage 7Up poster from Center44. A globe scored at the Pier Antiques Show (stellashows.com) and a tin birdhouse purchased at Swallow (361 Smith St between 1st Pl and 2nd St, Carroll Gardens, Brooklyn; 718-222-8201, dearswallow.com) amplify the retro vibe.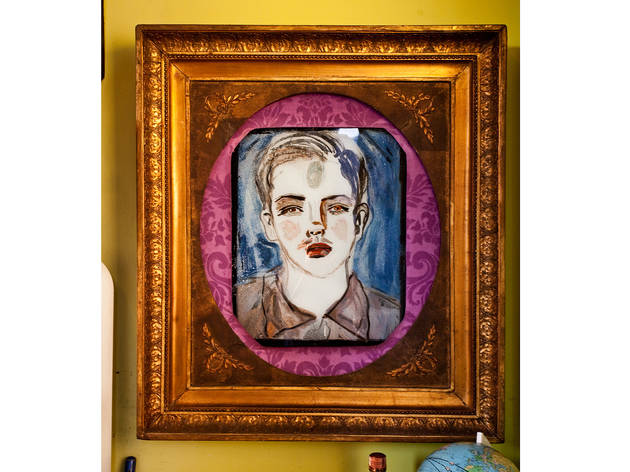 4/17
Photograph: Caroline Voagen Nelson
Serdula was once an apprentice to Julio Galán (juliogalanweb.com), and he still keeps several of the late Mexican artist's paintings throughout his studio, including this vibrant self-portrait mounted in his kitchen. It pops against equally punchy Pratt & Lambert (prattandlambert.com) paint in Cat's Eye yellow.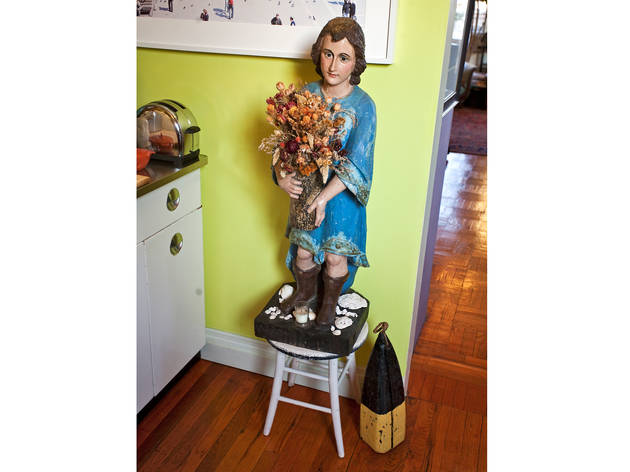 5/17
Photograph: Caroline Voagen Nelson
Serdula purchased this 19th-century carved-wood memorial statuefrom the Philippines of baby Jesus at Jacques Carcanagues Gallery (21 Greene St between Canal and Grand Sts; 212-925-8110, jacquescarcanagues.com). It stands on a stool that Serdula inherited from his grandmother and is flanked by an old buoy from the Brimfield Antique Show (brimfieldshow.com) in Massachusetts.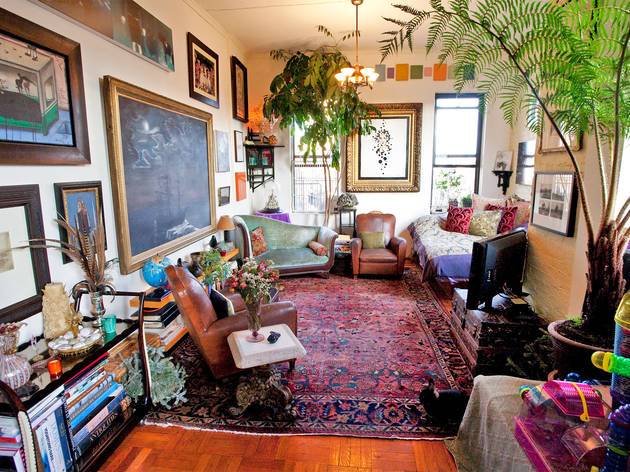 6/17
Photograph: Caroline Voagen Nelson
"The biggest challenge is how things relate to one another—how to put things together," admits Serdula of trying to showcase all of his acquisitions in a single small space. Serdula rotates his growing collection of paintings in order to give each one wall space.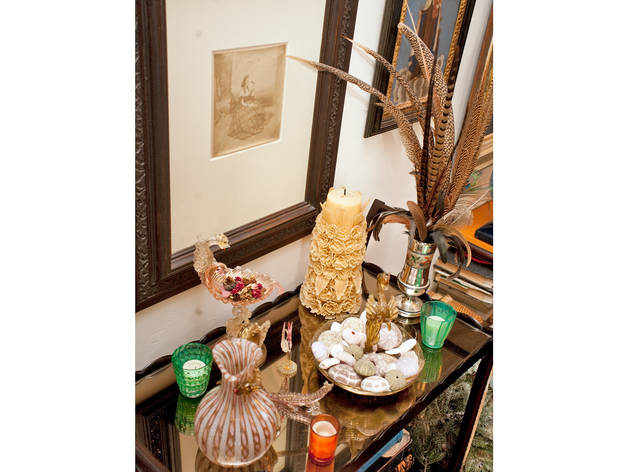 7/17
Photograph: Caroline Voagen Nelson
"This is the oldest piece that I have," notes Serdula, admiring his prized 19th-century photograph of the Contessa of Castiglione from Phillips de Pury & Company (450 Park Ave at 57th St, 212-940-1300 • 450 W 15th St between Ninth and Tenth Aves, 212-940-1200 • phillipsdepury.com). "She was considered the most beautiful woman from the 1880s." It hangs above an Italian Art Deco tea cart—purchased at Gaspare Asaro (243 E 60th St between Second and Third Aves, 917-386-8380)—covered in bric-a-brac, including a candle from Mexico and a bouquet of pheasant and peacock feathers from the Flower District.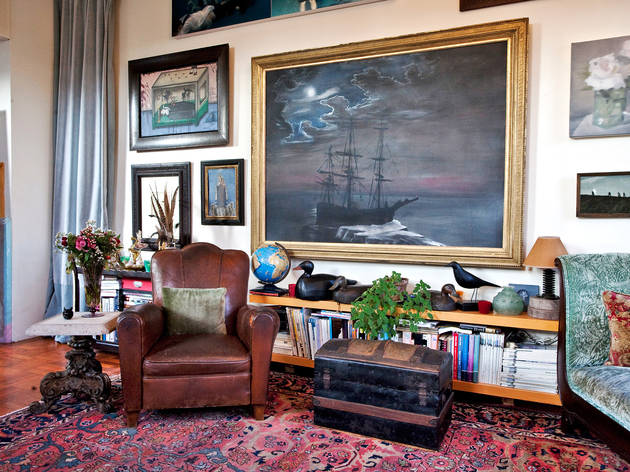 8/17
Photograph: Caroline Voagen Nelson
The voracious art collector often picks up pieces from gallery shows he has helped curate, including German painter Julia Oschatz's (juliaoschatz.com) ominous painting of a ship at sea, which was part of the 2010 "New Narrative" exhibit at Heskin Contemporary (443 W 37th St between Ninth and Tenth Aves; 212-967-4972, heskincontemporary.com). Serdula had the seat of the worn leather chair—scored at the Pier Antiques Show in the 1990s—redone by Renaissance Upholstery (655 W 177th St between Broadway and Wadsworth Ave; 212-543-3342). An antique steamer trunk that's part of a pair from his childhood home doubles as storage and enhances the traditional look. "They came with the house I grew up in," explains Serdula. "When we bought the house, they were the only things left."
9/17
Photograph: Caroline Voagen Nelson
Serdula's love for animal-related art is evident throughout the apartment. Duck decoys from New Jersey dealer A Bird in Hand Antiques (abirdinhand.com) rest next to a globe from the Brimfield Antique Show in his living area.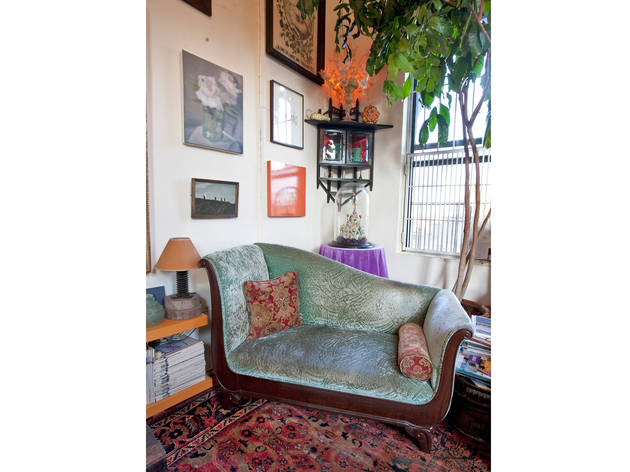 10/17
Photograph: Caroline Voagen Nelson
Serdula often relaxes on this vintage velvet settee from Center44, topped with brocade pillows sewn by Renaissance Upholstery.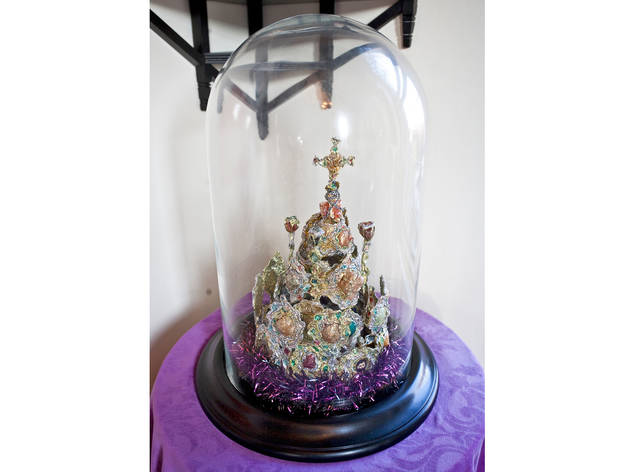 11/17
Photograph: Caroline Voagen Nelson
This tinsel-embellished Tommy Lanigan-Schmidt piece represents a Russian czar-style crown and is from one of Serdula's many gallery shows. Encased in glass, it sits inconspicuously in the corner of the living room.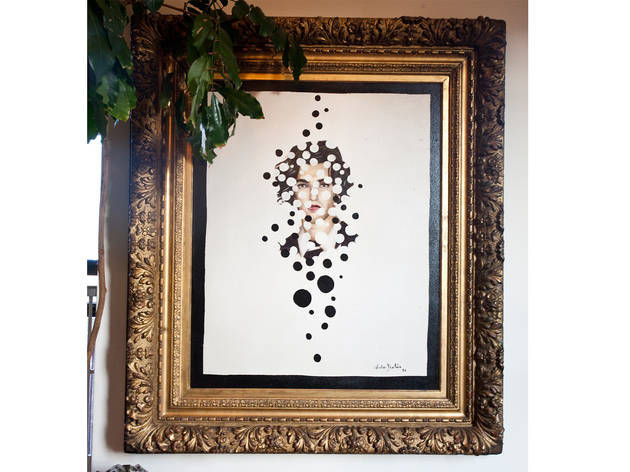 12/17
Photograph: Caroline Voagen Nelson
A Julio Galán devotee, Serdula hung the artist's Neo-Expressionist self-portrait beside his bed.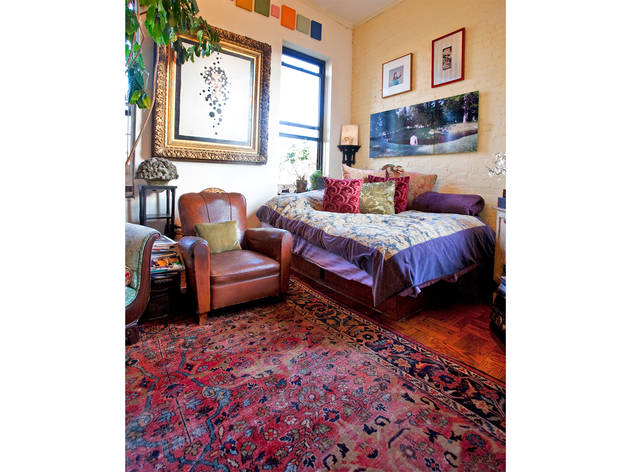 13/17
Photograph: Caroline Voagen Nelson
Contemporary artist Allan McCollum (allanmccollum.net) gifted Serdula the 16 square acrylic-on-hydrostone solid-color paintings, hung in a row on the wall, when Serdula worked for him. To make the space feel warm and homey, Serdula bought a large Persian rug from Carpet Culture (95 Crosby St between Prince and Spring Sts; 212-219-2315, carpet-culture.com). Foliage from the Flower District gives the room a lush feeling.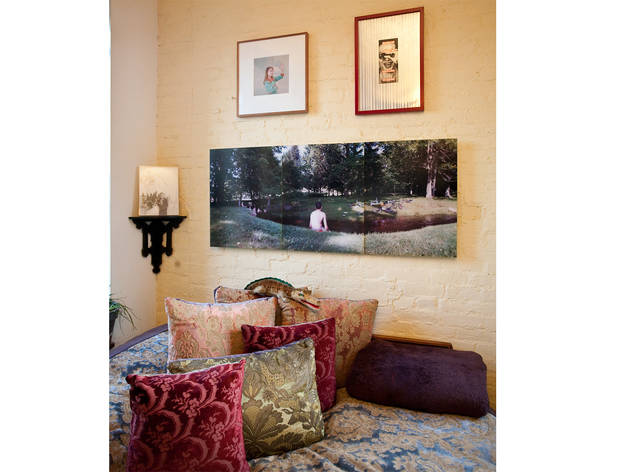 14/17
Photograph: Caroline Voagen Nelson
"I have these great ladies who upholster anything and make pillows," says Serdula of his go-to team at Renaissance Upholstery. It's where he went to have the intricate, rich textiles from Joe's Fabrics (102 Orchard St between Broome and Delancey Sts; 212-674-7089, joesfabrics.com) and Zarin Fabrics (314 Grand St between Allen and Orchard Sts; 212-925-6112, zarinfabrics.com) sewed into his bedroom pillows and comforter. A 1960s stuffed alligator from Vintage Thrift (286 Third Ave between 22nd and 23rd Sts; 212-871-0777, vintagethriftshop.org) surveys the room from atop his custom cushions. In lieu of a headboard, Serdula hung a trio of photographs above his bed: a David Hiller (davidhiller.com) panorama purchased at Yancey Richardson Gallery (535 W 22nd St between Tenth and Eleventh Aves; 646-230-9610, yanceyrichardson.com), a Barbara Kruger silk screen from a private dealer in New York and a Loretta Lux (lorettalux.de) piece bought at Holland's Torch Gallery (torchgallery.com).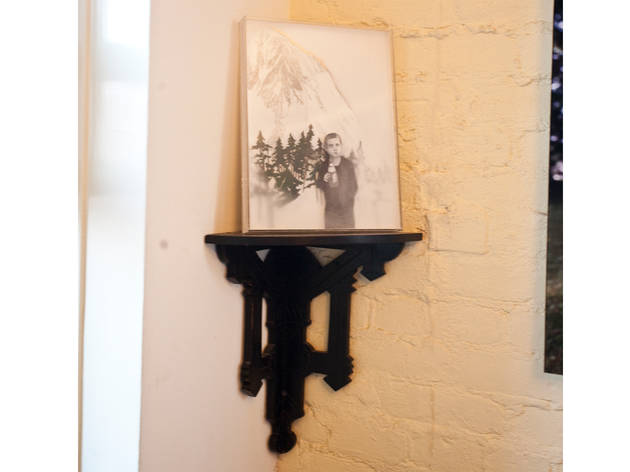 15/17
Photograph: Caroline Voagen Nelson
"I bought it on a whim and now it's worth a lot of money," says Serdula of this black-and-white sketch from Torch Gallery. It's one of Williamsburg photographer Anthony Goicolea's (anthonygoicolea.com) first works on paper. Serdula propped it up on a wooden corner shelf from George Baker Picture Frames (150 Ninth Ave between 19th and 20th Sts, 212-675-8855).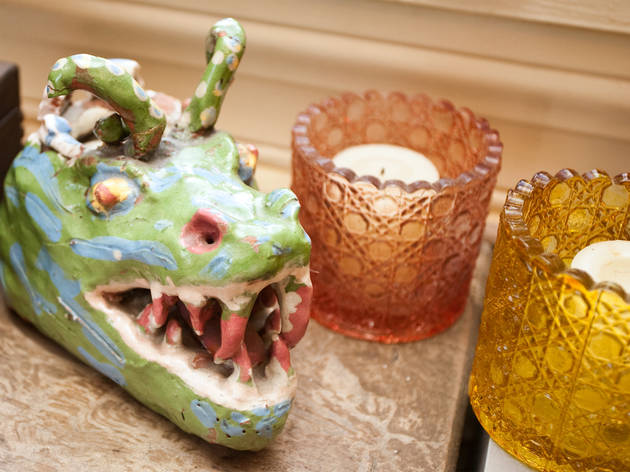 16/17
Photograph: Caroline Voagen Nelson
Serdula received this painted dragon head from a camper at the City of Philadelphia Art Camp, where he taught one summer. It sits on his bedside windowsill next to two delicate glass votives from Aero Studios.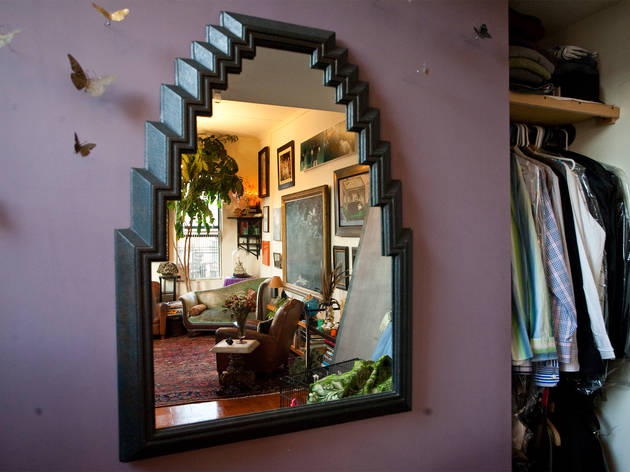 17/17
Photograph: Caroline Voagen Nelson
To create more room for storage, Serdula built a makeshift closet out of two pieces of plywood. He hung a French Art Deco mirror from Center44 to help disguise it as part of the sliding wall and surrounded the looking glass with delicate Paul Villinski butterflies purchased from Morgan Lehman Gallery (535 W 22nd St between Tenth and Eleventh Aves; 212-268-6699, morganlehmangallery.com).
Apartment tour: Studio in the East Village
Painter John Serdula uses his NYC studio apartment as a gallery for his ever-growing, rotating art collection.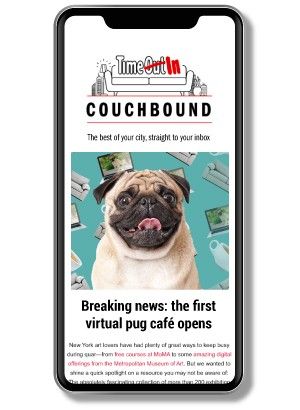 An email you'll actually love
Sign up to our Couchbound newsletter and bring the city to your sofa
Subscribe now