Apartment tour: Studio on the Lower East Side
Brett David, general manager of Sons of Essex and Cocktail Bodega, proves that there's strength in numbers by filling his bachelor pad with empty glass bottles, melted candles and vintage pinups.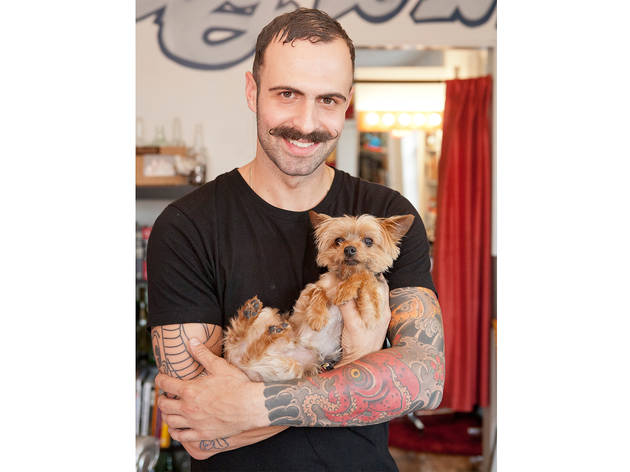 1/17
Photograph: Mimi Ko
As general manager of sceney restaurant Sons of Essex(133 Essex St between Rivington and Stanton Sts; 212-674-7100, sonsofessexles.com) and recently opened lounge Cocktail Bodega(205 Chrystie St at Stanton St; 212-673-2400, cocktailbodega.com), Brett David spends most nights at work, which prompted a relocation from the Upper West Side to the Lower East Side in January to cut down on the commute. "It was a total dump," admits David when recalling his initial impression of the fifth-floor walk-up studio, which hasn't been renovated in almost 40 years. The 33-year-old Brooklyn Heights native, who shares the 350-square-foot space with his teacup Yorkie, Napoleon, immediately began revamping, infusing the cozy apartment with his masculine touch. "If you're creative, you don't have to spend a lot of money," he says of his old-school urban aesthetic.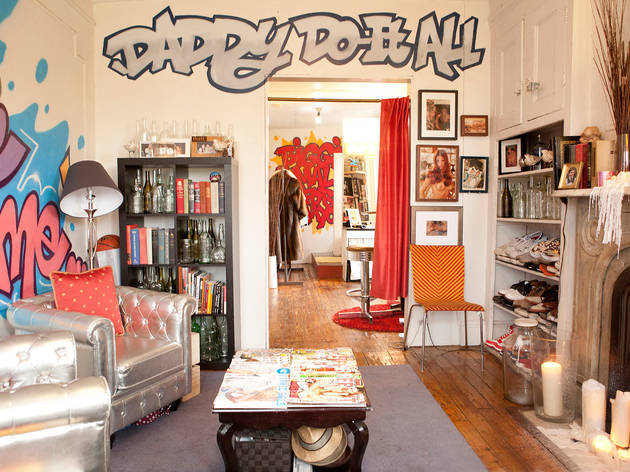 2/17
Photograph: Mimi Ko
Rather than hang art, David tapped graffiti artist Doug Aldrich (dougaldrichdesign.com) to spray-paint his favorite quotes and Notorious B.I.G. rap lyrics on the white walls of his apartment. The phrase "daddy do it all" refers to David's nickname, bestowed on him by friends, and also serves as his Instagram handle.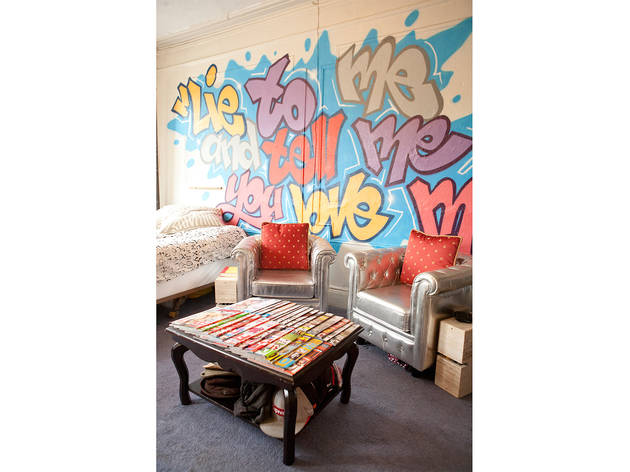 3/17
Photograph: Mimi Ko
"I go shopping every day," admits David. "I always have my eyes open." He discovered the simple wood coffee table and metallic armchairs—adorned with star-print throw pillows from Housing Works(locations throughout the city; visit shop.housingworks.org)—in Sons of Essex's storage warehouse on Gansevoort Street, where he was searching for furniture for a restaurant event. The phrase "lie to me and tell me you love me", spray-painted across David's bedroom wall, is one of his favorite personal sayings (he has the mantra tattooed on his ribs).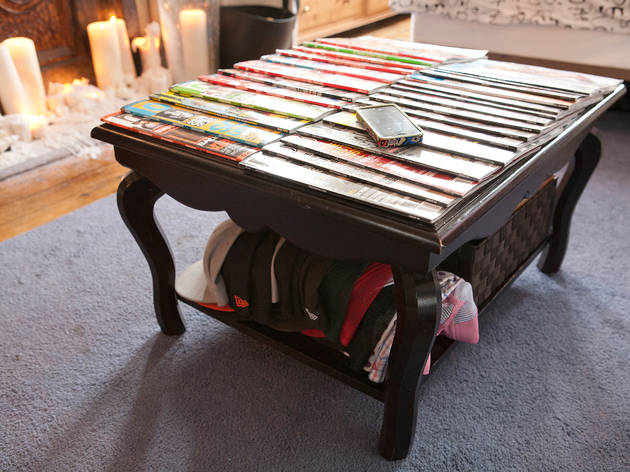 4/17
Photograph: Mimi Ko
Tattoo and fashion magazines such as Inked and Front litter the top of David's coffee table, whose bottom tier houses his prized collection of newsboy caps from Billy Reid(54 Bond St between Bowery and Bond St; 212-598-9355, billyreid.com), as well as fedoras and knit skullcaps that he purchases from street vendors for $10.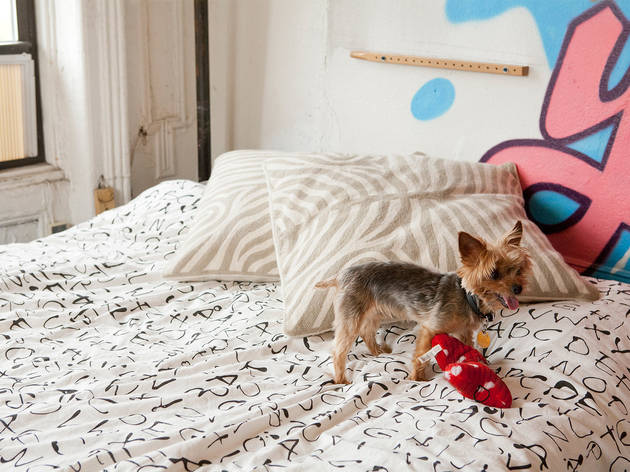 5/17
Photograph: Mimi Ko
"Napoleon is the product of a broken home," jokes David, referring to his tiny canine roommate who loves playing on his Ikea(1 Beard St between at Halleck St, Red Hook, Brooklyn; 718-246-4532, ikea.com) alphabet bedsheets and Williams-Sonoma (locations throughout the city; visit williams-sonoma.com) zebra throw pillows. "When my ex-girlfriend broke up with me she said, 'Take my dog, too.' She still sees him twice a week. He gets more conjugal visits than I do."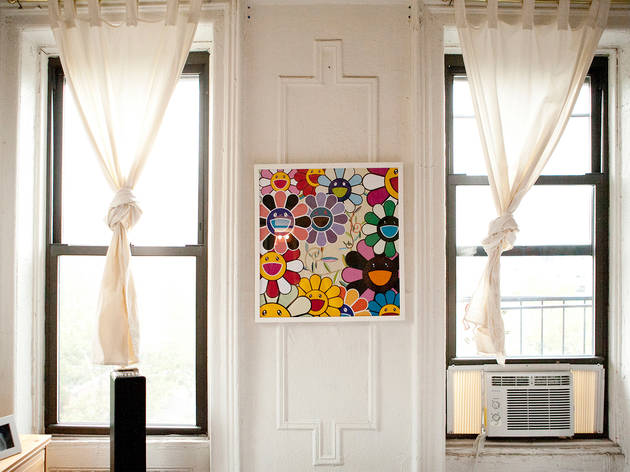 6/17
Photograph: Mimi Ko
A Pop Art fan, David bought this playful Takashi Murakami flower print from "some shady woman selling prints on the street," he recalls. The gauzy white curtains were left behind by the apartment's previous renter, although David put his own spin on the drapes by knotting them. "My bed faces east, so I love the sun to wake me up at the crack of dawn," he explains. "Nature is the best alarm clock."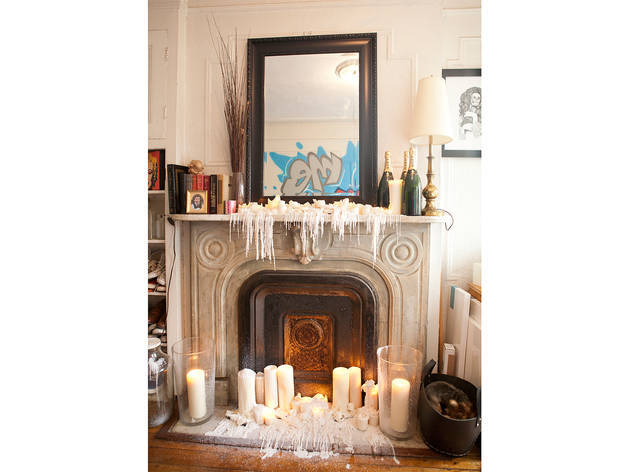 7/17
Photograph: Mimi Ko
David melts white candles from Crate & Barrel(611 Broadway at Houston St, 212-780-0004 • 650 Madison Ave at 60th St, 212-308-0011 • crateandbarrel.com) around his nonfunctioning fireplace, creating a gothic but homey feel. A pair of oversize glass candleholders from Ikea flank the hearth, while a large mirror purchased at HomeGoods (795 Columbus Ave at 99th St; 212-280-6303, homegoods.com) and bottles of Moët taken home from an event at Sons of Essex adorn the mantel.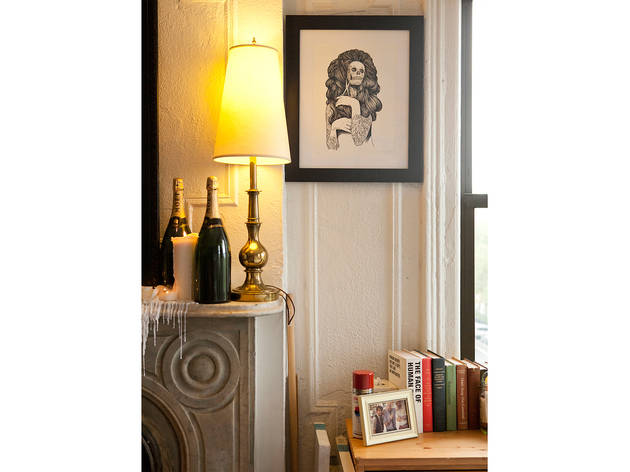 8/17
Photograph: Mimi Ko
Tattoo artist Gustavo Rizério (gustavorizerio.com) created this ink skeleton drawing. David kept the brass lamp, left behind by the previous tenant, for extra lighting.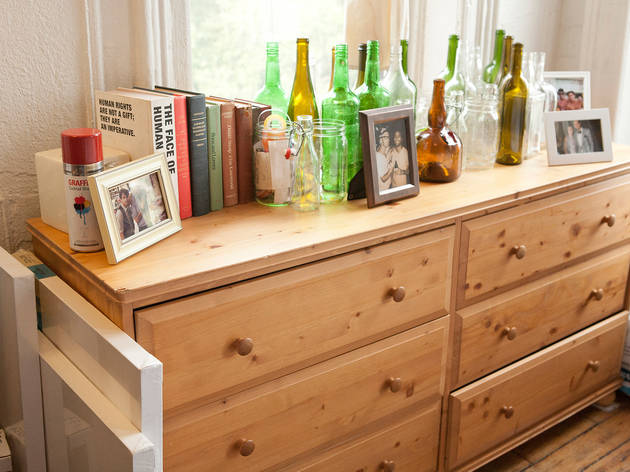 9/17
Photograph: Mimi Ko
David's friend sold him this light-wood dresser for $50. "I haven't spent a lot of money to decorate because I'm not going to be here a long time," he admits. He uses it to display photos of friends, books from The Strand Book Store(828 Broadway at 12th St; 212-473-1452, strandbooks.com) and spillover from his glass-bottle collection.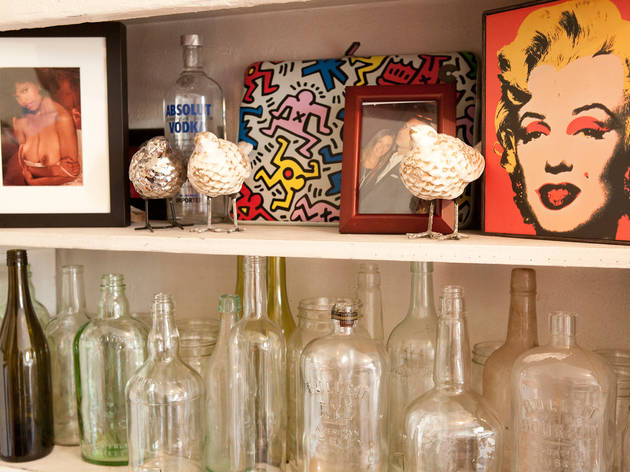 10/17
Photograph: Mimi Ko
"I love the look of old-fashioned bottles," enthuses David. "They're cheap to decorate with when you run a restaurant because we'll go through 50 bottles a night, and you just peel the labels off." The vessels fill an entire shelf of this built-in bookcase, which also showcases a Keith Haring–designed laptop sleeve, a trio of bird statues picked up at HomeGoods and a small Marilyn Monroe painting from Quality Art & Framing (909 Second Ave between 48th and 49th Sts; 212-826-2693, qualitydiscountframing.com).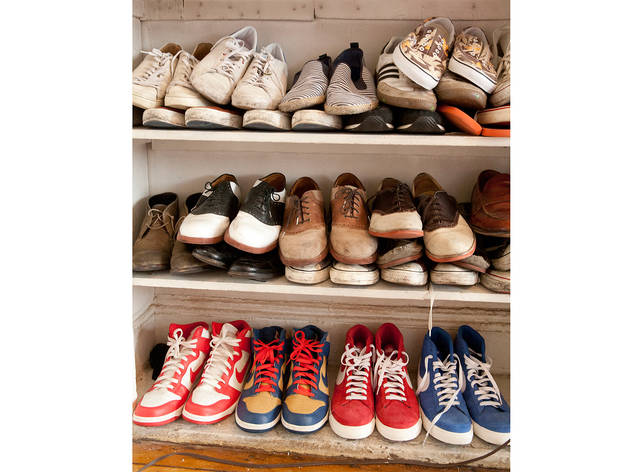 11/17
Photograph: Mimi Ko
You can't teach someone to be stylish," notes David. "That's why there are a lot of people in L.A. who make a lot of money." The fashion lover uses the bottom half of his bookshelf to showcase his growing footwear collection. He frequents the Barneys Warehouse sales (barneys.com), as well as favorite shoe stores such as Converse (560 Broadway between Prince and Spring Sts; 212-966-1099, converse.com) and Supreme(274 Lafayette St between E Houston and Prince Sts; 212-966-7799, supremenewyork.com), regularly adding to his dozens-deep display.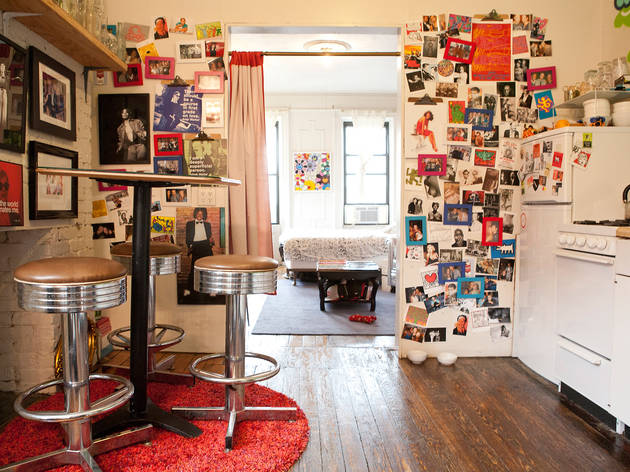 12/17
Photograph: Mimi Ko
Though he rarely cooks at home, David's kitchen walls are adorned with dozens of photographs of friends and family, colorful postcards and pages torn from magazines. "I don't really like order," he explains. "I like things random and fun. There is no rhyme or reason." David hung a red curtain from West Elm (1870 Broadway at 62nd St, 212-247-8077 • 112 W 18th St between Sixth and Seventh Aves, 212-929-4464 • 75 Front St at Main St, Dumbo, Brooklyn; 718-875-7757 • westelm.com) between the kitchen and bedroom to separate the two and provide some privacy.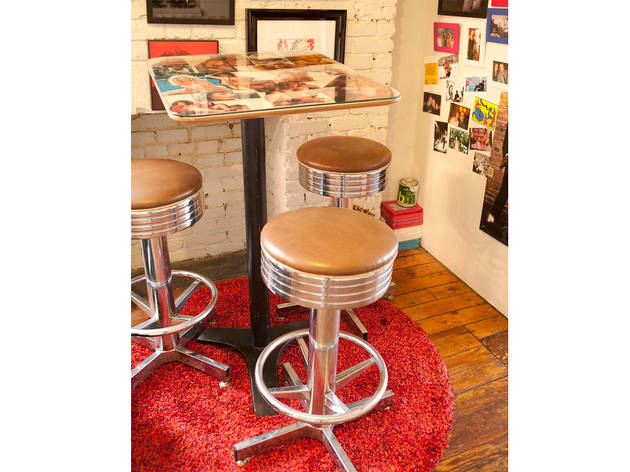 13/17
Photograph: Mimi Ko
A collector of vintage Playboy and Penthouse magazines, David incorporates centerfolds into his decorating. "I love beautiful, big-breasted women," he says. "I went back to the old aesthetic before fake tits took over everything." He constructed his kitchen table by sandwiching cutouts of his favorite well-endowed models between a stand found at a garage sale and a panel of custom-cut glass. David then added a trio of 1950s diner-style barstools—another restaurant warehouse find—and a red circular rug from Ikea to complete the retro look.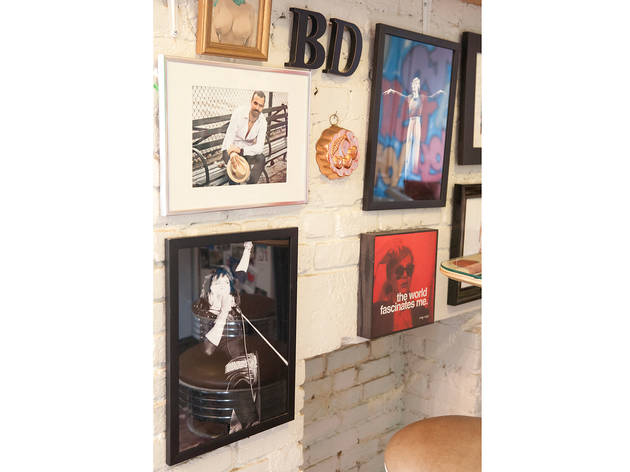 14/17
Photograph: Mimi Ko
David has several vintage rocker photos, including these two of Freddie Mercury and Mick Jagger, which were gifted to him by his uncle and longtime celebrity photographer Dustin Pittman (dustinpittman.com). The snapshot of himself is from his modeling portfolio—David is signed with Lauren Green Agency (laurengreenagency.com)—and one of his favorites taken by New York portrait and fashion shutterbug Vinh Luong (vinhluong.com). He picked up the letters that form his initials from a vendor on Prince Street and purchased the Andy Warhol canvas from Manhattan Frame and Art (350 Seventh Ave between 29th and 30th Sts, ninth floor; 212-268-5643, manhattanframe.com). "I wish he were alive today to see the world we've become," says David. "I think he would hate it almost as much as he'd love it."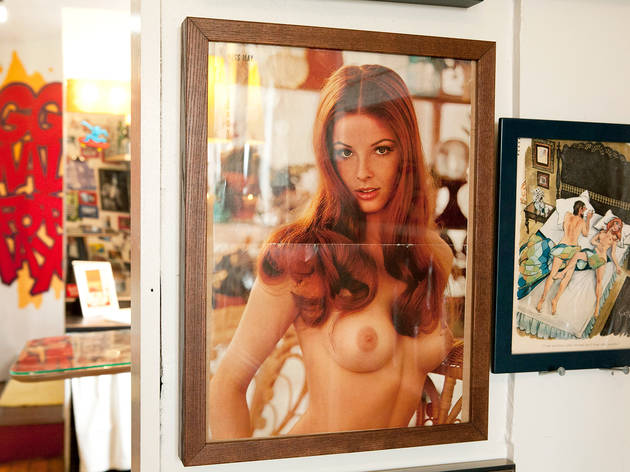 15/17
Photograph: Mimi Ko
David framed this 1970s Playboy pinup in a solid wood frame from Surprise Surprise as part of his model art collection. "I've always had a thing for redheads," he says. The illustration of two people lying in bed is another tear sheet from a 1980s issue of the magazine.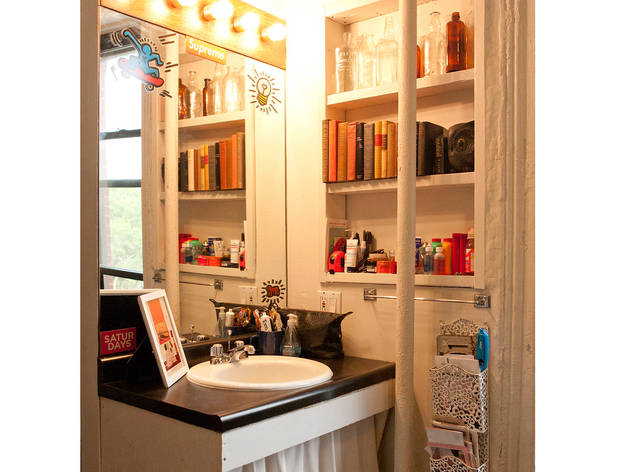 16/17
Photograph: Mimi Ko
The only thing separating David's kitchen from his bathroom is a vanity embellished with Keith Haring decals and a framed vintage Playboy cartoon. "I thrive on the awkwardness, whether it's a girl coming over for the first time or my boss visiting with his girlfriend," he confesses of the doorless water closet, which affords minimal privacy.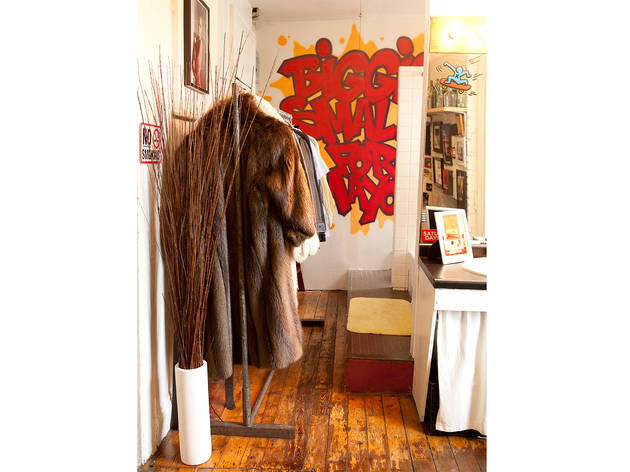 17/17
Photograph: Mimi Ko
"Real men wear fur," declares David of the vintage beaver and white-fox fur coats that hang on the far end of a rolling rack. The garment rack was in the apartment when David arrived, and since there aren't any proper closets in the space, he "just went with it" as an open-air wardrobe for his suits, dress shirts, jackets and pants.