Roommate finders: Websites and meet-ups in NYC
Resources beyond Craigslist to find a room.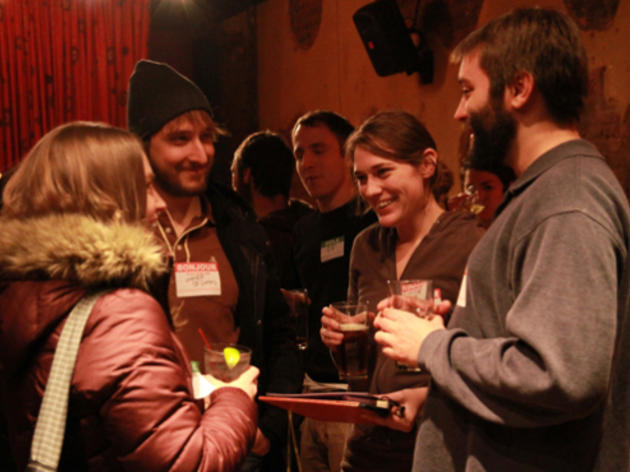 Roommates Wanted NYC(roommateswantednyc.com)
This two-year-old company holds two back-to-back meet-ups a month at bars in Prospect Heights and Williamsburg for people seeking cohabitation in Brooklyn. Events are $5 in advance, but if you post an ad on Craigslist publicizing the event (and include a link to your R.S.V.P. comment on Roommates Wanted), you can get in for free. Attendees receive color-coded nametags (red if you have a place, green if you need one) and drink specials ($1 off drafts and well drinks at Alligator Lounge), the latter of which has been known to aid in the forging of relationships, domestic or otherwise. According to founders Dene Farrell and Jeff Orlick, approximately 30 people turn up for each boozy get-together held every third Sunday. And if you go to the first event and don't find your dream roomie, you get into the second one for free.Soda Bar, 629 Vanderbilt Ave at Prospect Pl and St Marks Ave, Prospect Heights, Brooklyn (718-230-8393). Third Sun of the month, 5—7pm. • Alligator Lounge, 600 Metropolitan Ave between Leonard and Lorimer Sts, Williamsburg, Brooklyn (718-599-4440). Third Sun of the month, 8—10pm. • $5, free if you have a space to rent.

Bang It Out(bangitout.com)
Young Orthodox New Yorkers looking for a share on the Upper West Side need search no further than Jewish humor site Bang It Out. People advertising an opening tend to receive between four or five e-mails almost immediately, according to the site founders, twins Isaac and Seth Galena. "I would honestly say that 90 percent of Orthodox Jews on the Upper West Side use our site," Isaac added. "If you want to live in the observant community on the Upper West Side, this is the only way to do it."

Rainbow Roommates(rainbowroommates.com)
This service, which launched in 1995, caters to the LGBT community, though founder Douglas Leavy notes that everyone is welcome. The site typically runs between 100 and 150 postings at a time, although it depends on the season—spring and summer tend to be busier. On average, customers find a roommate within two weeks, according to Leavy, but that efficiency is going to cost you—30 days for $65 (there's also a single-day fee for $40). "The cost acts as a filter," Leavy says. "If people want some mischief, they'll go to Craigslist." The service is also very personalized: Leavy vets the listings himself and e-mails members back with appropriate matches. And if within two months of signing a roommate agreement you realize your situation is not working out, Rainbow Roommates will give you a one-month membership free so you can try again.

Roomie Match(roomiematch.com)
Roomie Match screens all profiles in its system; employees delete all the "spams, scams or scums," according to co-owner Robin Owsley. And RM doesn't actually post profiles on its site, either—in an effort to maintain subscribers' privacy, your matches are e-mailed straight to you based on your answers to various questions. When you've been matched with a potential roommate based on location, situation and your personal restrictions, both of you receive an email and it's up to you to contact each other. Create a profile for free, but if you want to contact your matches, you'll need the paid upgrade. The $19.95 fee is good for one year.

Astorians(astorians.com), Jackson Heights Life(jacksonheightslife.com)
These Queens-centric community forums both have real-estate sections ideal for apartment hunters: Astorians covers Astoria and Long Island City, and Jackson Heights Life encompasses Jackson Heights, Elmhurst, Corona and Woodside. Although most of the listings here are apartments for sale or rent posted by landlords or by tenants looking for apartments, about once every couple of weeks, there are share listings available.

Metro Roommates(metroroommates.com)
Short-term offers with quick turnovers abound at Metro Roommates with sublets usually lasting between one and nine months, although there are some longer-stay options as well. Search the database according to your criteria, then contact other members directly. Three months' access varies by borough (from $9.95 for Staten Island to $39.95 for Manhattan), and on a recent browse through the site, we found around 200 postings for pads in Manhattan, 100 for Brooklyn and 40 for the Bronx—all with plenty of photos.

Roommate Happy Hour(roommatehappyhour.com)
John Jourden used to waste a lot of time with too many roommate-matching services: "I signed up for about 20 of them and they were worthless," he says. "I got too many e-mails and went back to Craigslist." Once he connected with people on Craigslist, Jourden would ask them to meet him for a drink, before deciding whether or not to embark on an apartment search with them. "The first week it was me and three other people [getting drinks together], and then me and seven other people; the next week, me and 22 other people." Based on this experience, Jourden launched Roommate Happy Hour in March 2011, organizing weekly get-togethers at eight bars in Manhattan, Brooklyn and Queens. Jourden concedes that even though lots of people R.S.V.P. to these events, a strong turn-out is never guaranteed. To remedy the situation, Jourden (a qualified broker) offers a one-stop shop apartment service. He will find you an apartment based on your personal budget, and then hold an event just for you, guaranteeing three to ten potential roommates for you to get acquainted with. There is no charge to find the roommate(s), though standard broker fees do apply to the apartment rental. Though the weekly free events are still in effect, placing clients in apartments and then customizing a roommate search for the individual is Jourden's focus for 2012. R.S.V.P. online for the next event, or like the Facebook page for more information.

Roomster (roomster.com)
Roomster is in the midst of an overhaul with a new website debuting in May. For now, you can try Social Connect, a new feature that allows its users to contact each other directly via telephone, email or any number of social networking sites. Roomster used to encourage users to write lengthy profiles—up to 10,000 words—to increase the chances of a positive roommate match, but now employ algorithms à la match.com to get you hitched with a housemate. A free basic membership affords access to all of the site's features except Social Connect and your own mailbox. That means you can send messages all day long, but if you want to reply you have to pony up. The upgrade will cost you $5.95 for three days, $14.95 for two weeks and $29.95 for four weeks. Be warned: All subscriptions are automatically renewed, so remember to cancel once you and your roomie are living in bliss.

Spare Room (spareroom.com)
This British company's flatmate-finding services were so successful for Londoners, they decided to bring their site stateside. Post ads, browse rooms and search for roommates in all five boroughs, Long Island and New Jersey, for free, although paid upgrades are available. If you prefer face-to-face interaction, Spare Room holds free monthly speed roommating events at Manhattan's Gossip Bar where attendees receive one free drink to break the ice. The logic is simple: put a few dozen people in a bar and let them work the room until they've found a compatible match. Gossip Bar, 733 Ninth Ave at W 50th St (212-265-2720, gossipbarnyc.com). Go to speedroommating.com to R.S.V.P. for the next event. Free.
Related
Resources beyond Craigslist to find, or rent, a room. Roommates Wanted NYC (roommateswantednyc.com) This two-year-old company holds two back-to-back meet-ups a month at bars in Prospect Heights and Williamsburg for people seeking cohabitation in Brooklyn. Events are $5 in advance, but if you post an ad on Craigslist publicizing the event (and include a link to your R.S.V.P. comment on Roommates Wanted), you can get in for free. Attendees receive color-coded nametags (red if you have a place, green if you need one) and drink specials ($1 off drafts and well drinks at Alligator Lounge), the latter of which has been known to aid in the forging of relationships, domestic or otherwise. According to founders Dene Farrell and Jeff Orlick, approximately 30 people turn up for each boozy get-together held every third Sunday. And if you go to the first event and don't find your dream roomie, you get into the second one for free. Soda Bar, 629 Vanderbilt Ave at Prospect Pl and St Marks Ave, Prospect Heights, Brooklyn (718-230-8393). Third Sun of the month, 5—7pm. • Alligator Lounge, 600 Metropolitan Ave between Leonard and Lorimer Sts, Williamsburg, Brooklyn (718-599-4440). Third Sun of the month, 8—10pm. • $5, free if you have a space to rent.Bang It Out (bangitout.com)Young Orthodox New Yorkers looking for a share on the Upper West Side need search no further than Jewish humor site Bang It Out. People advertising an opening tend to receive between four or five e-mails almost immediately, according to the site founders, twins Isaac and Seth Galena. "I would honestly say that 90 percent of Orthodox Jews on the Upper West Side use our site," Isaac added. "If you want to live in the observant community on the Upper West Side, this is the only way to do it."  Rainbow Roommates (rainbowroommates.com) This service, which launched in 1995, caters to the LGBT community, though founder Douglas Leavy notes that everyone is welcome. The site typically runs between 100 and 150 postings at a time, although it depends on the season—spring and summer tend to be busier. On average, customers find a roommate within two weeks, according to Leavy, but that efficiency is going to cost you—30 days for $65 (there's also a single-day fee for $40). "The cost acts as a filter," Leavy says. "If people want some mischief, they'll go to Craigslist." The service is also very personalized: Leavy vets the listings himself and e-mails members back with appropriate matches. And if within two months of signing a roommate agreement you realize your situation is not working out, Rainbow Roommates will give you a one-month membership free so you can try again. Roomie Match (roomiematch.com)Roomie Match screens all profiles in its system; employees delete all the "spams, scams or scums," according to co-owner Robin Owsley. And RM doesn't actually post profiles on its site, either—in an effort to maintain subscribers' privacy, your matches are e-mailed straight to you based on your answers to various questions. When you've been matched with a potential roommate based on location, situation and your personal restrictions, both of you receive an email and it's up to you to contact each other. Create a profile for free, but if you want to contact your matches, you'll need the paid upgrade. The $19.95 fee is good for one year.Astorians (astorians.com), Jackson Heights Life (jacksonheightslife.com)These Queens-centric community forums both have real-estate sections ideal for apartment hunters: Astorians covers Astoria and Long Island City, and Jackson Heights Life encompasses Jackson Heights, Elmhurst, Corona and Woodside. Although most of the listings here are apartments for sale or rent posted by landlords or by tenants looking for apartments, about once every couple of weeks, there are share listings available. Metro Roommates (metroroommates.com)Short-term offers with quick turnovers abound at Metro Roommates with sublets usually lasting between one and nine months, although there are some longer-stay options as well. Search the database according to your criteria, then contact other members directly. Three months' access varies by borough (from $9.95 for Staten Island to $39.95 for Manhattan), and on a recent browse through the site, we found around 200 postings for pads in Manhattan, 100 for Brooklyn and 40 for the Bronx—all with plenty of photos. Roommate Happy Hour (roommatehappyhour.com) John Jourden used to waste a lot of time with too many roommate-matching services: "I signed up for about 20 of them and they were worthless," he says. "I got too many e-mails and went back to Craigslist." Once he connected with people on Craigslist, Jourden would ask them to meet him for a drink, before deciding whether or not to embark on an apartment search with them. "The first week it was me and three other people [getting drinks together], and then me and seven other people; the next week, me and 22 other people." Based on this experience, Jourden launched Roommate Happy Hour in March 2011, organizing weekly get-togethers at eight bars in Manhattan, Brooklyn and Queens. Jourden concedes that even though lots of people R.S.V.P. to these events, a strong turn-out is never guaranteed. To remedy the situation, Jourden (a qualified broker) offers a one-stop shop apartment service. He will find you an apartment based on your personal budget, and then hold an event just for you, guaranteeing three to ten potential roommates for you to get acquainted with. There is no charge to find the roommate(s), though standard broker fees do apply to the apartment rental. Though the weekly free events are still in effect, placing clients in apartments and then customizing a roommate search for the individual is Jourden's focus for 2012. R.S.V.P. online for the next event, or like the Facebook page for more information.Roomster (roomster.com) Roomster is in the midst of an overhaul with a new website debuting in May. For now, you can try Social Connect, a new feature that allows its users to contact each other directly via telephone, email or any number of social networking sites. Roomster used to encourage users to write lengthy profiles—up to 10,000 words—to increase the chances of a positive roommate match, but now employ algorithms à la match.com to get you hitched with a housemate. A free basic membership affords access to all of the site's features except Social Connect and your own mailbox. That means you can send messages all day long, but if you want to reply you have to pony up. The upgrade will cost you $5.95 for three days, $14.95 for two weeks and $29.95 for four weeks. Be warned: All subscriptions are automatically renewed, so remember to cancel once you and your roomie are living in bliss. Spare Room (spareroom.com)This British company's flatmate-finding services were so successful for Londoners, they decided to bring their site stateside. Post ads, browse rooms and search for roommates in all five boroughs, Long Island and New Jersey, for free, although paid upgrades are available. If you prefer face-to-face interaction, Spare Room holds free monthly speed roommating events at Manhattan's Gossip Bar where attendees receive one free drink to break the ice. The logic is simple: put a few dozen people in a bar and let them work the room until they've found a compatible match. Gossip Bar, 733 Ninth Ave at W 50th St (212-265-2720, gossipbarnyc.com). Go to speedroommating.com to R.S.V.P. for the next event. Free. See more in Style & Design
Read more
How to resolve three common space-sharing problems. Lack of respect for common areas Whether you live with a Craigslist-sourced stranger who blares thrash metal in the living room at 2am or a high-school pal who's suddenly stopped doing the dishes, you've got a grade-A roommate beef. To avoid noise issues, Sheila Sproule, president of the Association for Conflict Resolution—Greater New York Chapter (acrgny.org), recommends discussing ground rules ahead of time—ideally over drinks to keep things casual. Conflict-resolution expert Brad Heckman, who runs the New York Peace Institute (nypeace.org), adds: "Just be clear about what works for you, and ask about their preferences." Neglecting to pay rent or utilities Both Sproule and Heckman emphasize that conversation is key. Sproule offers a few pointers, depending on whose name is on the official documents: If it's both of you, you're collectively liable for the missing funds, so remind the other person that the landlord could sue the two of you. If your roommate is flying solo, but you're nervous about the repercussions, a calmly conveyed reminder might be all that's necessary. If it's just you, then you're in a bind. Sproule reiterates that a direct conversation should be the first step—"maybe they're not getting paid regularly at work, or they're in a temporary tough spot"—but if it's a reoccurring problem, you may need to involve your landlord. Lest things get ugly, Heckman chimes in with a couple of strategies to diffuse the situation: "Listen without interrupting, even if what you're hearing is absolute baloney. Repeat what the person has just said, so he or she knows you've understood their point of view. And go easy on the venting." Playing the passive-aggressive card This sort of under-the-radar hostility is funny only when it shows up on Post-it notes via Tumblr. In real life, it can lead to a lot of unnecessary angst. Heckman's tip: "Give specific, constructive commentary on how you see the situation, and pay attention to your body language, so that you're not unintentionally sending signals that you're closed off to his or her grievances." Sproule adds, "Be direct and cite specific examples of behavior." The more explicit you are, the less wiggle room you leave for the other person to dodge the issue. See more in Style & Design
Read more