Where to live in NYC: Living with roommates in a Tribeca 5BR
Trying to decide where to live in NYC? Check out a huge Manhattan apartment for $7,800 a month and learn how the tenants scored a deal.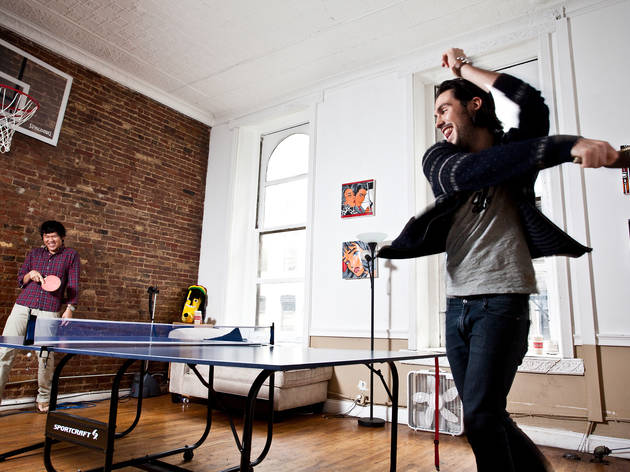 1/7
Photographer: Beth Levendis
Where to live in NYC: Tribeca 5BR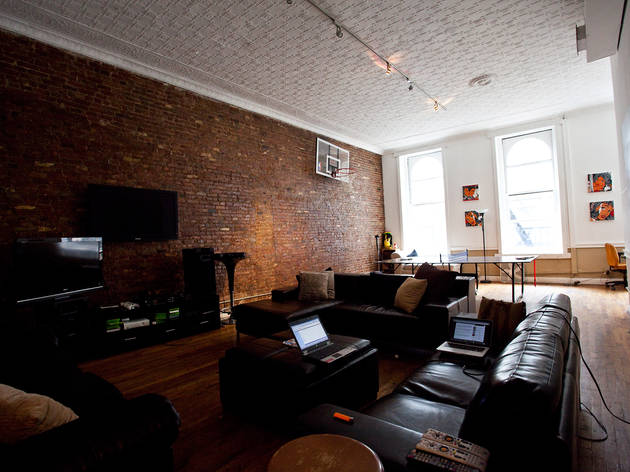 2/7
Photographer: Beth Levendis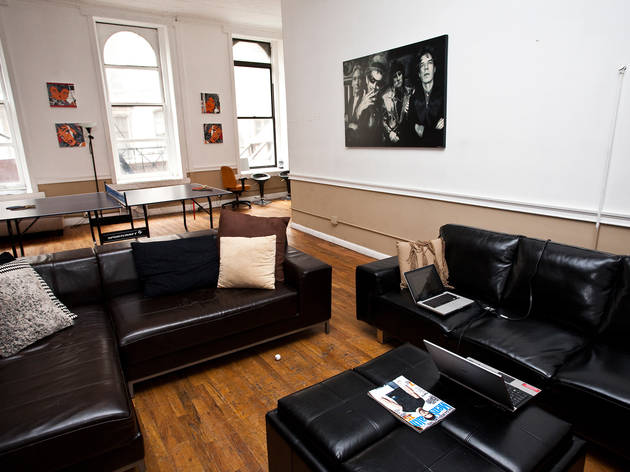 3/7
Photographer: Beth Levendis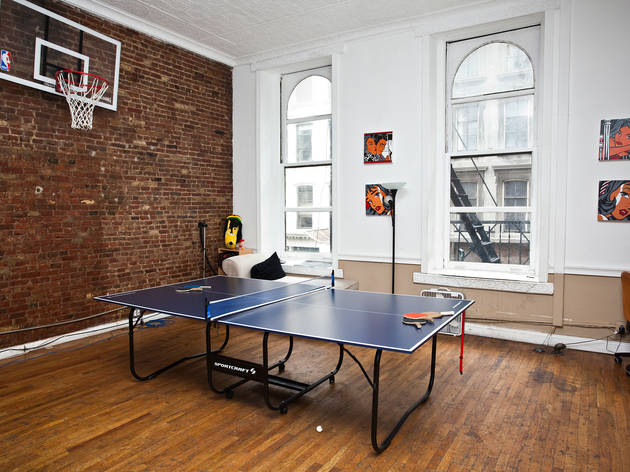 4/7
Photographer: Beth Levendis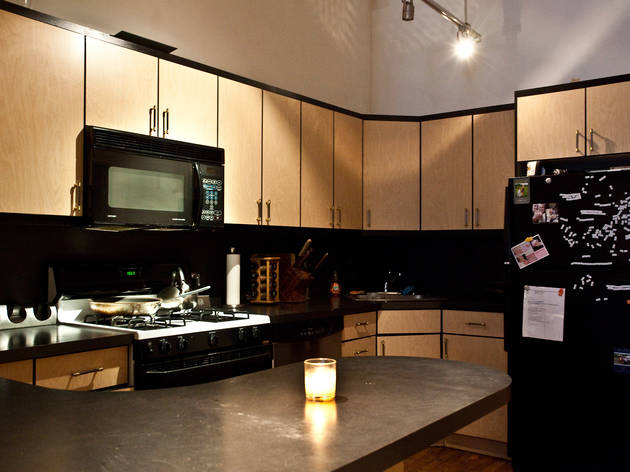 5/7
Photographer: Beth Levendis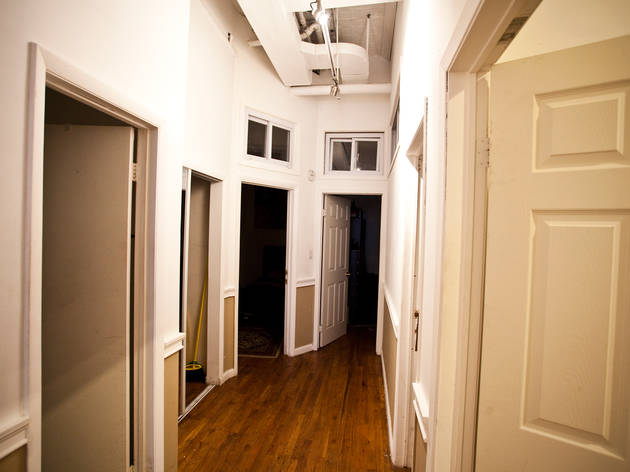 6/7
Photographer: Beth Levendis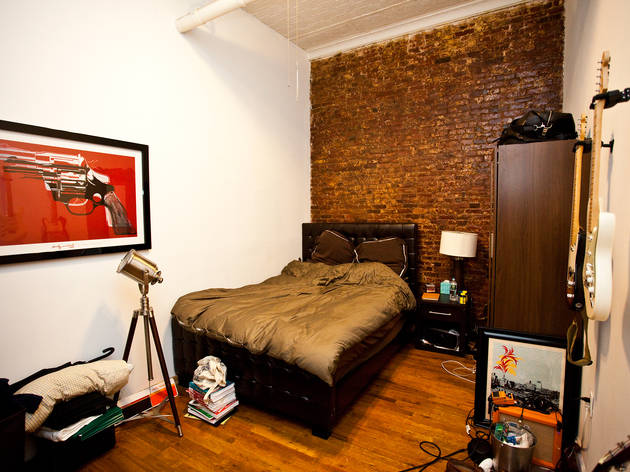 7/7
Photographer: Beth Levendis
If you're trying to work out where to live in NYC, check out five New Yorkers' experience finding spacious digs in the downtown Manhattan neighborhood of Tribeca. Find out about the search, the apartment, what the neighborhood's like and advice for negotiating a deal.

RECOMMENDED: Find out where to live in NYC
Dane, 26, assistant vice president of finance for a bank; Ryan Moore, 25, advertising account executive; Andrew Liu, 25, banking analyst; Mark Watson, 27, manager at Phoenix Energy Group; Hussain Ismail, 28, social-media marketing director.
Broker: Akil Rucker, Bond (917-375-2001, bondnewyork.com).
Broker's fee: One month's rent.
Deposit: One month's rent.
Moved in: March 2012.
THE SEARCH: "We all lived in smaller apartments, and we felt like we were ready for some space. The only way to make that happen was to have five people," says Dane. "Originally, Ryan and I were just looking for a four-bedroom, but once we saw this place, we said we'd just find a fifth roommate. It all came together perfectly: Ryan and I already lived together, and one of his buddies, Andrew, was planning to move into the city from Minnesota that month. Mark was already looking for a new place, as was Hussain, who was searching forever but couldn't find anyone normal on Craigslist." The quintet had researched various spots on the popular posting site and scoped out at least four other pads. The decision came down to the Tribeca space or a five-bedroom in Soho, which Dane and his roommates passed on because, he says, "the asking price went from $8,000 to $10,000 within two days."
THE BUILDING: "Our first impression of the apartment was, Wow—look at all the room for activities!" says Dane. "But our first impression of the building was, Wow—this building is old! Still, we have a private entrance—there are two more people living in the building, but you can only access it from the other side." There is a sushi restaurant on the bottom commercial floor, which means no lobby: "There's just a small two-step stoop where the local restaurant employees sit to take a smoke break," he says.
THE APARTMENT: "It's good for having people over or hanging out," Dane says of the 2,000-square-foot space. "We have 15 to 25 people over twice a week. In Ryan and my old apartment, that many people would have been a blowout, but here we never have to worry. We've had 50 to 75 people in here before."
THE NEIGHBORHOOD: "We agreed 100 percent that it had to be downtown. The train is right here; we have the 4/5/6 and the 1/2/3 within two blocks. Cabs are easy to catch too," says Dane. "There are nice, legitimate places to go out like Nobu [105 Hudson St at Franklin St; 212-219-0500, noburestaurants.com], Ward III [111 Reade St at West Broadway; 212-240-9194, ward3tribeca.com] and Super Linda[109 West Broadway at Reade St; 212-227-8998, superlinda.com]." He does acknowledge one drawback: "There's no late-night spot for when we get home, and there are no sports bars within a half mile. We don't have any late liquor stores either, so we have to plan around that."
THE TRADE-OFF: "There's no privacy—that's one of the biggest issues—and the walls are thin," observes Dane. "For instance, someone's having people over and someone else is trying to sleep when the music's playing. Everybody agrees that Friday to Saturday, there are zero rules here. If someone wants to come back at five in the morning and play music, they can—that's what you decide when you move into a place like this. But Sunday through Thursday, we say midnight, you have to have everything shut down. We all agree that if you are celebrating something, all bets are off." Some prospective tenants may have balked at the pad's lack of closets—there aren't any—but Dane insists that his group didn't take issue with that omission. "With guys, it's so simple, as long as you have one drawer where you can keep socks and underwear." Another drawback of the festive atmosphere: "People treat it like an event space," he says. "When we wake up [after a get-together], the apartment is really messy." To clear away the aftermath, the guys hire a maid service to do bimonthly scourings.
HOW THEY SCORED A DEAL: "Our first broker told us in the beginning we could negotiate the broker's fee; then he wanted the whole two months' rent, which would be almost $16,000. We said, 'No way—that's not going to happen.' One of my buddies, Akil Rucker, works for Bond. He said he'd do it for one month's rent, so we switched over."
THEIR ADVICE: "We pulled the trigger real quick," recalls Dane. "Someone else was interested in the place, so four of us got the [first month's rent, broker's fee and security deposit] together, then three of us ended up going to the Bond offices and signing the lease." Another circumstance also worked in the fivesome's favor: "This apartment was open for three months, because they hadn't been able to find anyone to fill it," he says. "The first person who wanted this apartment wanted to blow out all the walls and make it a one-bedroom."