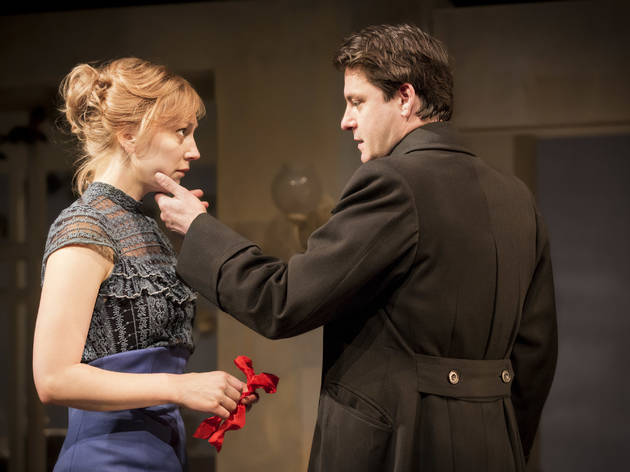 A Doll's House. BAM Harvey Theater (see Off Broadway). By Henrik Ibsen. Adapted by Simon Stephens. Directed by Carrie Cracknell. With Hattie Morahan, Dominic Rowan. Running time: 2hrs 50mins. One intermission.
A Doll's House: In brief
Following a run at London's Young Vic and a West End transfer, Hattie Morahan comes to BAM to reprise her highly touted performance as Nora in Henrik Ibsen's protofeminist classic about a woman whose marriage crumbles under financial pressures. Carrie Cracknell directs a translation by Simon Stephens.
RECOMMENDED: Thirty years of Henrik Ibsen at BAM
A Doll's House: Theater review by Helen Shaw
If you are ravenously hungry for Ibsen, you might as well see the Young Vic's production of his 1879 A Doll's House, now on tour at the BAM Harvey. Does that sound limp? I'm afraid I can only offer faint praise; it's competent and sometimes even clever, but an effortful lead performance overwhelms the text's dynamics and makes much of the play's universal, humanist resolve into nonsense.
Many will already know the protofeminist plot: Nora (Hattie Morahan) flutters about her husband Torvald (Dominic Rowan), affecting feminine helplessness while concealing a Life-Altering Secret. An illegal debt to the weaselly Krogstad (Nick Fletcher) weighs heavily on her, but, adored by family friend Dr. Rank (Steve Toussaint) and supported by her suddenly reappearing school chum Kristine (Caroline Martin), she is convinced that she (and her marriage) can elude disaster. Of course, the real disaster is the marriage itself, the pretense it forces on husband and wife, its ugly domestic politics, its oppressive gender roles.
Textually, director Carrie Cracknell and her team treat the Norwegian classic with cautious respect; adapter Simon Stephens has made minor additions and cosmetic adjustments (squirrel is now hamster) but supplied little poetry of his own. Stephens does nip out some of the histrionics—like Nora's last line, which is a dicey move. And his words don't always live happily in the mouths of the actors; at least, they choose different styles to handle the stuff. Much more illuminating is Cracknell's use of Ian MacNeil's rotating apartment set, which whizzes around so we can see Torvald in his study, then Nora flopping girlishly on her bed. Cracknell uses this merry-go-round to show us what's happening behind closed doors, and we see glimpses of extratextual stories going on silently in the house—the maid, for instance, has a love affair of her own.
What people will remember from this Doll's House, though, and what yanks hard at the play's underpinnings, is Morahan's deliberately vapid, unpleasant, narcissistic Nora. On the bright side, the actor has fully envisioned her character—giving her a bizarre cocked posture, hammy gestures and too-dulcet tones that swoop and dive almost to the point of incomprehensibility. When she's not twitching her hobble skirt at her husband, she stands, mouth agape, stunned as a blinded deer. It's a noisily externalized turn, and, unfortunately, throws a Nora-size wrench into the dramatic mechanics.
Ibsen, writing a heroine for his "drama of ideas," made a woman who flirts to get her way in a sexist world but who's also capable of awakening. We watch this woman and see, somehow, the plight of women, how society warps gender and keeps women from their true selves. Morahan manifests the monstrously selfish girl-woman, but shows nary a glimpse of any inner steel, so the play's late-stage conversion scene is both ridiculous (this Nora simply isn't capable of it) and weightless. Ibsen's dramaturgical balancing act is one of well-judged opposites: melodramatic plot but realistic characters, stable marriage but insupportable sexual dynamic. Here, though, you've never wanted a couple to get divorced faster than this one. Torvald, buddy, get out of there.—Theater review by Helen Shaw