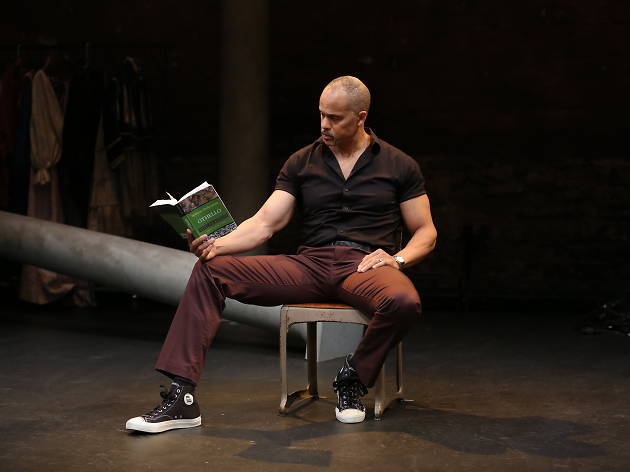 Time Out says
Theater review by Raven Snook
In his provocative, autobiographically inspired near-solo show American Moor, Keith Hamilton Cobb uses Othello as a metaphor for the plight of being black in America today. As he waits to audition for the title role in Shakespeare's tragedy, Cobb cleverly alternates among Elizabethan verse, lyrical soliloquies about his youthful classical-acting aspirations and a blunt assessment of what he faces, as a large African-American man, in a business and society that trade in stereotypes. Eventually, a white director (Josh Tyson), seated in the audience, starts lecturing him about how best to play the Moorish war hero who succumbs to jealousy and murderous rage. After each inane suggestion, Cobb struggles with whether to contort himself into the cartoon of blackness his director wants or to follow the instincts he has gleaned from a lifetime of experience.
Though American Moor sometimes threatens to slip into TED Talk territory, Cobb and director Kim Weild never forget that it is theater: Effective shifts in lighting and sound differentiate what's actually happening from the internal commentary that the auditioner shares with the audience, plunging us into a psyche constantly at war. Cobb is as compelling a dramatist as he is a thespian; the play is disquieting, perceptive and often bitingly funny. Having spent more than 30 years trying to appease others, Cobb demands that the members of his audience, especially the white ones, see him and meet him where he stands. At the end of this Red Bull Theater production, you may find yourself looking at Othello—and the world around it—through eyes wider open.
Cherry Lane Theatre (Off Broadway). By Keith Hamilton Cobb. Dir. Kim Weild. With Cobb, Josh Tyson. Running time: 1hr 30mins. No intermission.
Follow Raven Snook on Twitter: @ravensnook
Follow Time Out Theater on Twitter: @TimeOutTheater
Keep up with the latest news and reviews on our Time Out Theater Facebook page
Details
Best selling Time Out Offers