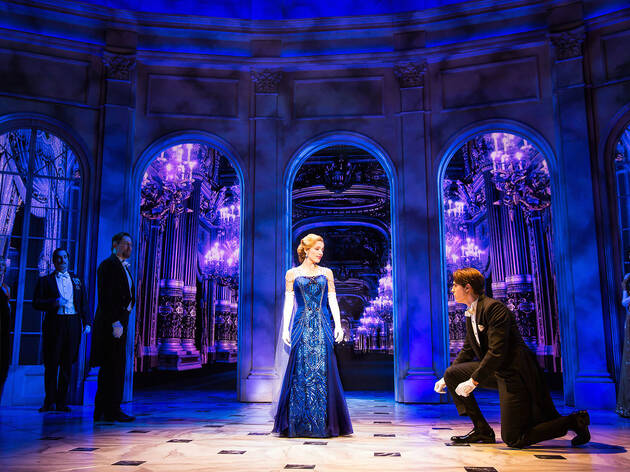 Time Out says
Theater review by Adam Feldman

Broadway musicals often feature heroines trying to find themselves, but perhaps never as literally as in Anastasia. In 1927 Leningrad, the scrappy, strapping Dmitry (Derek Klena) and the worldly, roguish Vlad (John Bolton) devise a scheme to pass off a street sweeper, Anya (Christy Altomare), as the Grand Duchess Anastasia Nicholaevna Romanov, rumored to have survived the massacre of the rest of her royal family in the Russian Revolution 10 years earlier. But as the con men school her, My Fair Lady–like, in the ways of nobility—hoping to deceive Anastasia's grandmother in Paris, the Dowager Empress (an elegant Mary Beth Peil)—it emerges that Anya may be the real Anastasia after all. Who knows? Not Anya: She has amnesia. What former self might be nested like a doll inside her, waiting to be revealed? And might there be other dolls inside that one?

As Anastasia piles discovery upon discovery, the happiest surprise is how consistently good the musical turns out to be. Smartly adapted by Terrence McNally from the 1997 animated film and the 1956 Ingrid Bergman movie—with Stephen Flaherty and Lynn Ahrens impressively expanding their score from the former—Anastasia is a sweeping adventure, romance and historical epic whose fine craftsmanship will satisfy musical-theater fans beyond the show's ideal audience of teenage girls. (When I saw it, a second-act kiss was greeted with deafening shrieks of approval.)

Director Darko Tresnjak keeps the story swirling forward, with special help from Linda Cho's sumptuous costumes and Aaron Rhyne's crisp projections. The appealing central couple gets strong support from a cast that includes Ramin Karimloo as a Javert-like Soviet officer and, offering delightful comic relief in a quite dark story, the superb Caroline O'Connor; the singing is excellent throughout. In a season crowded with new musicals, this one has maintained a modest profile. But now the secret can be told: Anastasia is the richest and fullest family show to hit Broadway in years. Who knew?

Broadhurst Theatre (Broadway). Book by Terrence McNally. Music by Stephen Flaherty. Lyrics by Lynn Ahrens. Directed by Darko Tresnjak. With Christy Altomare, Derek Klena. Running time: 2hrs 30mins. One intermission.
Follow Adam Feldman on Twitter: @FeldmanAdam
Keep up with the latest news and reviews on our Time Out Theater Facebook page
Details
Average User Rating
4.7 / 5
Rating Breakdown
5 star:

2

4 star:

1

3 star:

0

2 star:

0

1 star:

0
This show is incredibly well done - Loved the costume, set and talent! My girl friend scored us tickets though TDF & we both loved the show. Personally, I'm a fan of the original Disney film, and was impressed with how they handled the different characters. Without spoiling anything... since the kids who watched the film grew up, so did the show - The villain was replaced with a political might, which I thought was a pretty nice touch.
One of the best shows I've seen! Unbelievable talent and beautiful music. However, my boyfriend who is less of a "fanastasia", felt that it was a bit long and two of the roles (Lily and Vlad) were unnecessary and lengthened out the story. I do see his point so I had to mark it down a star. The set was incredible and costumes were to die for. I highly recommend it for any fans of the movie!!!