Heads up! We're working hard to be accurate – but these are unusual times, so please always check before heading out.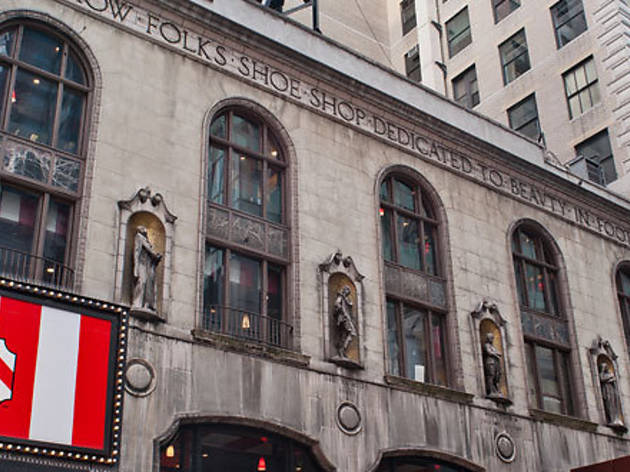 1/3
Photograph: Paul Wagtouicz
Statues at the "Show Folks Shoe Shop," formerly the I. Miller Shoe Shop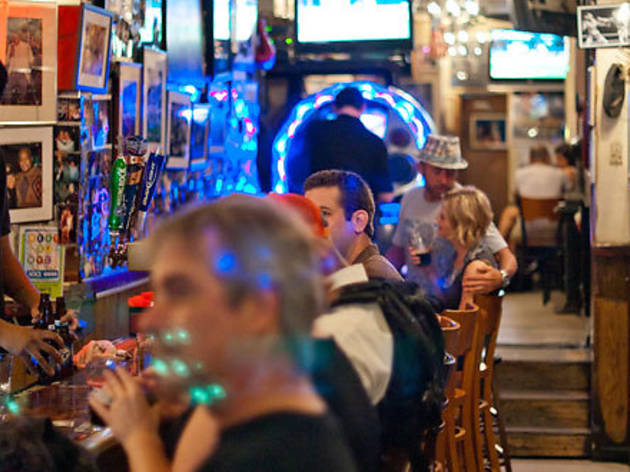 2/3
Photograph: Paul Wagtouicz
Jimmy's Corner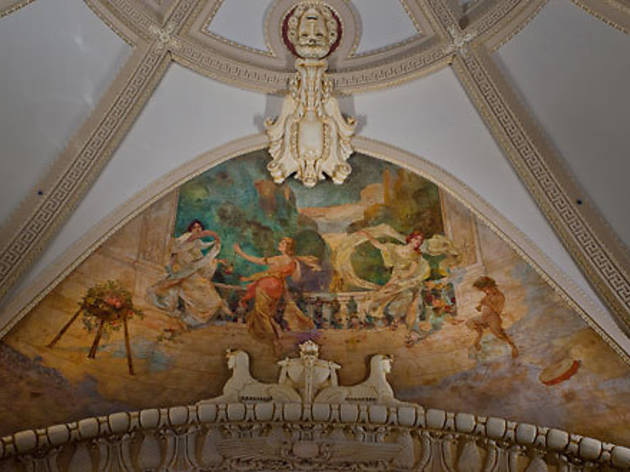 3/3
Photograph: Paul Wagtouicz
AMC Theater Mural
Broadway walk
Take a tour of the Great White Way's landmarks, score cheap tickets and stop by a café favored by actors.
Start: 302 W 45th St between Eighth and Ninth Aves
End: 234 W 42nd St between Seventh and Eighth Aves
Distance: 1.2 miles
Total time: 1 hour
1 The Theater District has been adorned with a patina of Vegas-style glitz in the past two decades, but if you look hard enough, you can uncover vestiges of the area's hipper past. Start at the Al Hirschfeld Theatre (302 W 45th St between Eighth and Ninth Aves, jujamcyn.com), named for the legendary Broadway caricaturist (whose visage can be seen above the marquee) in 2003. But Hirschfeld wasn't the Byzantine building's original namesake: If you look above the box-office window, you'll see a plaque about Martin Beck, a vaudeville producer who founded the theater in 1924. Daniel Radcliffe is currently appearing here, in the 50th-anniversary revival of How to Succeed in Business Without Really Trying (howtosucceedonbroadway.com).
2 Amble up Eighth Avenue and make a pit stop at Café Edison (Hotel Edison, 228 W 47th St between Broadway and Eighth Ave; 212-840-5000), unofficially nicknamed the "Polish Tea Room" by theater execs. The eatery has long served as a hub for theater folks: Neil Simon based his 2001 play, 45 Seconds from Broadway, on the diner, and the cordoned-off section near the front door is reserved for Shubert execs and other showbiz pooh-bahs. Settle into a booth, and slurp up a bowl of matzo-ball soup ($4.50), which has sustained many an unemployed actor.
3 Thus fortified, you should be ready to tackle the throngs that congregate in Times Square. Be sure to bask in the red glow of the bleachers that abut the sleek TKTS ticket booth, but plan to get there when it opens (time varies; check tdf.org for more information) if you want to snag cheap tickets to a show. Continue down Broadway, pausing to bow to the statues of Ethel Barrymore and Mary Pickford built into the 46th Street side of the former I. Miller Shoe Building (1552 Broadway at 46th St), known as the "Show Folks Shoe Shop," and now home to a T.G.I. Friday's. Barrymore, for example, is dressed as Ophelia from Hamlet. Turn onto 45th Street to check out the Lyceum Theatre (149 W 45th St between Sixth and Seventh Aves; shubertorg.com). Built in 1903, the playhouse is Broadway's oldest continually running theater and the first to be made a landmark, around 1974. Scope out images of Ina Claire and other erstwhile Broadway superstars in the lobby; if you stand in the box office, you can glimpse the portraits through the glass. (The theater currently features John Leguizamo's autobiographical play .)
4 Toast the spirits of Broadway's past at Jimmy's Corner (140W 44th St between Sixth Ave and Broadway; 212-221-9510), a narrow dive bar owned by boxing trainer Jimmy Glenn. It's one of the last traces of the gritty, Koch-era Times Square: The staff is sassy, and the soulful jukebox is killer. Sip a Sam Adams ($4), the fanciest beer available—which suits us just fine.
5 Head south, making sure to stop at the northeast corner of 43rd Street and Broadway. There, you'll find a plaque dedicated to famed playwright Eugene O'Neill, who was born in a hotel on this site in 1888. Make a right on gaudy, bawdy 42nd Street and pass by the New Amsterdam Theatre, former home of the Ziegfeld Follies (Mary Poppins soars through the theater these days). End your journey at AMC Empire 25 (234 W 42nd St at Eighth Ave; amctheatres.com/empire); you don't need a film ticket to peep the building's hidden treasures. The 25-screen movie house was installed in the former Eltinge Theatre, named after Julian Eltinge, the most famous female impersonator of the early 1900s. If you cast an eye toward the lobby ceiling, you'll see murals featuring women that were modeled after the actor. It just goes to show that the glamour of old Broadway hasn't been totally erased.
View Larger Map
You might also like
See more in Walks & Tours