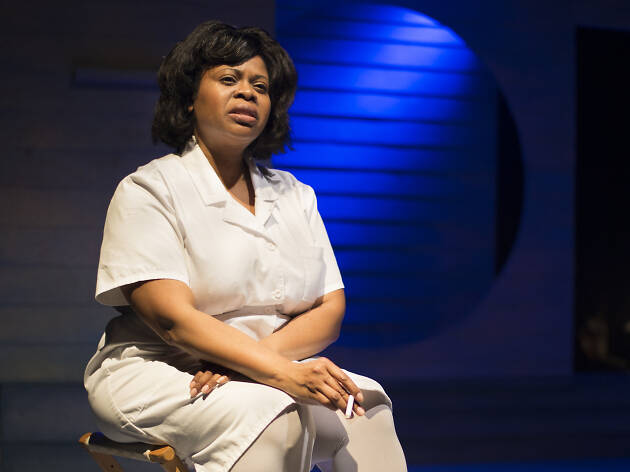 Time Out says
Review by Adam Feldman
Simply put, Tony Kushner and Jeanine Tesori's gorgeous portrait of a maid in 1963 Louisiana is one of the great musicals of the past half-century: This is a show that can actually change the way you see the world and the people in it on a daily basis. Caroline, or Change was ahead of its time on Broadway 15 years ago—its concerns include economic inequality, white privilege and the removal of Confederate memorial statues—but American discourse has caught up since, and we are ready now for a major Broadway revival. (It was produced in Chicago and in London just last year.) Meanwhile, Astoria Performing Arts Center's modestly scaled but very satisfying production in Queens, directed by Dev Bondarin, offers a rare and valuable chance to see this beautiful work of art on its sturdy, white-stockinged feet.
LaDonna Burns, a powerful singer, plays the title role with distinction; other standouts in the cast include Nattalyee Randall as Caroline's fellow maid and sometime friend, Dotty, and Lauren Singerman as Caroline's employer, the awkward Rose, a Jewish transplant from the Upper West Side trying to negotiate a relationship with her young and resistant new stepson, Noah (Sabatino Cruz). Among other things, Caroline, or Change is about economics: how money changes everything, and how the lack of it can make change all but impossible. Amid the show's whimsical Maurice Sendak–ian conceits—Caroline's loneliness gives voice to several normally inanimate objects, including the washing machine (Marcie Henderson) and the satanic dryer (an entertaining Tony Perry)—Kushner and Tesori offer a hard-nosed but deeply intelligent, moving and sympathetic look at the invisible sacrifices made by the kind of working people who, in Broadway musicals, nearly always go unsung.
Variety Boys & Girls Club (Off-Off Broadway). Book and lyrics by Tony Kushner. Music by Jeanine Tesori. Dir. Dev Bondarin. With LaDonna Burns. Running time: 2hrs 30mins. One intermission.
Details
Users say