Theater review by Adam Feldman
Off Broadway plays come and go so quickly that it's hard to keep up. Page 73's world premiere of Catch as Catch Can, for example, was a highlight of the 2018 season, but not many people were able to attend its short run at the New Ohio. Now they have another chance: Just four years later, Mia Chung's drama—which takes a fractured look at the things we do and do not get from our families—has returned to New York in a wholly new production at Playwrights Horizons. Directed by Daniel Aukin, this version has a twist: The cast is now Asian-American, which sets the material on a slightly different axis.
The play depicts six members of two closely intertwined working-class households in New England, and three actors—Rob Yang, Cindy Cheung, Jon Norman Schneider—play two roles each: one character of roughly their own age, and that same character's parent of the opposite gender. In the opening scene, the upper-middle-aged Theresa (Yang) and Roberta (Schneider) share a chat, over tea, about the British royal family and their own unsettled kids, whom we meet shortly afterward: Theresa's highly educated son, Tim (Yang)—newly engaged and returned home to visit his widowed mother—and Roberta's children, Daniela (Cheung) and Robbie (Schneider). The actors don't change costumes, but they are clear in delineating their shifts between characters, which become progressively faster and more furious.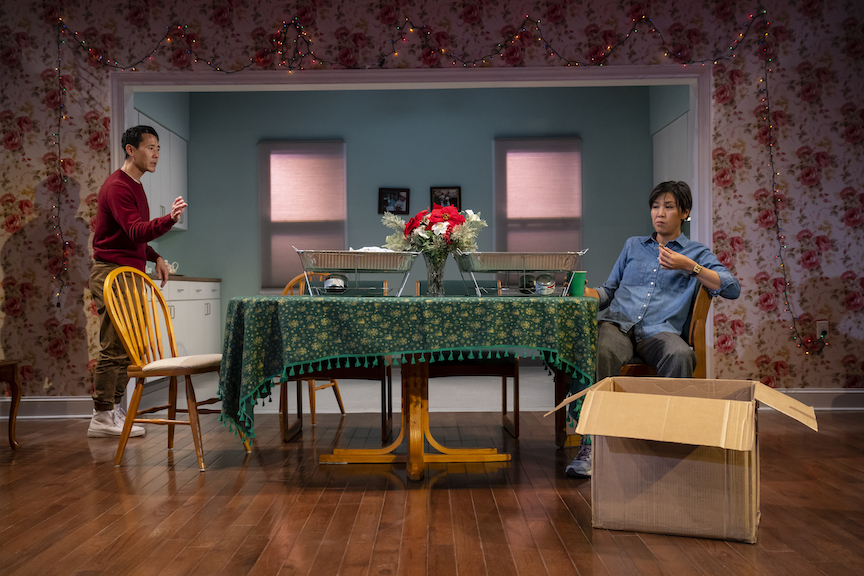 Catch as Catch Can | Photograph: Courtesy Joan Marcus
What seems at first like a family comedy, gently well-observed and rich in sidelong detail, takes a sharp turn with the introduction of an illness that seems to rip apart not only the person who suffers from it, but the fabric of the play itself. Halfway through, Catch as Catch Can has a psychotic break, and what follows is scary, sad and often disorienting. The play lets confusion do the work of communicating a sense of chaos as the lines between the actors' dual identities blur. The double-casting is more than a gimmick: It is central to what the show has to say about what some people do or do not get from their families. Afterward, you may marvel at how finely Chung has woven her thematic threads (about family, heredity, nationality, genetics) into the tapestry that unravels in the play's second half.
This is challenging material, and the actors do strong work in putting it across: Presented without an intermission, the show holds your attention through all its turns of the screw. Having fallen hard for the original version, I sometimes found myself missing its more intense moments of raw nerves; Aukin's production is pitched at a lower emotional key. And I'm not convinced that the play benefits from being performed by an Asian cast: When the white characters refer to offstage Asian characters, in often racist ways, the actors' ethnicity detracts from the impact; a shadow of archness sets in. But comparing this production to the first one is a luxury that few possess. If you missed this show in 2018, catch it while you can.
Playwrights Horizons (Off Broadway). By Mia Chung. Directed by Daniel Aukin. With Rob Yang, Cindy Cheung, Jon Norman Schneider. Running time: 1hr 45mins. No intermission. Through November 20.
Follow Adam Feldman on Twitter: @FeldmanAdam
Follow Time Out Theater on Twitter: @TimeOutTheater
Keep up with the latest news and reviews on our Time Out Theater Facebook page
Catch as Catch Can | Photograph: Courtesy Joan Marcus