Theater review by Melissa Rose Bernardo
Ryan J. Haddad does not want your sympathy. "If you came here to pity me, you can leave," says the playwright-performer toward the start of his autobiographical Dark Disabled Stories, a co-production of the Public Theater and the Bushwick Starr. "And don't ask for a refund." Reader, no one left.
Haddad has cerebral palsy, which he admits to often mining for laughs. "I try to make disability funny so that non-disabled people can understand it," he says. Dark Disabled Stories digs into accessibility, ableism and inclusion, yet it's still shamelessly funny. ("I'm a naturally comedic person," Haddad says, accurately.) A few years ago, you might have seen his solo show Hi, Are You Single? Here, he has two costars to make the production as accessible as possible for disabled audience members. Deaf actor Dickie Hearts communicates in ASL alongside Haddad, and the duo's comic timing is flawless; Alejandra Ospina sits just offstage and describes all the visuals—from the set design to the actors' movements—for blind and low-vision theatergoers. ("Dickie visually represents whipping a cock out of his pants and shaking a cocktail.") Her captions appear as supertitles atop the flamingo-pink proscenium, and dialogue is projected onto the back wall of the stage.
Haddad's tales run the gamut from daily commutes to nightly sexcapades: his reluctance to ask for help reaching the bathroom in a business meeting, leading to a humiliating "urine situation"; a bathroom tryst that leaves him in one place and his walker in another; a bus driver who terrorizes a passenger in a parked car that's preventing him from lowering the ramp. Mass transit, in these stories, is often an obstacle instead of a convenience; when the subway elevator is broken, he is forced to rely on the kindness of strangers to help him up the stairs. Ospina has no such option: "I can't get out of my wheelchair and climb the steps." Both she and Hearts get the chance to tell stories of their own. (His centers on communication: "Sex is its own language.")
At just 75 minutes, the show does feel a bit short. Is it greedy to want a few more vignettes to let us spend more time with these dynamic performers? Here's hoping these Stories are just Haddad's first volume.
Dark Disabled Stories. Public Theater (Off Broadway). By Ryan J. Haddad. Directed by Jordan Fein. With Ryan J. Haddad, Dickie Hearts, Alejandra Ospina. Running time: 1hr 15mins. No intermission.
Follow Melissa Rose Bernardo on Twitter: @mrbplus
Follow Time Out Theater on Twitter: @TimeOutTheater
Keep up with the latest news and reviews on our Time Out Theater Facebook page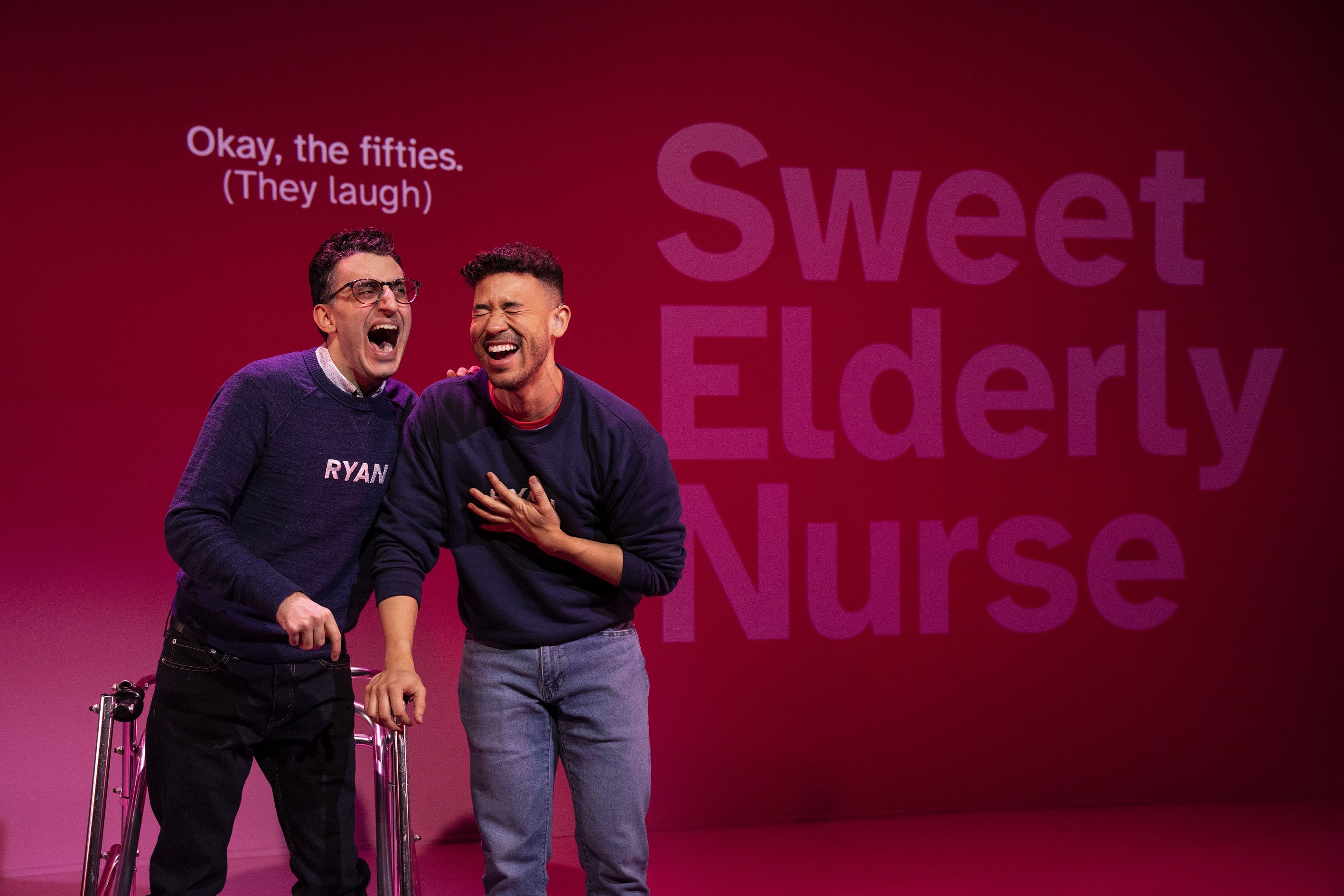 Dark Disabled Stories | Photograph: Courtesy Joan Marcus