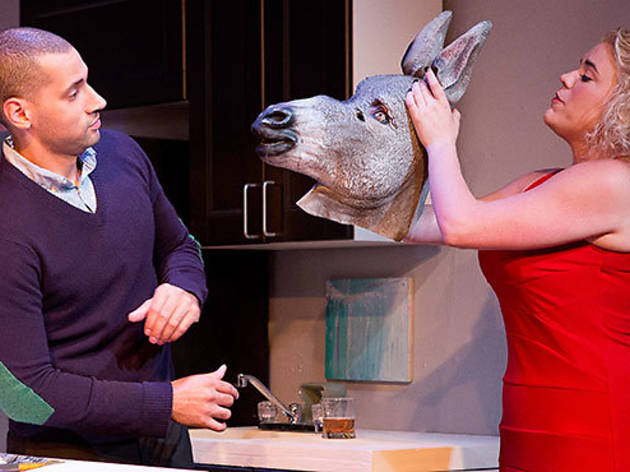 1/4
Photograph: Hunter Canning
Donkey Punch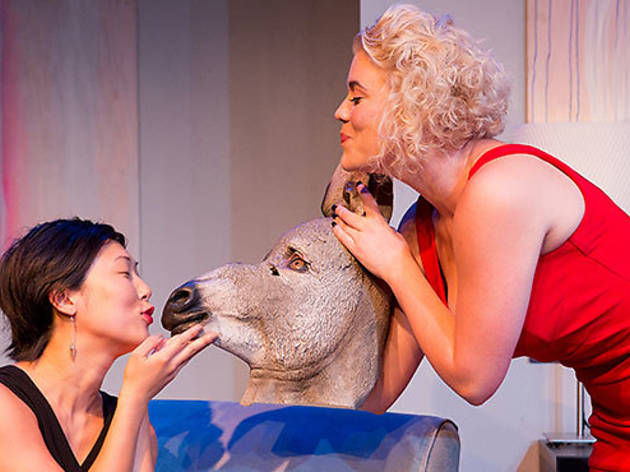 2/4
Photograph: Hunter Canning
Donkey Punch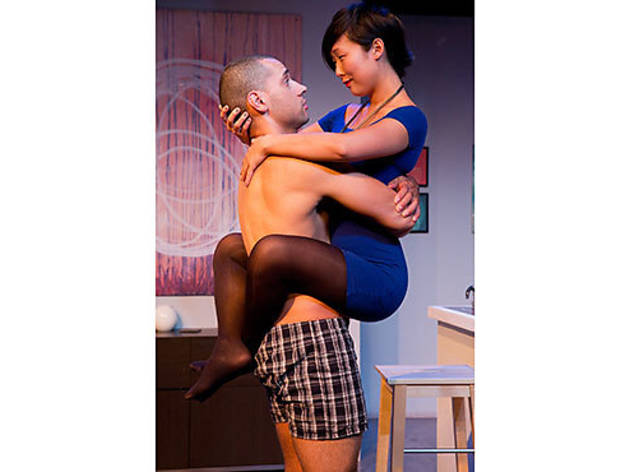 3/4
Photograph: Hunter Canning
Donkey Punch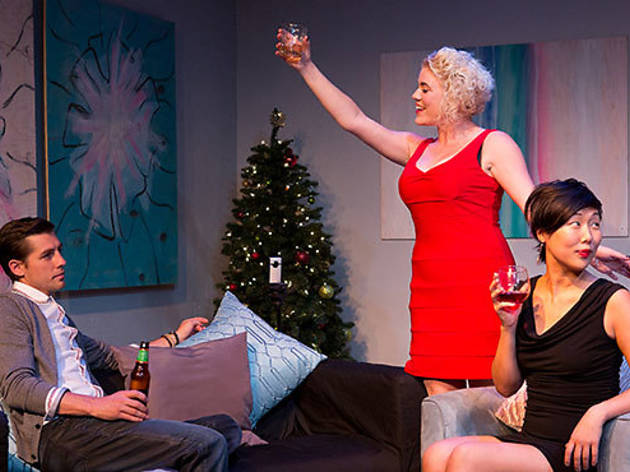 4/4
Photograph: Hunter Canning
Donkey Punch
Donkey Punch. SoHo Playhouse (see Off Broadway). By Micheline Auger. Directed by Audrey Alford. With ensemble cast. Running time: 1hr 30mins. No intermission.
Donkey Punch: In brief
A woman tries monogamy while her best friend dates a pornographer in Micheline Auger's look at sex and love in the modern age. Audrey Alford directs.
Donkey Punch: Theater review by Raven Snook
Named for a raunchy (and supposedly fictitious) anal-sex maneuver, Micheline Auger's dramedy lands a few solid blows on relationships in the postfeminist era, both romantic and platonic. Two twentyish BFFs, promiscuous Kareena (Cleo Gray, achingly raw) and prudish Sam (Lauren Dortch-Crozier), think they're looking for that special someone, when really they're just trying to find themselves. Going outside her comfort zone, Kareena settles down in a monogamous relationship with thoughtful, nice-guy Teddy (Michael Drew) and sets Sam up with a guy she flirted with online, "horror-porn" director Kyle (Jon McCormick, equally sexy and sleazy).
The manipulations and recriminations that ensue may sound like an inversion of Neil LaBute's The Shape of Things, as the men try to mold their partners to their desires: Sam gets a makeover complete with fake boobs and blond hair, and becomes an exhibitionist; Teddy coaxes Kareena into therapy and literally shoves an engagement ring on her unwilling finger. But all four characters come across as real people, not plot devices, and their bad behavior isn't just for shock value (though two fraught sexual encounters elicited an "Oh, my God!" from stunned audience members). Like many young adults navigating a world in which gender roles are constantly evolving, the lovers get confused, contradict themselves and make some terrible (often alcohol-fueled) choices. Audience allegiance is always shifting: At any moment you might condemn or condone their actions, depending on your own moral compass.
Directed with a light touch by Audrey Alford, cofounder of the Ivy Theatre Company (which premiered this show Off-Off Broadway under the title The Feminism of a Soft Merlot, or How the Donkey Got Punched earlier this summer), Donkey Punch doesn't peddle any answers or even closure for its characters. But it does offer crackling dialogue, voyeuristic thrills and inevitable juicy postshow conversation.—Theater review by Raven Snook
Rating Breakdown
5 star:

1

4 star:

0

3 star:

0

2 star:

0

1 star:

0
I saw this play and found it funny, entertaining, insightful, heartbreaking, and just plain fun to experience. The play was well cast, and the actors all did their jobs exceptionally well. The staging was spot on, the play was creatively written, and the director did a fantastic job of putting it all together. It's well worth a go for 90 minutes of reasonably priced, all NYC entertainment.