Theater review by Raven Snook
The two intertwined immigrant families at the heart of Elyria are ambitious and enigmatic, much like Deepa Purohit's play. Set in the insular Gujarati community of 1982 Elyria, Ohio, the show opens at a local dance where women in colorful saris swirl exuberantly. That's where one-time friends Vasanta (Nilanjana Bose) and Dhatta (Gulshan Mia) unexpectedly bump into each other after two decades of keeping an incendiary secret that has the potential to explode their hard-won stability.
Taking inspiration from the 10-act Sanskrit love-triangle epic The Little Clay Cart, as well as her own parents' multistop journey from India to America, Purohit's Off Broadway debut is an intriguing but unsatisfying mishmash of melodrama and magical realism. The two protagonists are frequently shadowed by their younger selves (Mahima Saigal and Avanthika Srinivasan) as they try to find a way forward in their village within a village, where everybody knows your name and your business.
Although these women are the story's catalyst, their husbands are more compelling. Hairstylist Dhatta's spouse is perpetual striver Shiv (a charismatic Sanjit De Silva), a security guard turned would-be entrepreneur, who believes the American dream would attainable if only they could trade dull Ohio for exciting New Jersey. Vasanta is a stay-at-home wife to Charu (standout Bhavesh Patel), a no-nonsense surgeon devoted to the customs and class consciousness of their homeland—particularly with regard to their college-age son (Mohit Gautam), who should start thinking about an arranged marriage and stop spending so much time with his new pal (Omar Shafiuzzaman).
Staged in the round, the production features smart design elements, such as Jason Ardizzone-West's box shelves on the walls, a metaphor for the characters' compartmentalizing, and Amatus Karim Ali's delightful '80s song choices, which root the play in its era. Under Awoye Timpo's uncharacteristically unfocused direction, however, Elyria takes a while to find its rhythm in the exposition-heavy yet confusing first act, which builds to a telegraphed reveal. Act II is more engaging intellectually, if not emotionally, as Purohit unpacks the baggage that all immigrants schlep with them. But by then we're not wholly invested in the contents.
Elyria. Atlantic Theater Company (Off Broadway). By Deepa Purohit. Directed by Awoye Timpo. With ensemble cast. Running time: 2hr 20mins. One intermission.
Follow Raven Snook on Twitter: @ravensnook
Follow Time Out Theater on Twitter: @TimeOutTheater
Follow Time Out Theater on Facebook: Time Out Theater Facebook page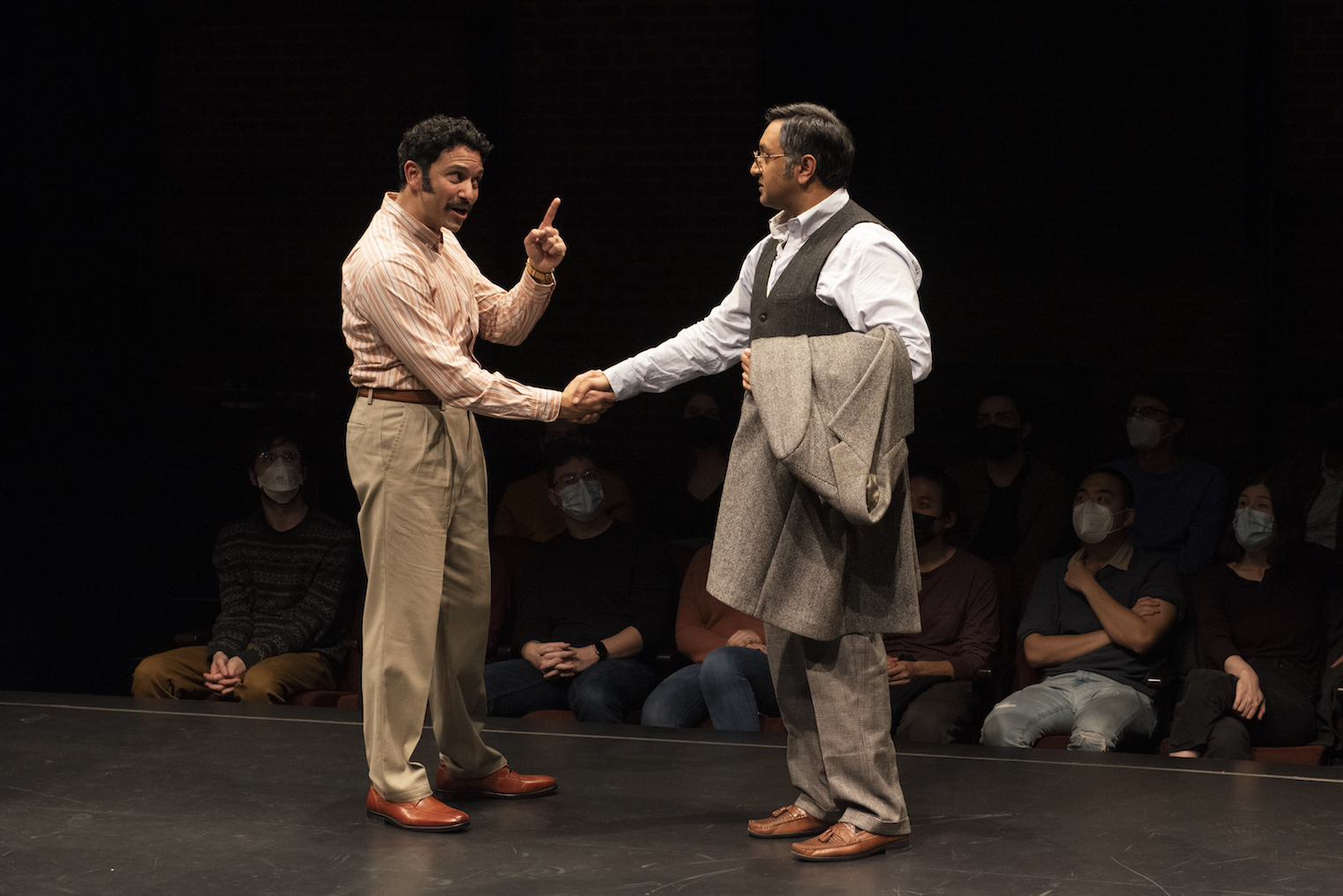 Elyria | Photograph: Ahron R. Foster