Fabulation, or The Re-Education of Undine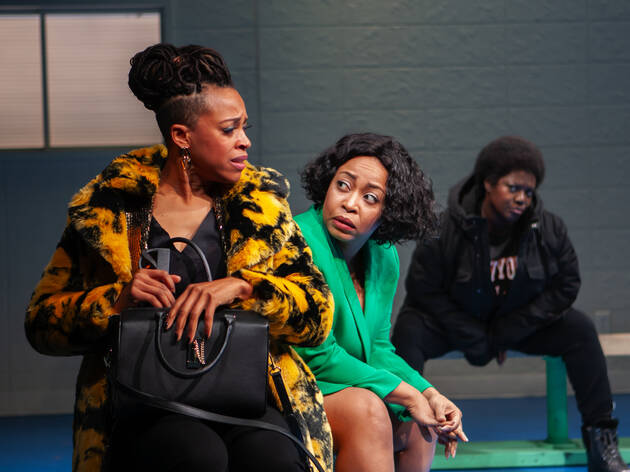 Time Out says
Theater review by Raven Snook
Those who know Lynn Nottage only from her two plays that won Pulitzer Prizes—Ruined, about the plight of women in the war-torn Congo, and Sweat, about striking Rust Belt factory workers—may be surprised at the frequent and hearty laughs in Fabulation, or The Re-Education of Undine. On the surface, at least, Nottage's 2004 satire of NYC's black bourgeoisie is a delectable treat. But it leaves a serious aftertaste.

Undine Barnes Calles (the effervescent Cherise Boothe) seems to have it all: a hip PR firm, a hot Argentine hubby, a designer wardrobe and an imperious attitude. But when everything is suddenly taken away and she finds herself pregnant, she's forced to return to the blue-collar family she disowned 14 years earlier. While Undine's downwardly-mobile journey takes a fairly predictable moral path, the many characters who help her become a better person are a hilarious assortment of stereotypes that subvert expectations. Her brother (Marcus Callendar) is an Iraq War veteran who is writing an epic about Br'er Rabbit. Her security-guard father (J. Bernard Calloway) reads The Economist. Her childhood Double Dutch partner (MaYaa Boateng) now works in finance. The flipping of expectations works the other way, too: Undine's sweet old granny (Heather Alicia Simms) has a wicked taste for heroin.

Lileana Blain-Cruz's whirlwind staging of Fabulation at the Signature puts humor first, helped by a versatile supporting cast of seven with a knack for sketching broad new identities at the drop of a wig. But as the play goes on, Undine and the audience start to see how racial and economic inequality are reinforced by ingrained personal prejudices. On paper, she is a statistic: an unemployed, unwed, African-American mother-to-be. But that's a reductive perspective—for her and for all the addicts and arrestees and strivers she encounters in her new-old life. You may be cackling too loudly to take it all in as it unfolds but, like a good fable, the play has a message that lingers past its scrappily-ever-after finale.

Pershing Square Signature Center (Off Broadway). By Lynn Nottage. Directed by Lileana Blain-Cruz. With ensemble cast. Running time: 2hrs. One intermission.
Follow Raven Snook on Twitter: @ravensnook
Follow Time Out Theater on Twitter: @TimeOutTheater
Keep up with the latest news and reviews on our Time Out Theater Facebook page
Details
Best selling Time Out Offers