Theater review by Raven Snook
Revenge may be a dish best served cold, but in Fat Ham redemption is what's on the menu. The outlines of James Ijames's delicious riff on Hamlet are Shakespearean, but the point and the punch lines—and most of the poetry—are the playwright's own. Morose online college student Juicy (an endearing Marcel Spears) is upset that his newly widowed mom Tedra (Nikki Crawford) has already remarried his scheming uncle Rev (Billy Eugene Jones). His father was an abusive killer who got shanked in prison, but when Pap returns as a ghost (also played by Jones) to reveal that Rev was to blame for his death—and to demand that his son avenge his murder—the queer and clever Juicy is torn over whether to continue the family traditions of toxic masculinity and violence. But can he choose pleasure over pain?
Juicy's spiritual journey takes place at a boisterous Southern backyard barbecue that is funny and fabulous, terrifying and touching, as seven souls—each as messy as the meat they're devouring—clash, connect and push against their expected roles. In addition to the kin that's less than kind, there are Juicy's motor-mouthed cousin Tio (Chris Herbie Holland, hilarious), whose porn obsession inspires a dreamy philosophy; church lady Rabby (Benja Kay Thomas, perfect); and Rabby's unhappy kids, Opal (Adrianna Mitchell) and U.S. Marine Larry (Calvin Leon Smith, heartbreaking), all of whom have secrets. Over ribs and ribbing, cracked karaoke and a game of charades intended to unmask a villain, Fat Ham keeps you cackling so consistently that the play's sudden acts of cruelty land like punches in the gut. Yet Fat Ham manages to acknowledge the characters' trauma, especially Larry's and Juicy's, without indulging it.
As he did with Merry Wives and Nollywood Dreams, director Saheem Ali makes sure every laugh lands and that the broad performances never slip into stereotype. He's aided by excellent design, notably Dominique Fawn Hill's telling costumes (and one eye-popping transformation that takes your breath away). Fat Ham's run at the Public Theater, coproduced with the National Black Theatre, marks the show's in-person premiere; a digital version at Philadelphia's Wilma Theater, where Ijames is an artistic director, earned the 2022 Pulitzer Prize for Drama. It speaks beautifully to the current cultural moment that artists of color are being recognized for (re)writing their own stories. Shakespeare's Hamlet questioned whether to be; Juicy and his peers are figuring out how.
Public Theater (Off Broadway). By James Ijames. Directed by Saheem Ali. With Marcel Spears, Nikki Crawford, Chris Herbie Holland, Billy Eugene Jones, Adrianna Mitchell, Calvin Leon Smith, Benja Kay Thomas. Running time: 1hr 35mins. No intermission.
Follow Raven Snook on Twitter: @ravensnook
Follow Time Out Theater on Twitter: @TimeOutTheater
Keep up with the latest news and reviews on our Time Out Theater Facebook page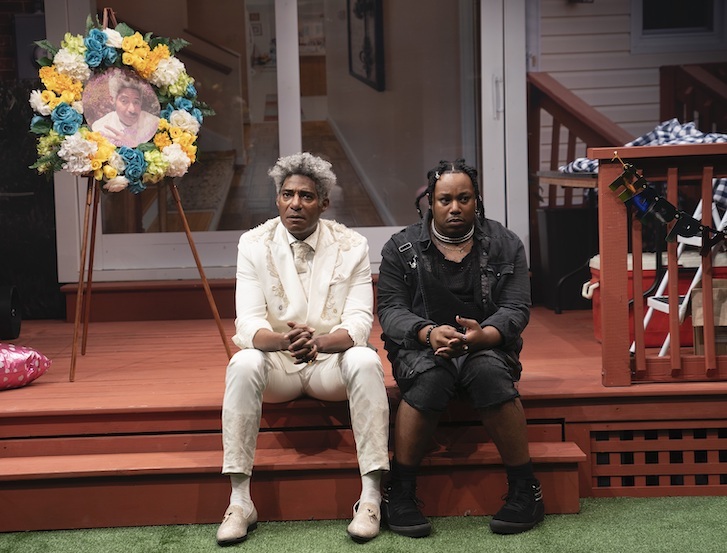 Fat Ham | Photograph: Courtesy Joan Marcus